How to Create an Electronic Signature in 2 minutes or less
You need to sign and send an important document via email right away. Typically, you'd have to print, sign, then scan and upload the document before sending it. That could take anywhere from 15 minutes to a few hours, depending on whether you own a printer and scanner or if you need to run to the store.
A better option? Create an electronic signature with a software like SignWell. No matter if it's a PDF document, an ePub, or a Word doc, you can skip the process of printing and scanning and still have a legally signed document ready to ship in just 2 minutes. Here's how:
SignWell is an electronic signature software that allows you to sign on PDFs, Word documents, and other files. Signatures generated with SignWell are compliant with US and international e-signature laws, so you can rest easy.
It's fast and easy to create an account with SignWell. You have two options; use your existing Google account to sign up if you like the convenience, or create an account using a password if you prefer to keep your logins separate.
Sign up for SignWell with a Google Account
To sign up with Google, simply click on "Sign up with Google to start" on the SignWell signup page.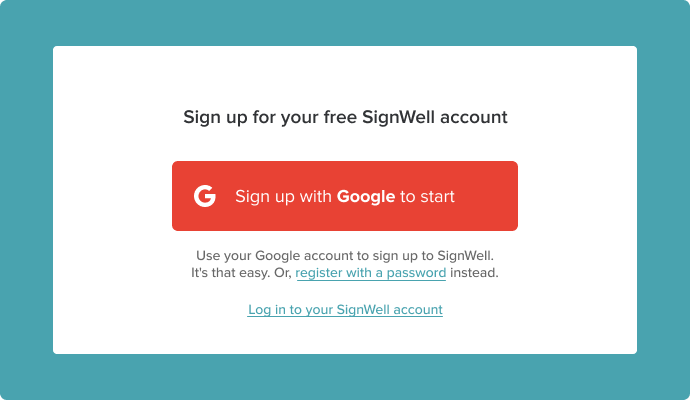 A popup page will appear prompting you to choose the Google account you want to sign up with.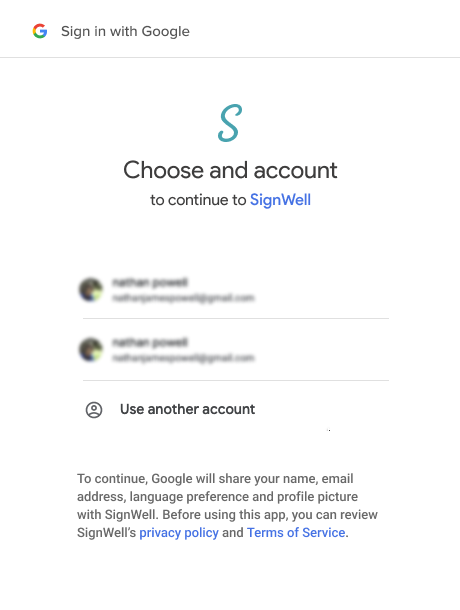 We will automatically create your account.
Sign up for SignWell with an email and password 
To register with an email and password, go to the registration page, fill in your work email, full name and preferred password in the required fields, then click Continue.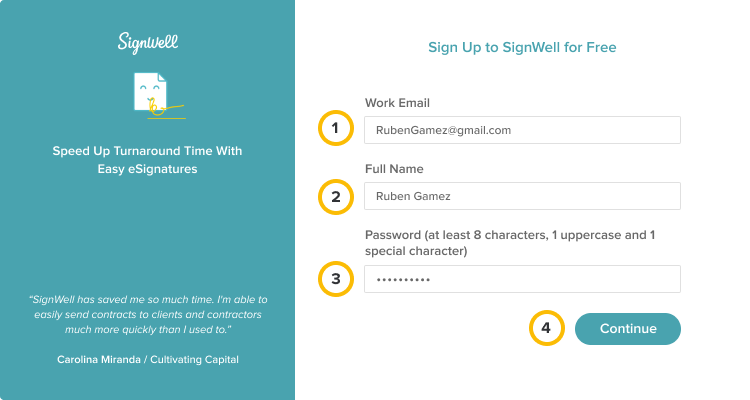 Step #2: Upload your document from your device
After you've created your account, — and verified it if you signed up with an email and password — you'll be taken to your new SignWell dashboard. Click the "Add your first document" button so you can upload the document you need to sign.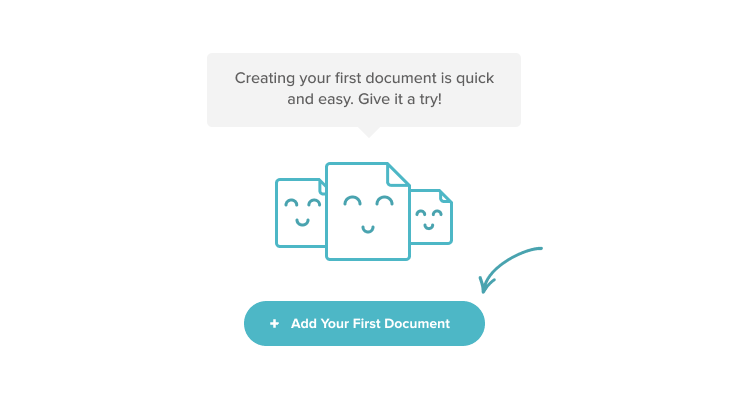 You'll find two options: "Upload document" and "Use a saved template". Let's ignore the second option for now. 
Click on upload document to select an existing document from your computer.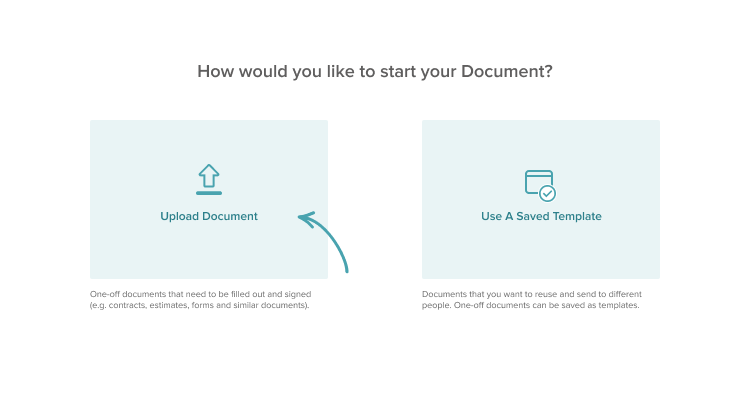 Next, click on Select a file to choose the document you want to sign from your computer.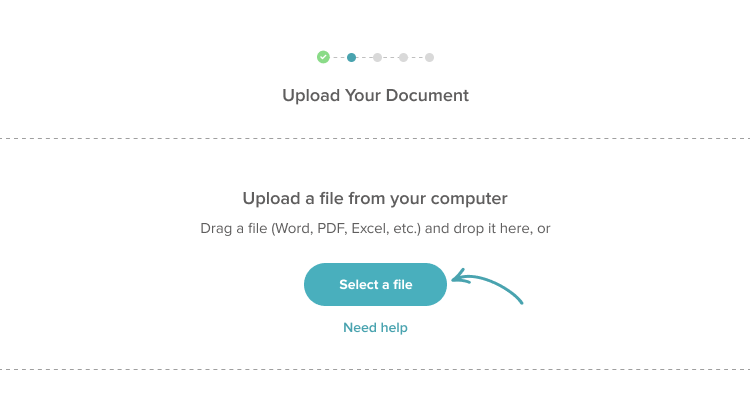 Note: SignWell stores signed documents in a templates folder, you can access those in the future by clicking Use a saved template instead of "Upload document".
Step #3: Sign your document electronically
Once you've successfully uploaded your document, you'll see a deck of elements on the left side of your screen. These elements allow you to add name boxes, date boxes, and signature boxes for yourself and any other person who'll sign the document too.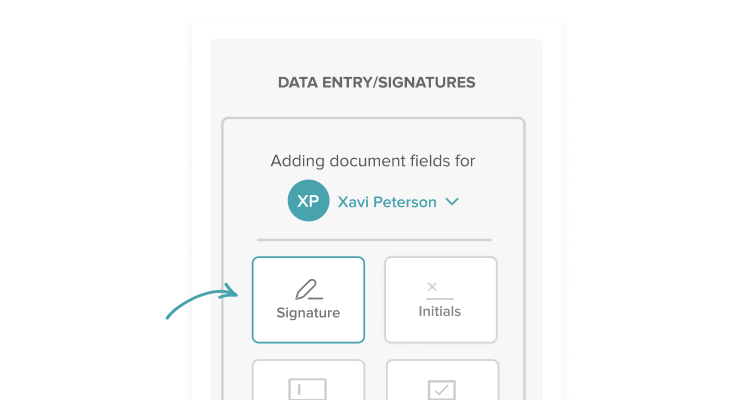 By default, SignWell selects the Signature option from the deck. All that's left for you to do is to click on the spot where you want to sign the document. Choose to either type, draw, or upload a scanned version of your signature to sign the document.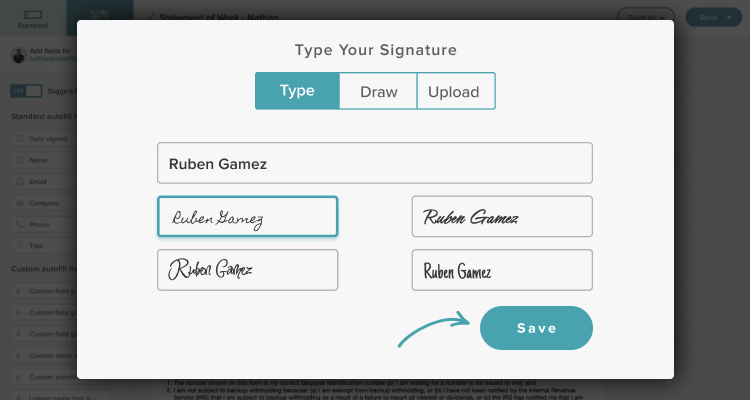 Once you've signed the document, click on Save.
To send the document to another signer, click on Send…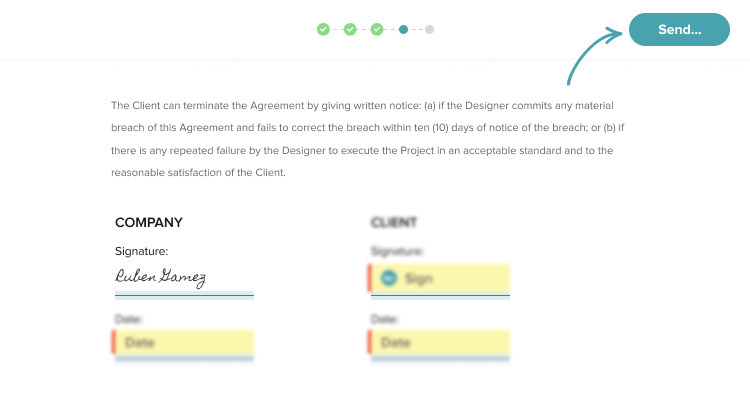 Type in the recipient's email address, and a quick message into the spaces provided. Then click on Send.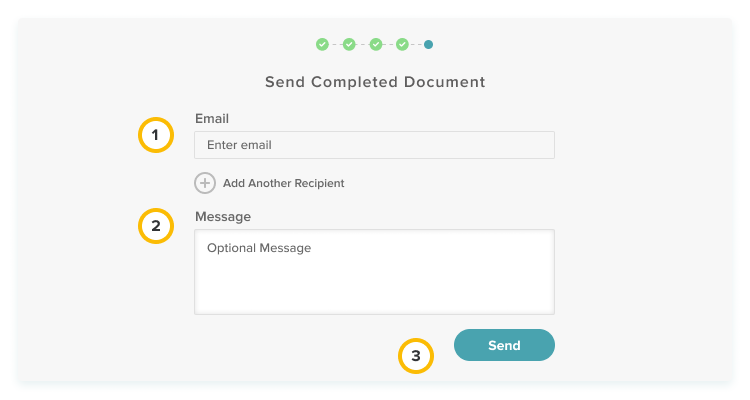 To download your newly signed document as a PDF file, click on or hover your mouse icon over the Share button and a drop-down list will appear. You'll also find the options to copy or share your unique document link with other people.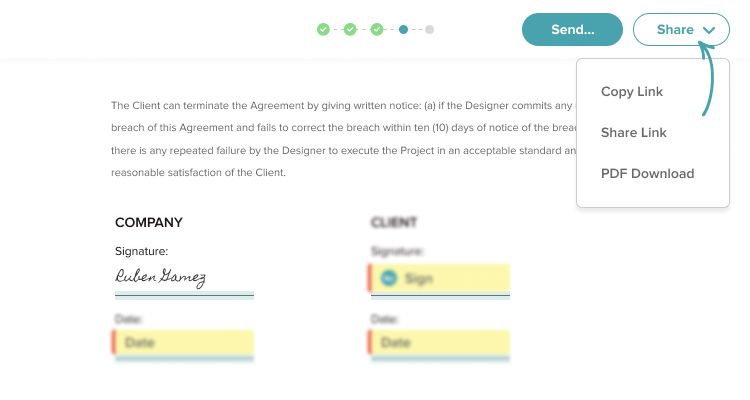 And that's it. You've just learned how to create an electronic signature for free in 2 minutes.
2 other ways to create an electronic signature
If you're looking to sign your documents with more common methods, the Microsoft Word processor or Adobe Reader DC application for PDFs are popular choices.
Even though Word and Adobe have their limitations (we talk about those below) and aren't half as quick as using SignWell, they can still help you sign electronic signatures. 
How to create an electronic signature in Word
To create an electronic signature in Microsoft Word, click on the Insert tab, then click the Signature line option.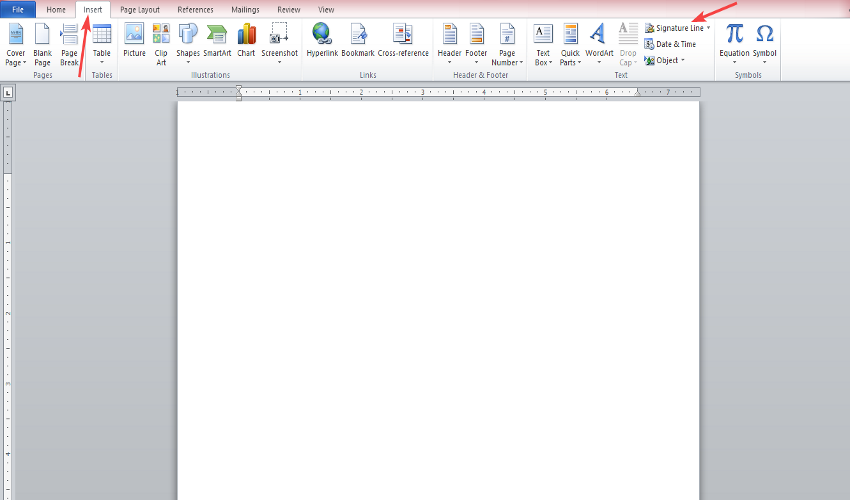 A new pop-up tab should appear shortly where you can type in your name, title and email address.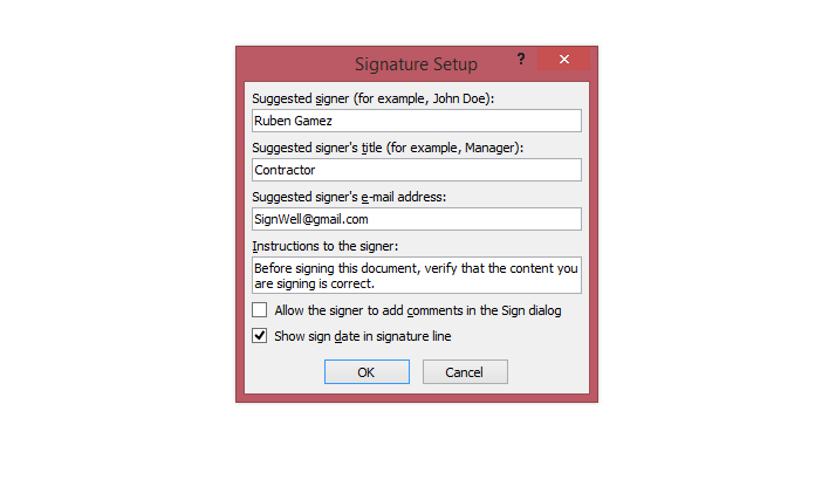 Once that's done with, hit OK and Word will insert a signature line into your document. 
One limitation with Microsoft Word is that you can't directly draw signatures on your document. So you're restricted to typing out your name, scanning images of your signature, or importing a drawn signature from Microsoft Paint. 
To sign, print out the document and sign manually or use the Microsoft Paint tool to draw your signature on the signature line created with Microsoft Word.
How to create an electronic signature in PDF
Here's how to create an electronic signature in PDF files using Adobe Reader DC:
If you haven't already, install and run the Adobe Reader DC application from the official Adobe website. You may experience issues when you try to open the software, if that happens, try reinstalling the software. It's a known issue with Adobe and one reason to consider not using Adobe Sign. 
If you get the application running, upload your document by clicking on the File tab.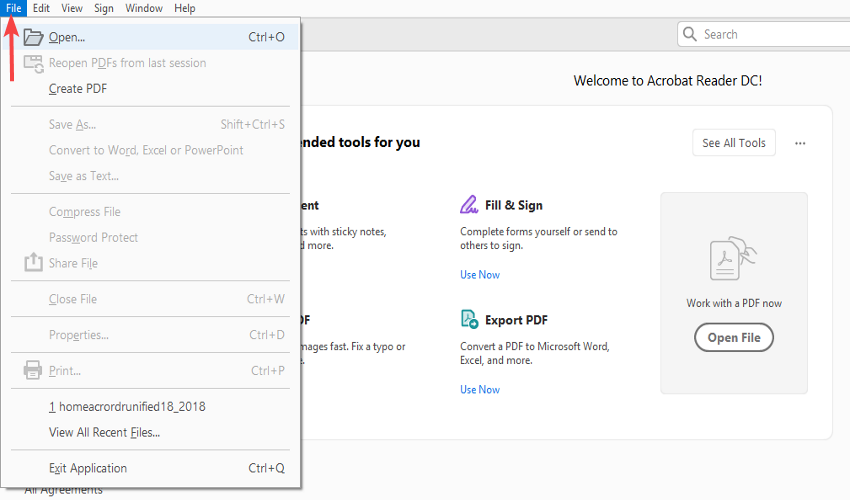 Next click on Open… and select the file you want to upload from your computer.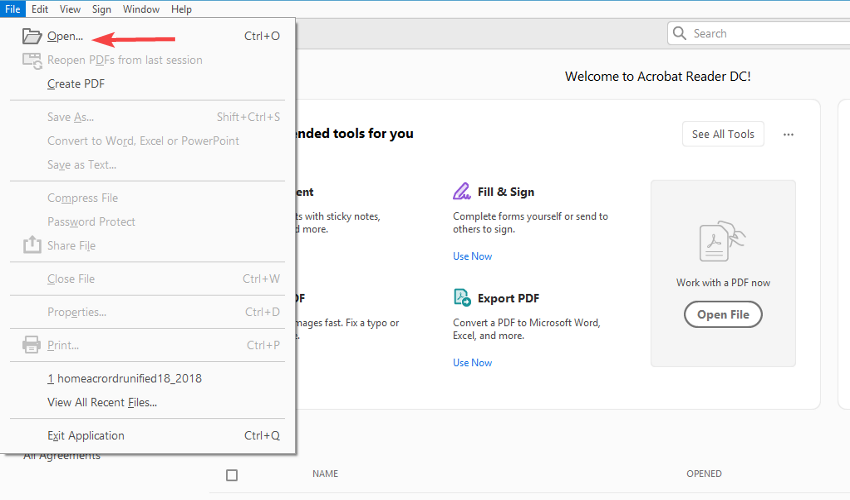 Then click on Fill & sign from the toolbar on the right side of your screen.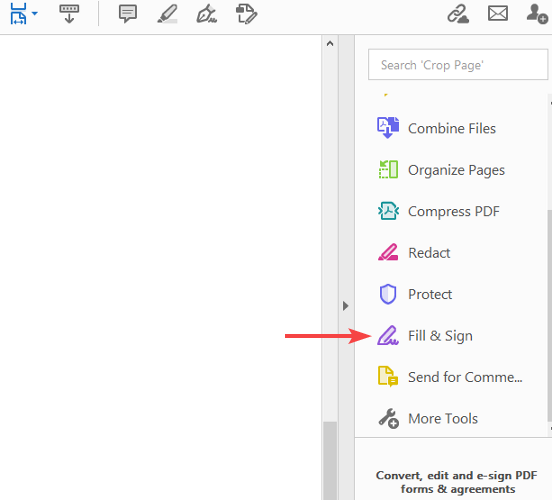 Next, click the Sign option and then select Add signature.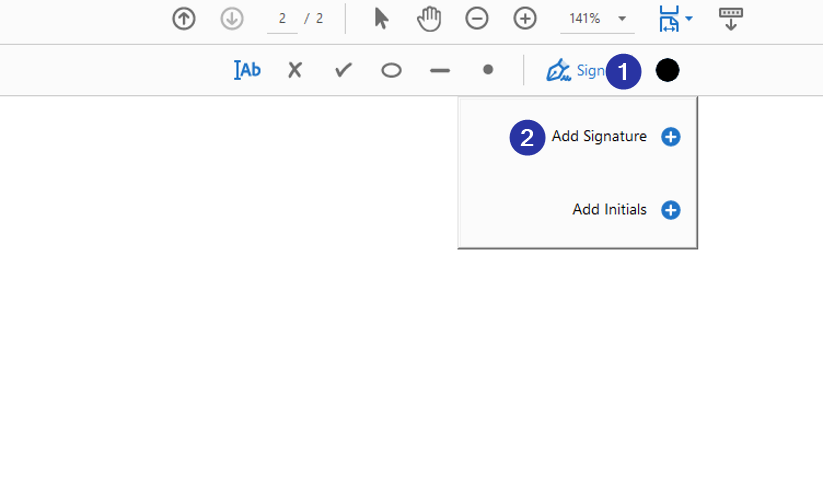 Under the Type tab, type out your name using your computer's keyboard. Your name will appear as an italicized signature in the Signature box.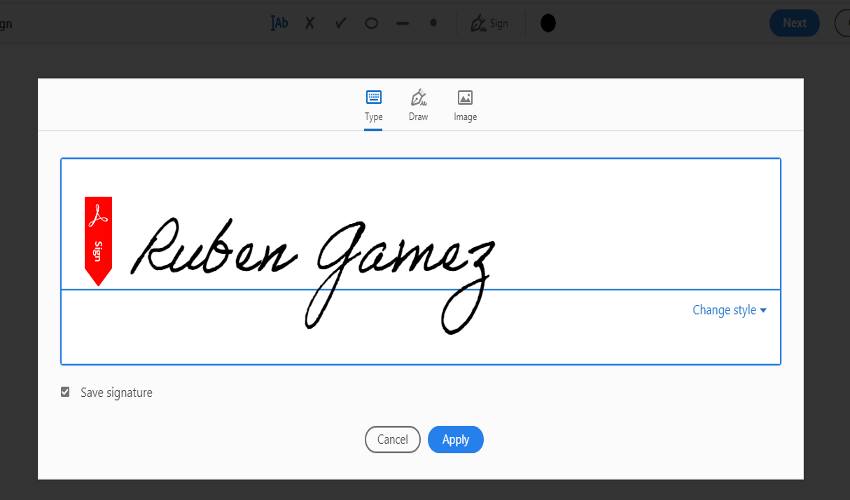 To change the style of the signature, click on Change style.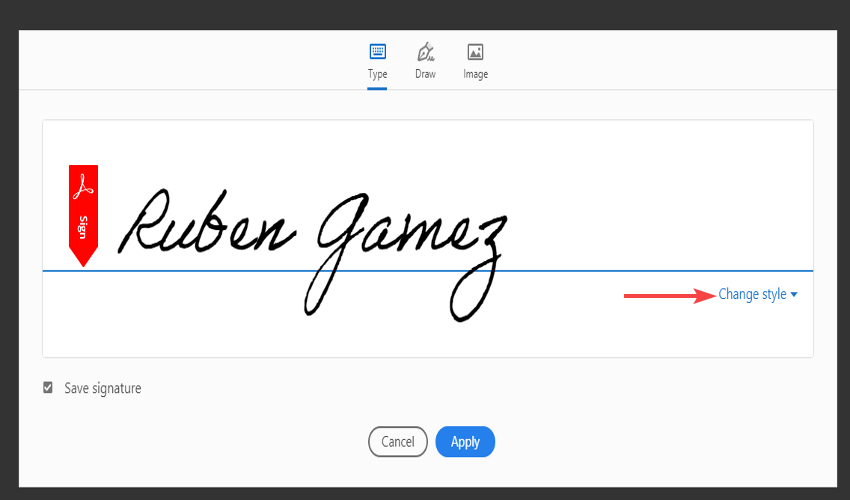 Alternatively, click the "Draw" option to draw your signature with your mouse or touchscreen. The downside to drawing with a mouse is that the signature will probably come out messy if you're not an expert mouse controller. You may have to redraw multiple times.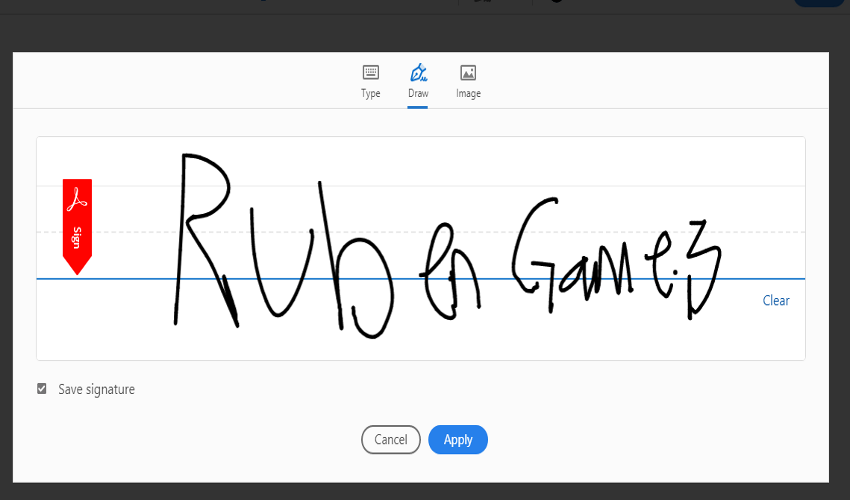 To upload snapshots or use an image of your signature, click on Select image to retrieve the image from your computer files.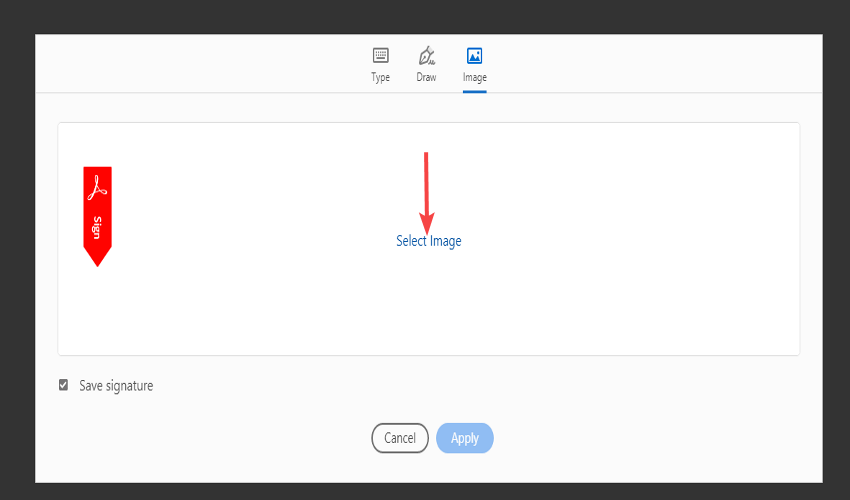 Check the box for the Save Signature option to store the signature for future use, then click on Apply to effect the changes.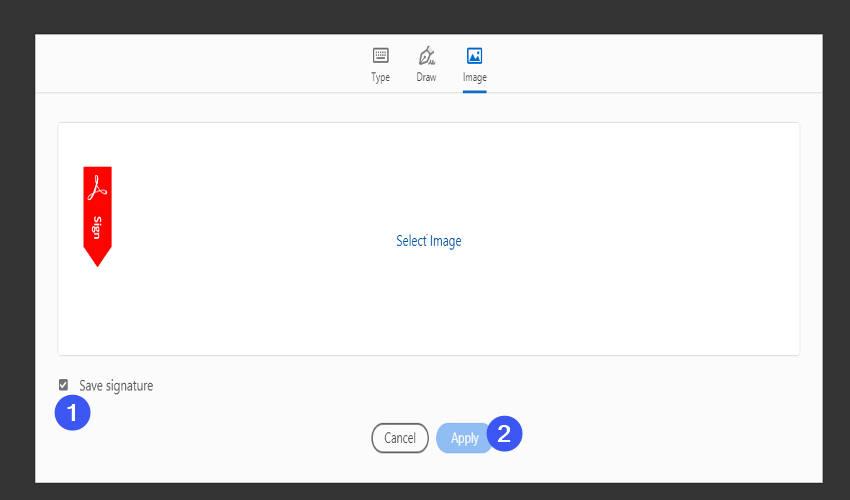 Next, place your signature on the document then click on File.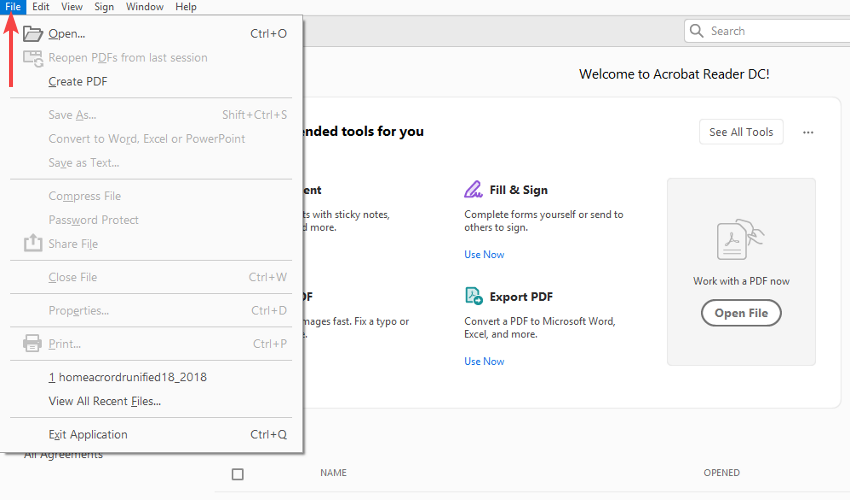 Finally, click Save and select the location to store the file on your computer.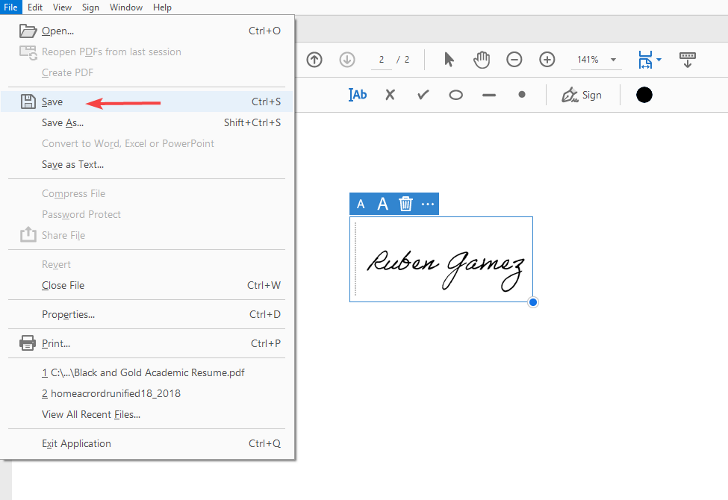 If you'd rather skip these tedious processes, SignWell allows you to sign your documents with as little effort as possible. When we tried signing as a brand new user, it took 2 minutes to go from not having a SignWell account to having a legally signed document. 
FAQs about creating electronic signatures
Here are some frequently asked questions about creating electronic signatures.
What is considered an electronic signature?
An electronic signature is an electronic drawing of a person's signature generated by finger or stylus. It's used to verify emails, corporate ID, or PINs sent to the recipient.
What does an electronic signature look like?
An electronic signature looks similar to an on paper signature, the major difference is that it's not signed on actual paper.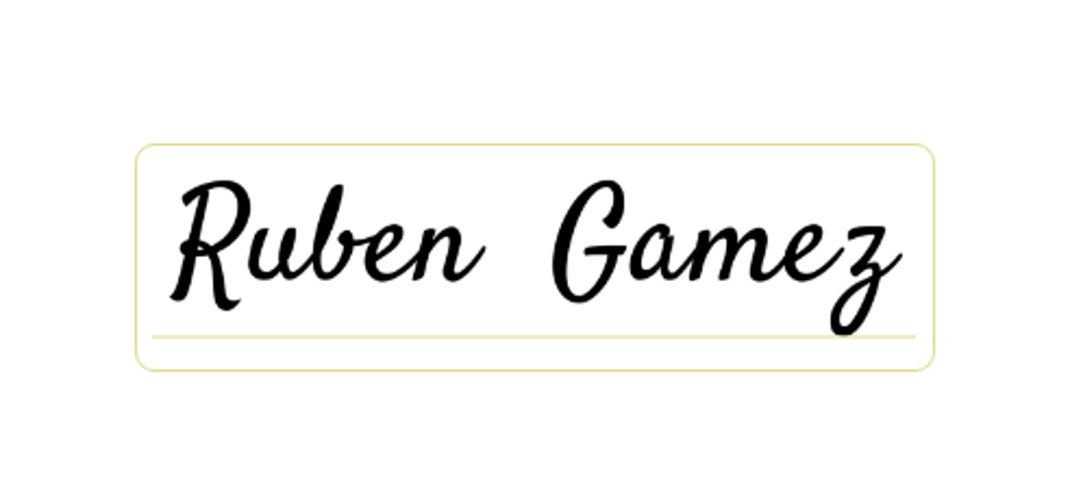 What, specifically, makes electronic signatures legal (and safe)?
Electronic signatures are guarded by the Uniform Electronic Transactions Act (UETA), which regards electronic records and signatures as equal to paper signatures.
It also provides audit trails that record the intent and consent of parties involved in the signing process.
This proves that both parties entered into an agreement of their own free will, and the software is able to verify their identity.
What is the difference between an electronic signature and a digital signature?
The major differences between an electronic signature and a digital signature are in their verification methods and security.
A digital signature incorporates encryption and hashing, where a series of codes are embedded within the signatures. 
Encryption invalidates your document the moment someone tries to tamper with it. It's often used to protect business contracts between large-scale businesses.  
Meanwhile, the electronic signature only validates the identity of any party trying to access a document. It includes a symbol or an image recognizable to the recipient, and is less secure because of the absence of encryption.
Can electronic signatures be forged?
An electronic signature isn't easy to forge. Unlike paper signatures, electronic signatures generate audit trails of any action on the document.
To make it even more secure, you can personalize who gets access to view it and restrict third-party interactions with your document.
This makes it difficult for malicious individuals to tamper with the document as the software records any changes made to it.
With SignWell, you can view the records of who opened and signed on the document while you were away. 
Can legal documents be signed electronically?
You can sign contracts electronically. E.g. business, landscaping, personal training contracts, etc, and they are admissible in court within the US.
But you can't sign documents like divorce papers, Court orders, leases, wills, and foreclosures electronically. If you sign them electronically, they won't be accepted in court.
Do electronic signatures hold up in court?
Electronic signatures applied on contracts are feasible in court and are legally binding, but only when the signature software can authenticate them. 
However, documents like divorce papers, court orders, and leases don't hold up in court, even with authentication.
If you're going to sign a contract with other parties, we recommend using trustworthy electronic signature software like SignWell because it produces audit trails.
Audit trails help you monitor who accesses your signed documents and records the history of who accesses them.
Sign with a team that knows what you need.
Putting a signature on a document shouldn't be hard. The SignWell mission? Simplify how documents get signed for millions of people and businesses.
Get Started Today
61.000+
businesses served, so far...
4.000000+
total documents signed
98%
customer support satisfaction