HelloSign Alternative:
Why SignWell is a Better Choice
SignWell is the full-featured alternative to HelloSign that you can use for all your documents. With electronic signatures, bulk sending, reusable templates, and built-in tracking analytics, SignWell helps you close deals faster and easier.
Feature comparison overview
Here is a quick overview of some of the key differences between SignWell and HelloSign
HelloSign
Price
Starts at $10/m
Starts at $15/m
Electronic Signatures
Yes
Yes
Share & Track Documents
Yes
No
Approval Documents
Yes
No
Documents Per Month
Unlimited
Unlimited
Looking for an alternative to HelloSign? Learn how SignWell can work for you.
With HelloSign, you'll get the standard electronic signing options—but you'll also get a tool that is difficult to navigate, isn't particularly user-friendly, and really works best with their dedicated app.
Plus, you won't be able to send documents in bulk, create unlimited templates, and track which parts of your document readers spent the most time on (or skipped entirely).
SignWell is a powerful, full-featured alternative to HelloSign.
With SignWell, your clients can easily sign electronically, and you can track your documents and get invaluable insights with built-in document tracking and analytics. You can also bulk send, create templates for commonly-used documents, and get approvals quickly and easily. Plus, SignWell is easy to use and provides great customer support, so you can spend less time figuring out how to use a product, and more time closing deals.
Document Signing
Electronic Signatures Help You Close Deals Faster
Get documents signed quickly and easily—no printing, scanning, and sending things back and forth. Your sales process will be faster, and it'll be hassle-free. With SignWell, you'll be able to offer built-in electronic signing and approval options for all your documents. Clients can view, sign, and approve your documents conveniently and instantly—and we've found that with SignWell, contracts are signed 60% faster than traditional methods like emailing a PDF. And, don't worry—documents signed with SignWell are as legally-valid as pen-and-paper documents.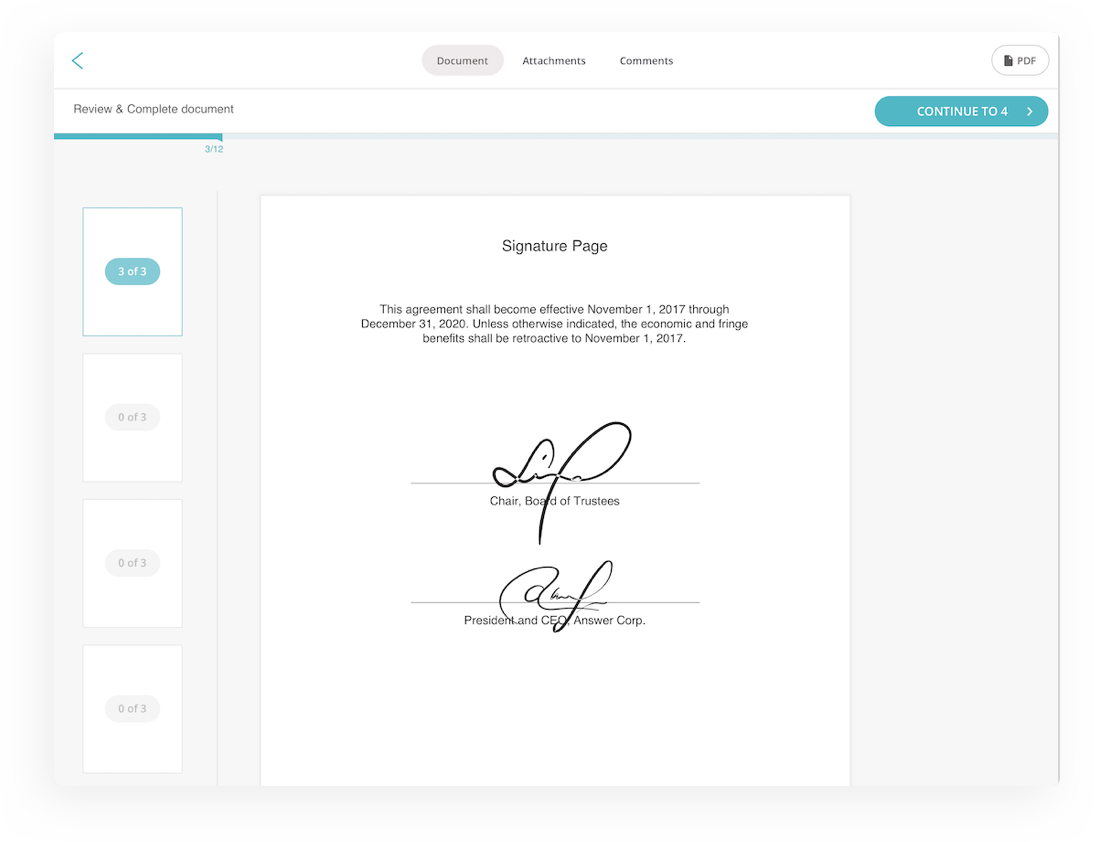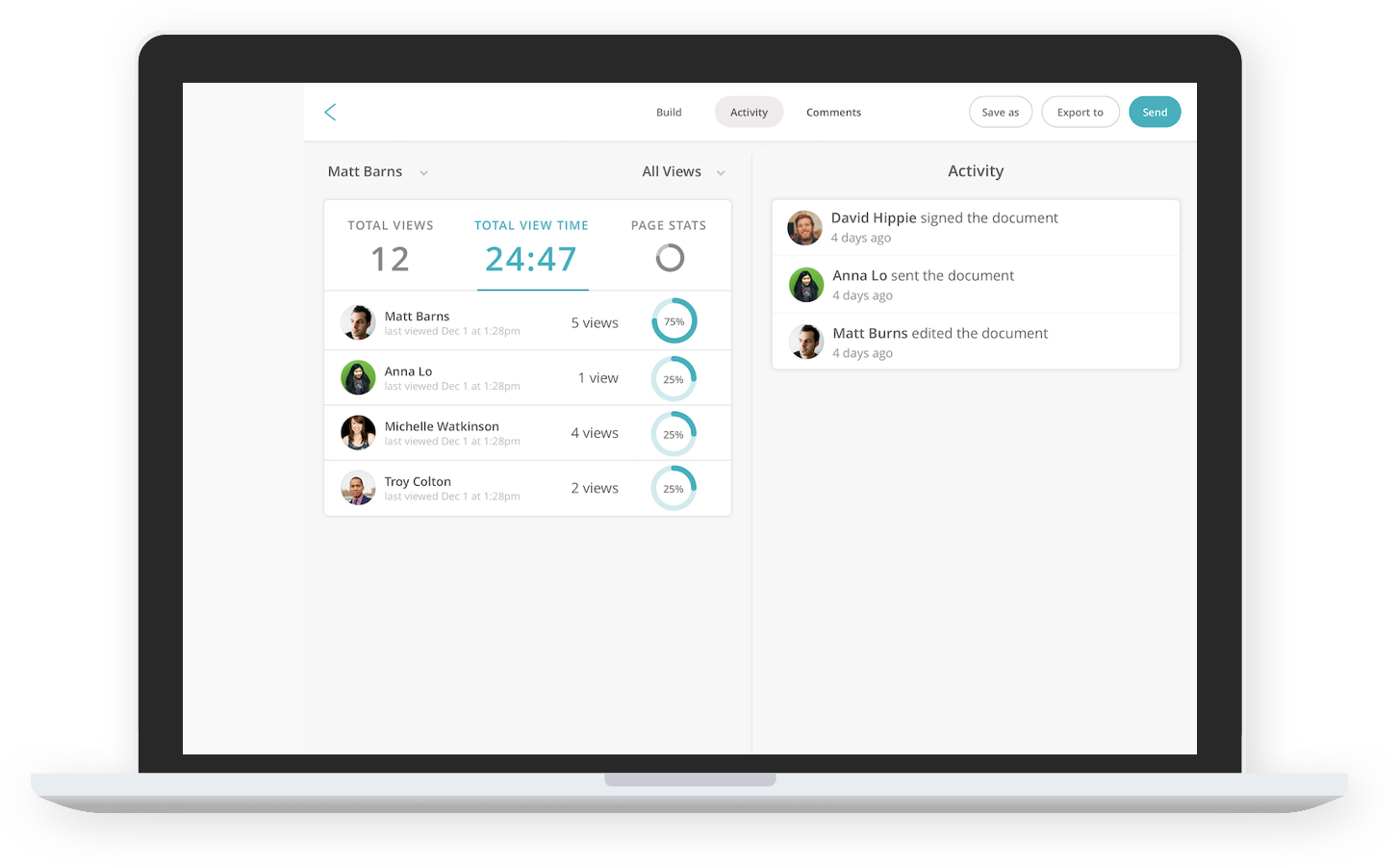 Document tracking & analytics
Make Better Decisions With Built-In Document Insights
Imagine if you could determine where a prospective client left off while reading your document. You'd be able to send a tailored follow up and give that final push—and turn them from prospect into paying client. SignWell offers built-in analytics and document tracking that will give you key insights into how readers are engaging with your documents. You'll be able to gauge interest, know if pages are being skipped, see when documents are viewed, and get page-by-page analytics that will help you make smarter decisions.
Send as sales documents
Get Sales Documents Approved Quickly and Easily
With SignWell, you can get approval on proposals, estimates, and other sales documents instantly. With the "Send as a Sales Document" feature, your clients can view and approve documents easily, and they'll be guided through the process. It's more convenient for them, and you'll get your documents approved faster.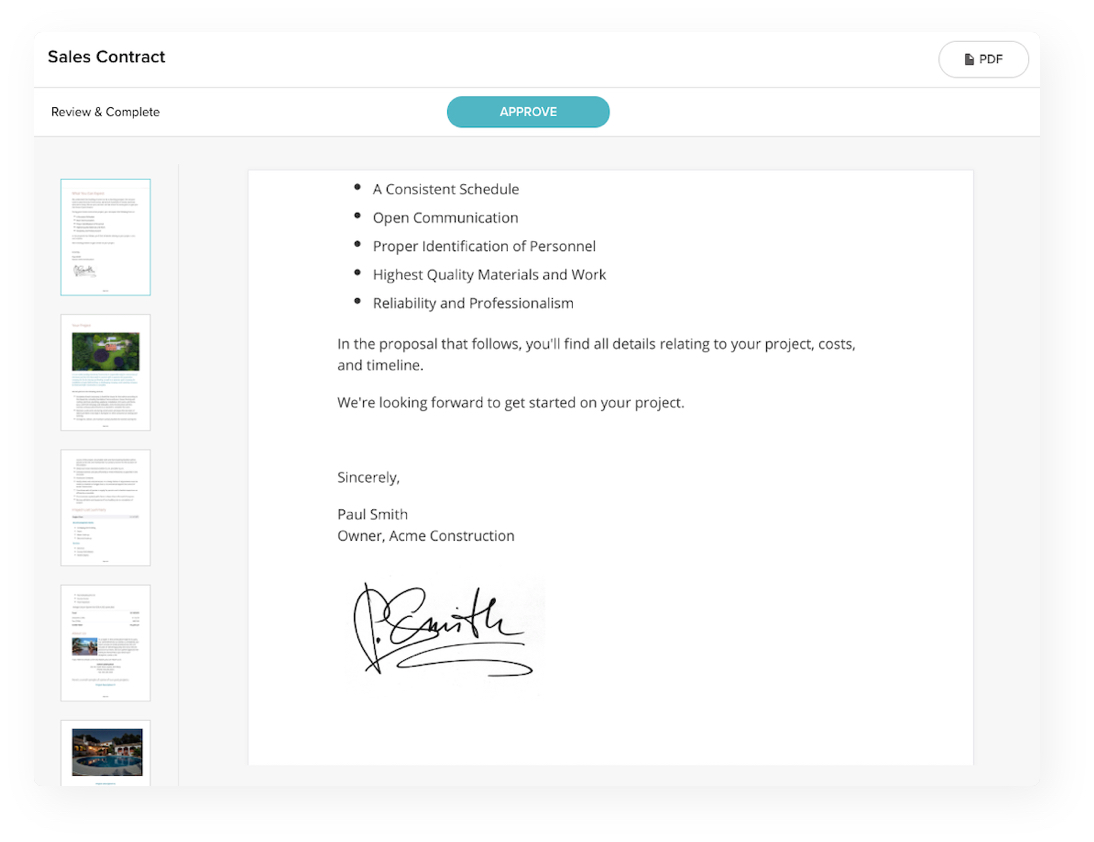 Cut turnaround on getting documents signed by 40% with SignWell
40% faster turnaround on contracts with online signatures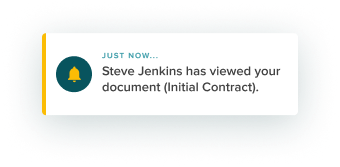 Instant notifications so you know when contracts are opened

100% legally binding paperless agreements, forms, and other documents