Easy and Free eSignatures for All of Your Documents
SignWell is electronic signature software that you can use to sign documents. Upload Word, PDF, and other files and use SignWell for all of your document signing needs.
Sign up for free. No credit card required.
Free eSignature Software Comparison (vs the "Manual Method")
Here is a quick overview of the differences between SignWell and manually signing documents.
Manual Method
Time to Sign
1 minute or less
Unknown (depends on printing, signing, scanning, etc.)
Electronic Signatures
Yes
No
Instant Open Notifications
Yes
No
Permanent Digital Record
Yes
No
Legally Valid Signatures
Yes
Yes
Looking to create an electronic signature? Then You Should Use SignWell.
If you're researching ways to sign your documents, you'll find that the best way to do this is by using SignWell. It's the easiest way to take most any file, complete it online, and apply a digital version of your signature. Alternatively, you can use an electronic signature creator tool and download a digital signature and find a way to embed it into your documents, but it's a more complicated and time consuming process.
Plus, you won't benefit from instant notifications and other features that you'll only find with software that was built to complete and sign documents online.
With SignWell, you upload your file, drag-and-drop fields that need to completed, and draw or type a signature on your document. Without downloading any software, and without the need to print or scan anything. You also can send documents to other people that need to sign them and get notified when they've opened and completed everything.
Document Signing
eSign Documents in Minutes
SignWell was built to make signing documents quick an easy. No need to download software or apps. And you definitely don't have to frustrate yourself or your clients by making them deal with printers and scanning equipment. Simply upload the documents you need to be signed and complete your parts of the document before sending it off to get the rest of the document signed. Any recipients that open the document will be guided through and told what they need to complete and where they should do it. This refined process makes it so that you cut turnaround time by 60% or more. Plus, SignWell electronic signatures are compliant with US and international esignature laws.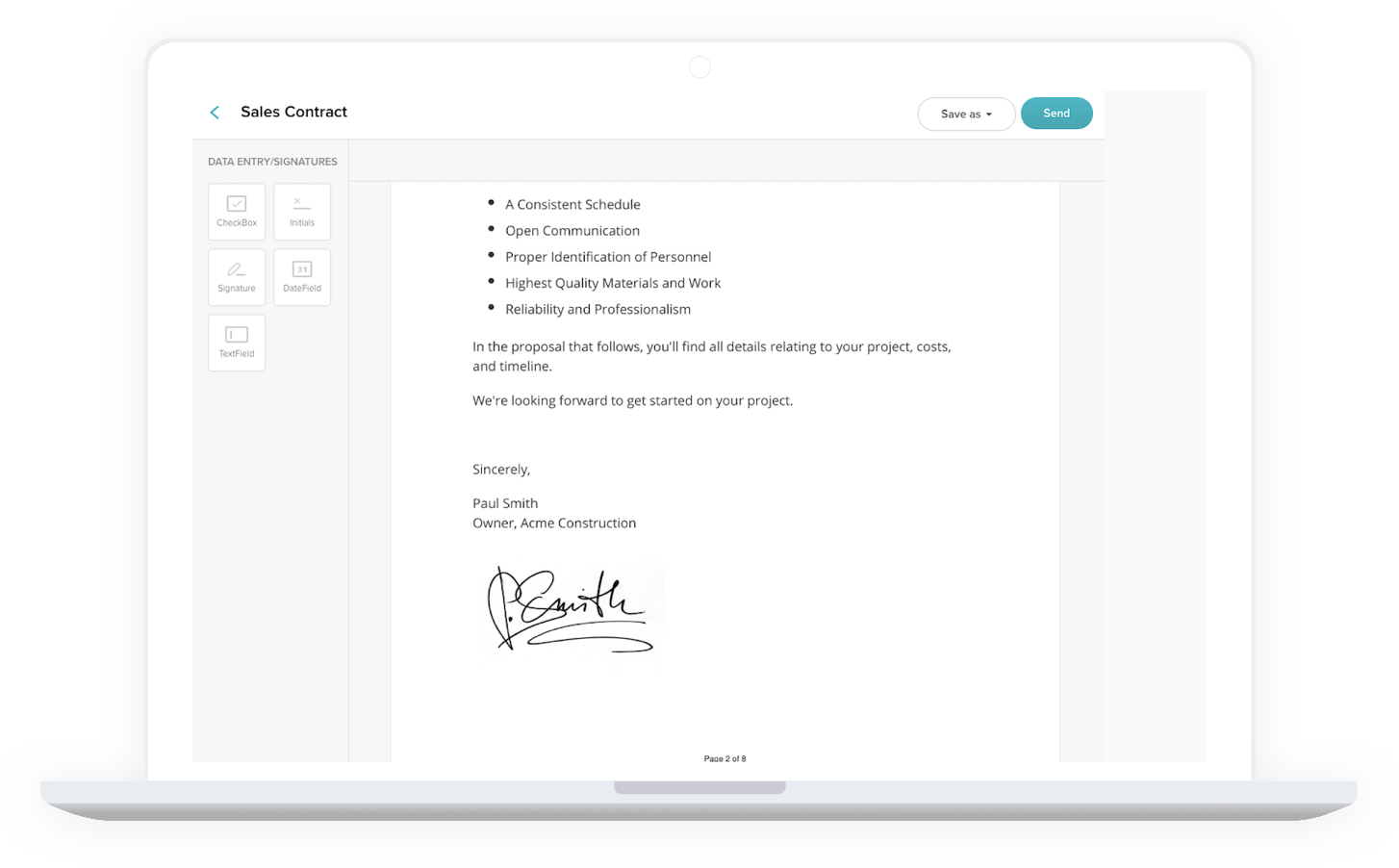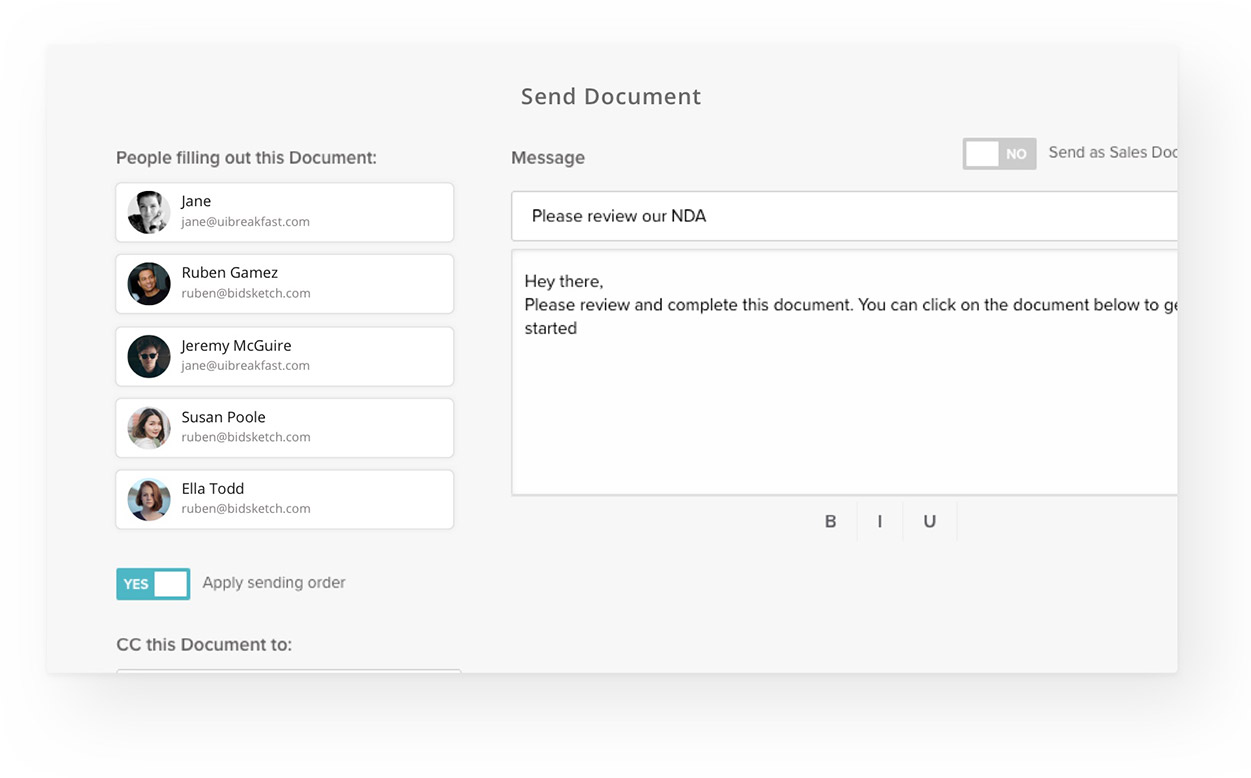 Document Signing Workflows
The Easiest Way to Get Multiple People to Sign Documents
Easily get signatures from multiple people on your documents. You can choose whether to complete your documents at once, or one-by-one in a specific order. When you need people to sign in a specific order, each person automatically gets notified when it's their turn. You'll know exactly who still needs to complete the document, and all recipients will get the completed document once everyone is done.
Audit Reports
Audit Reports & Legally Binding Electronic Signatures
SignWell tracks and maintains an audit trail of all the important activity related to your documents. Every signed document receives an audit report that represents your legal documentation and meets or exceeds U.S. and international e-signature law requirements. Key information of everyone that signs is always associated with SignWell electronic signatures.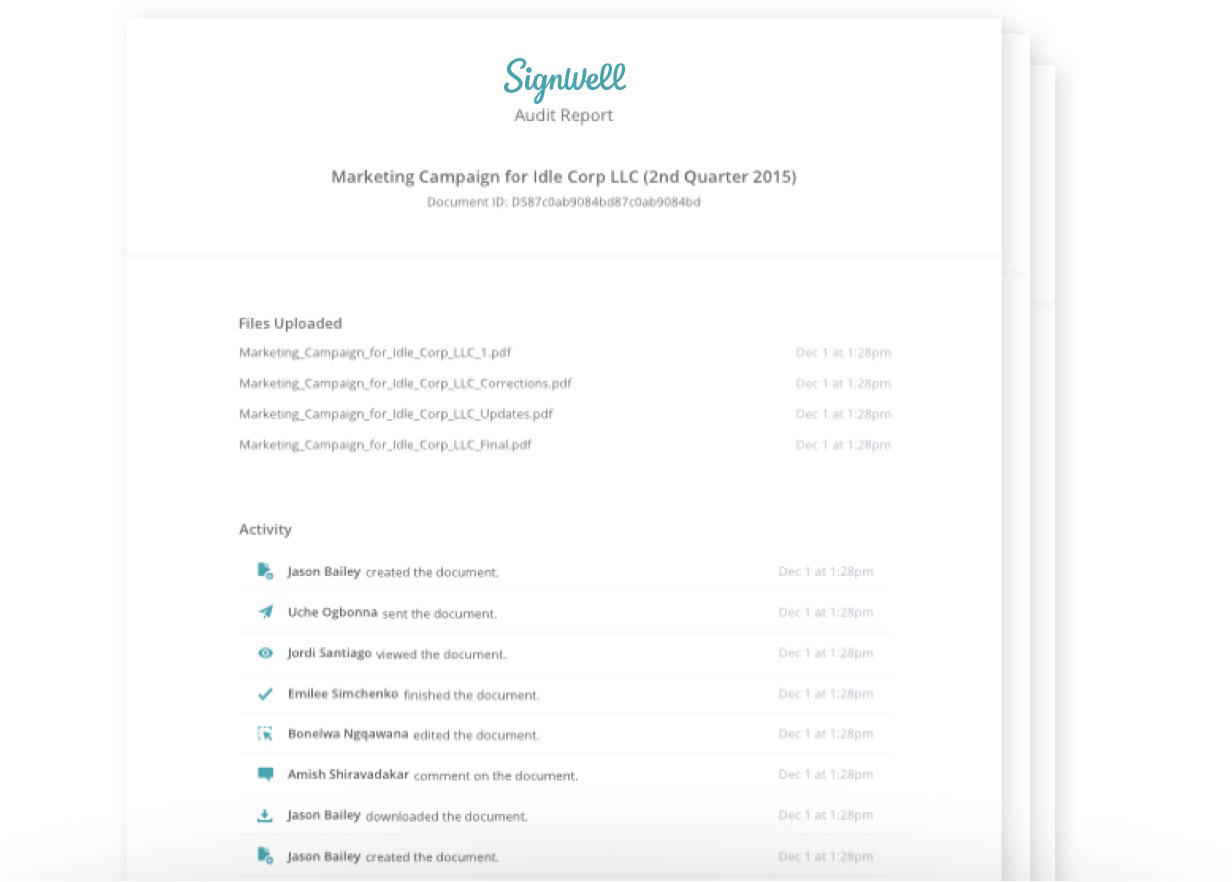 Cut turnaround on getting documents signed by 40% with SignWell
40% faster turnaround on contracts with online signatures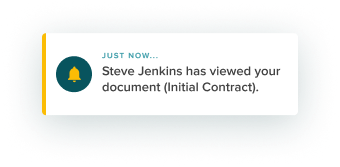 Instant notifications so you know when contracts are opened

100% legally binding paperless agreements, forms, and other documents