Our Guide to Electronic Signatures For Small Business (7 Amazing Tools)
Electronic signatures have become a vital tool for small businesses. 
They not only streamline the signing process but also save time and reduce costs. According to one study, businesses can reduce administrative costs by 55-78% and decrease turnaround times by 80% by adopting electronic signatures.
The statistics underscore the significant impact of electronic signatures on the productivity and profitability of small businesses. This SignWell guide will walk you through the top ten electronic signature solutions that can help small businesses enhance their efficiency.
Let's get started.
What Is Electronic Signature for Small Business?
An electronic signature for small businesses is a digital method of signing and validating electronic documents or transactions—replacing the need for physical signatures. 
It streamlines business operations by saving time, reducing costs, and enhancing security. This technology is legally recognized, making it an efficient tool for small businesses operating in the digital space.
Use Cases of Electronic Signature for Small Business
If your small business deals with contracts, agreements, or any other type of document that requires a signature, electronic signatures can help you cut down the time it takes to seal a deal.
There are tons of potential use cases, including:
Sales contracts

Purchase orders

Vendor and supplier agreements

Change orders

New customer forms

Contract signing

Client and employee onboarding

Invoicing and payment authorization

Loan and financing applications
Overall, electronic signatures can help your small business save time, reduce costs, and streamline processes.
Why is an Electronic Signature for Small Business Important?
Operational Efficiency and Time Saving
Electronic signatures streamline business operations by eliminating the need for physical signatures. This leads to faster transactions, saving valuable time that can be used for other important tasks.
Increased Security of Your Documents
Electronic signatures enhance the security of your documents by providing a secure and tamper-evident seal. They also offer an audit trail, showing who signed the document and when.
Simplified HR Process
The HR process involves numerous forms and documents. Electronic signatures simplify this process by enabling HR departments to send and receive important documents electronically.
Efficient Contract Management
Small businesses often deal with contracts. Electronic signatures make it easy to send, sign, and store these documents digitally, improving contract management efficiency.
Tracking Progress
Electronic signature solutions provide real-time tracking of document status. This feature allows businesses to monitor who has signed the document and who hasn't, ensuring nothing falls through the cracks.
Criteria to Consider When Choosing Electronic Signature for Small Business
Automation and Process Efficiency
When choosing an electronic signature solution, consider how well it automates and streamlines your business processes. The best solutions will save you time and reduce manual tasks.
Security
Security is paramount when dealing with sensitive documents. Ensure the electronic signature solution you choose provides robust security measures, including encryption and audit trails.
Scalability and Customization
Your electronic signature solution should be able to scale with your business and offer customization options. This ensures it can meet your needs as your business grows and changes.
Integrates with Your Product
Integration capability is another important factor. The electronic signature solution should seamlessly integrate with your existing software and systems to ensure smooth operations.
Pricing
Finally, consider the pricing structure of the electronic signature solution. It should offer good value for money, fitting within your budget while meeting all your requirements.
7 Best Electronic Signature Tools for Small Business
Are you in a rush? No problem—here's an overview of the tools we'll be covering:
SignWell

Jotform Sign

Foxit eSign

DocuSign

Formstack Sign

OneSpan Sign

Signable
Now, onto our list!
1. SignWell
SignWell is an e-signing platform that offers the simplicity that small businesses seek without sacrificing features.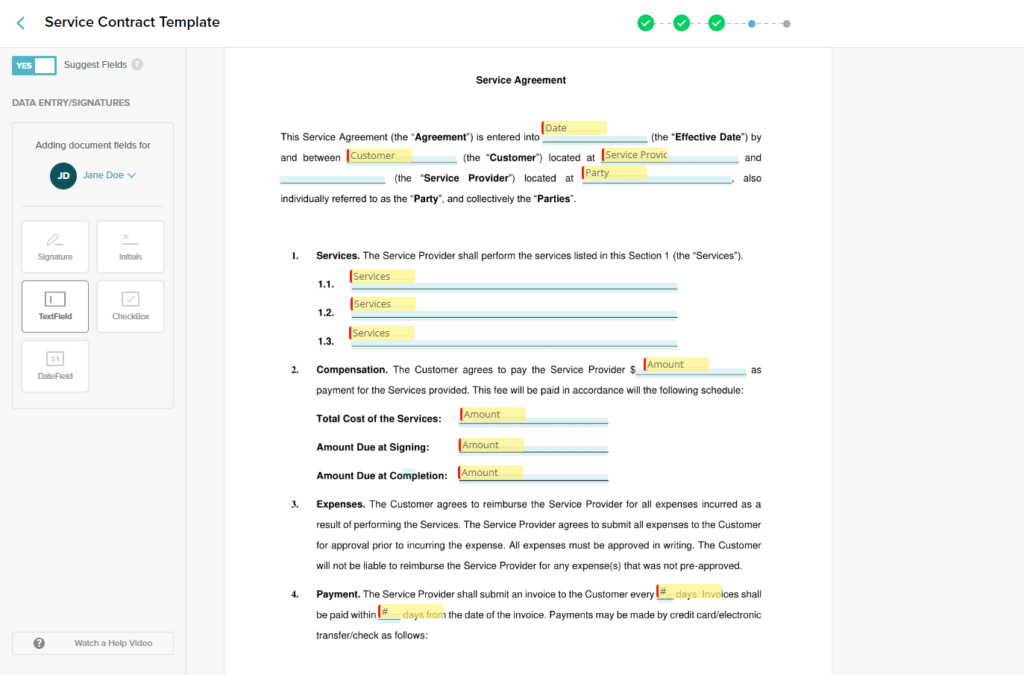 Small businesses can use SignWell to create document templates, sign documents online, and track document statuses. It also offers workflow automation, so you can set a signing order and move on to more pressing tasks.
All signatures collected by SignWell are legally binding and secure, thanks to 256-bit SSL encryption and AWS data centers.
Relevant Features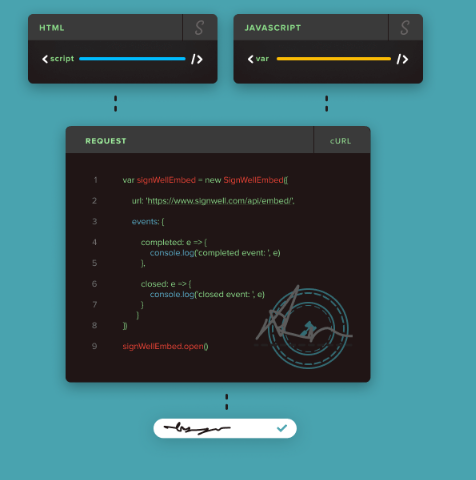 E-Signature API

: SignWell's e-signature API enables you to quickly incorporate legal and secure e-signatures into your website or web app. You can also use it to automate your document creation and signing workflow by connecting other tools in your stack.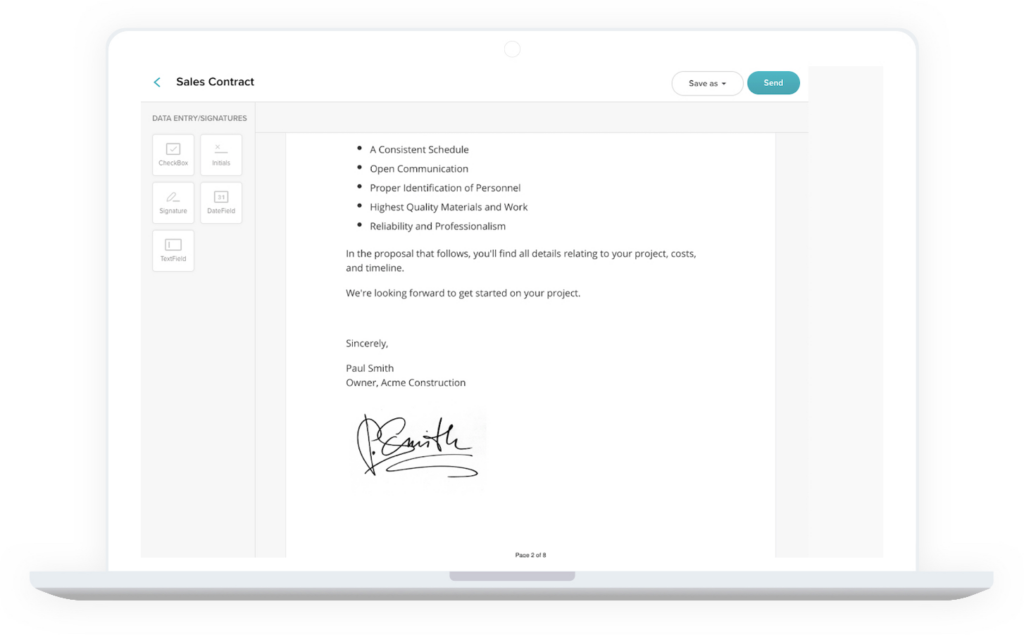 Document Signing

: Upload a file, add fields that need to be completed, and then sign the document. SignWell provides a secure and compliant solution for collecting legally binding signatures, with real-time notifications and tracking of document status.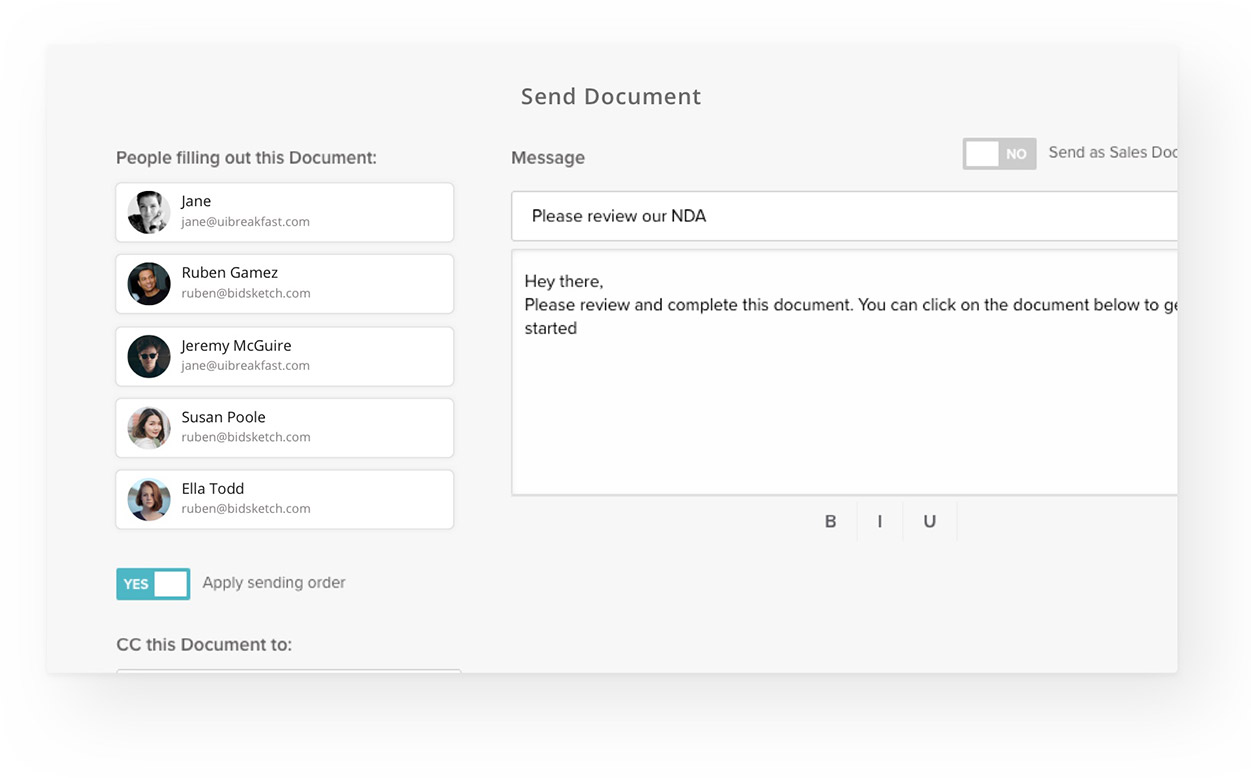 Document Workflows

: Simplify the document signing process by allowing users to upload files, complete their parts of the document, and send it off for signatures. It also provides features to track outstanding signatures, completed documents, and automatic notifications to keep the process moving.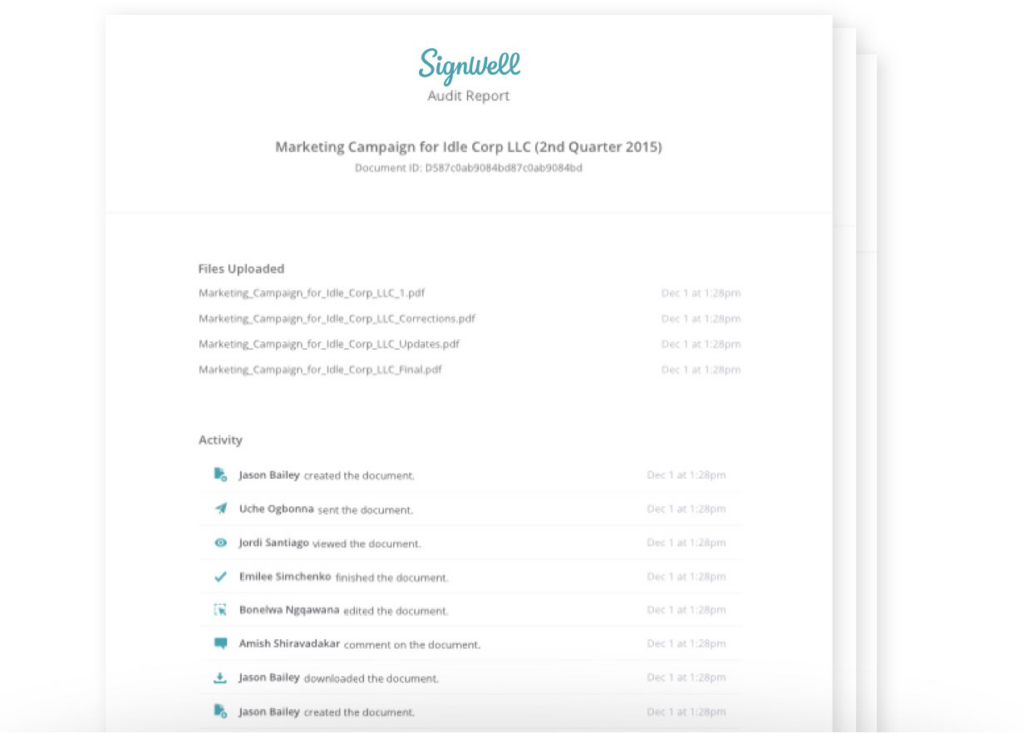 Audit Reports

: Maintain an audit trail of all the important activity related to your documents. Every signed document receives an audit report that represents your legal documentation and meets or exceeds U.S. and international e-signature law requirements.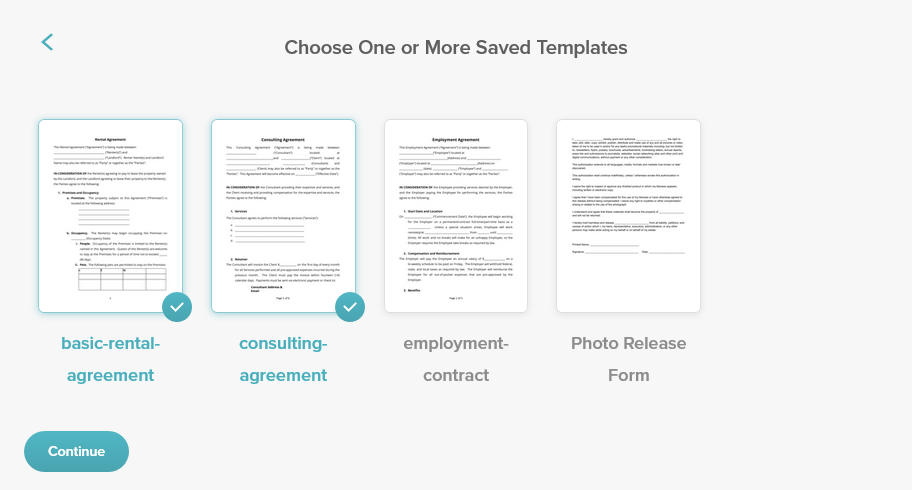 Custom Templates

: It allows users to create and use templates for documents that are frequently sent, improving efficiency. Users can add placeholders, specify fields, and save these settings for future use.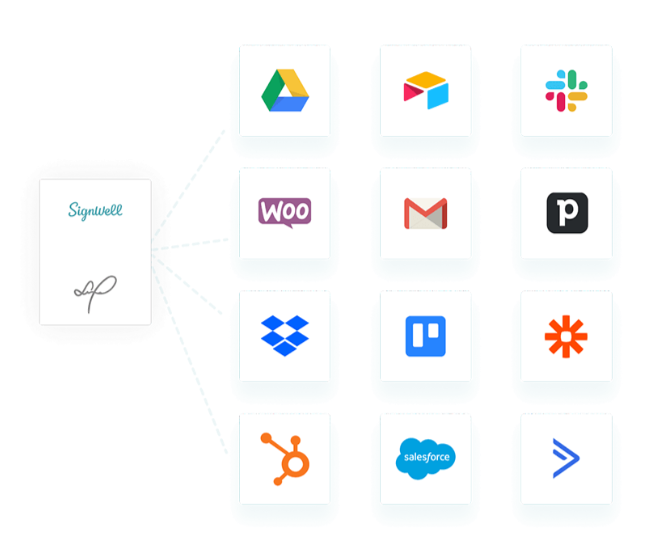 Easy Integration

: SignWell works seamlessly with 5,000+ of your favorite apps, including Gmail, Dropbox, and Slack.
Pricing
SignWell Pricing
SignWell offers a range of pricing plans to meet different needs.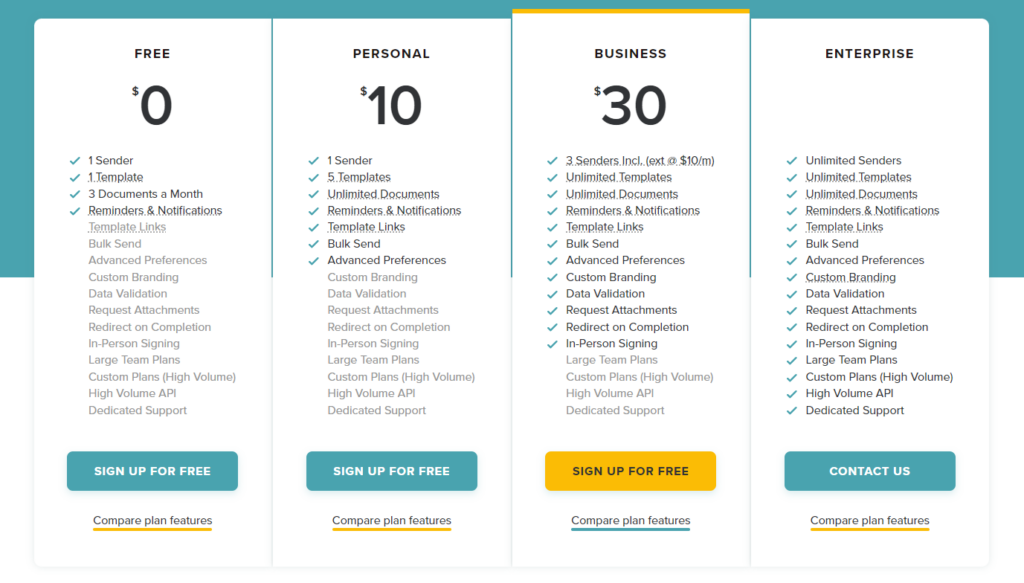 We have a free plan with limited features as well as paid plans for individuals and teams. Plans never cost more than $8/user/month, making SignWell one of the most affordable e-signature solutions on the market.
API Pricing
SignWell offers a scalable and affordable e-signature API that allows you to integrate e-signatures into your app or platform.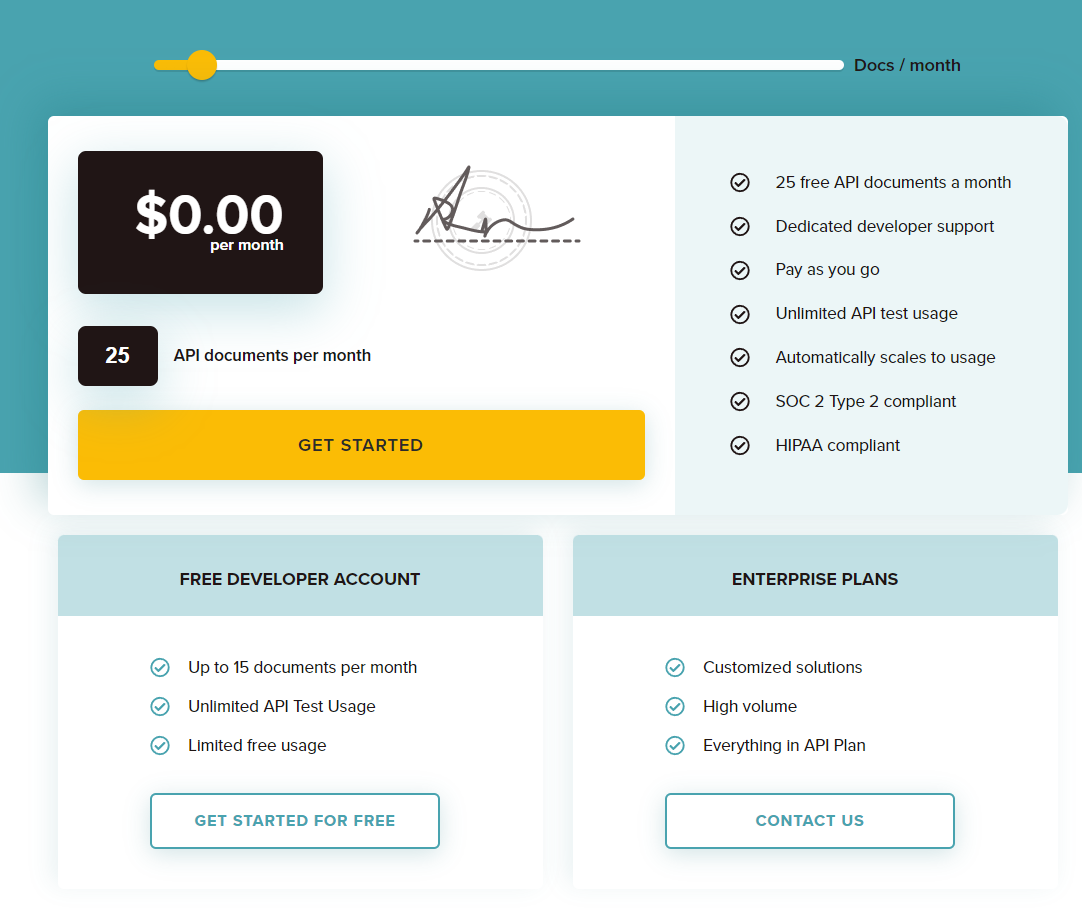 Our API pricing is pay-as-you-go, and you only pay for what you use, with billing happening after 30 days of usage.
Pros and Cons
Pros
Unlimited documents on paid plans

User-friendly

Easy to set up and use multi-party signing on a document

Cost-effective
Cons
Limited documents on the free plan
2. Jotform Sign
Jotform Sign allows users to create, share, and e-sign documents in minutes. The tool is designed to comply with the E-Sign Act and UETA, making the e-signatures legally binding in many countries.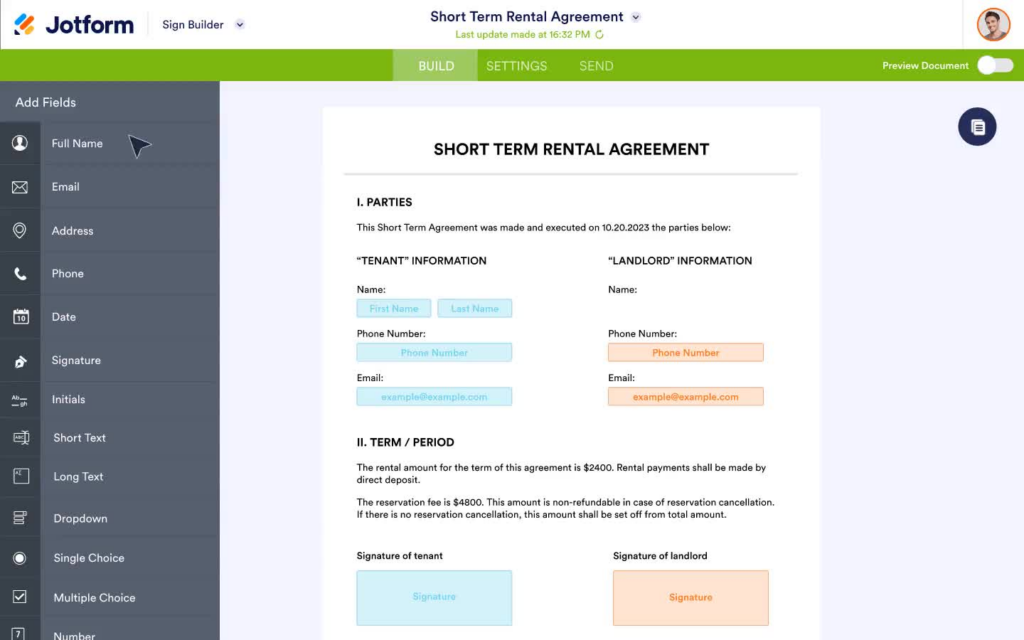 Relevant Features
Sharing Documents

: Share your documents with signers via email, link, or embedding them in websites and apps.

Jotform Sign Inbox

: Stay updated on signer actions instantly. Receive notifications, send reminder emails, and conveniently download signed documents, all from one centralized location.

Signature Widget

: Collect electronic signatures through your online forms.
Pricing
Jotform offers different pricing plans to cater to various needs. 

The plans range from a free option with limited features to higher-tier plans with more advanced features, storage, and submission limits. Pricing starts at $34 per month for the Bronze plan and goes up to $99 per month for the Gold plan, with an Enterprise option available.
Pros and Cons
Pros:
User friendly

Allows users to create and customize their own templates for different types of documents

Complies with the E-Sign Act and UETA
Cons:
Pricey compared to other e-signature solutions

Some users report sending issues
3. Foxit eSign
Foxit eSign is an e-signature service that enables users to prepare, send, sign, and manage agreements.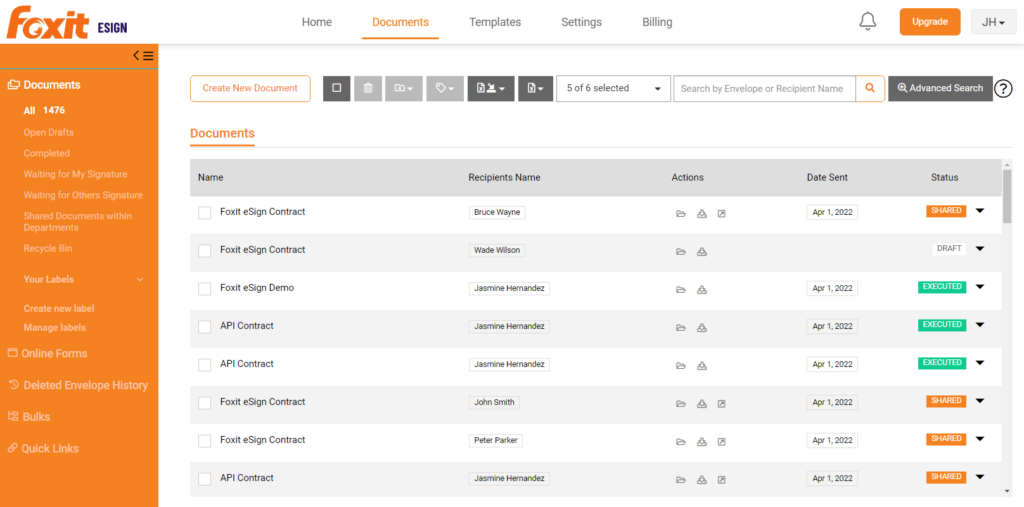 It automates the process of sending, signing, tracking, and managing signature workflows using only your browser.
Relevant Features
Bulk Signing and Sending

: Send documents to multiple recipients at once and allow multiple signers to sign at once.

Audit Trails and Certificates of Completion

: Foxit eSign provides audit trails and certificates of completion for each signed document.

Embedding

: Integrate e-signatures directly into websites using the provided online form or embedding code.
Pricing
Foxit offers two versions of their eSign service—eSign Pro for medium to large companies priced at $300 per year and eSign for small companies departments priced at $96 per year. 

Additional add-on services, like user notification and two-factor authentication, are available separately. 
Pros and Cons
Pros
Ease of use

Legally binding and HIPAA-compliant
Cons
Some users complain it's too expensive compared to other e-signature services

Lack of integration with other platforms

Limited customization options
4. DocuSign
DocuSign allows businesses to automate the entire contract lifecycle, from creation and signing to execution and management, all in a secure digital environment.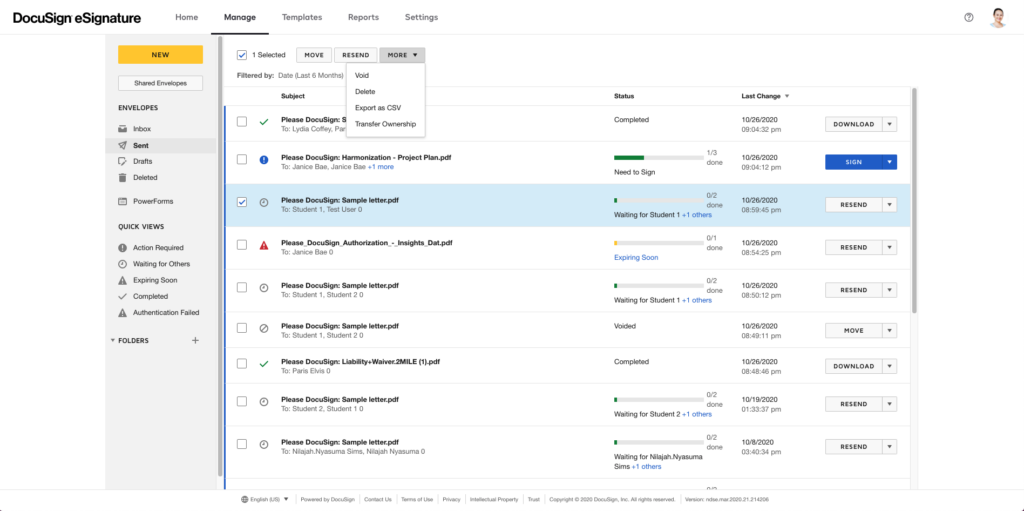 For a full review of this popular tool (plus some great alternatives), check out our DocuSign alternatives article.
Relevant Features
Branding

: Showcase your brand on the emails and web pages that your recipients encounter when they fill out documents.

Templates

: Streamline document sending with reusable templates that retain tags, field placement, workflow routing, and other configurations.

Document Creation

: Generate personalized, professional-looking agreements directly within eSignature.
Pricing
The pricing for DocuSign's eSignature plans starts at $10 per month for individuals and goes up to $40 per month for businesses. 

The plans offer different features and benefits, like the number of envelopes per month, reusable templates, collaborative commenting, and advanced automation options.
Pros and Cons
Pros:
Easy and accessible software

Quick completion of tasks

Secure website for signing and sending legal documents
Cons:
Issues with customer service

Challenges with API/SDK integration
5. Formstack Sign
 Formstack Sign is a platform that enables users to collect electronic signatures on documents from any device.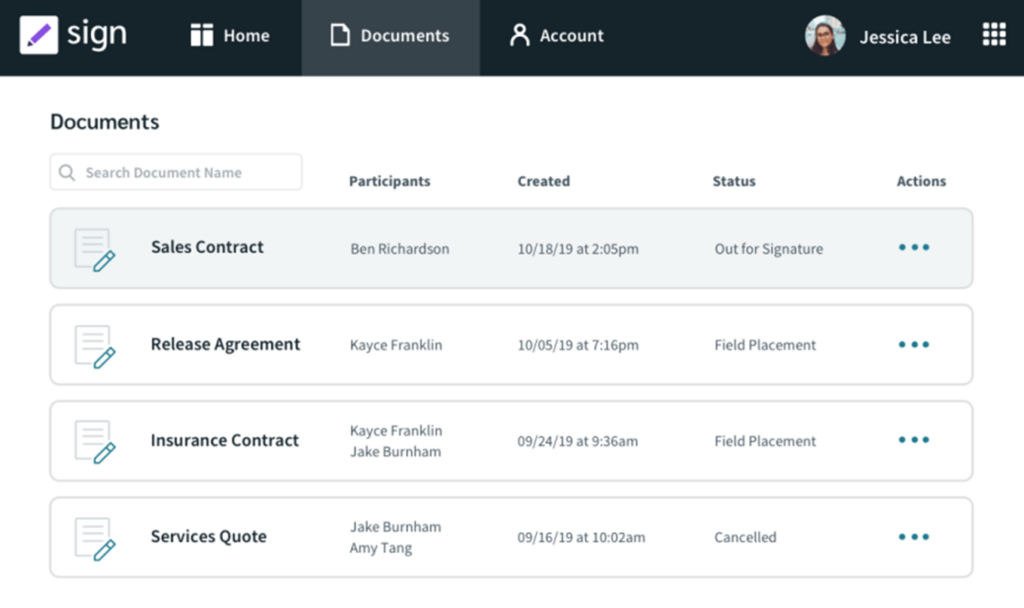 It streamlines document workflows with features like drag-and-drop fields, digital signature automation, and automatic reminders.
Relevant Features
Auto-Reminders

: Send reminders via text and email to both customers and employees, ensuring a prompt collection of signatures.

Multiple Participant Workflows

: Create automated eSignature processes that let you work with several signers and approvers.

Mobile Signing

: Easily collect mobile signatures from prospects, customers, or coworkers by sending documents for signature via text message
Pricing
Formstack offers a range of pricing plans for their products, including Forms, Documents, and Sign. 

The pricing is based on a monthly or annual billing cycle, with discounts available for annual subscriptions. There are also core plans and Salesforce Native plans available, as well as a recommended Suite plan that bundles all of Formstack's tools.
Pros and Cons
Pros:
Easy to use

Allows for customization.

HIPAA-compliant 

Can be integrated with over 100 other platforms
Cons:
Some users have had issues with customer support.

Some users find it to be expensive.
6. OneSpan Sign
OneSpan Sign is a comprehensive solution for digital signatures, enabling businesses to securely sign and manage documents electronically.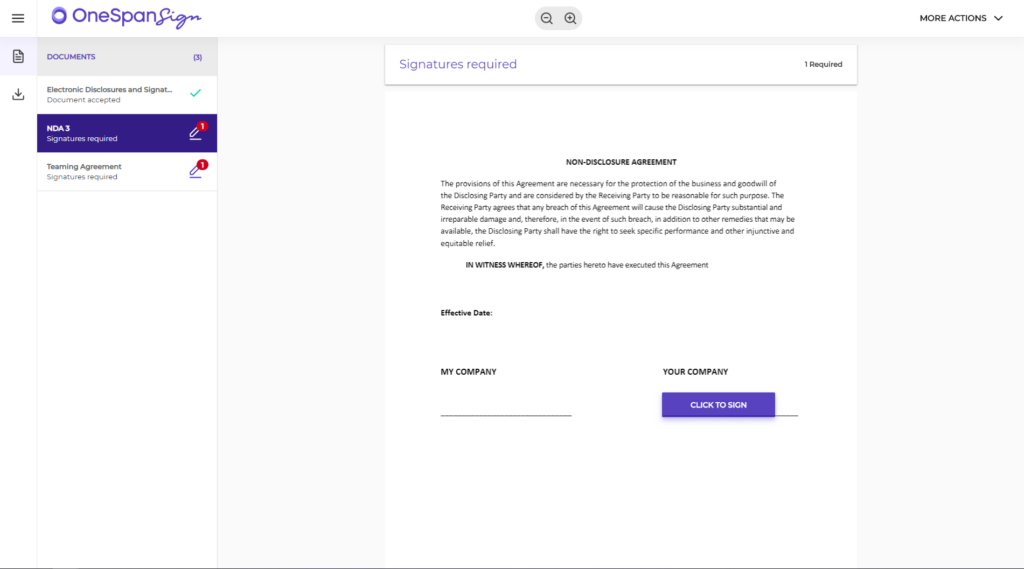 This tool offers workflow automation, document tracking, and authentication to streamline the signing process and enhance overall efficiency. You can also customize signing experiences and document templates.
Relevant Features
Signer Attachments

: Allow signers to attach additional documents.

Serial and Parallel Signing

: Define workflows and control every step in the process to optimize the customer experience.

Open APIs and Integration

: Enable seamless integration and automation of the e-signature process across your web portal, business applications, core systems, and mobile apps
Pricing
OneSpan offers a range of plans for different businesses.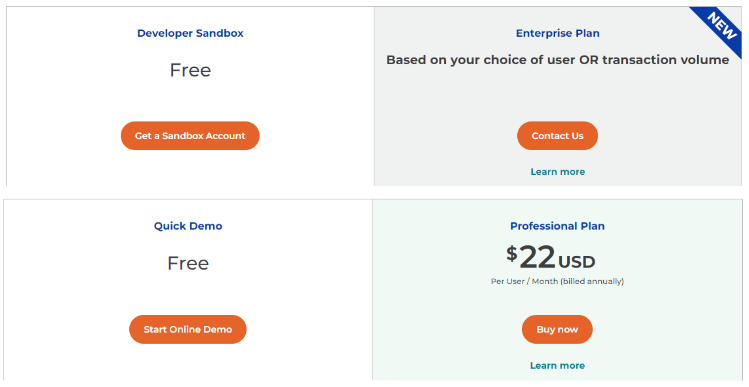 For individuals and small businesses, the Professional Plan is ideal, while larger organizations can benefit from the Enterprise Plan. 
Pricing is based on user or transaction volume, with each plan offering a host of features and benefits. Rest assured, OneSpan has thoughtfully tailored these plans to meet your specific needs and ensure a seamless experience.
Pros and Cons
Pros:
Secure and legally binding 

Balances high levels of security and compliance

Flexible deployment options (cloud-based and on-premise)

Great flexibility and easy-to-use
Cons:
Buttons are hard to read on mobile displays

Price could be reduced

Search limitations within User Groups
7. Signable
Signable is an electronic signature platform that allows users to securely sign and manage documents online.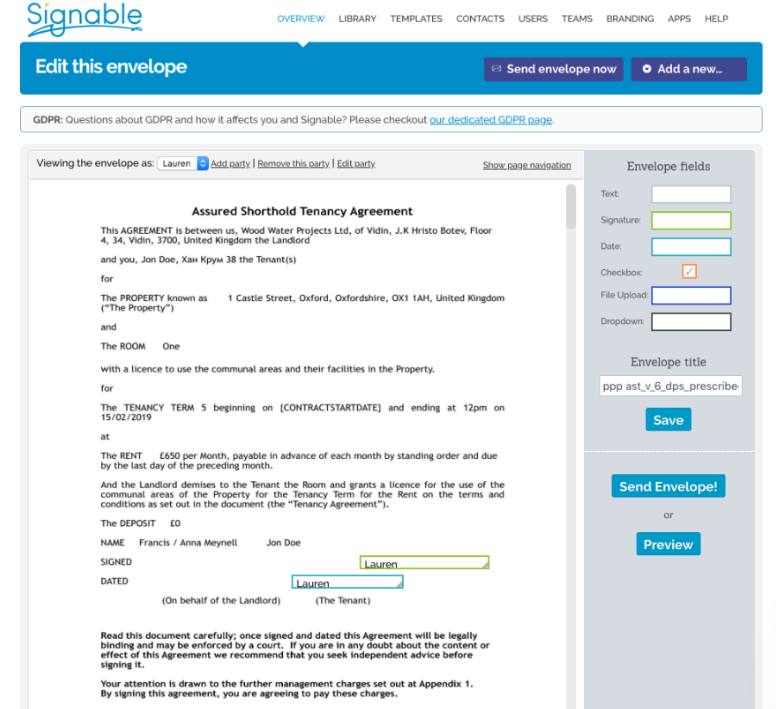 It offers a user-friendly interface, advanced security features, and seamless integration with other business tools, making it a convenient solution for businesses of all sizes to streamline their document signing processes.
Relevant Features
Smart Digital Forms

: Create and send forms that support various file types and advanced form fields.

Signer Attachments

: Let signers add documents, photos, and other attachments to their signature request.

Serial and Parallel Signing

: Set serial signing orders or allow signers to sign in any order with the flexible parallel signing feature.
Pricing
Signable offers flexible pricing plans for their e-signature service. 

They have monthly and annual options with no risk, no contracts, and no credit card required. The plans include unlimited users, templates, branding options, API access, bulk send, and more.
Pros and Cons
Pros 
Great solution with flexible pricing.

Easy to use and good value.

Ability to search for signed documents and provide copies to clients.

Flawless customer service.
Cons
Limited customer service response time 

There is no option to go back and fix mistakes, requiring starting over
Cut Signing Turnaround Times With SignWell
Choosing the right e-signature solution for your small business is of utmost importance when it comes to effective document management. This list of the seven best e-signature solutions is a great starting point—but be sure to do your own research and decide which one is right for you.
SignWell's cloud-based e-signing solution makes it easy for businesses of all sizes to quickly sign documents without printing them out and scanning them back in. Features like workflow automation, reminders, and audit trails help you streamline the document process and ensure that documents are signed quickly and securely. 
Sign up for free to explore SignWell for yourself.
Sign with a team that knows what you need.
Putting a signature on a document shouldn't be hard. The SignWell mission? Simplify how documents get signed for millions of people and businesses.
Get Started Today
61.000+
businesses served, so far...
4.000000+
total documents signed
98%
customer support satisfaction