Electronic Signature Guide: Software & Best Practices
Signing documents has never been incredibly convenient or enjoyable. Printing, signing, scanning, and sending the signed document back to its destination is time-consuming and cumbersome—and even more so now that printing and faxing equipment isn't quite as common as it used to be. 
Business is increasingly done electronically—but document signing has taken a while to catch up. 
However, electronic signatures fix that problem. At SignWell, we'll go over what an electronic signature is (and whether or not it's legal), the different instances in which it's helpful to be able to use and offer electronic signatures, some common ways to create your electronic signature, the top electronic signing tools available, and how to offer electronic signing options for your business. 
What is an electronic signature? 
First off—what exactly is an electronic signature, and why is it something you should be using? 
An electronic signature is exactly what it sounds like. It's a signature you can use electronically, either by inserting a preformatted signature into a document or using a third-party tool to sign something from your computer.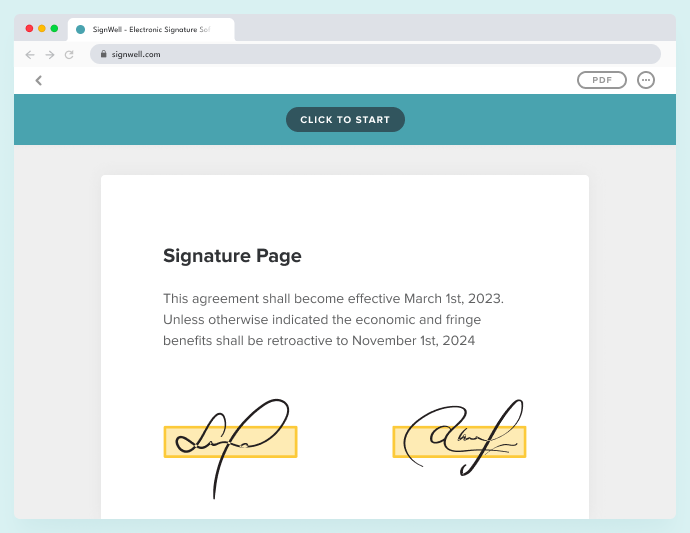 So, instead of having to print, sign, and then scan (or reupload) a document that needs a signature, an electronic signature allows you to sign something digitally without having to sign a hard copy. 
What are the legal aspects of signing electronically? 
Most people's biggest concern around electronic signatures is whether or not they are legal. So, do electronic signatures also have the same weight and recognition legally? 
Yes, electronic signatures are as legal as taking pen to paper and signing something by hand. According to the U.S. Federal ESIGN Act, electronic signatures are legally recognized as valid and subject to the same ramifications as traditional signatures. 
That being said, for an electronic signature to be considered valid, it must meet the following requirements: 

Consent to do business electronically:

The person signing a document must give consent. This is sometimes presented in the form of a checkbox, ensuring that the person signing is consenting to the submission of the signature electronically. 

Intent to sign the document:

Similar to consent, users need to be offered an opportunity to either accept or turn down signing the document electronically. 

Attribution of the signature:

The signature must be attributed to the person signing—via IP address, a secure login, or other contextually appropriate means. 

Association of the signature to the document:

The signature needs to be connected to the document; for example, a signature sent via email cannot be applied to a document elsewhere, even if the person sending the email says it's okay. The electronic signature must be connected to the specific material being signed to be legally binding. 

Record retention:

The signature must be stored by the receiver so that it can be produced later.  
This might sound like a lot of rules, but if you are considering adopting electronic signatures for your business, you'll find that the tools out there for you to use have already taken all these measures into account. 
We'll go into your options for how to get documents signed electronically later on in this guide; first, let's talk about why you might need electronic signatures for your business in the first place. 
Why is it important to be able to sign documents electronically?
So, we've gone over some of the basics of electronic signatures and how to ensure they're legally binding. 
But why should you consider using electronic signatures in the first place? 
Electronic signatures take the hassle out of document signing 
Simply put, getting traditional pen and paper signatures is often a little bit of a pain. 
Say you have a business proposal that you need to be signed by a client. If you only accept physical signatures, you have a couple of options: You can schedule a meeting to get together to sign the paperwork or ask that they sign it on their own and send it back to you. 
In the first case, you'll have to set up a time to meet. This means ensuring schedules line up and taking time out of your day for something as simple as signing a document. It's a hassle for you and your new client. And what if you're doing business with someone who isn't in the same town or city? In-person document signing gets inconvenient pretty quickly. 
In the second case, even though you and your client no longer have to schedule a face-to-face meeting, they still have to print off the document, sign it, and then re-upload and send it back to you. In a day and age where traditional office equipment isn't always present, you might be forcing your client to find their nearest print shop just to get your signed document back.  
But, if you offer the ability to sign your proposal electronically, you've made it infinitely easier for your new client. They no longer have to take time out of their day to figure out how to get you the signed paperwork—they can do it easily from their computer. 
Electronic signatures help documents get signed quicker 
Let's continue with the business proposal example:
Think about all the hoops your prospective client has to jump through to get the signed proposal back to you. They're probably busy—finding time to do everything isn't easy. They might end up putting it off, and the longer they wait to sign, the longer it will be until you can start work on the project (and the longer it will be before you get paid). 
Offering the option to sign electronically means that you eliminate hoops to jump through, which means that your new client can turn the signed document around much faster. 
Ultimately, offering the option for electronic signing makes things run more smoothly—both for you and for the person submitting the signature. It eliminates the hassle, cuts down on the amount of time it takes to get a document signed, and creates less "friction" overall throughout the business process. 
Electronic signatures make
your
life easier
Beyond offering electronic signing options for your business, knowing how to sign documents electronically will make your life easier. 
You now know why offering electronic signing options is important, but you won't always be doing business with people who do. If you know how to sign things electronically, you'll save yourself a lot of hassle. 
How to create an electronic signature
Here, we'll go over how you can personally create your own electronic signature for documents. This will be useful if you need to sign things electronically but the person sending the documents isn't using an electronic signing tool. 
If you want to choose the right electronic signing tool for your business, skip to the next section. 
How to create an electronic signature in Word 
If you want to upload your signature to a document within Microsoft Word, you'll first need to sign a piece of paper, scan it, and save it to your computer. 
Then, you can insert it into the document as a picture by going to Insert > Pictures. 
Here's a guide via Office Support that walks you through the process. 
How to create an electronic signature in a PDF
Creating an electronic signature in a PDF is a little different than in Word. To sign a PDF, you can enter Acrobat Reader and create a signature on your computer and use your PDF reader's "sign & fill" feature (if it has one).
Here's an article by HowToGeek that goes into the process in greater detail. 
How to create an electronic signature via Preview on a Mac
Similarly, you can use Preview on Mac to create a signature from your computer and insert it into a document. This will allow you to sign PDFs and any other type of document that you can open in Preview, so it's a great tip if you are a Mac user. 
Here is another guide from HowToGeek that details this process, and here is AppleInsider's tutorial.
19 Electronic signing tools (free and paid)
If you are interested in offering electronic signing within your business so that your clients and customers can sign off on documents more easily, there are many tools to choose from. 
Here's an overview of the list:
SignWell

Adobe Sign

DocuSign

eSign Genie

Xodo Sign

Fluix

Dropbox Sign

OneSpan

Clickwrap

PandaDoc

PDCflow

RightSignature

Sertifi

MyDoX from SIGNiX

SignNow

eSign PDF

Legalesign

Digisigner

SignRequest
Before we go into your options, know that most tools come at a cost and will require a monthly paid subscription. There are a few exceptions, like Docsketch, and plenty of free trials that you can take advantage of before you commit. 
This list is hardly a comprehensive list of all the tools out there—you'll find that you have many options out there, and it would frankly be a very long list. However, here are some of the top options available.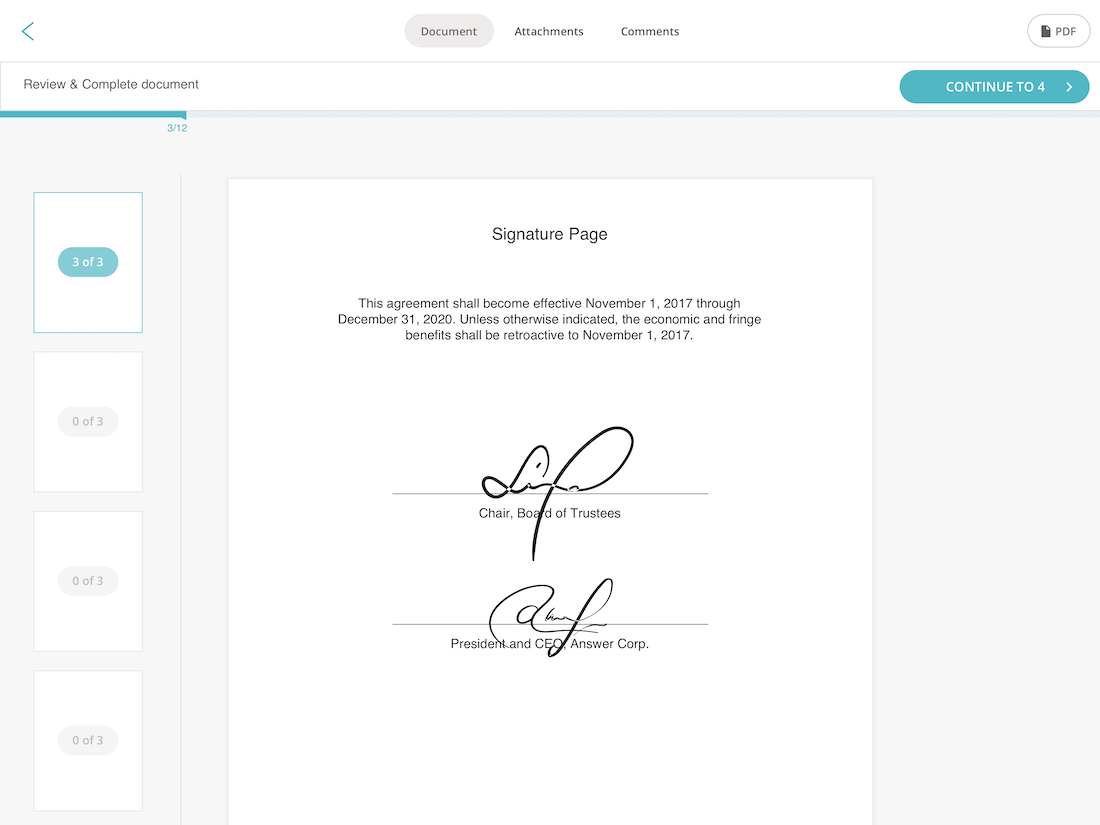 SignWell is all about making it super easy for you to sign your documents, cutting down on turnaround time, and simplifying the whole process. With SignWell, you can collect legally binding signatures with just a few clicks, track outstanding signatures, and even create custom templates for quick and easy document reuse. 
There's a range of features under the hood that go beyond simple e-signatures, too:
Easy-to-use API:

Connect SignWell with your existing websites and apps and automate the entire e-signing process.

Document workflows

: Set up custom document workflows for specific signers and actions.

Audit reports

: Track every signature on a document with detailed audit logs.

Custom templates

: Create custom document layouts to save time when creating multiple documents.

Easy integration

: Integrate with 5,000+ of your favorite apps, including Gmail, Dropbox, and Slack.
Pricing
SignWell offers a free plan for one sender and three documents monthly.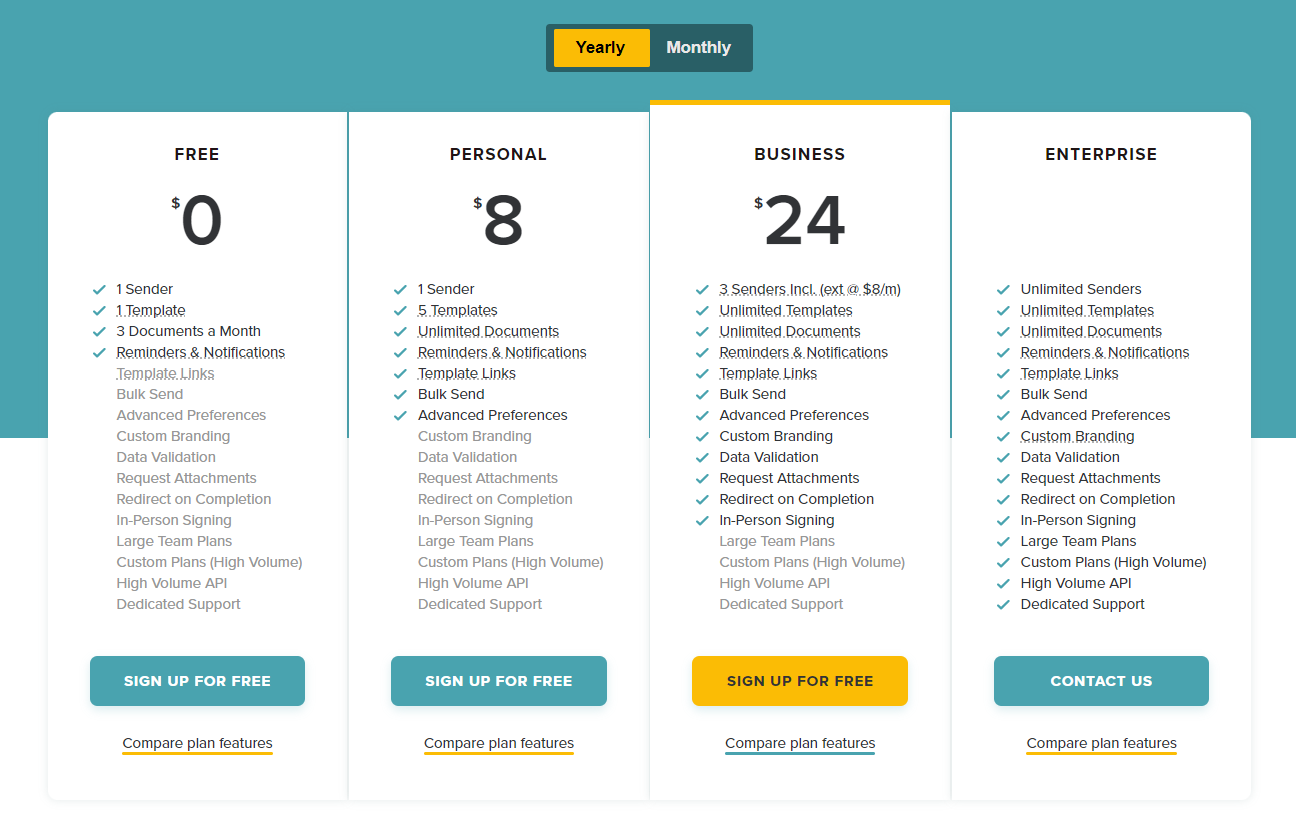 There are also three paid plans—Personal ($8/mo), Business ($24/mo), and Enterprise (custom). 
Personal includes one sender, five templates, and unlimited documents. Business offers three senders, unlimited templates, and unlimited documents. Enterprise provides unlimited senders, unlimited templates, and unlimited documents. 
SignWell also has a free plan available.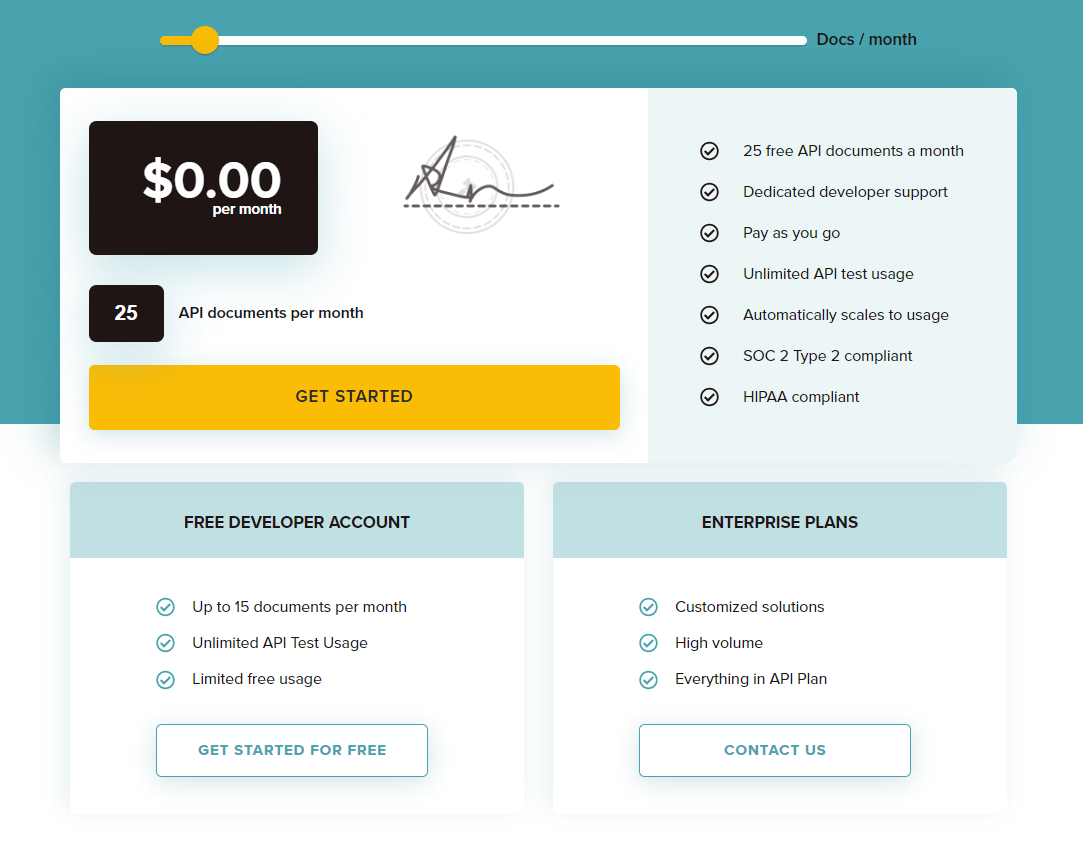 Extra senders cost $8 per sender per month and offer a flexible plan for e-signature API access.
2. Adobe Sign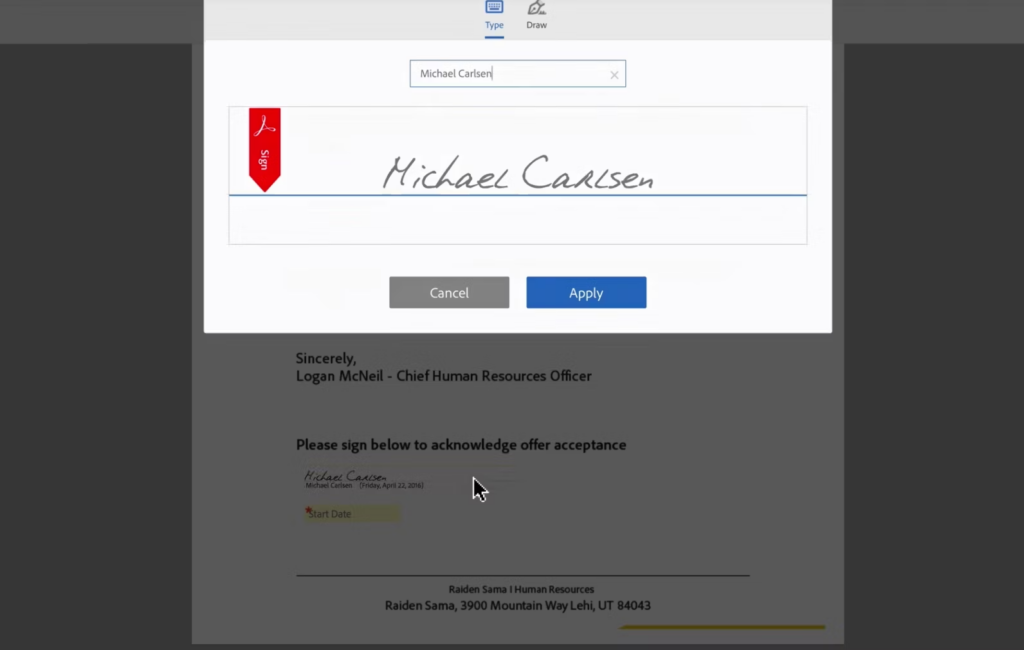 With plenty of name recognition, Adobe offers electronic signing options for smaller organizations (up to nine) and larger businesses. With Adobe, you can sign and send documents from any device, anytime, anywhere. You can also see who signed your documents, send reminders, and keep your signed copies in the cloud.
Pricing
Adobe provides a range of pricing options for its e-signature services, which include Acrobat Standard ($12.99/mo) and Acrobat Pro ($19.99/mo). Each plan has its own set of features, like document signing, editing, PDF conversion, and security options. Both plans also have annual commitment options.
There are also plans for teams starting at $14.99/user/month.
3. DocuSign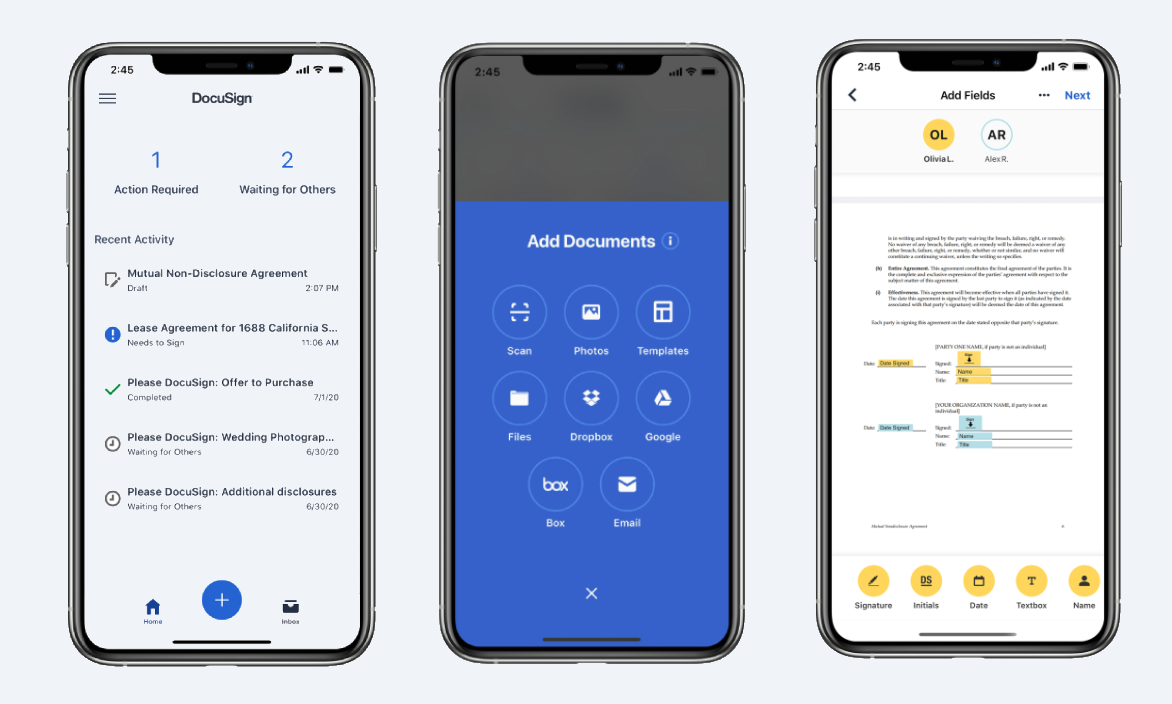 One of the more well-known electronic signing options, DocuSign lets you access and sign documents quickly and securely. 
Pricing
DocuSign offers a 30-day free trial. Tiered pricing is based on annual or monthly agreement, number of users, and feature set. 

Plans range from $10 monthly for Personal to $40 per user per month for Business Pro, which includes the full feature suite.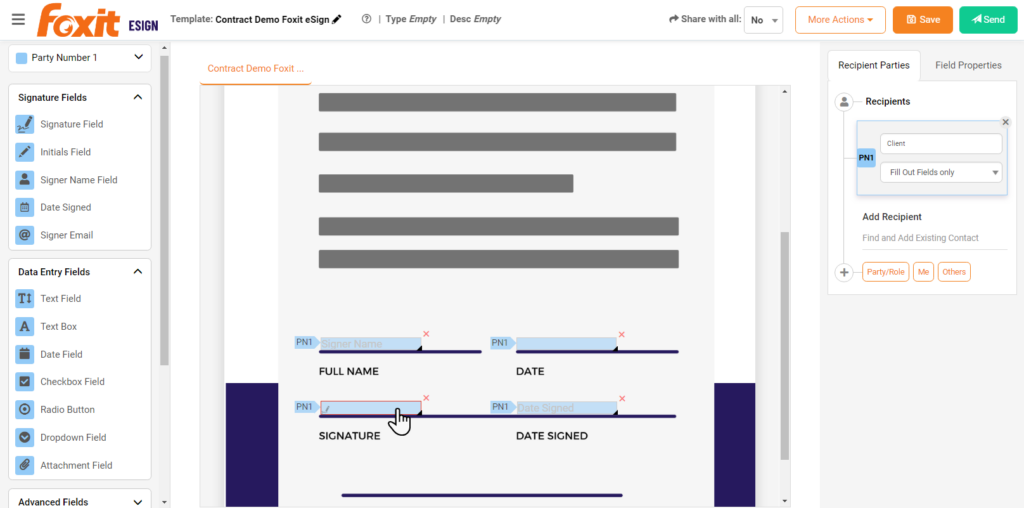 Foxit eSign offers a standard feature set: collaboration with multiple team members, integrations, security, and templates. With Foxit eSign, users can enjoy intuitive document creation, white-label customization, bulk options, and API integration. The software complies with HIPAA, SOC2, and 21R Part 11 regulations, ensuring confidentiality.
Pricing
eSign Genie has three pricing plans: Small Business ($8/month), Pro ($25/month), and Enterprise (custom). Each plan includes features for document upload, integration with Google Drive and Dropbox, status notifications, audit trail, and compliance with industry standards.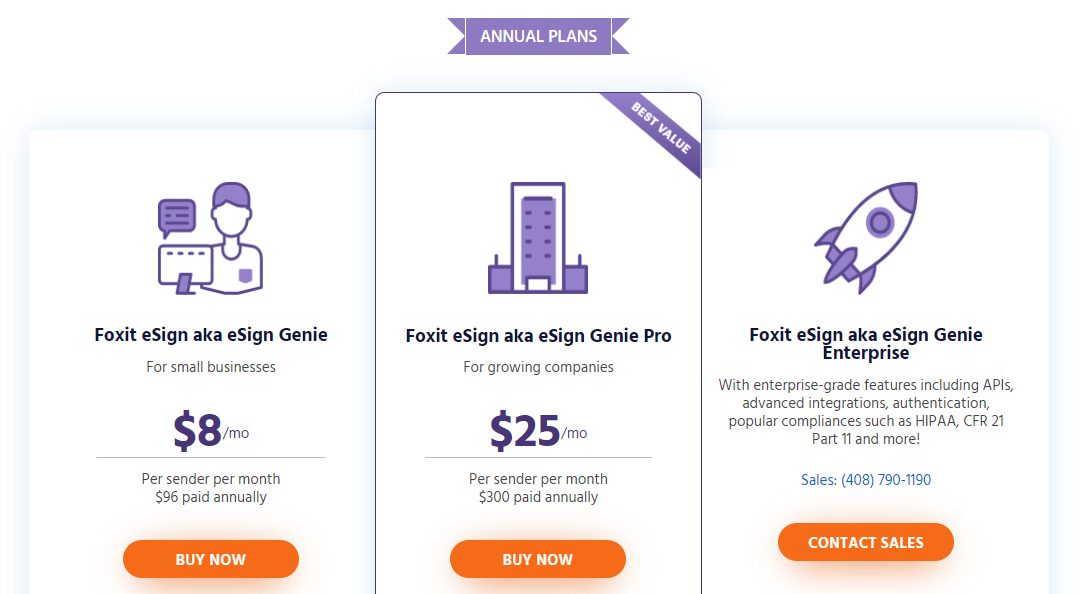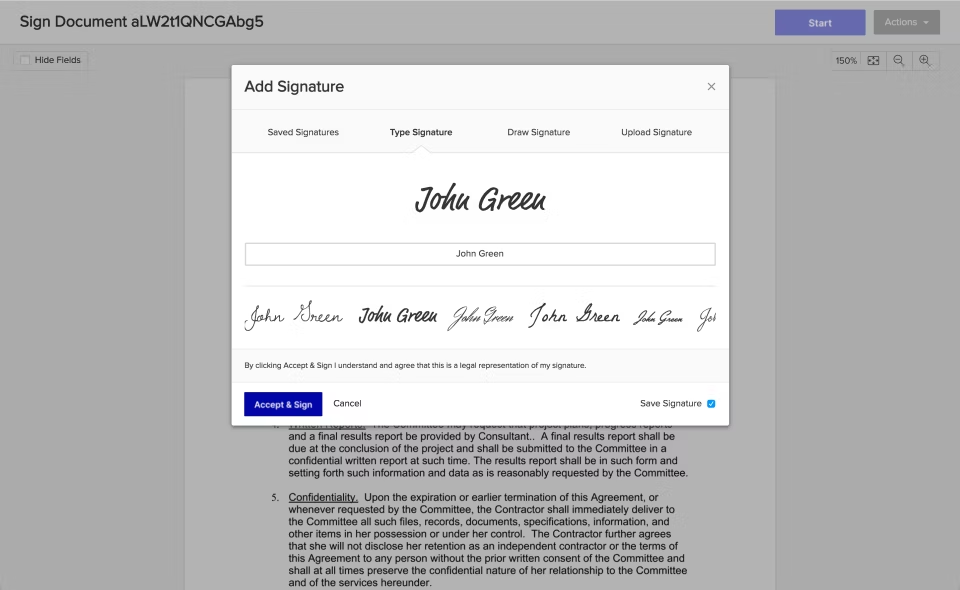 Offering a pretty standard feature set, Xodo Sign lets you sign documents securely and electronically and integrates with other apps. While they have "professional" and enterprise-level tiers, they offer multiple tiers geared toward solopreneurs and smaller outfits, so they're worth looking into if that is your situation.  
The platform prioritizes high-level security by encrypting data using 256-bit SSL and maintaining a closely monitored infrastructure. 
Pricing
Xodo Sign Lite is free and includes up to five documents per month. The basic plan for one user is $9.99 per month, and the professional plan runs $39.99 for up to 5 team members. These monthly prices offer a discount for their annual plan—so it's one of the more cost-effective and flexible pricing structures.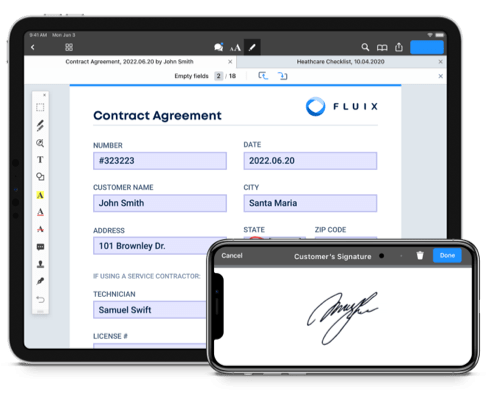 Something a little different: Fluix allows you to convert contracts and timesheets into interactive PDFs. You can sign electronically, as with the other offerings here, but it's probably the strongest fit for users who need to automate form fills. 
Pricing 
Fluix Core offers a 14-day free trial. Plans start at $30 per user per month with a 10-user minimum.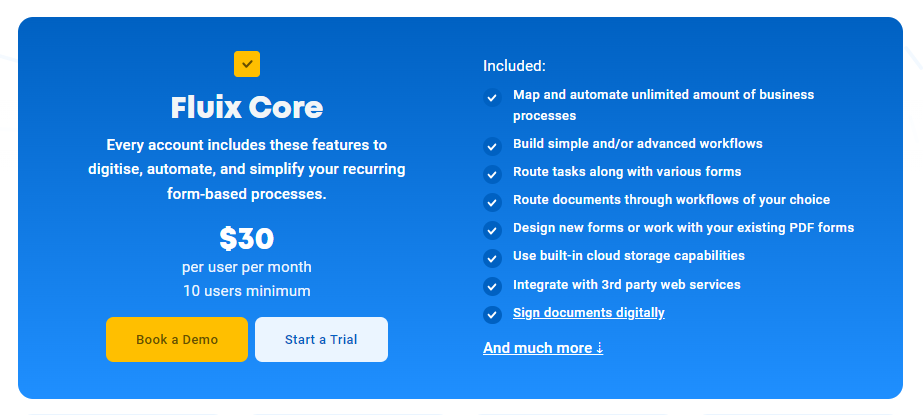 7. Dropbox Sign (formerly HelloSign)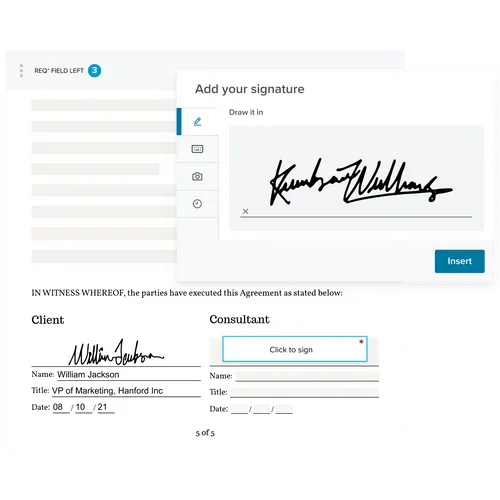 A flexible option that lets large groups sign and access documents, Dropbox Sign (formerly known as HelloSign) is a good fit for instances when many people need to be able to sign electronically. Dropbox Sign offers features like audit trails for document access, e-signature embedding, automated paperwork, and seamless integration with your current tools.
Pricing
Dropbox Sign includes unlimited signature requests, tamper-proof documents, mobile app access, and integrations.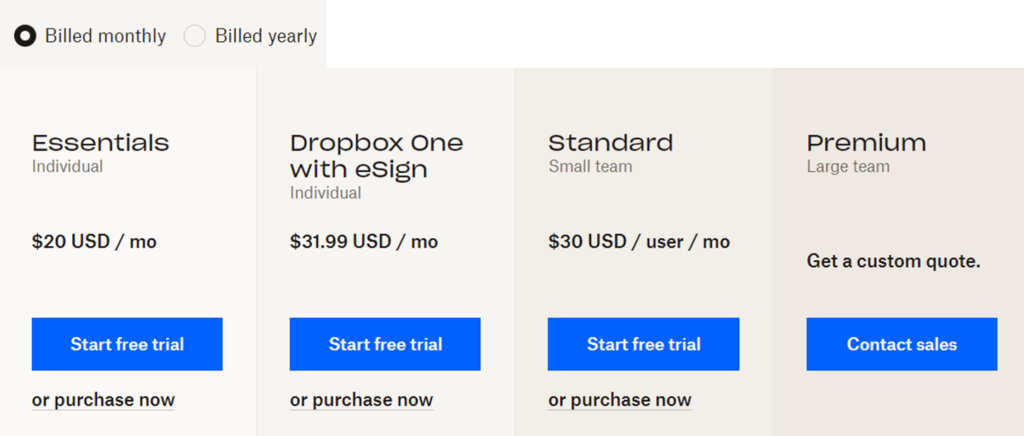 Pricing starts at $20 per month for individual users and $30 per user per month for small teams. Custom pricing is available for large teams.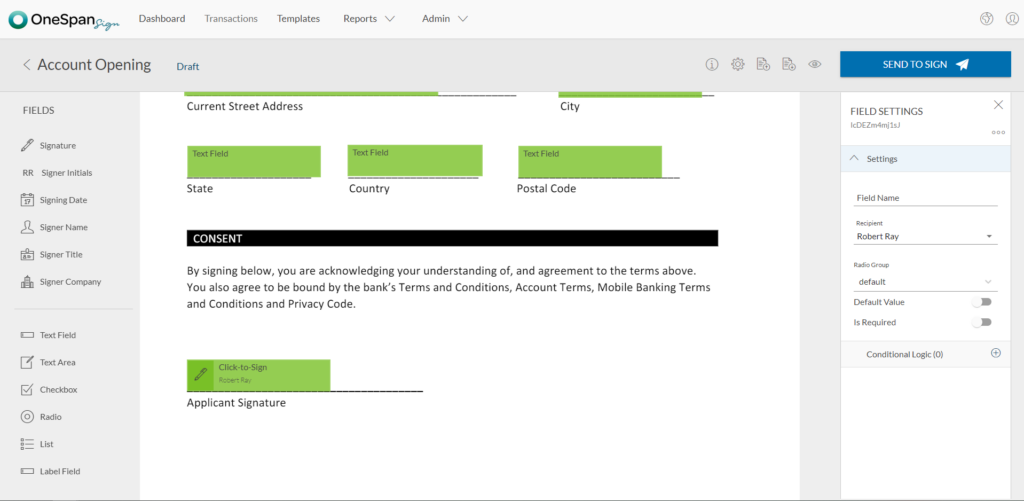 An out-of-the-box signing solution offering integration options that scale with your business, OneSpan (previously known as eSignLive) focuses on security and easily accessible audit trails. Users can automate workflows, verify identities, integrate with apps, ensure security, and comply with e-sign laws.
Pricing
You have different pricing options to choose from for the service. The first is the free Developer Sandbox, which allows you to test the API and SDKs. 

For those needing more advanced features, the Professional Plan is $22 per user per month and includes unlimited templates, advanced authentication, and integrations with popular platforms. If you want even more features, you can opt for the Enterprise Plan, which offers customized workflows, real-time reporting, and integrations with eVault systems.
Clickwrap provides a fast and efficient way to gather legally binding digital acceptances for high-volume, non-negotiated contracts like terms and conditions, NDAs, and liability waivers. 
It's designed to streamline contract creation, simplify version management, and enable one-click acceptance on any device. Clickwrap also helps mitigate risk by offering features like automatic visual evidence capture and easy contract tagging and storage. 
Pricing
Contact sales for accurate pricing info.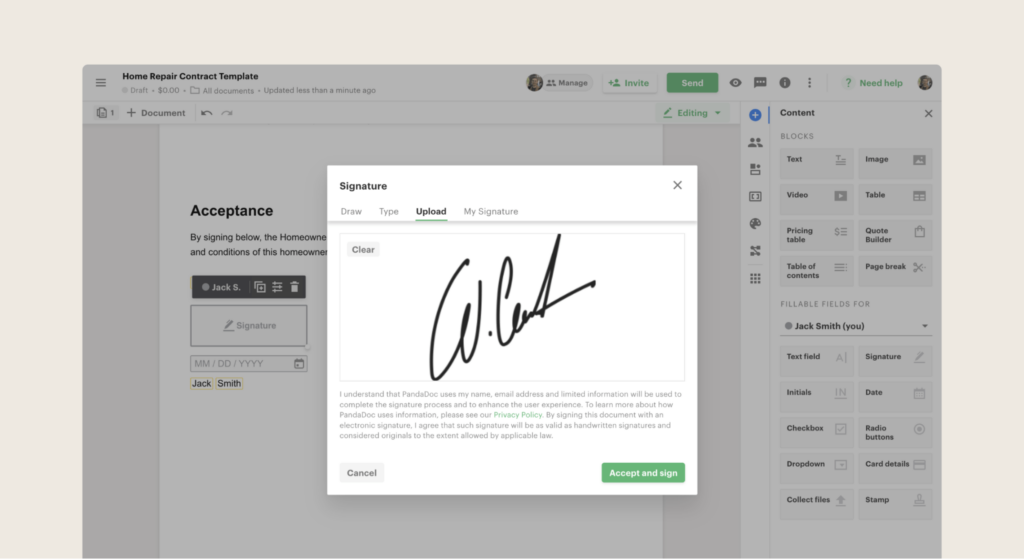 Another well-known electronic signing option, PandaDoc allows multiple signatures to be collected easily and integrates with sales tools like SalesForce. It offers features like customizable signature options, integration with popular business tools, compliance with legal regulations, and mobile accessibility. 
Pricing
eSign offers a free plan, but there are some strict limitations.

Paid plans include Essentials ($19/month), Business ($49/month), and Enterprise (custom). Higher-tier plans offer more features and customization.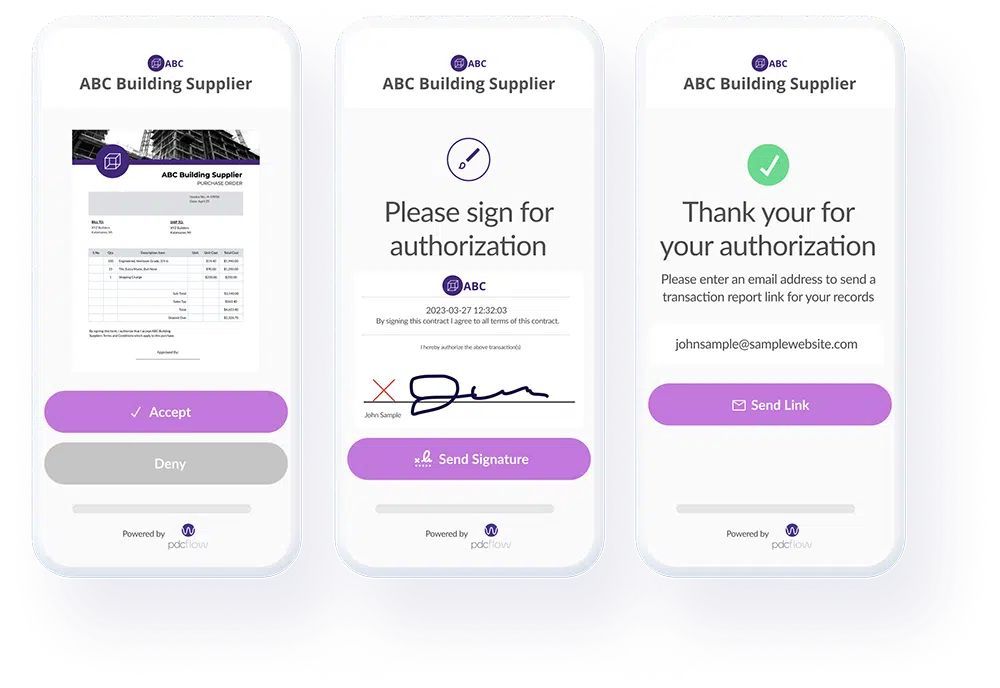 Here is another option if you are interested in combining electronic signatures with payment acceptance—PDCflow accepts a variety of payment types, as well as recurring payments. It's a great option to consider if you want a solution that helps you get paid and get signatures simultaneously. Still, if you are less concerned with having a well-rounded payment solution, you might want to consider other options. 
Pricing
PDCflow's Flow Technology starts at $40 monthly and offers 100 Flows. If you need more Flows, they can be added for $0.40 each. Additionally, they offer a custom pricing option for their Flow Technology + PDCflow Payments solution, enabling you to handle payments on the platform.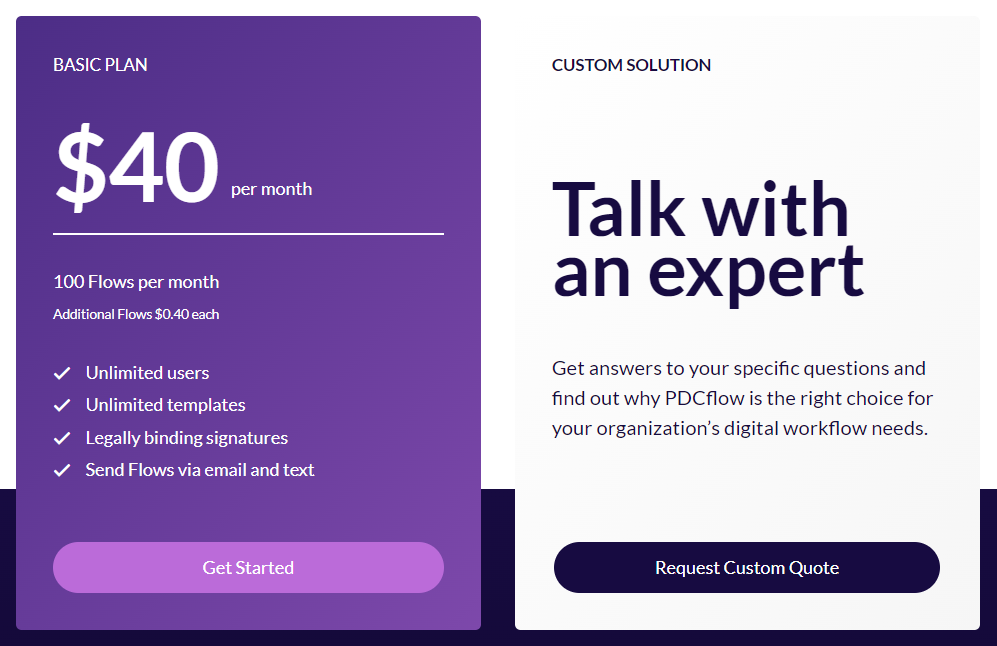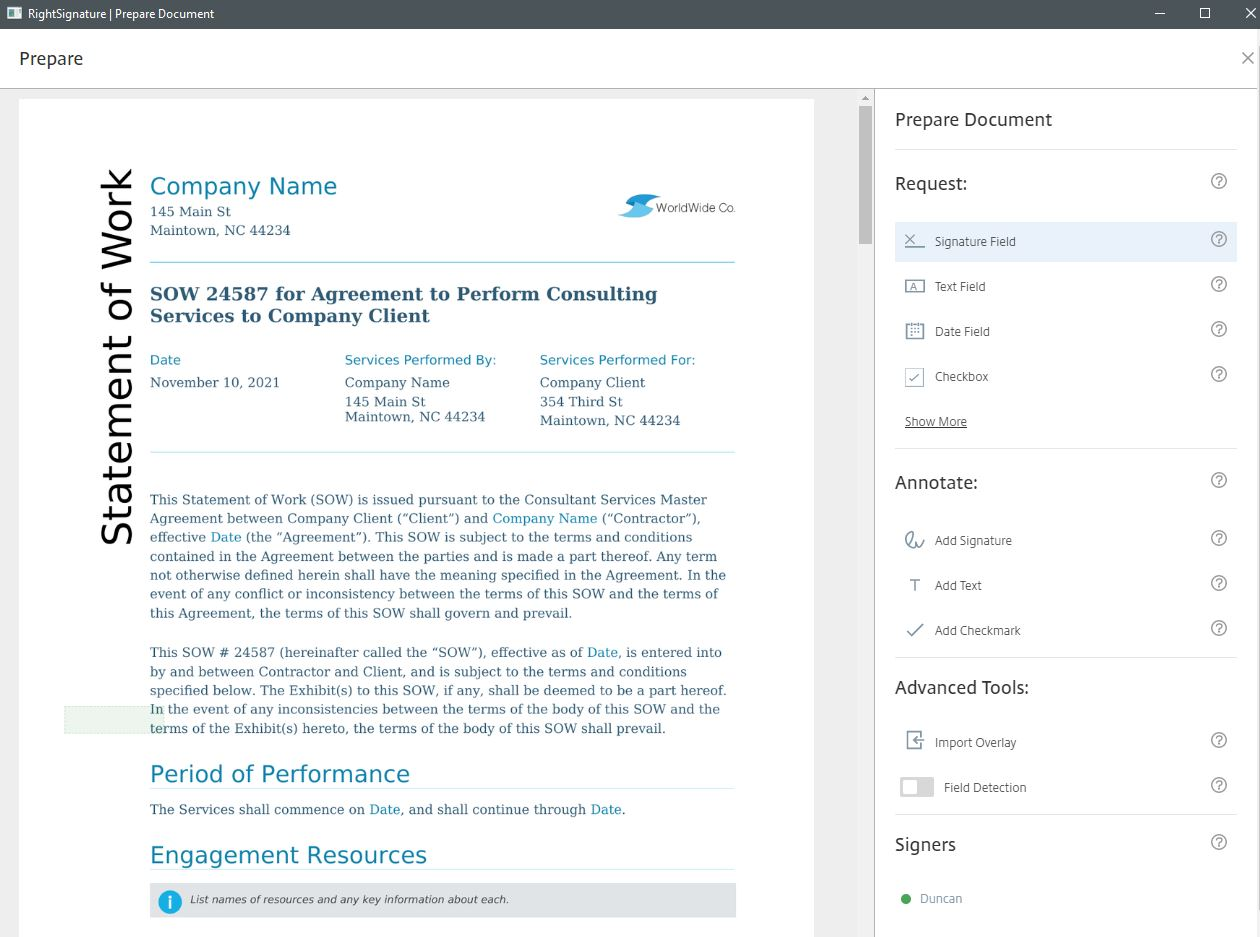 While many other options listed here (Docusign, PandaDoc, and so on) offer a wide-ranging feature set, RightSignature is pretty straightforward in its offering—easy electronic document signing. 
This isn't a bad thing at all. For example, it's a great choice if you're less interested in integrating with a CRM. RightSignature also highlights that you can easily add your branding to any document. 
Pricing
RightSignature Advance costs $60/month and includes 3 user seats (+$20/month per additional user).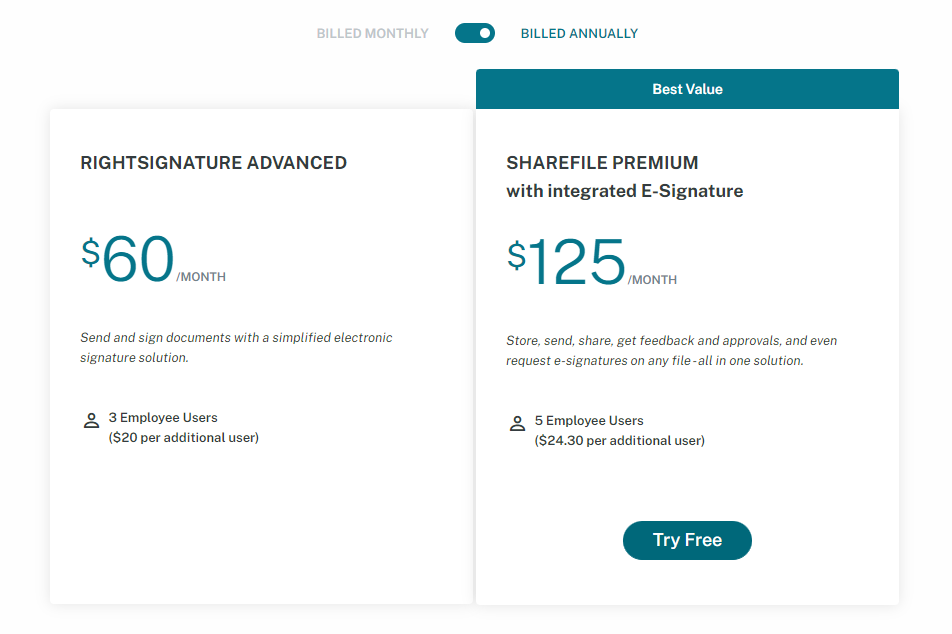 ShareFile Premium costs $125/month for 5 user seats (+ $24.30/month per additional user).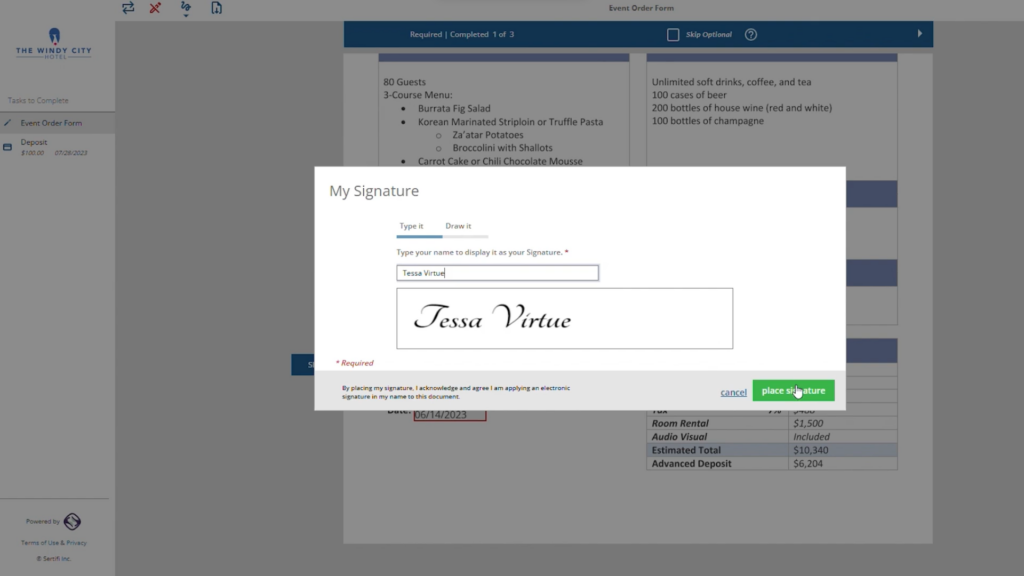 A good option for combining payment acceptance and electronic signatures, Sertifi focuses on reducing "friction" during the sales process. Sertifi allows customers to sign agreements from any location and device while simultaneously submitting payments. The platform also provides a personalized experience with custom-branded portals and emails. In addition, Sertifi offers automated reminders, templates, a shared document library, advanced reports, and a complete audit trail to enhance the productivity of sales teams.
Pricing
Sertifi offers a range of plans, but you'll need to contact sales for accurate pricing info.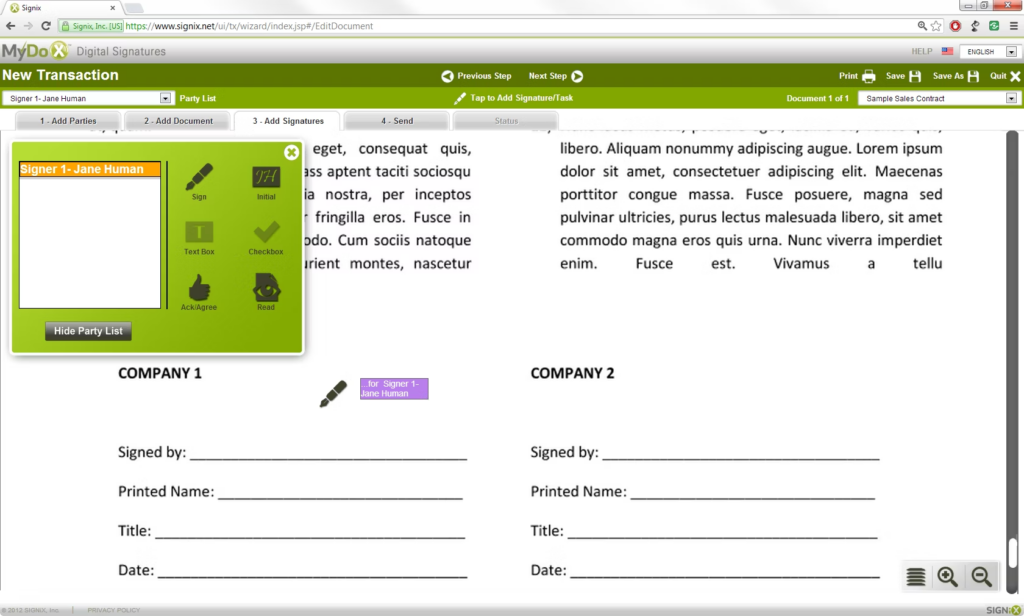 If your main concerns are making sure that your electronic signatures are legal and compliant, MyDoX from SIGNiX is a tool to consider. You can access a detailed log of all actions taken within a document, and they offer protection against tampering. With MyDoX, you can quickly prepare documents through a user-friendly drag-and-drop interface. In just minutes, you can create fields for signatures and initials, add form fields, customize your workflow, and include recipients. 
MyDoX also enables you to produce document templates for recurring transactions.
Pricing
MyDoX offers three pricing tiers for their digital signature software—Individual ($120/user/year), Team ($300/year + $120/user), and Enterprise (custom). 

The Individual plan includes features like PKI digital signatures and mobile signing. The Team plan offers additional features like team admins and shared templates. The Enterprise plan provides API integration, volume discounts, and advanced consultation.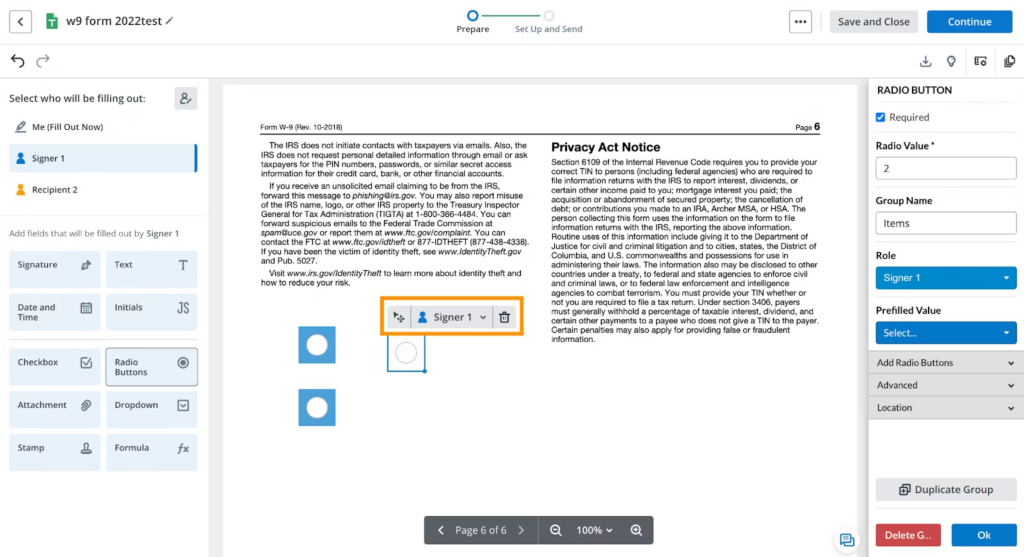 SignNow is another basic tool for getting signatures, so it's great if your main aim is to access an easy-to-use document signing, too—no unnecessary bells and whistles required. While it's a tool focused on signing, it's still a full-featured tool with the ability to send follow-ups, set completion notifications, request payments, and more. 
Pricing
SignNow offers four pricing plans for users: Business ($8/user/month), Business Premium ($15/user/month), Enterprise ($30/user/month), and Business Cloud ($50/user/month).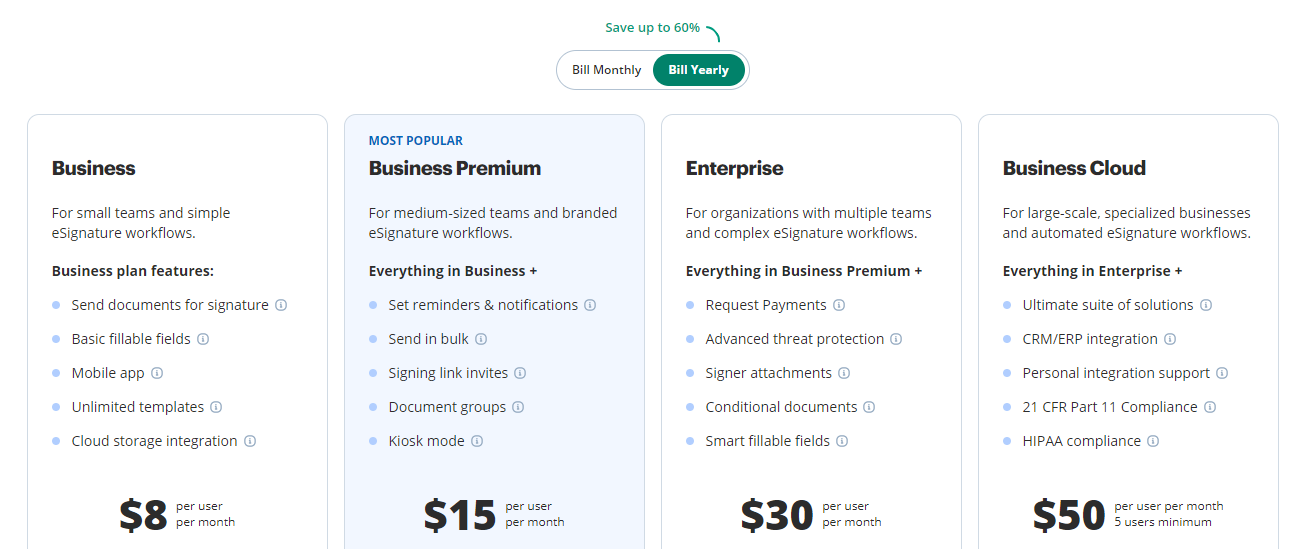 The Business plan includes basic e-signature workflows, while the Enterprise plan offers more advanced features.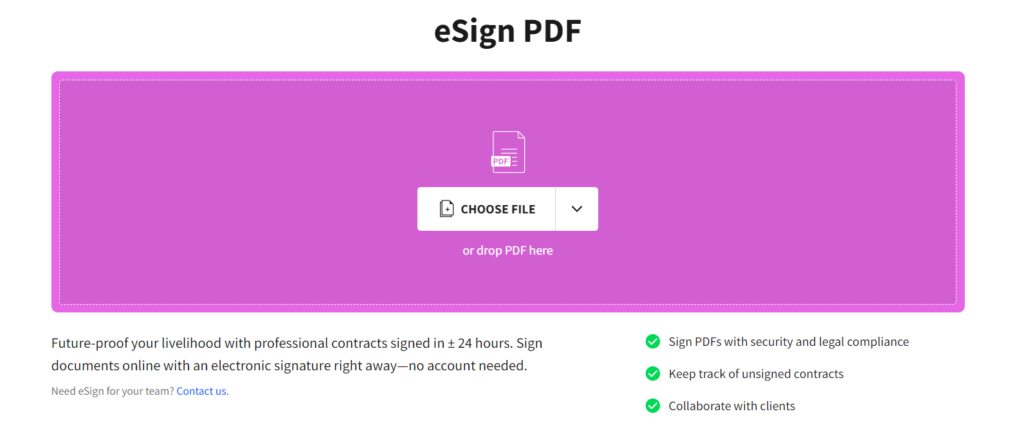 As the name implies, this tool allows you to sign PDFs quickly. You can request signatures, track their progress, or sign PDFs. It offers features like secure signing, collaboration with clients, tracking of unsigned contracts, and the ability to collect online PDF signatures within 24 hours. 
Pricing
eSign PDF offers a free plan with access to some core features.

There are also three paid plans—Pro ($9/user/month), Team ($7/user/month for 2-14 users), and Business (custom pricing for 15+ users). All plans provide access to over 20 PDF tools and come with the flexibility to cancel anytime.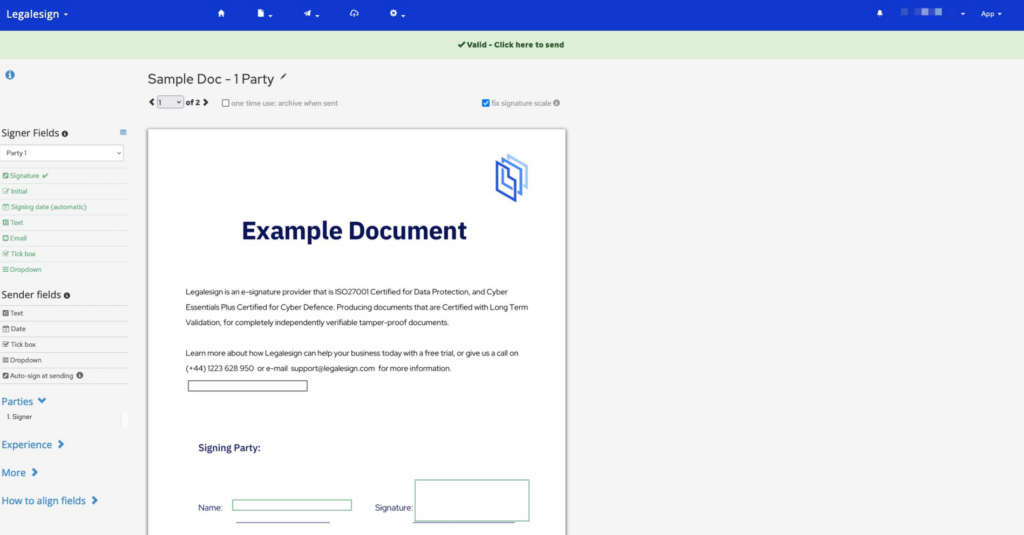 Legalesign is a convenient tool that lets businesses easily send, sign, and manage contracts and legal documents online. It's designed to make the contract signing process a breeze, saving you time, improving efficiency, and ensuring top-notch security.
Pricing
Legalesign offers flexible pricing plans to fit the needs of different businesses. Pricing starts at £6 per user/month and increases with additional features and capabilities. API access will cost you £1 per document.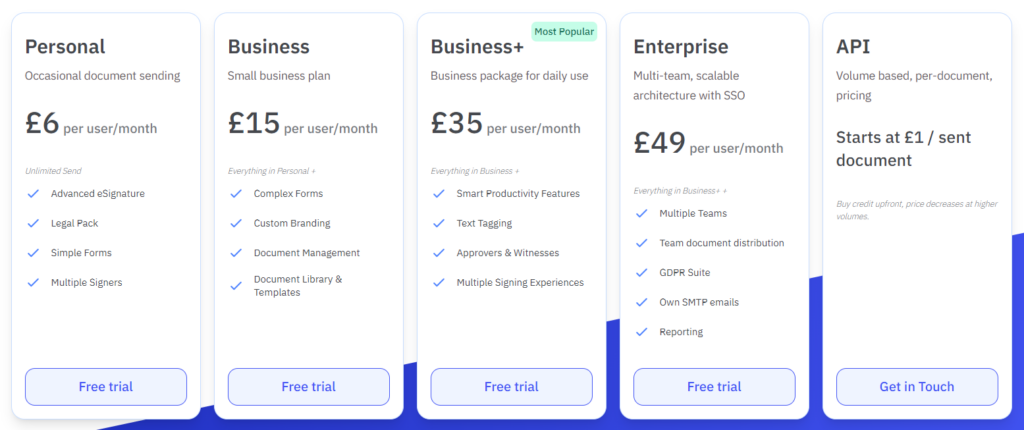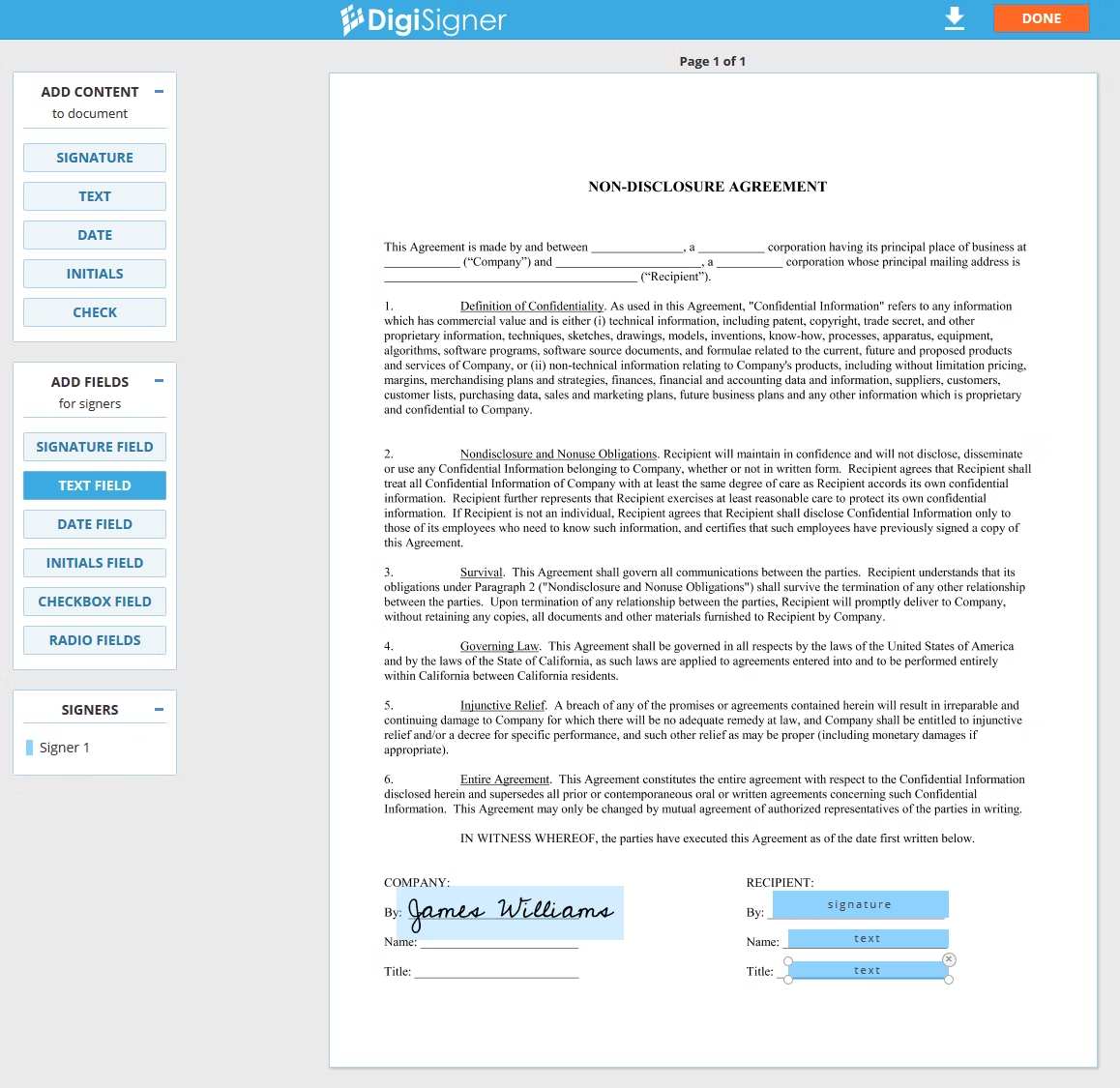 With DigiSigner, you can safely and legally sign digital documents without the hassle of printing and scanning. This user-friendly platform also offers convenient features such as online form filling and creating electronic signatures in various file formats, including Word, Excel, and images.
Pricing
Digisigner offers a Free plan with limited features, a Pro plan for $12 per month, and a Team plan for $40 per month. You can contact their team to discuss their Enterprise plan if you have advanced requirements.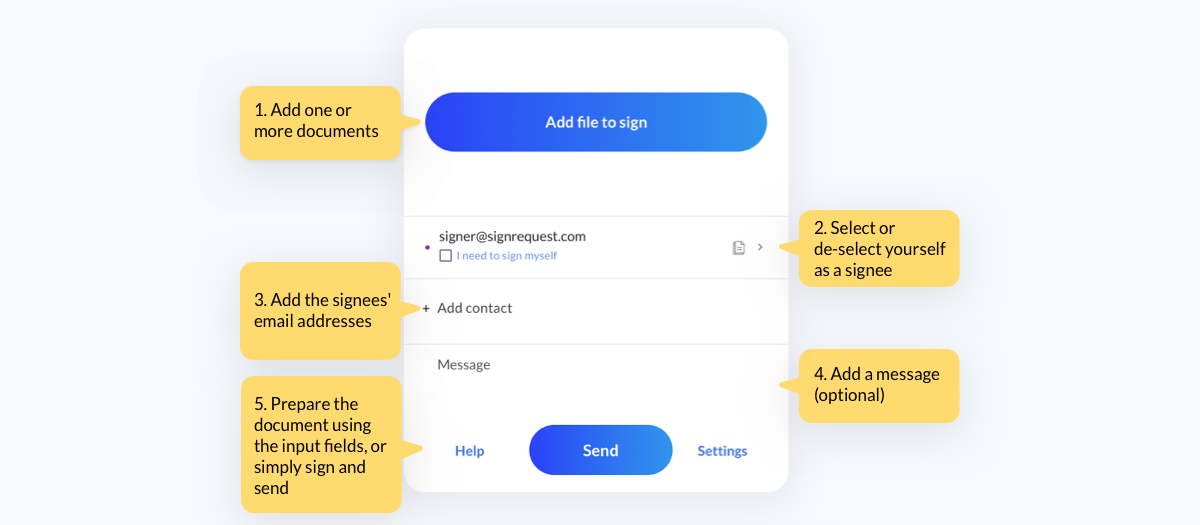 SignRequest makes it easy to sign and send documents online. You can easily monitor the progress of your documents, personalize them with your logo and colors, and oversee your team members. It's a simple and secure platform to use. Sign all types of documents, from contracts to agreements, with ease.
Pricing
SignRequest has two pricing plans available for their e-signature service. The Professional plan is priced at $9 per user per month and includes features such as unlimited documents, a secure audit trail, custom branding, and support for 17 languages.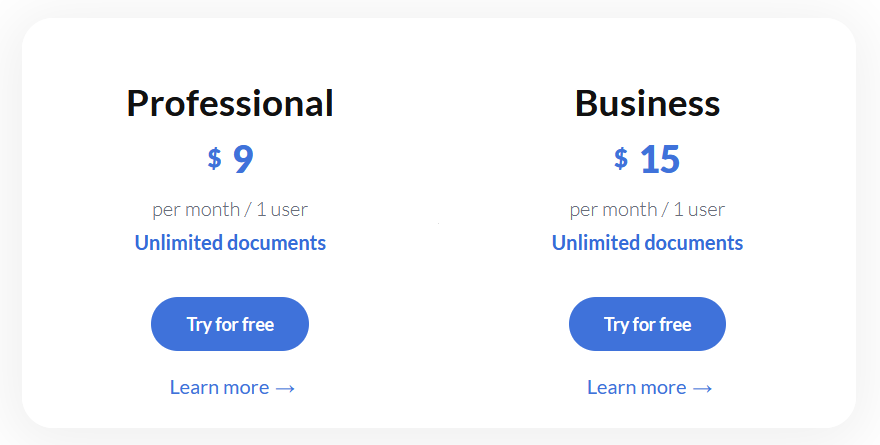 The Business plan costs $15 per user per month and includes all the Professional plan features and additional benefits like unlimited teams and users, unlimited templates, and bulk send options. 
Both plans come with a 14-day free trial.
How to implement electronic signing options for your business
1. Choose an electronic signing service
Selecting an electronic signing service can be a crucial decision for your business. Online platforms like SignWell, DocuSign, Adobe Sign, and SignEasy are available. To make an informed choice, you can compare their features, pricing, integrations, and user reviews.
If you need an easy and reliable way to collect legally binding signatures, SignWell is an excellent choice. With SignWell, you can easily keep track of outstanding signatures and create custom templates to speed up the process of reusing documents. SignWell integrates smoothly with your preferred applications, making document management a breeze.
2. Create an account and upload your documents
Setting up an account and uploading your documents is a crucial step in harnessing the power of electronic signing services. This process typically involves a few straightforward steps:
Account Creation

: Start by signing up for an account on the chosen electronic signing platform. During this process, you'll provide essential information, including your name, email address, and often a password. This step ensures that your identity is verified, adding a layer of security to the signing process. SignWell offers a

free trial

when you sign up.

Document Upload

: After creating and verifying your account, you can upload the documents you need to sign or send for signatures. This can include contracts, agreements, forms, or any other paperwork that requires signatures. Most electronic signing platforms support a variety of file formats, like PDFs, Word documents, and more.

Template Creation

: To save time and ensure consistency in your business processes, you can create templates for frequently used documents. Templates are like pre-designed forms that you can easily customize for each new transaction, eliminating the need to recreate the same document repeatedly.
3. Add signers and signature fields
Next, you'll need to add the recipients of your documents and specify their roles and order of signing. You can also add signature fields where they need to sign and other fields like name, date, initials, checkboxes, etc. You can customize the appearance and layout of your documents to match your brand identity.
4. Send and track your documents
Once your documents are ready, you can send them via email or a secure link to your signers. You can also set reminders and deadlines to ensure timely completion. You can track the status of your documents in real-time and get notified when they are signed or completed.
5. Download and store your documents
After all the signers have signed your documents, you can download them as PDF files and store them in your preferred cloud service or local device. You can also access them anytime from your electronic signing service dashboard. Your documents will be encrypted and backed up for security and compliance.
Conclusion
As mentioned earlier, this list is hardly comprehensive—you'll find many more options out there. So, as you consider the options available, assess the price points and the features you think will be relevant to your business—because the tool that works for an organization of 50 will not necessarily suit an independent contractor who works alone. 
Don't hesitate to explore free tools or take advantage of free trials offered by platforms like SignWell to better understand what aligns best with your unique requirements and business objectives.
Get started for free and see what SignWell can do.
Sign with a team that knows what you need.
Putting a signature on a document shouldn't be hard. The SignWell mission? Simplify how documents get signed for millions of people and businesses.
Get Started Today
61.000+
businesses served, so far...
4.000000+
total documents signed
98%
customer support satisfaction