Adobe Sign Alternatives: 8 Tools for Collecting Digital Signatures
E-signing platforms have become the most convenient medium to manage e-signing, and several great tools exist. Adobe Sign is a popular option, but it isn't the only option on the marker—or the best for all use cases.
At SignWell, we aim to reduce document turnaround times while adhering to strict security and compliance protocols. In this article, we've minimized your Googling time by introducing you to eight of the best Adobe Sign alternatives.
Let's dive in!
What Is Adobe Sign?
Adobe Sign is a leading e-signature solution and part of the Adobe Acrobat product suite. It is used to streamline the signature process, track and manage documents electronically, and enable remote signing of documents.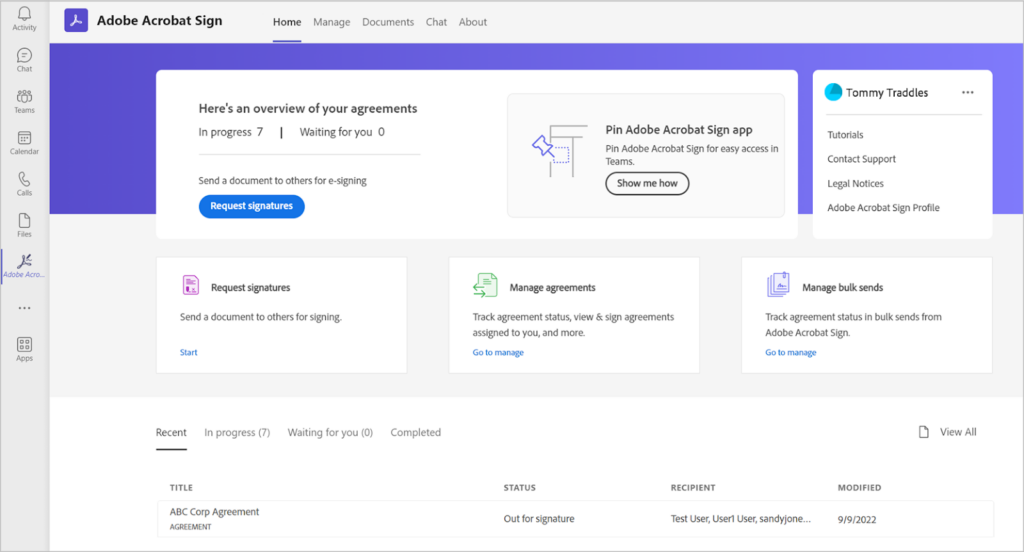 Adobe Sign is the e-signing vendor of choice for many thanks to functionality like:  
Strong PDF editing capabilities

Branded documents 

Document tracking for audits

Existing system and apps integration

High-level legal and security compliance
But as we mentioned in the intro, it isn't a perfect tool.
Why Look for Adobe Sign Alternatives?
Exclusive Features

: Adobe Sign might be a feature-rich tool, but many of its

best

features are locked behind high-tier plans. This can force users to upgrade even if they aren't close to hitting Adobe's usage limits.

Unintuitive Interface

: Adobe Sign's interface isn't as user-friendly as some competing products, which can lead to frequent mistakes and longer onboarding times.

Limited Analytics:

Although tons of data is available, some customers would have liked to see more information, like time saved by teams and client impact.

Cost

: Some customers think Adobe Sign is expensive for an e-signing tool. Another cost concern was the limited features offered for smaller budgets.
Criteria to Consider When Choosing Adobe Sign Alternative
Security and compliance:

Security is a top priority, so ensure the vendor meets international e-signing laws and data handling compliance

.

The best platforms deliver comprehensive audit logs to identify signers and track document activity. Timestamped information is precious if required in court.

Meets regulation requirements

: If you operate in a regulated industry, like healthcare, for instance, you'll need a SOC 2 Type 2 and HIPAA-compliant vendor.

Data security:

Check for high-level network and platform security with the best encryption protocols, including SSL, TLS, and AES-256-bit.

Integration and API capabilities

: Consider whether the tool will integrate well with the tools you use, like Microsoft or Apple products. The tools' API is for directly accessing features and functionality from your website or system.

Ease of use

: Choose an intuitive alternative that stakeholders unfamiliar with e-signing and online document management can use with limited support.
8 Best Adobe Sign Alternatives
Short on time? Here's the TLDR version of our list to skim through:
SignWell

: Best overall Adobe Sign alternative.

Dropbox Sign

: Best for cloud storage.

SignRequest

: Best for simplicity.

DocuSign

: Best for signer identity.

emSigner

: Best for large enterprises.

PandaDoc

: Best for document layout design.

Zoho Sign

: Best for tamper prevention.

ShareFile (formerly Rightsignature)

: Best for data security.
1. SignWell – Best Overall Adobe Sign Alternative
SignWell is an intuitive e-signing platform with a curated suite of features to provide a secure and compliant signing experience.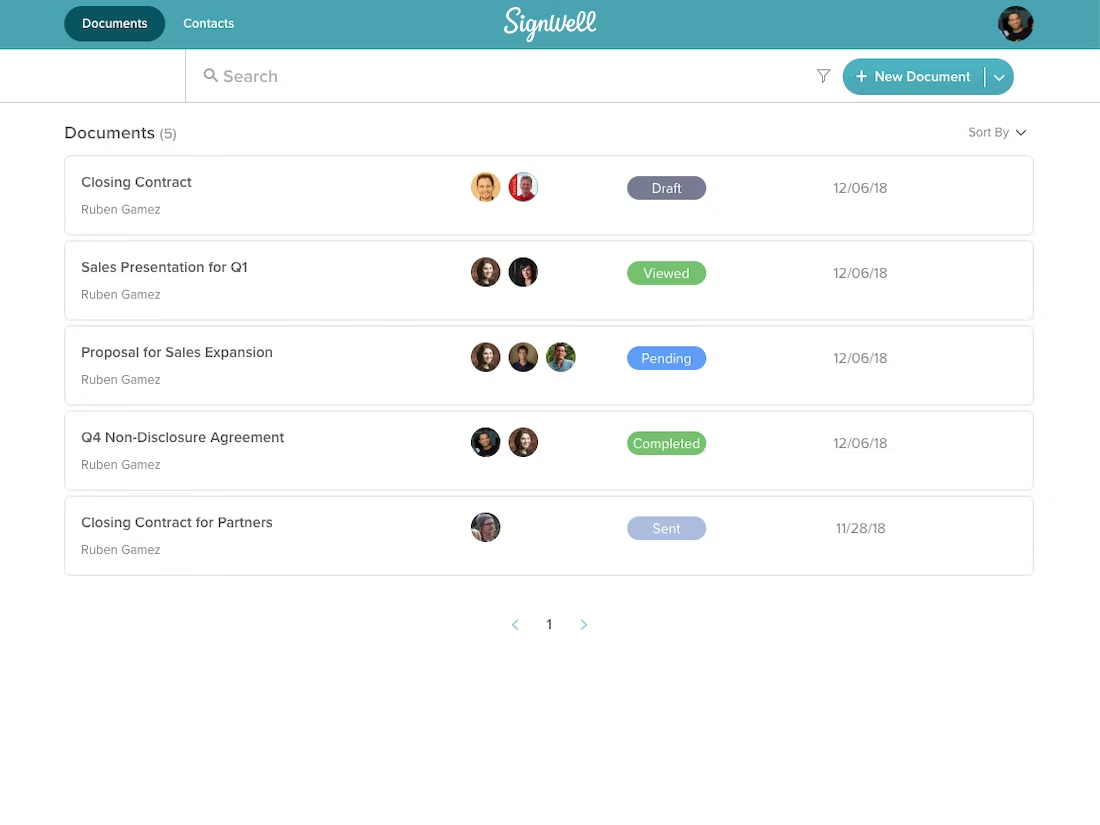 SignWell cuts document signing turnaround times in half with features like bulk sending, document templates, automated reminders, and document tracking. You can also fully automate your e-singing process using our intuitive digital signature API.
You can rest easy knowing that signed documents are secure and compliant with rigorous U.S. and international laws. SignWell complies with SOC 2 Type 2, eIDAS, the ESIGN ACT, and more. Our platform is highly secure with TLS 1.2, AES-256-bit encryption, and Amazon Web Services-certified servers.
Key Features
E-Signing API:

Accelerate your e-signing processes using our API to automate your workflows. Integrate the API into your web or app code for seamless end-to-end document management from your platform.

Embedded Signatures:

Reduce a multiple-step process by allowing signers to sign directly on your web or app instead of navigating to SignWell.

Document  Signing:

Collect US-compliant and legally binding e-signatures in a few clicks. Documents are protected against additional changes to maintain integrity.

Document Workflows:

Use our document workflows feature to track outstanding signatures, decide on signing orders, and receive automatic notifications for continuous progress.

Audit Reports:

Access audit log details that exceed U.S. and international e-signature law requirements. Track document history with details such as document activity and time stamps.

Custom Templates:

Turn your most used document into reusable templates. Document creation is easy, but we offer a fully guided walk-through experience to save you time hand-holding.

Easy Integrations

: Our platform works seamlessly with 5,000 + popular apps like Slack, Dropbox, and Gmail.
Pricing
Signwell offers a free plan that supports one sender, one template, and three documents per month.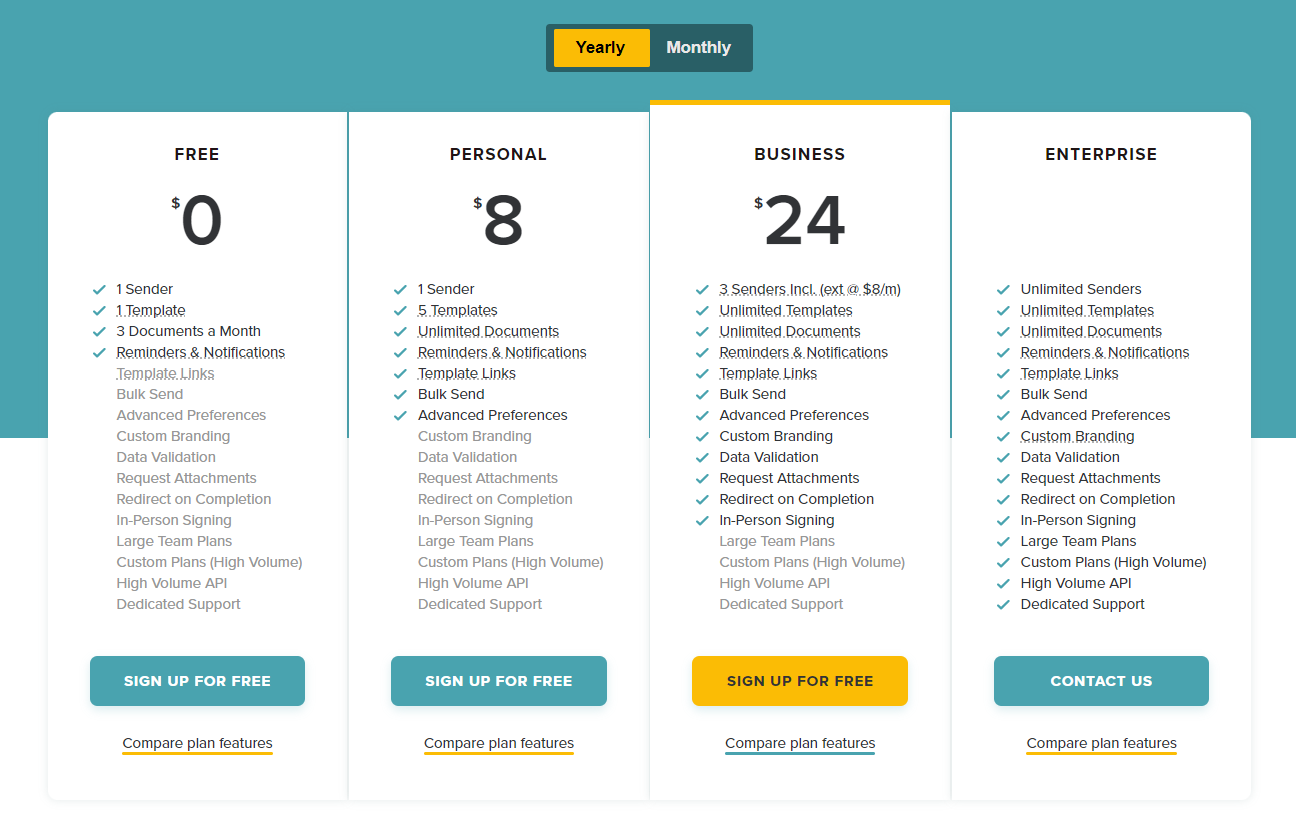 There are three paid plans—Personal ($10/month), Business $30/month), and Enterprise (custom). Personal includes one sender but offers up to five templates and advanced preferences. Business includes three senders (+$10/month per additional), custom branding, attachments, and more.
All paid plans included unlimited documents monthly. There are no contracts, and you can cancel at any time.
API Pricing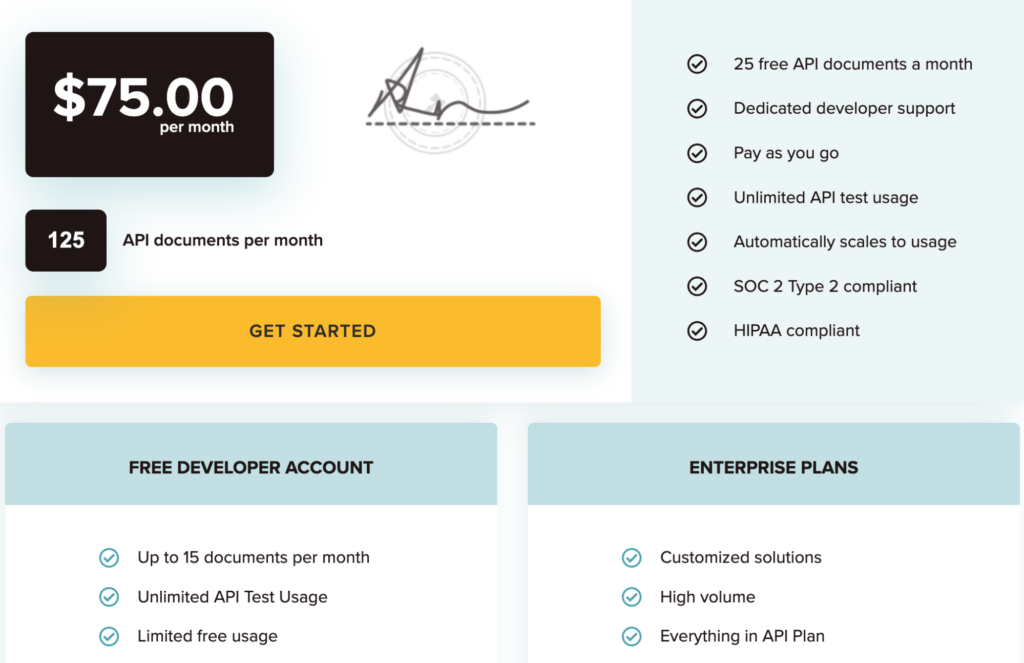 We offer flexible pricing for our e-signature API, with your first 25 API documents free each month.
Pros and Cons
Pros 
Suitable for individuals and businesses of all sizes

Free-forever plan

HIPAA Compliant

API is customizable to suit any industry

Responsive customer support
Cons
Limited features available in the free plan
2. Dropbox Sign – Best for Cloud Storage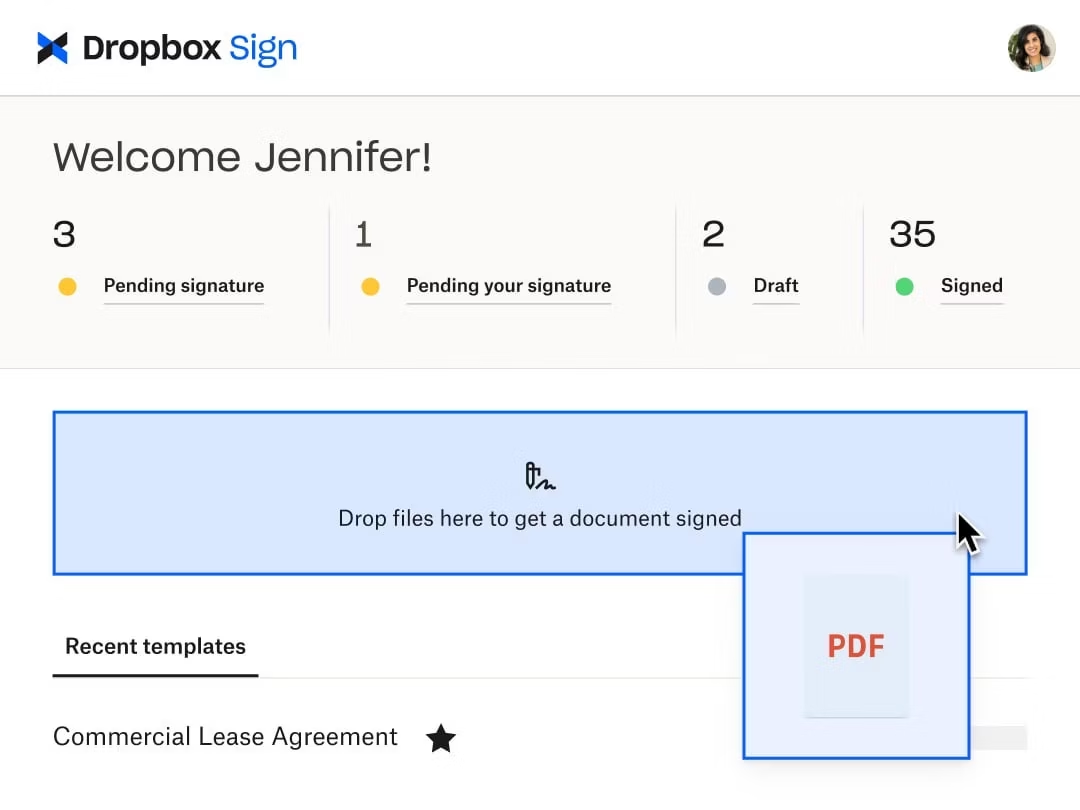 Dropbox Sign is backed by cloud storage provider Dropbox and stands out thanks to a generous amount of encrypted storage space. Its clean interface and familiar Dropbox look and feel could make it a front-runner e-signing option for Dropbox fans.
Key Features
Fill and Sign PDFs

: Use this feature for easy completion and e-signing of PDF, Excel, Word, and PowerPoint documents. Format any form fields for completion using special text and checkboxes.

Reusable Templates

: Save time by creating templates from frequently used documents.

Mobile-Friendly Signing

: Their mobile-friendly app design and forms are mobile-responsive and intuitive to encourage completion rates.
Pricing
Dropbox Sign offers three paid plans—Essentials ($15/month), Dropbox One + eSign ($24.99/month), and Standard ($25/user/month), and Premium (custom).

Essentials and Dropbox One + eSign are designed for individuals, but Standard and Premium plans offer features that help businesses scale.
Pros and Cons
Pros
Unlimited signature requests

30-day free trial

Integrations include Salesforce and SharePoint
Cons
Occasional glitches experienced with Bulk Send feature
3. SignRequest – Best for Simplicity
SignRequest is a streamlined e-signing platform where less is more.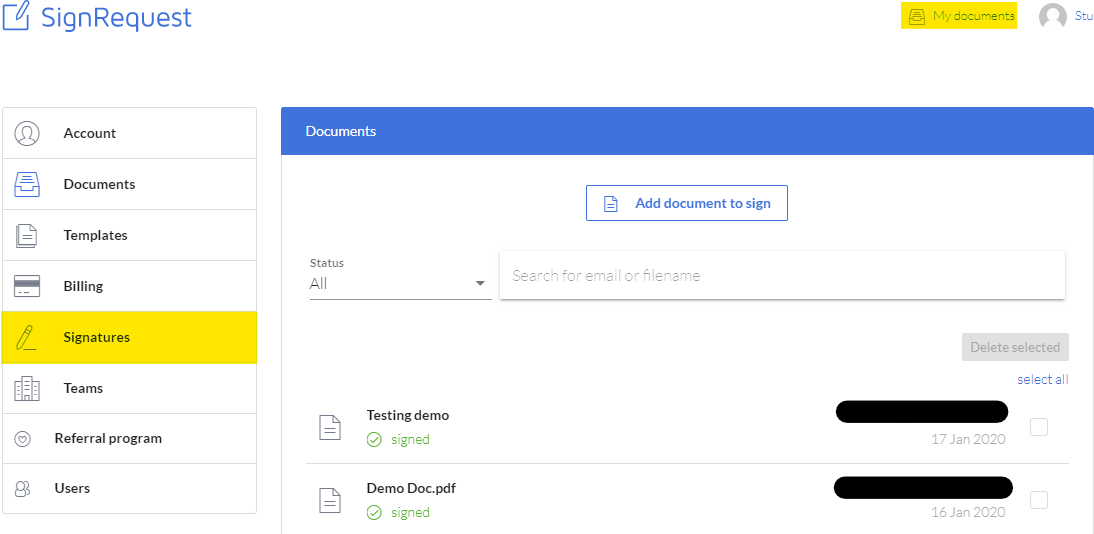 They've reduced the number of advanced features, making the tool simple to use (albeit a bit basic). Formatting and customization options are limited to create an uncomplicated e-signature tool that gets the job done.
Key Features
My Documents:

This feature tracks, stores, and manages documents. Quickly find out where document action is required.

Attachments

: Attachments can be a requirement of your process. This feature lets senders and receivers attach documents to a SignRequest.

Order of Signing

: Set the order in which your contacts receive a SignRequest. To maintain the signing order, signer two is only asked to sign once signer one has completed their request.
Pricing
SignRequest has two paid plans—Professional ($9/user/month) and Business ($15/user/month).

Professional is a decent option for small teams that require basic features. Business is the most comprehensive plan and adds additional features like branding, workflow automation, and more.
Pros and Cons
Pros
Elegant, simple, and intuitive UI design

Translated into 17 languages

14-day free trial
Cons
User-friendliness needs improving for some features
4. DocuSign – Best for Signer Identity
DocuSign is a popular e-signing tool that delivers excellent document management through audit trials, reminders, reporting, specialized fields, and branding options.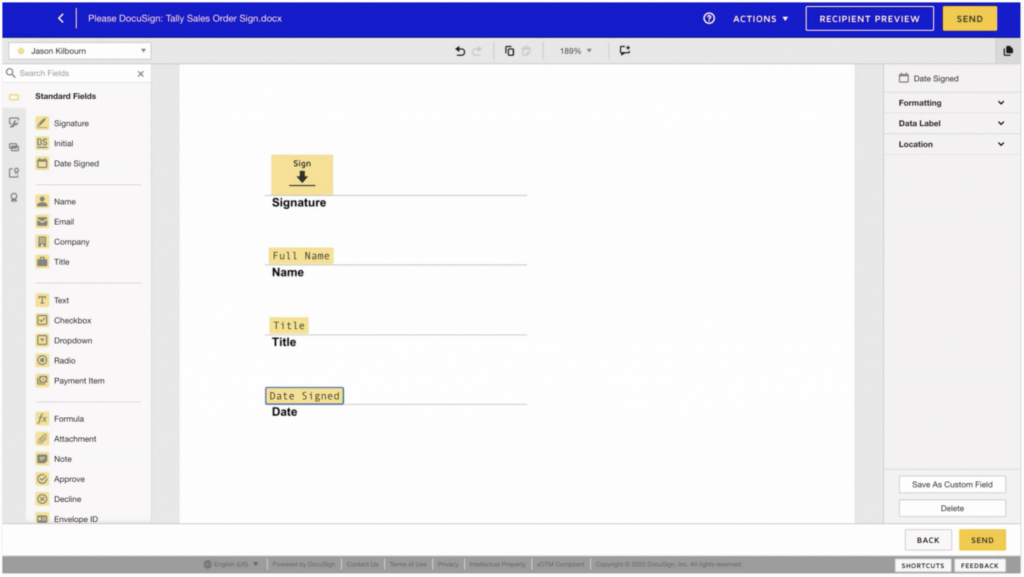 Their e-signature verification, authentication, and identity proofing are well-designed and secure.
Key Features
Custom Branding

: Enhance your customer's signing experience with custom branding reflected on your web pages and emails. Add your logo and customize links and email copy.

Clickwrap

: This feature makes getting consent to agreement terms easy. The clickwrap can be embedded into your platform or sent to users via a URL.

Verification ID

: As part of your e-signing process, DocuSign lets you protect agreements with ID proofing. You can meet requirements like Know Your Customer (KYC) and regional regulations.
Pricing
Prices range from $10/user/month to $40+/user/month.

On DocuSign's most popular Standard plan ($25/user/month) for up to 50 users, you'll access features unavailable on the Personal plan, like shared templates, folders, documents, scheduled sending, and custom branding for one brand.
Pros and Cons
Pros 
Extensive feature suite

Great for collaboration

30-day free trial
Cons
Expensive pricing for large document volumes
5.  emSigner – Best for Large Enterprises
emSigner by eMudhra supports large enterprises in building a document management ecosystem with several signing options, high-level security, and easy app integrations. emSigner is ideal for SMEs, large enterprises, and government organizations.
Key Features
Customer Data Platform

: Develop digital journeys to gather data, ID, documents, and signatures via your stakeholder's hub for a more satisfying customer experience.

Artificial Intelligence

: emSigner uses AI to process large volumes of data for deeper insights, workflow acceleration, and activities that drive real-time decisions.

Global e-Signature Support

: emSigner platform compliance includes eIDAS, the U.S. eSign Act, and the India IT Act.
Pricing
emSigner offers five plans including a free-forever plan with basic e-signing features.

Advanced ($20/month) is a good starting point for teams and offers advanced features like multiuser support, user access management, remote signing, and offline bulk signing.
Pros and Cons
Pros 
Simple and intuitive UI

30-day free trial

24/7 support is available on all plans
Cons
6. PandaDoc – Best for Document Layout Design
PandaDoc stands out for its extensive collection of attractive templates and easy-to-use document drag-and-drop editor.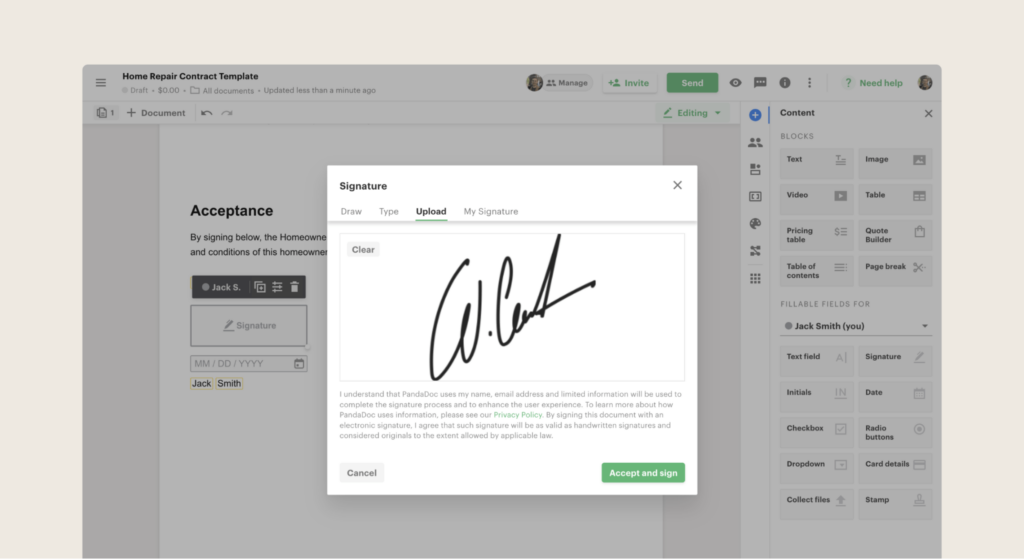 Use e-signature blocks to upload product screenshots and more before sending them out for signing.
Key Features
Sign PDFs and Word Docs

: Keep your workflow unified with the option to have different file types, including PDFs and Word signed.

User-Friendly Forms

: Gather your e-signatures from tailor-made forms for easy workflow management. Embed into your platform or share via a link.

Automated E-signature Tracking

: Monitor document status activities during the signing process and get proof of document signer with an easy-to-understand audit trial.
Pricing
PandDoc offers three plans.

Essentials ($19/user/month) offers unlimited document uploads and e-signatures. Business ($49/user/month) provides access to advanced features like automated fields, templates & forms. 
Finally, the Enterprise plan (custom) offers higher security and more customization.
Pros and Cons
Pros
Feature-rich

1,000+ templates 

Great training resources
Cons
Lots of features may be intimidating for first-time users
7. Zoho Sign – Best for Tamper Prevention
Zoho Sign uses blockchain-based timestamping for more secure and reliable document storage.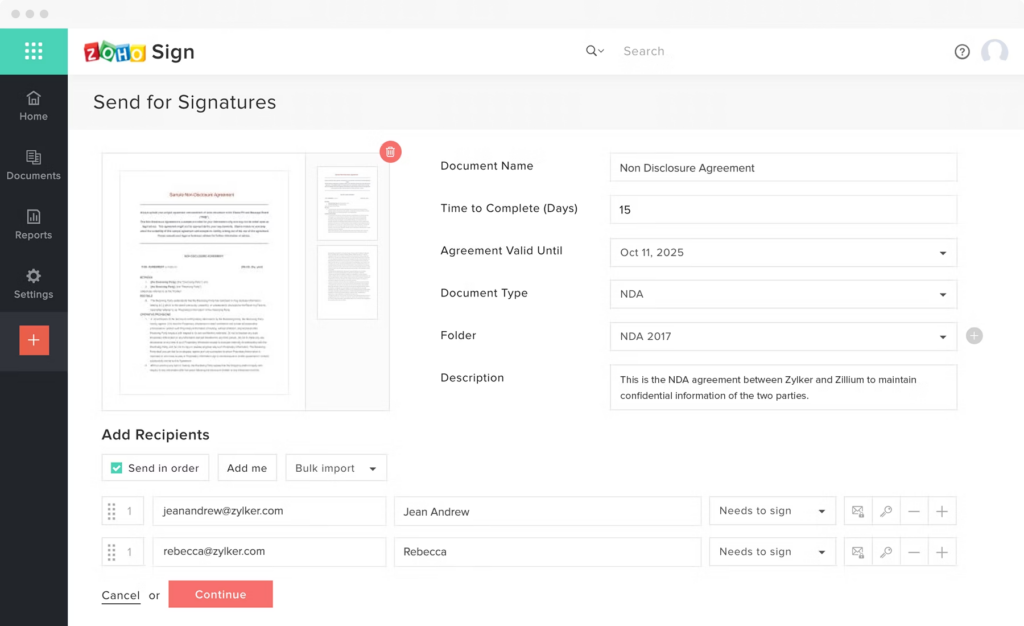 This gives the tool powerful, tamper-proof audit trails for more secure document management. It also integrates nicely with the rest of the Zoho ecosystem.
Key Features
Branding:

Use Zoho Sign's branding feature to customize the look and feel of your documents and reassure signers by emphasizing your brand's presence.

In-Person Signing

: Collect signatures in person by handing the device to the signer.

Knowledge-Based Identification (KBA):

Verify identity by asking signers questions only they'll know the answer to, like purchase-history-based or business transaction questions. 
Pricing
Zoho Sign has an impressive free forever plan with features like reminders and notifications, basic integrations with other Zoho apps, and audit trials for one person.

Their most popular Enterprise ($22/month) includes blockchain timestamping, automatic cloud backups, and document sharing.
Pros and Cons
Pros
Reasonable pricing

14-day free trial

Good customer service
Cons
Limited number of signers per document
8. ShareFile (formerly Rightsignature) – Best for Data Security
ShareFile is a document workflow tool that combines client portal functionality with integrated e-signing.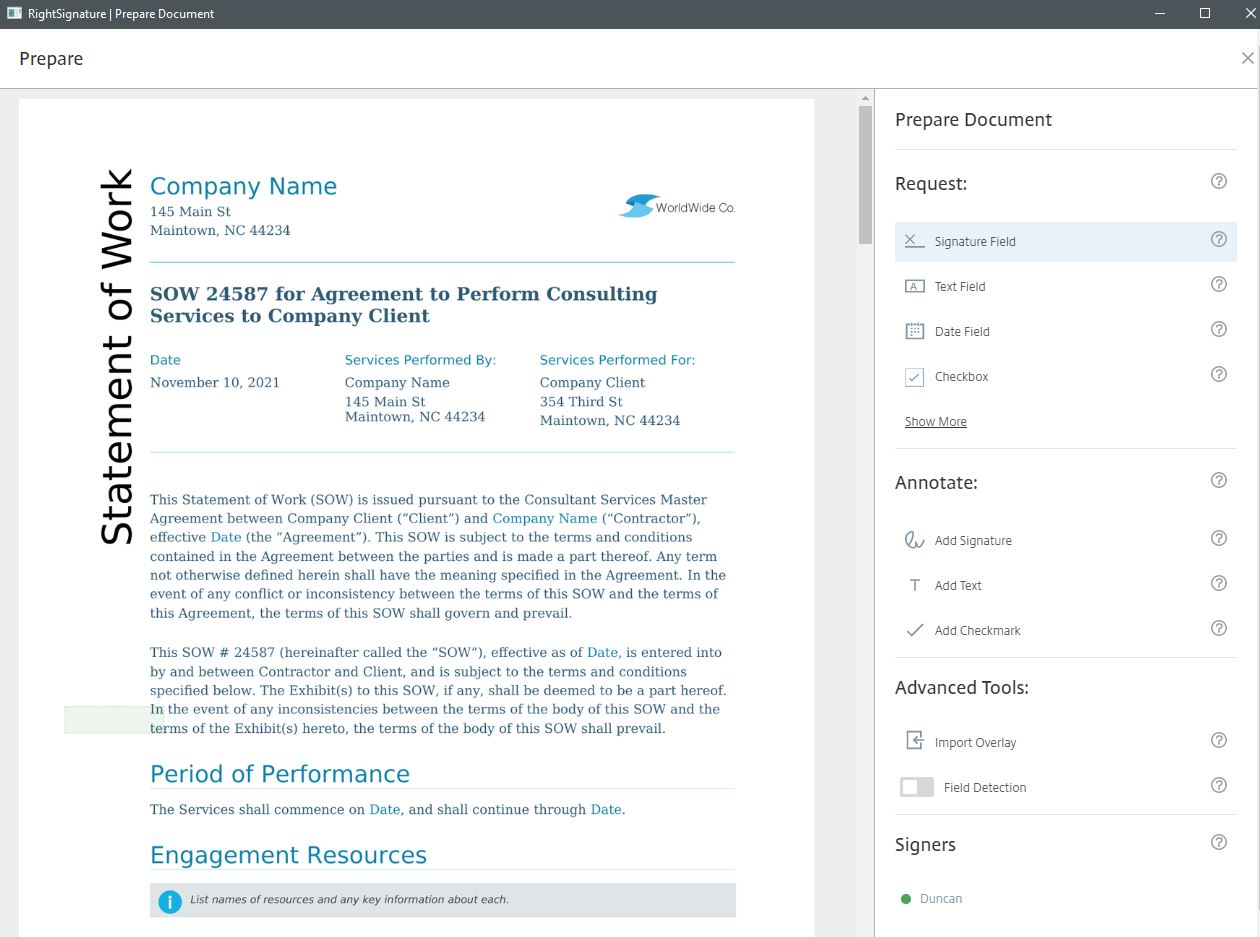 They've implemented 256-bit SSL encryption, AWS cloud infrastructure, password-protected logins, and biometric data capture. And, of course, there's a solid e-signature authentication process and document audit trail.
Key Features
Client Portal

: Add clients to your portal where they can access, sign, and review all documents relevant to a project.

Team-Wide Collaboration

: Enhance teamwork by sharing documents, generating reports, and viewing usage.

Multi-Party Signing

: Specify the signing order when sending documents to several recipients.
Pricing
ShareFile has four plans—Standard ($10/user/month), Advanced ($16/user/month), Premium ($25/user/month), and Virtual Data Room ($67.50/month).

All plans have at least three uses, including integrated e-signing and unlimited client accounts for your client portal.
Pros and Cons
Pros
Great custom branding options

Responsive customer support

30-day free trial available
Cons
Not a dedicated e-signing tool
Consider SignWell for the Best Overall Adobe Sign Alternative 
Adobe Sign is one of the most popular e-signing platforms used by many businesses and individuals for its strong PDF editor capabilities, solid legal and regulatory compliance, and market presence.
Looking for a simple, more affordable alternative with an intuitive e-signing API?
At SignWell, we offer a straightforward user interface and a strong set of features for document signing, including a fully customizable branding platform, flexible API integration options, and quick customer support.
Get started for free today.
Sign with a team that knows what you need.
Putting a signature on a document shouldn't be hard. The SignWell mission? Simplify how documents get signed for millions of people and businesses.
Get Started Today
61.000+
businesses served, so far...
4.000000+
total documents signed
98%
customer support satisfaction