DocuSign vs. Adobe Sign vs. SignWell: Which Is Better and The Leading Alternative for 2023
E-signature tools make everyday life easier and offer a modern way of sealing the deal. But the transition from physical to digital isn't always seamless—you need an e-signature tool that supports your day-to-day operations with ease.
DocuSign and Adobe Sign are two of the more popular e-signature tools—and they're tools we're very familiar with here at SignWell. However, we (like many of our users) have come to realize that these tools aren't for everyone.
In this guide, we'll compare these two tools with SignWell to help you decide which is the best for your business in 2023 and beyond.
DocuSign vs. Adobe Sign vs. SignWell: Key Differences
Ease of Use 
All three platforms are designed to simplify the e-signature experience. That said, SignWell has an edge over DocuSign and Adobe Sign in terms of ease of setup and use—we cut out unnecessary features and bloat to give you a quick, straightforward experience.
Pricing
Each tool is priced slightly differently, with SignWell taking the lead in terms of budget-friendly plans. We offer a free-forever plan (the other two tools do not) and paid plans (both individual and team) start at $8/user/month—beating out DocuSign ($10+/month) and Adobe Sign ($12.99+/month).
Security
DocuSign, Adobe Sign, and SignWell all comply with industry-standard practices for e-signatures. They offer comprehensive audit trials for traceability and legally valid e-signatures, and all three comply with HIPAA as well as SOC 2 Type 2.
Features
All three tools offer similar core e-signature features, with slight variations in terms of execution. You can send documents, trace signer activity, and set reminders. DocuSign and SignWell offer workflow creation on all plans, while this is an enterprise feature with Adobe Sign.
Integrations 
DocuSign offers 400+ pre-built integrations with a range of products and ecosystems like Microsoft, Google, and Salesforce (although some are only available on higher-tier plans).
Adobe Sign offers a similar set of integrations with the obvious benefit being easy integration with the Adobe ecosystem.
SignWell integrates with 5,000+ popular apps and tools, including Dropbox, Slack, and Gmail.
Extra Fees 
DocuSign charges additional fees for some of its features, including advanced custom branding and 24/7 live phone support. On the other hand, Adobe and SignWell offerings within each package are included in the price.
What Is DocuSign?
DocuSign is an established e-signing business that allows businesses to connect to the systems they use and automate the preparation, signature, action, and management of agreements. Their products and integrations within the DocuSign Agreement Cloud include eSignature, Contract Lifecycle Management, and Electronic Notarization.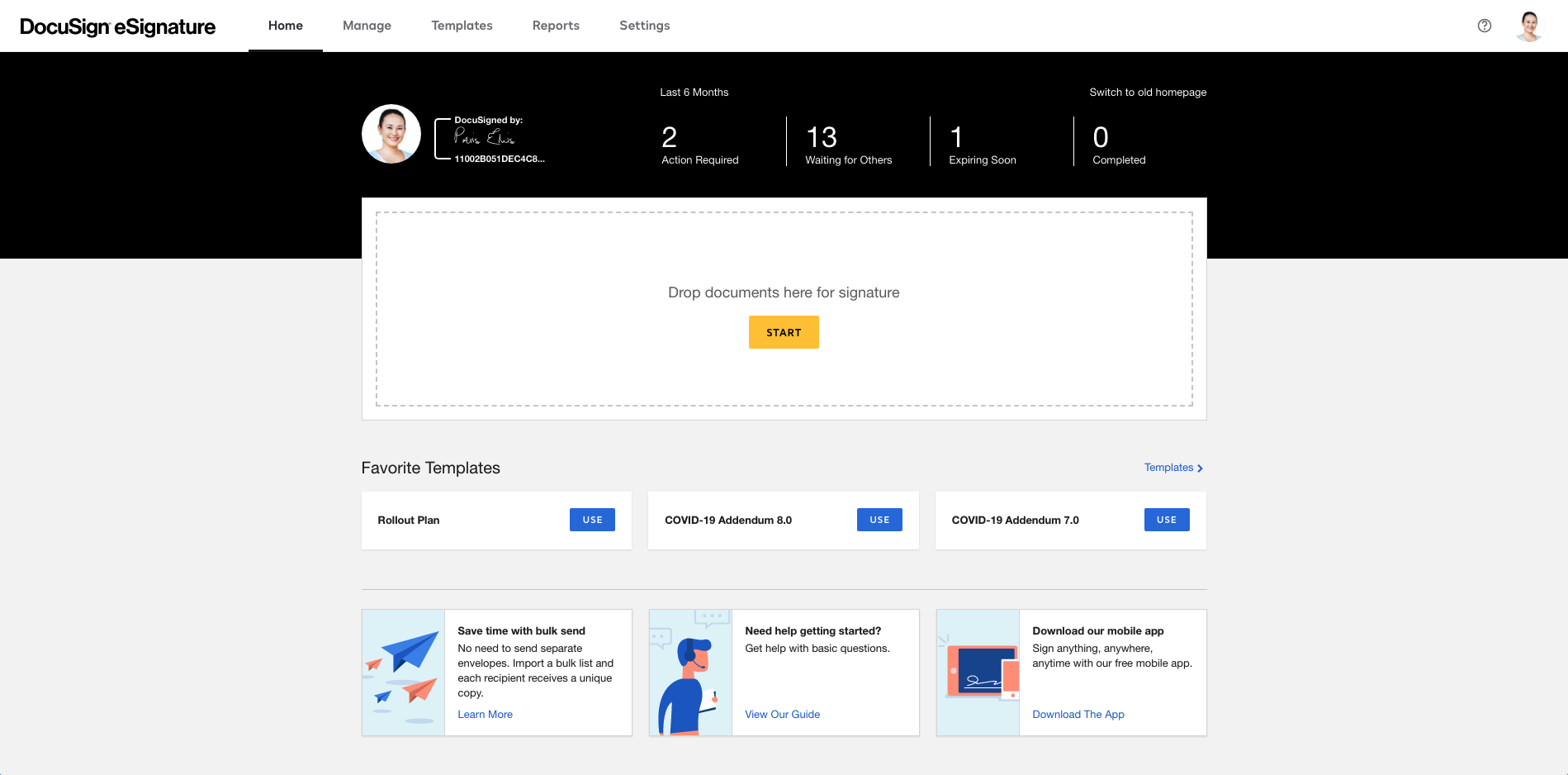 DocuSign took the lead in the evolution of e-signing tech from its inception in 2003. Today, they serve millions of people in over 180 countries to simplify and accelerate business using 
400+ prebuilt integrations, the ability to embed and connect their DocuSign APIs with websites, apps, and custom workflows.
Key Features
eSigning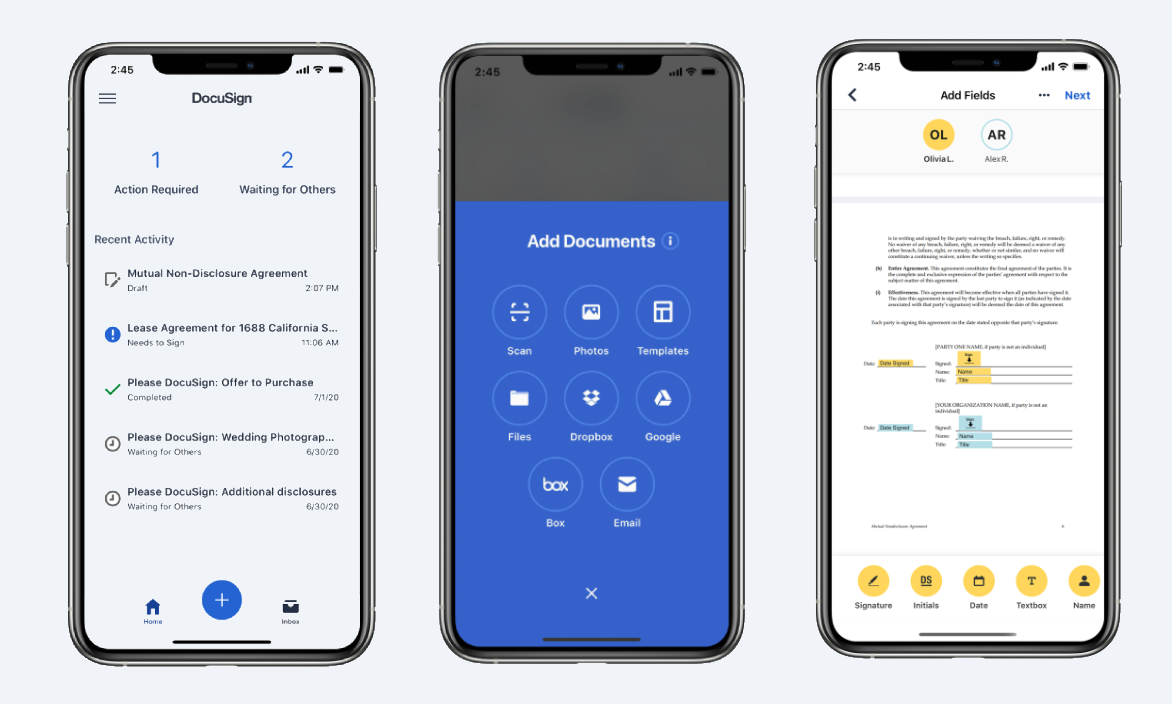 E-signing is easy and intuitive thanks to a focus on streamlining the signing experience, with functionality like responsive signing that automatically adapts to the formatting, the size and orientation of the device, SMS reminder notifications, and accessibility support for sight and hearing-impaired signers.
Branding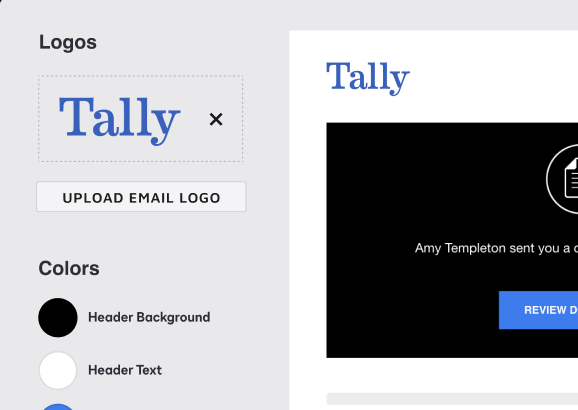 Keep communications on-brand with a customizable look and feel. Branding options for emails, documents, and the signing experience can be tailored to fit your company's look and feel, helping to build trust with customers.
Templates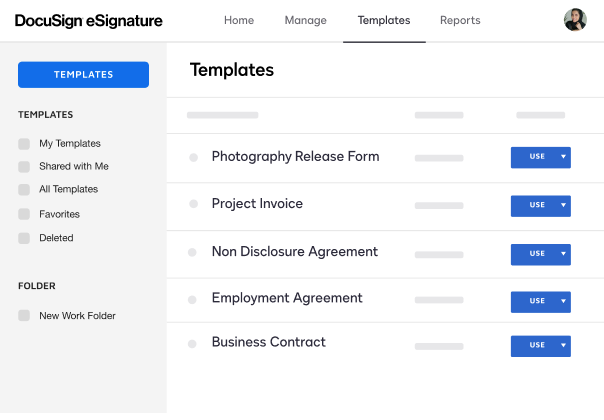 Reusable templates help you speed up your e-signature workflow. Simply include a placeholder for recipients and add the approvers to swiftly send your documents. DocuSign's template feature reduces document preparation time while ensuring consistent sending. It saves template settings such as field arrangement, tag placement, and workflow routing, streamlining the process.
PowerForms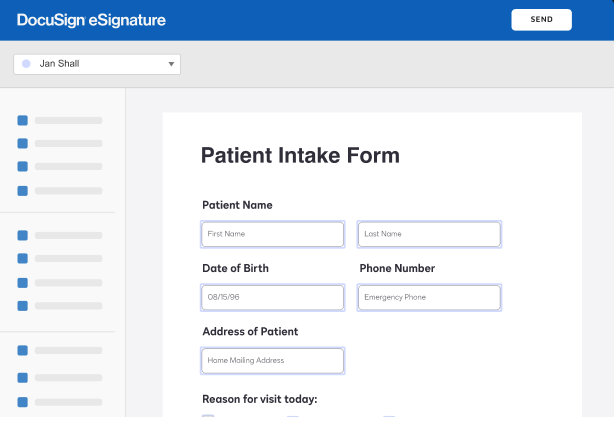 PowerForms also reduces document preparation with the option to create hundreds or thousands of on-demand self-service documents for unknown receipt signatures. Produced from a template, they are unique, secure URLs pointing to online documents you can distribute as you wish. PowerForms can be completed without signers needing to sign in.
Pricing
DocuSign offers a range of plans aimed at both individuals and businesses.

Their most popular plan is Standard ($25/user/month)—suitable for small to medium-sized businesses. Some of the standout features not included in Personal ($10/month) are customized branding, delegated signing, and scheduled sending.
There's also Business Pro ($40/user/month) which includes both of those features plus others, such as API integration and workflow automation. You can try out DocuSign before committing via a free 30-day trial.
Pros and Cons
Pros
DocuSign University is a free online learning resource to help users benefit from DocuSign's full potential.

Real-time notifications.

Available in 44 languages for signers and 14 for senders.

24/7 live support.
Cons
Some users unfamiliar with e-signing tech may experience a steep learning curve.

Signature requests often end up in spam filters, delaying the process.

Changing signers to a new role is difficult without canceling and resending.
What Is Adobe Sign?
In 2011, Adobe Systems acquired the web-based electronic signatures company EchoSign, which later became Adobe Sign.
Today, Adobe Sign is a popular e-signing tool for individuals and businesses to send, track, and manage e-signatures using a browser or mobile phone. It is a part of the Adobe Cloud Platform, combining simple and secure e-signatures with Adobe Acrobat.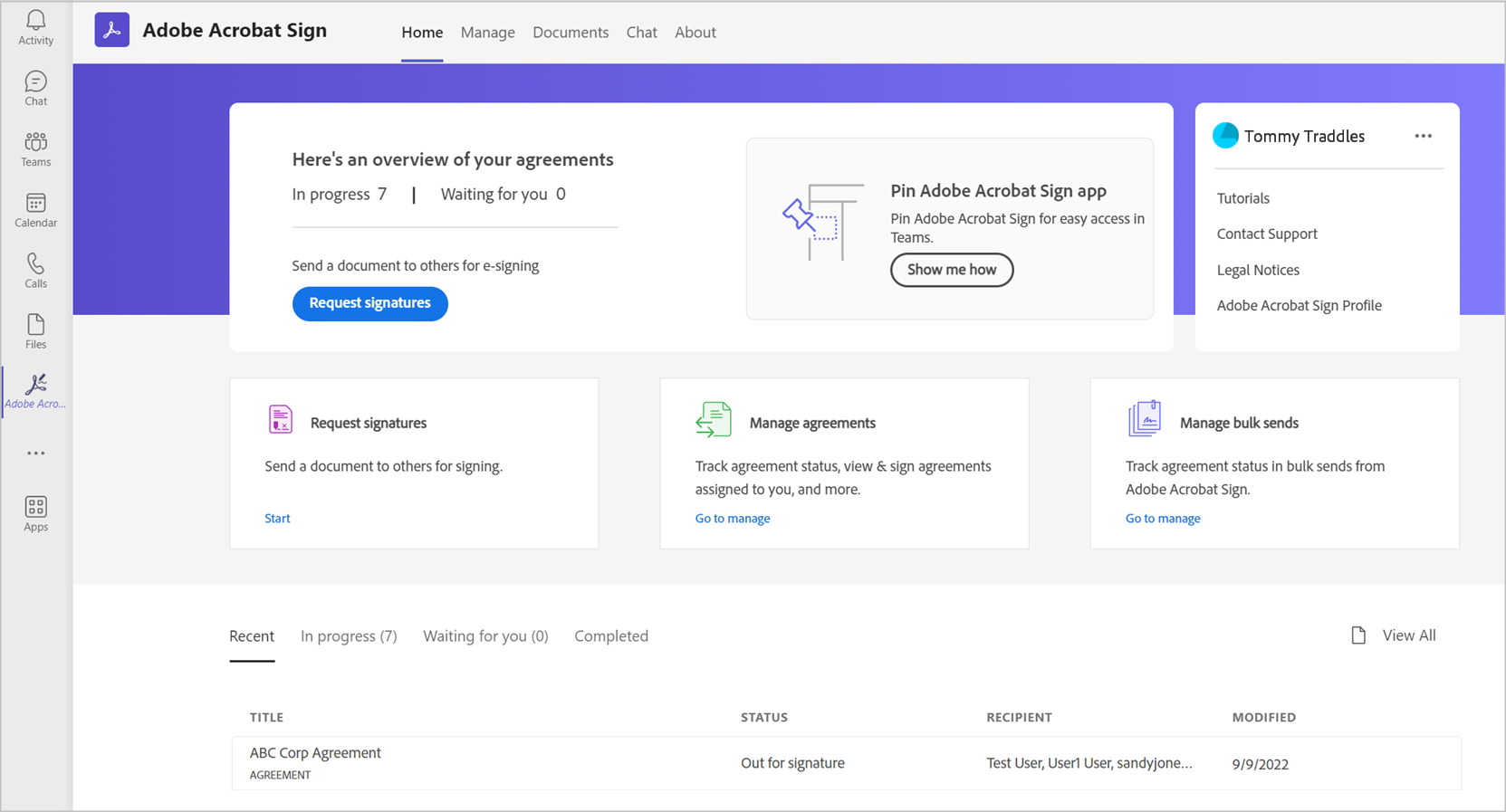 As Microsoft's preferred e-signature solution, it integrates well with Microsoft apps, saving time signing and requesting signatures from Microsoft 365, Outlook, and Teams. Adobe Sign is legally binding in almost every country worldwide to help reduce legal and compliance risk.
Key Features
Collect Signatures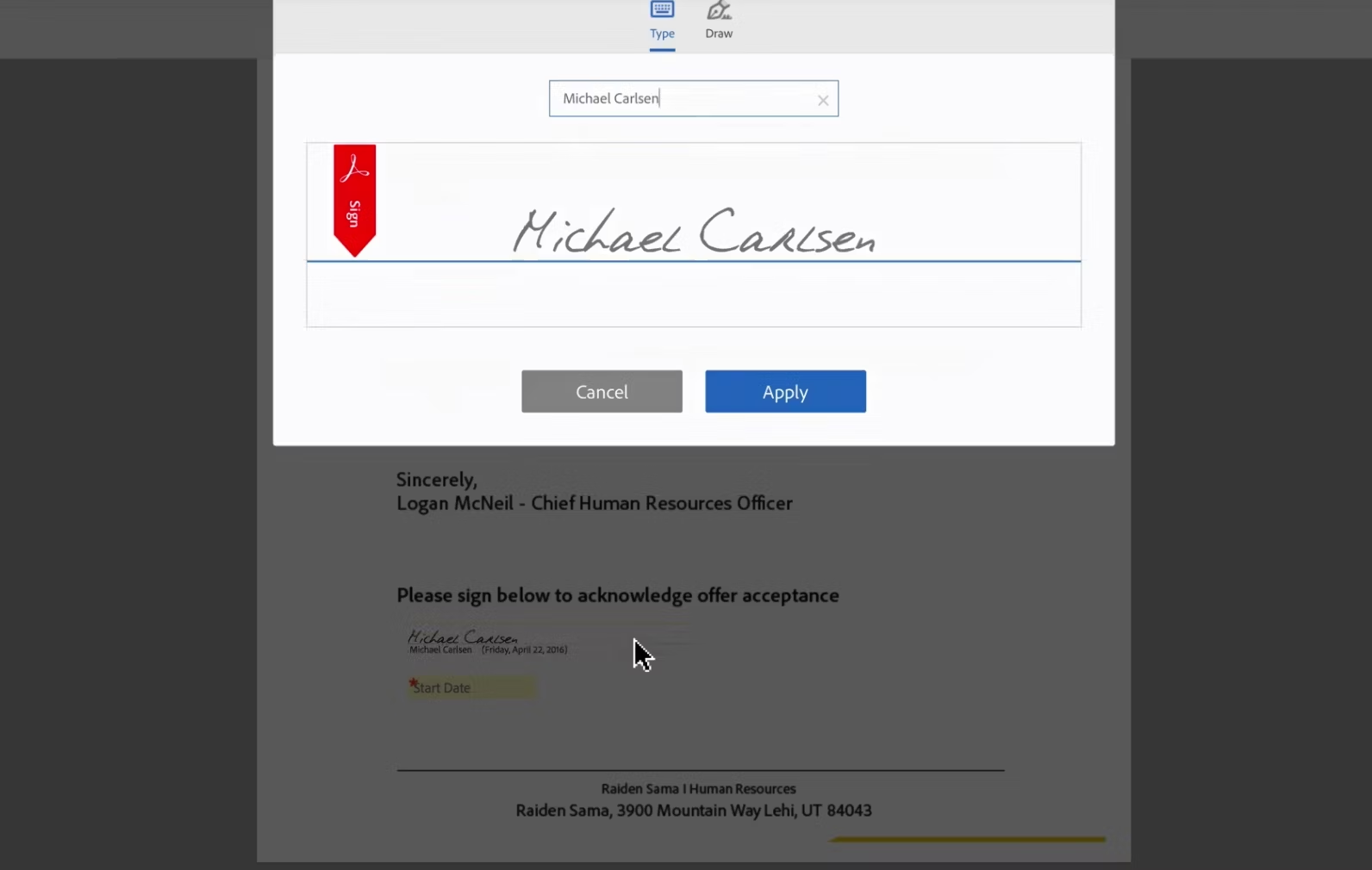 Adobe Sign allows your recipients to sign from their mobile devices or desktops without downloading the document or creating an Adobe account. The free Adobe Scan mobile app lets mobile devices scan and upload PDFs.
Track and Manage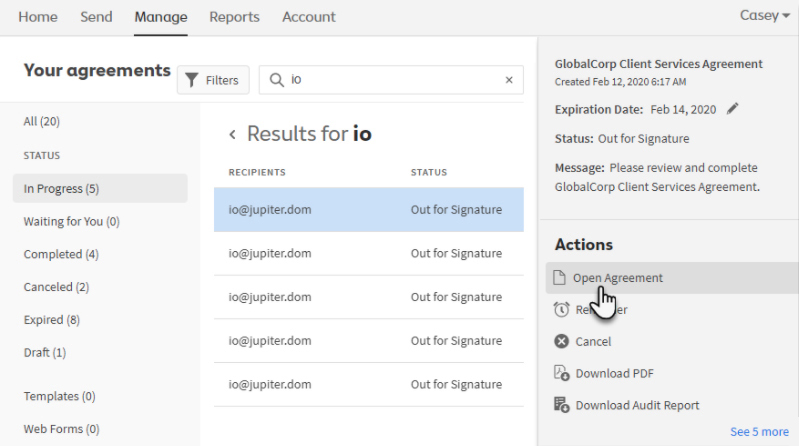 Adobe Sign tells you the real-time status of all the documents you send through instant notifications. Monitor the status of your document lifecycle by receiving an email notification every time someone opens and signs the document. Once the process is complete, their document analytics show detailed history for all documents, including signed by who and when information.
Send in Bulk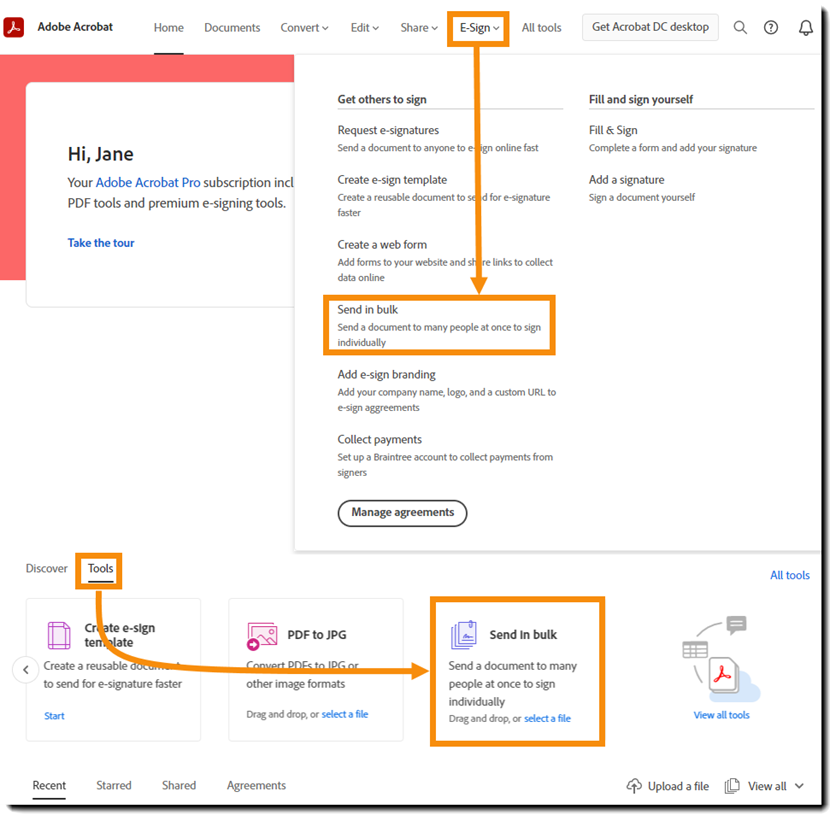 Send in Bulk lets you send one document to multiple signers in your imported list in one click. Your receipts will receive a copy of the document for their signature. Signatures gathered in Send in Bulk transactions are safe, secure, and legally enforceable.
PDF Tools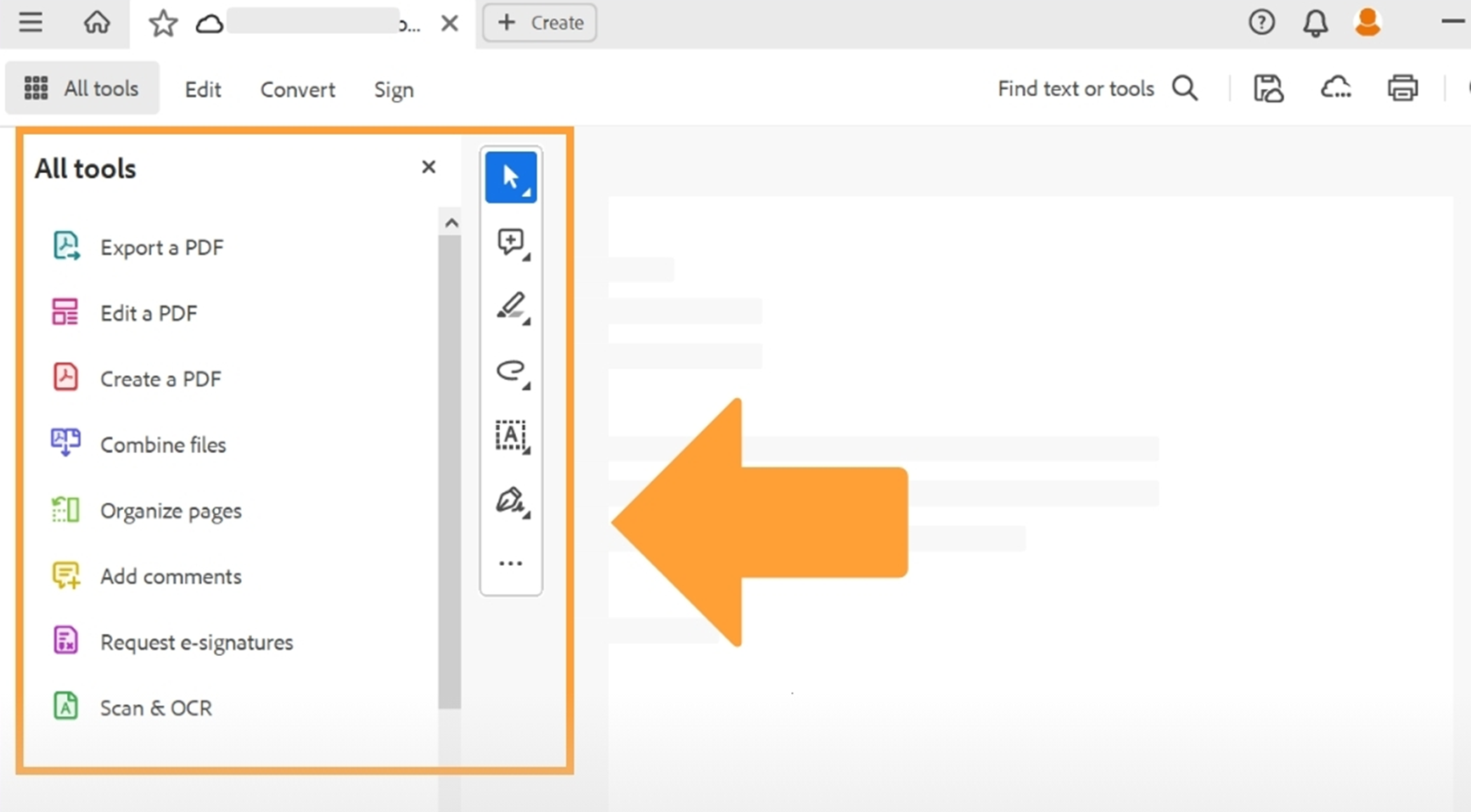 Their powerful PDF tools allow you to edit, sign, and collaborate via PDFs. You can also configure Adobe Sign to meet industry-specific global regulations, so there is no need to worry about PDF and other document compliance.
Pricing
Adobe Sign has plans for individuals and teams.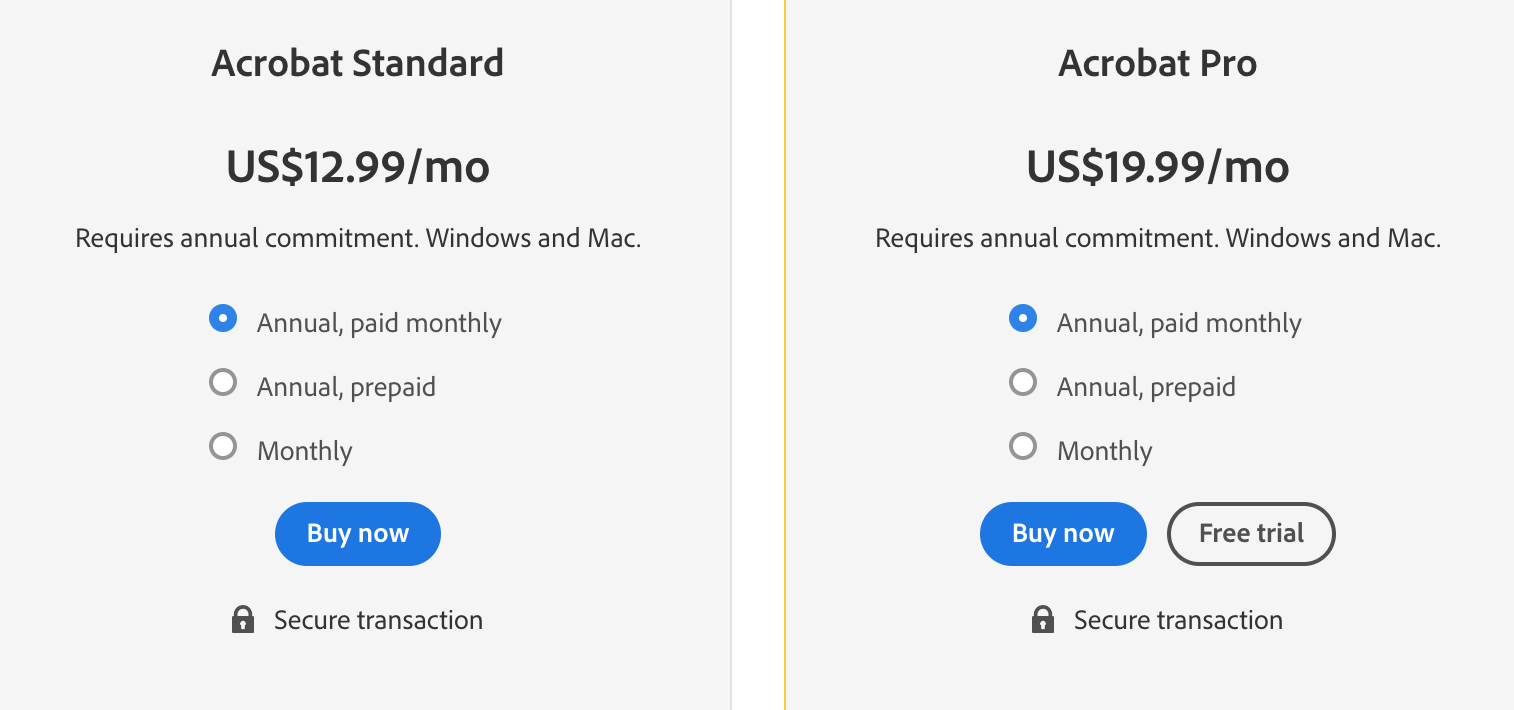 Standard ($12.99/month) and Pro ($19.99/month) both allow individuals to create and sign unlimited documents. Pro offers advanced features like version comparisons and redacting.

Plans aimed at teams include Standard for Teams ($14.99/user/month), Pro for Teams ($23.99/user/month), and a customizable enterprise plan. Notably, workflows are only available on the enterprise plan.
Pros and Cons
Pros
Adobe Sign builds on the familiar Adobe platform.

Recipients can sign without an Adobe account.

Enterprise-level security.
Cons
Documents often end up in spam.

Workflows are only available on the enterprise plan.
Best DocuSign & Adobe Sign Alternative: SignWell
SignWell is an e-signature tool that streamlines the document signing process to boost productivity and cut turnaround times.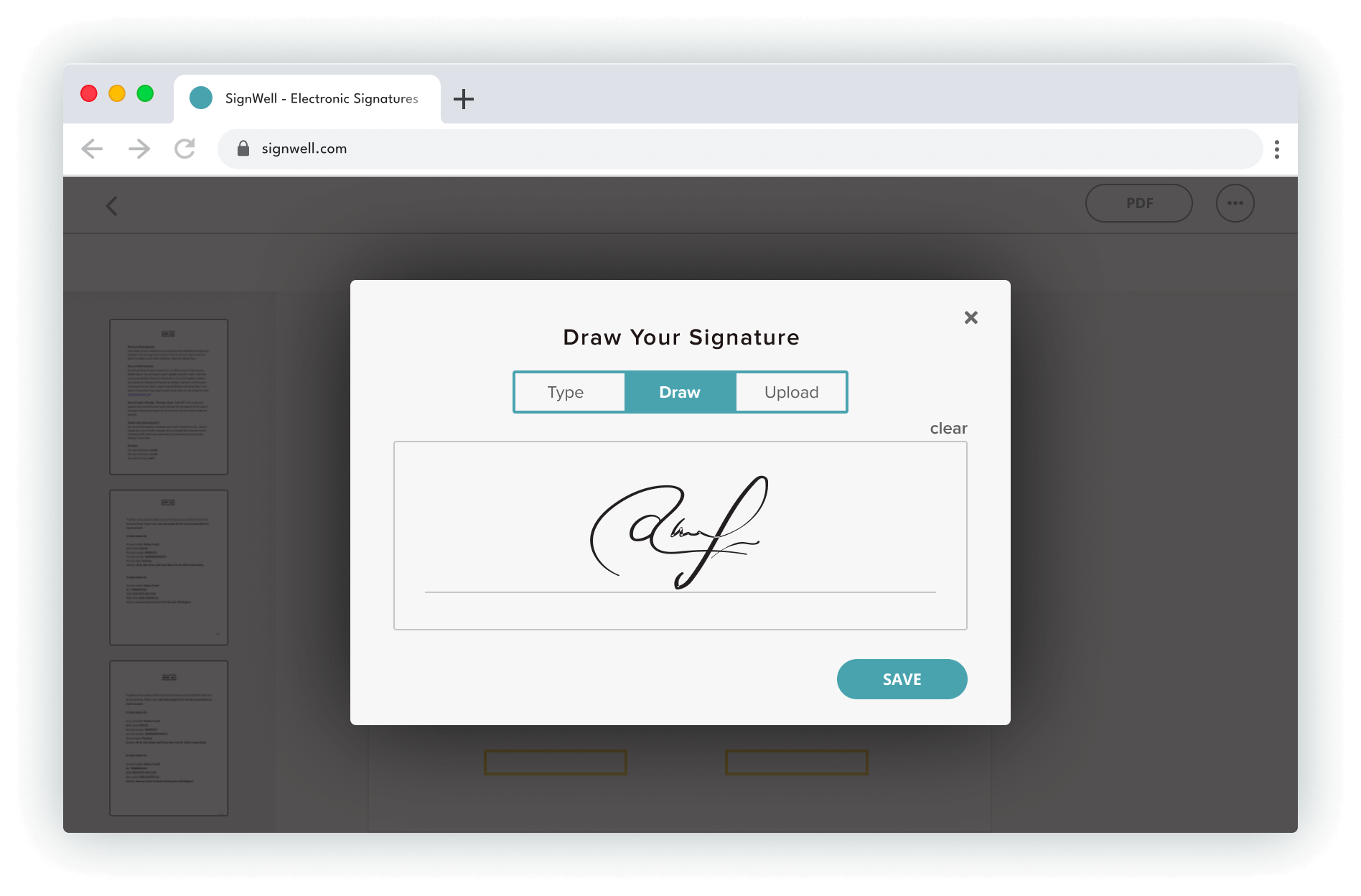 The tool packs in all the essentials—you can easily send documents, create complex workflows with multiple signatories, track each document's status, generate detailed audit reports, and notify recipients when they need to take action.
SignWell is fully compliant with U.S. and international e-signature laws, so your contracts are always legally binding. Combine that with an affordable pricing model and you get an unbeatable combination.
Key Features
Document Signing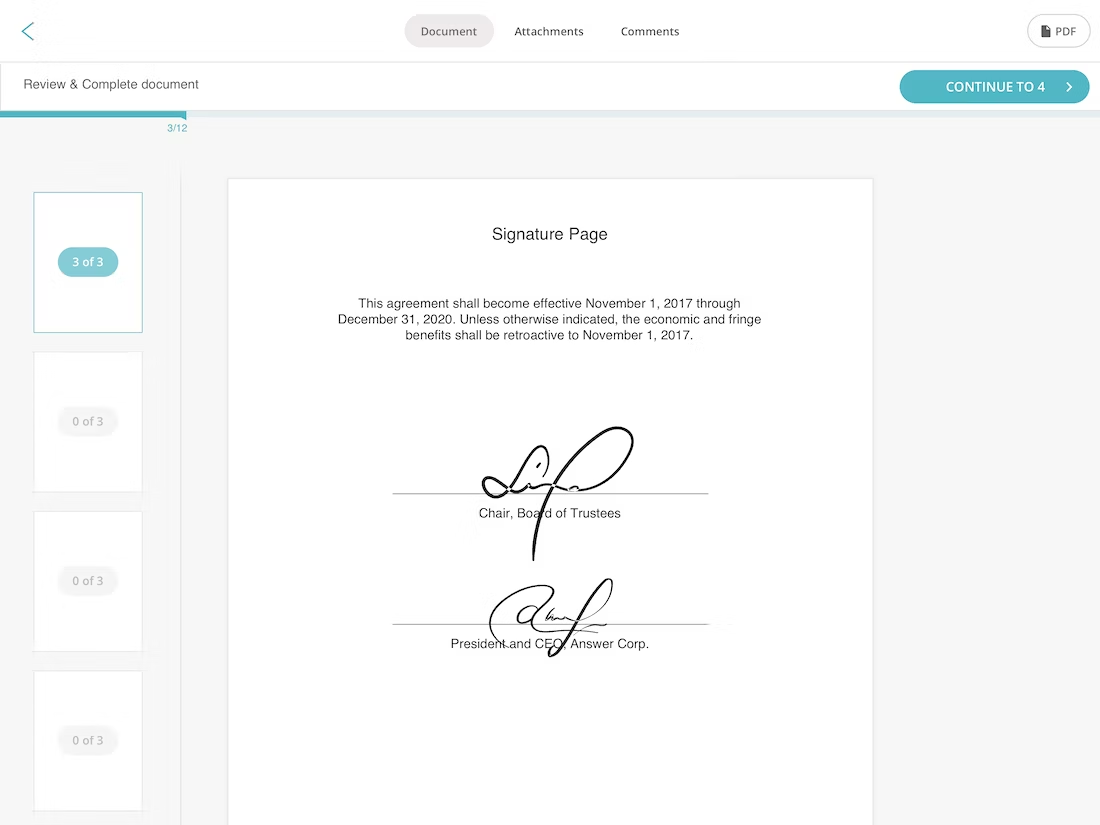 Document Signing makes the process of getting your docs signed straightforward—no printers or scanners required. All signed documents are compliant with U.S. and international e-signature laws, so you can rest easy knowing you're protected from fraud or errors.
Document Workflows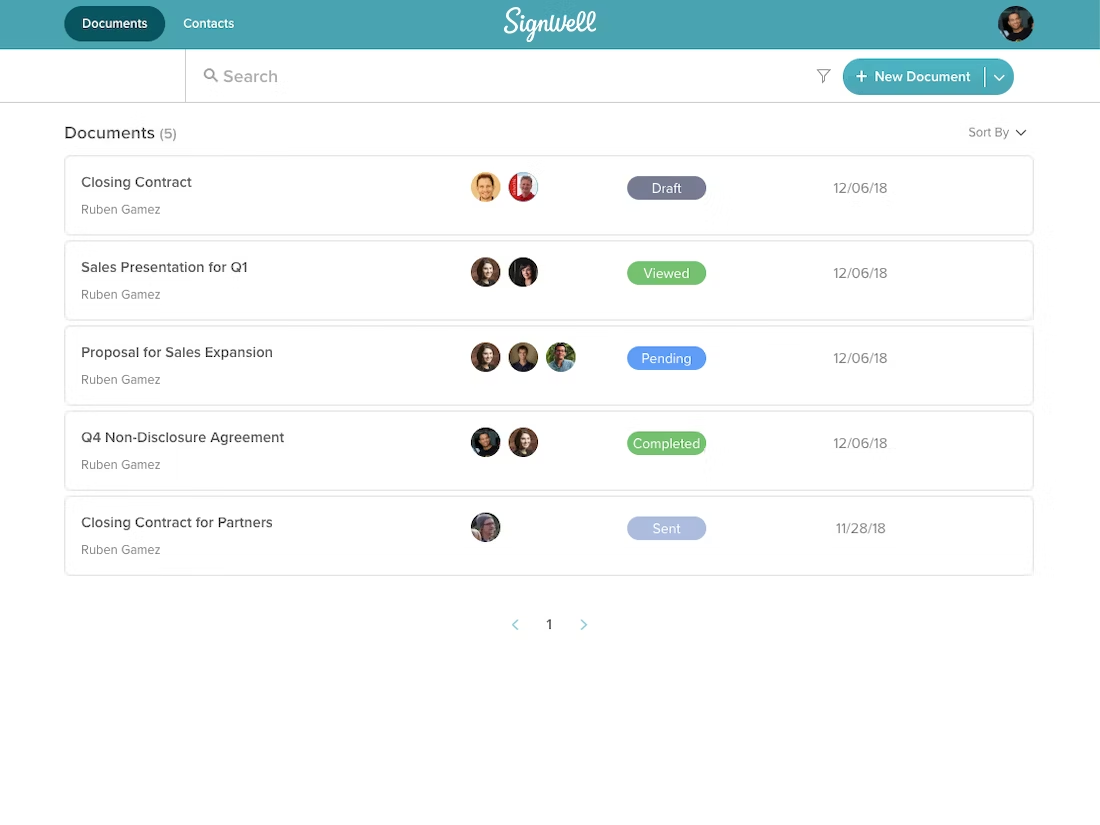 Document Workflows allow you to keep tabs on all your outstanding and completed documents. You can choose signatories, set an order, and automate the process of moving documents to where they need to be. Everyone involved will receive notifications when they need to take action.
Audit Reports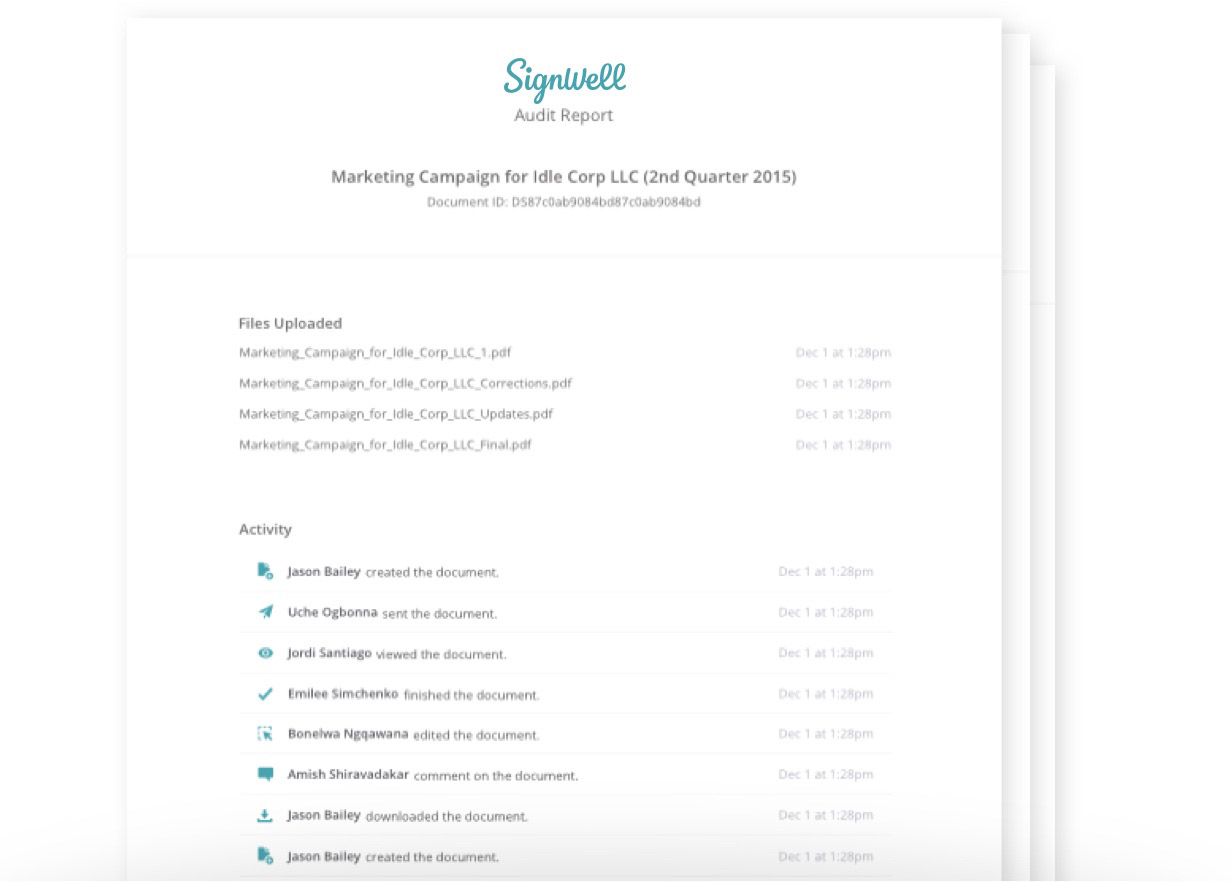 Audit Reports provide a detailed history, revealing when documents were opened and signed. Gain full visibility, access time stamps for each document activity, and stay compliant with all regulations. All documents are safely archived, so you can access them whenever you need to.
Custom Templates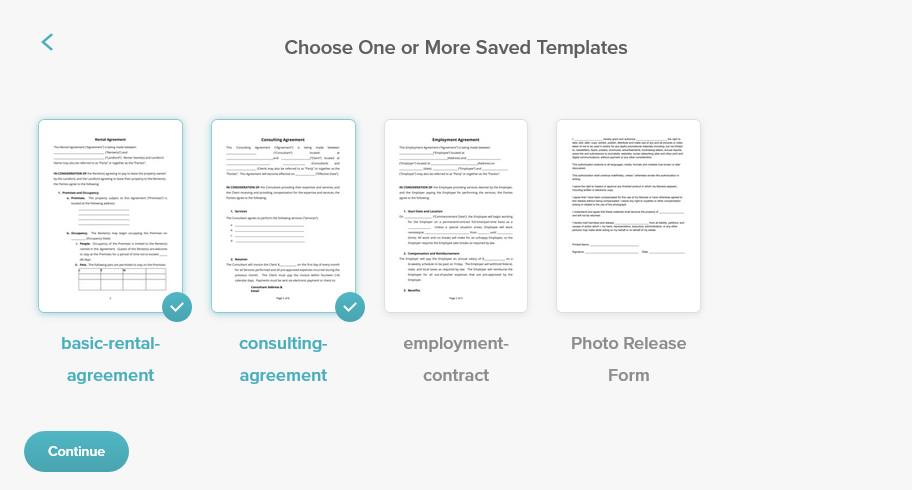 Reuse any document with Custom Templates—perfect for cutting down on paperwork and streamlining processes. From contract templates to employee handbooks, create your own signature-ready template in minutes.
Easy Integrations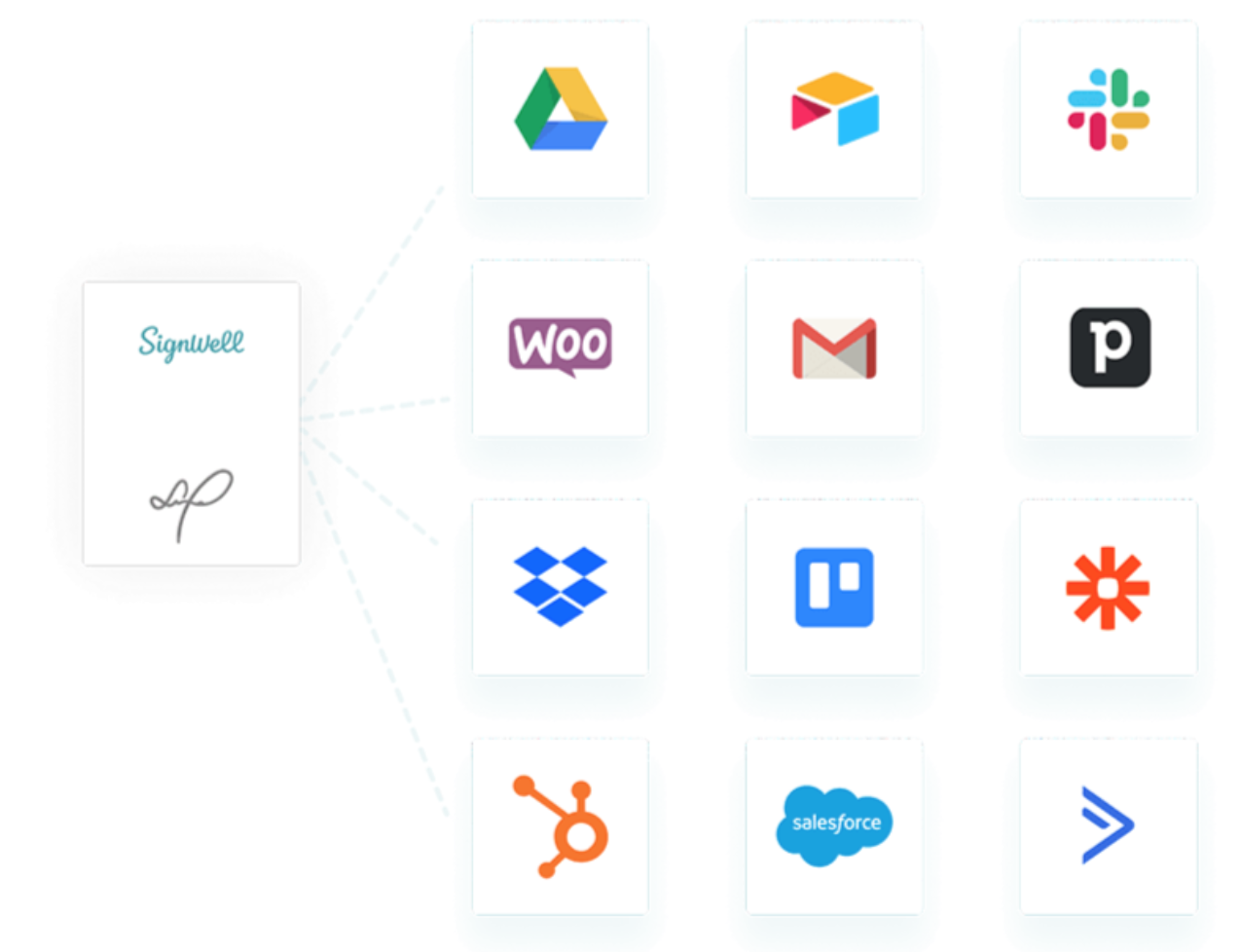 SignWell fits nicely into your existing tech stack with 5,000+ integrations, including Dropbox, Gmail, and Slack.
Intuitive E-Signature API
Build SignWell's signature capability directly into your app with our easy-to-use API. API plans are flexible and affordable, and the first 25 API documents you send out each month are free of charge.
Signatures requested through SignWell's API are SOC 2 Type 2 and HIPAA compliant.
Pricing
At SignWell, we offer a free-forever plan that includes one sender, one template, three documents per month, and access to notifications and reminders.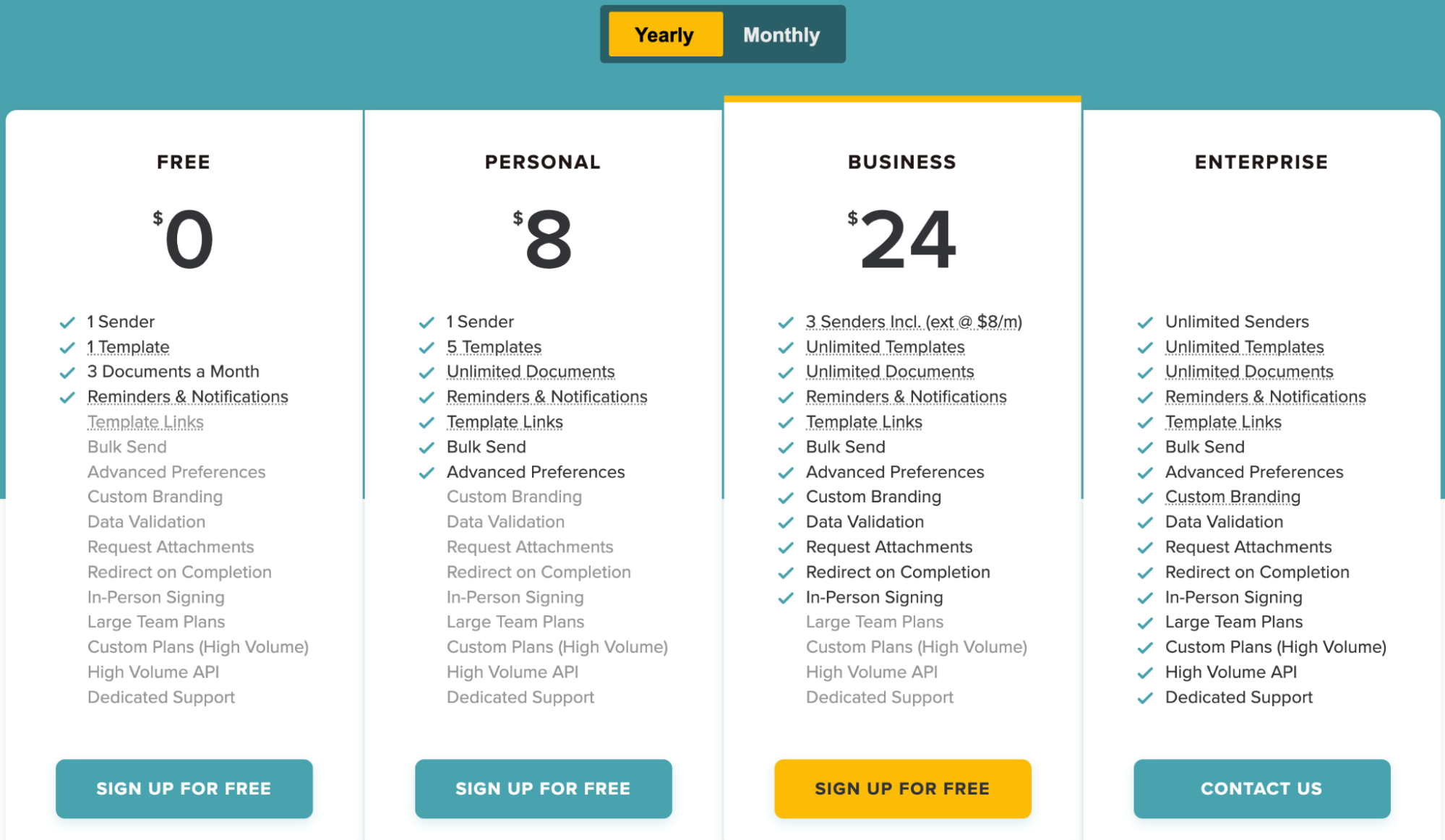 We also have three paid plans—Personal ($8/month), Business ($24/month), and Enterprise (custom). Personal will suit solopreneurs looking for an easy, budget-friendly solution for sending unlimited documents, while Business and Enterprise support teams with additional senders.
Pros and Cons
Pros
Easy onboarding and setup.

Optimized for fast signing from any device.

Excellent customer support.

Affordable.
Cons
Dedicated support is only available on the Enterprise plan.
SignWell vs. DocuSign vs. Adobe Sign: Feature Comparison
| | | | |
| --- | --- | --- | --- |
| Features | SignWell | DocuSign | Adobe Sign |
| Individual Price | free to $8/month | $10+/month | $12.99+/month |
| Team Price | $8/user/month | $25+/user/month | $14.99+/user/month |
| Electronic Signatures | ✅ | ✅ | ✅ |
| Legally Binding Signatures | ✅ | ✅ | ✅ |
| Share & Track Documents | ✅ | ✅ | ✅ |
| Custom Branding | ✅ | ✅ | ✅ |
| Template Links or Power Forms | ✅ | ❌ | ✅ |
| Simple & Modern Experience | ✅ | ❌ | ❌ |
| Integrations | ✅ | ✅ | Limited |
| Approval Documents | ✅ | ✅ | ❌ |
| Unlimited Documents Monthly | ✅ | ❌ | ✅ |
Reasons Why People Choose SignWell Over Competitors
Here are reasons why SignWell is the best alternative for DocuSign and Adobe Sign:
Branded signing experiences

: Our product is customer-led and focuses on simplifying the e-signing experience. We've designed SignWell to support the ways users naturally want to use e-signing tools rather than forcing them to adapt. We listen and learn from customers to refine SignWell to deliver a great e-signing experience.

Economical pay-as-you-go pricing

: Our pricing is designed to be affordable and accessible to everyone—from individuals to enterprises. Our API pricing starts as pay-as-you-go, where you'll only be charged per signature request.

Responsive customer service

: You can rely on SignWell to get the help you need anytime. Our customer success team provides help via email, phone, and quick Zoom calls.

Easy to use

: We've trimmed the fat from our e-signature workflow to ensure it's as fast and reliable as possible.

Lots of integrations

: SignWell integrates with 5,000+ popular apps and tools, giving you the flexibility to automate and customize whatever you need.

Secure and compliant e-signatures

: Signed documents are secured in your archive and compliant with U.S. and international e-signature laws.

Reliability & uptime

: Our operations teams work hard to ensure SignWell has an uptime of 99.99%. That's roughly 5 minutes of downtime per year!
Use SignWell for Accessible, Affordable, and Fun E-Signing
DocuSign and Adobe Sign stand out as two leading tools in the market today. Both offer an array of features for e-signing documents, making it challenging to choose between them. When making your decision, take into account factors such as team size, budget, and specific requirements.
Looking for a fully-featured, cost-effective alternative? At SignWell, we provide a secure and reliable e-signing platform that doesn't break the bank. Easily gather legally binding signatures, create complex signature workflows, and automate notifications and reminders.Get started for free today.
Sign with a team that knows what you need.
Putting a signature on a document shouldn't be hard. The SignWell mission? Simplify how documents get signed for millions of people and businesses.
Get Started Today
61.000+
businesses served, so far...
4.000000+
total documents signed
98%
customer support satisfaction