PandaDoc vs. HelloSign vs. SignWell: An In-Depth Comparison
As e-signature platforms continue to be the way forward for more efficient contract lifecycle management, finding a reliable tool is essential.
At SignWell, over 61,000 customers trust us to provide a secure and reliable e-signature solution. However, we understand that it's essential to compare different options available in the market before making a decision.
So, in this article, we'll compare our product with two other top platforms—PandaDoc and HelloSign.
Let's dive in!
PandaDoc vs. HelloSign vs. SignWell: Key Differences
PandaDoc
HelloSign 
SignWell
Key Features

Payments

Drag and drop editor

Content Library

Advanced quote

24/7 chat support 

File storage

Real-time document analytics

Backup

Video tools

Annotate & sign PDFs

Workflow automation

Custom branding 

White labeling

In-person signing

Template links

Request attachments

Integrations

PandaDoc integrates well with popular CRM, payment, storage, and productivity apps.

HelloSign app integrations include Dropbox, Slack, Google Workspace, Sharepoint, and HubSpot.

SignWell connects seamlessly with over 5,000 apps, including Slack, Dropbox, and Google Sheets.

Ease of Use

PandaDoc is considered relatively easy to use, although some users find its UI slightly clunky.

HelloSign is considered highly easy to use.

SignWell features a streamlined user interface designed to be intuitive and seamless.

Security and Compliance

HIPAA

SOC 2 Type 2

GDPR

eIDAS

Stripe for payments

Firewall 

AES-256-bit encryption

SOC 2  Type 2 

HIPAA

GDPR

Amazon Web Server-hosted services

TLS and AES-256-bit encryption

Pricing (yearly billing)

Essentials

: $19/2 users/month

Business

: $49/month

Enterprise

: custom plan

PandaDoc offers a free trial on the Essentials plan.

Essentials

(Individual): $15/month

Dropbox One with eSign

(Individual): $24.99/month

Standard

(small team): $25/user/month

Premium

(large team): custom plan

Dropbox Sign has a free plan with limited features and a free trial.

Personal

: $8/1 user/month

Business

: $24/3 users/month

Enterprise

: custom plan

SignWell offers a limited free plan, a free trial, and 25 free API documents monthly.

Customer Support

Knowledge base and courses

Web ticket and email support 

Priority email support

Live chat support

Phone support during business hours

Dedicated customer success team delivers support via: 

email 

phone

quick Zoom calls
What Is PandaDoc?
PandaDoc is a contract management tool that lets businesses create, send, sign, manage, and automate their documents.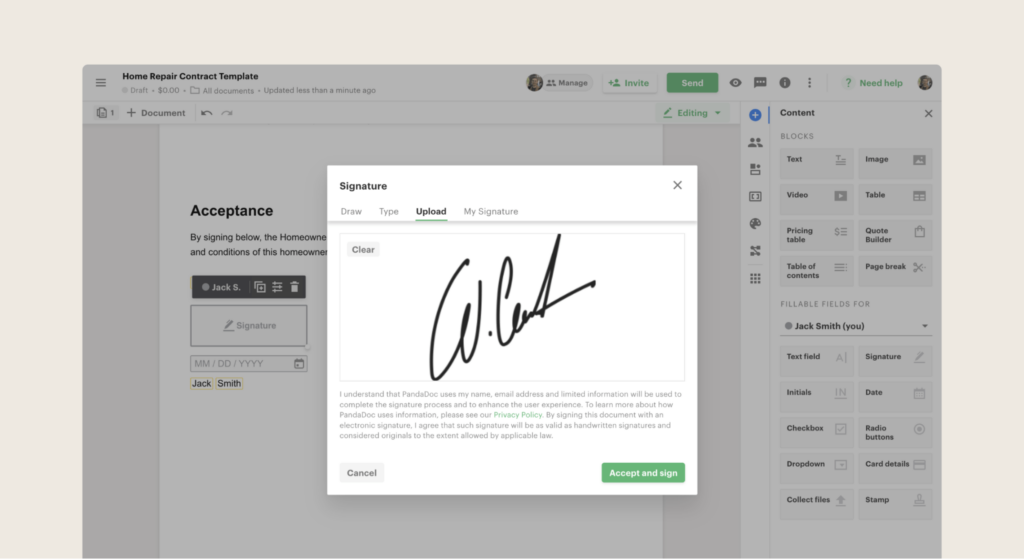 The tool features a massive template library (plus the ability to create custom templates), an intuitive visual document editor, built-in e-signature, and document tracking. Integrations with Hubspot CRM and Salesforce make PandaDoc a popular choice for sales teams looking to streamline their CPQ and CLM processes. 
It also comes with automated document analytics and a wide range of security features. 
Key Features
Document Management

: Enhance admin efficiency and productivity by creating error-free contract proposals and interactive quotes. Embed signable forms into your platform or share the link.

Contract Management:

Speed up business processes through automated workflows and pre-approved templates for new contracts.

Automated Signing Orders

: Automate the signing process by sending documents to the right people at the right place and time.

Content Library:

Organize and search all your sales and marketing assets, like tables, clauses, and videos, in one central repository.

Payments:

Automate payments to vendors, partners, and customers with integrated payment processing.

Document Tracking:

Receive a complete audit trail with document analytics and activity details, such as viewed or completed.
Pricing
PandaDoc has three price packages—Essentials ($19/user/month), Business ($49/user/month), and Enterprise (custom).

Essentials supports two seats max and offers unlimited monthly documents, basic analytics, and basic support. Business is a better starting point for teams and power users, with features like bulk sending, integrations, and content libraries.
PandaDoc offers a 14-day free trial. You get a 46% discount when you pay annually.
Pros & Cons
Pros
API for capturing e-signatures from your platform

Unlimited document uploads and signature requests 

Excellent customer service

Mobile app access
Cons
Clunky UI design

Occasional performance issues causing freezing and loss of work
What Is HelloSign?
HelloSign (now Dropbox Sign) is an e-signing platform built into Dropbox's cloud-based storage solution.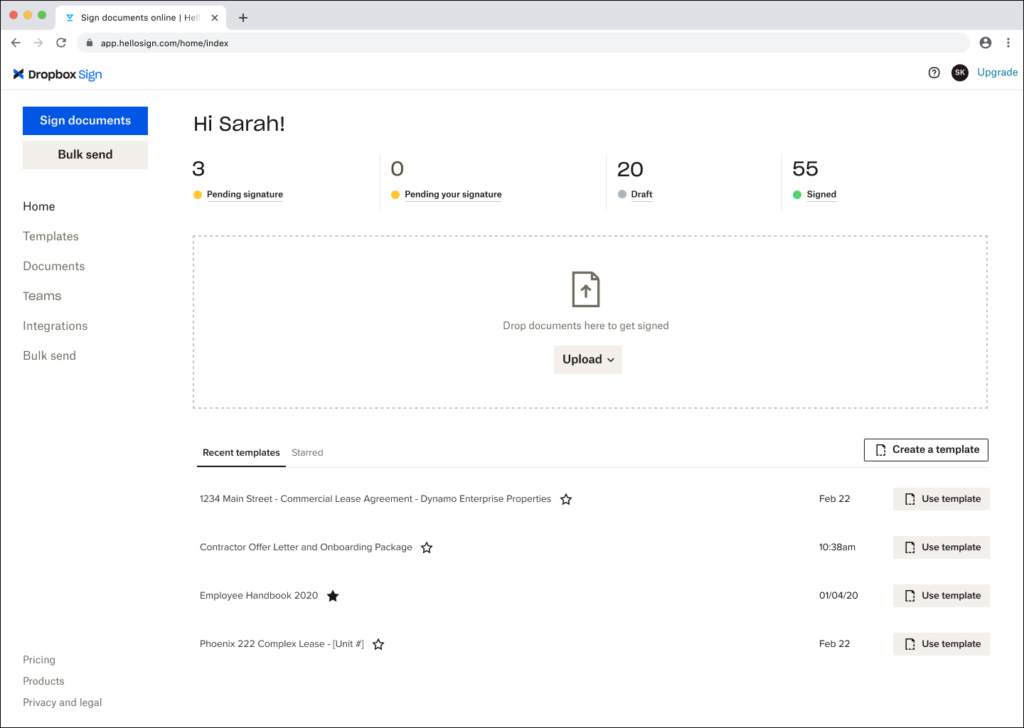 The tool features an intuitive document management system (complete with folders), templates for frequently used documents, and a mobile-optimized signing interface. From the dashboard, you get a quick overview of the status of your sent documents and documents waiting for your signature.
The tool also features automated reminders to keep signers on schedule.
Key Features
Reusable Templates

: Turn your most used documents into reusable templates. Save formatting and fields for constant reuse.

Fill and Sign PDFs

: Complete form fields formatted with checkboxes, unique text, initials, and dates.

Mobile-Friendly Forms

: Improve form completion rates with mobile-friendly forms. Their mobile app design supports quick signature requests and status checks.

Audit Trail

: Easily keep track of changes with document history and an audit trail of each submission.

Customizable Experiences

: Create personalized e-signature workflows using conditional logic, custom branding, automatic reminders, and attachment collection.

Team Management

: Manage team members and roles while granting access to form templates.

Integrations

: Dropbox Sign integrations include Dropbox, Slack, Salesforce, and SharePoint.
Pricing
Dropbox Sign has four pricing packages—Essentials ($15/month), Dropbox One + eSign ($24.99/month), Standard ($25/user/month), and Premium (custom).

Essentials and Dropbox One + eSign are both individual plans, but they still offer unlimited e-signing. Standard and Premium are designed for teams. All plans include a free 30-day trial to see what the platform is like before committing.
Pros & Cons
Pros
Enterprise-grade security

Basic support is offered on all plans

All plans are compliant with eIDAS, GDPR, and SOC 2 Type 2
Cons
Editing capabilities could be improved
Best PandaDoc and HelloSign Alternative: SignWell
SignWell is the leading e-signing alternative to PandaDoc and HelloSign. 
We offer an intuitive e-signing experience designed to support the ways users instinctively use e-signing tools. Features like bulk sending, automated reminders, API workflow automation, and templates work to cut turnaround times and get documents signed faster.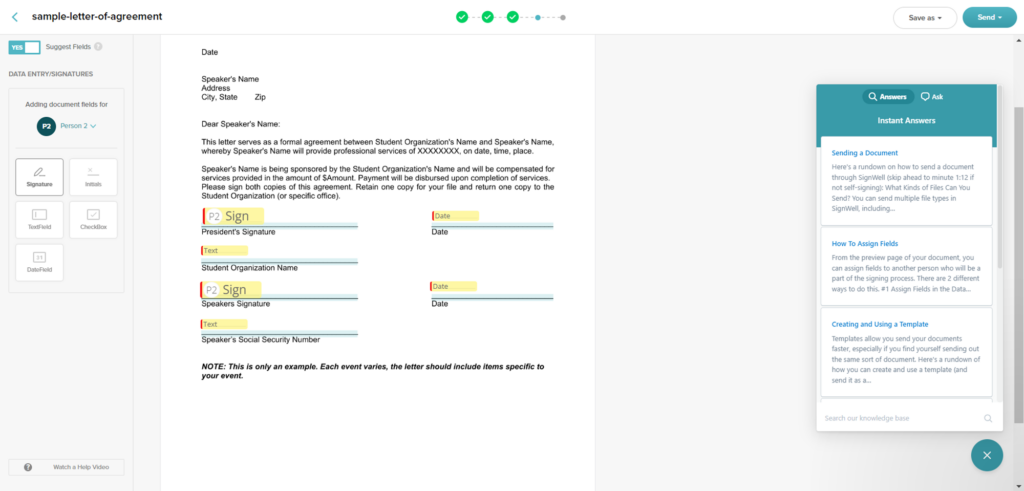 We also offer detailed audit trails, internationally compliant security and anti-tamper measures, and leading customer support.
Key Features
E-Signature API

: Utilize our easy-to-use and intuitive API to seamlessly embed e-signing capabilities into your website or app to limit customer friction. By automating your document signing workflows, you can streamline your processes and enhance productivity, accomplishing more in less time.

Document signing

: Collect legally binding signatures on any device. Our solution complies with international and U.S. e-signature laws, so you can rest easy knowing your signed documents are archived and protected against tampering.
Security:

We adhere to strict e-signing laws like eIDAS, ESIGN Act, UETA, and data protection like SOC 2 Type 2, HIPAA, and GDPR. Documents are accessed via TLS 1.2 and AES-256 encryption and we exclusively use AWS data centers certified in ISO 27001/27017/27018.
Custom Templates

: Streamline your document workflows further by creating templates from regularly used documents.
Audit Reports

: Use audit reports for a comprehensive overview of the activity history of a document. Access details like timestamps for opening and signing, signer details, and more.

Integrations

: SignWell will work seamlessly with 5,000+ popular apps like Gmail, Slack, and Dropbox—no coding required.

Responsive Customer Support

: Our customer success team delivers the support you need whenever needed. Get free email, phone, or Zoom call support with any plan.
Pricing
SignWell's free-forever plan includes one sender, one template, and three sent documents per month.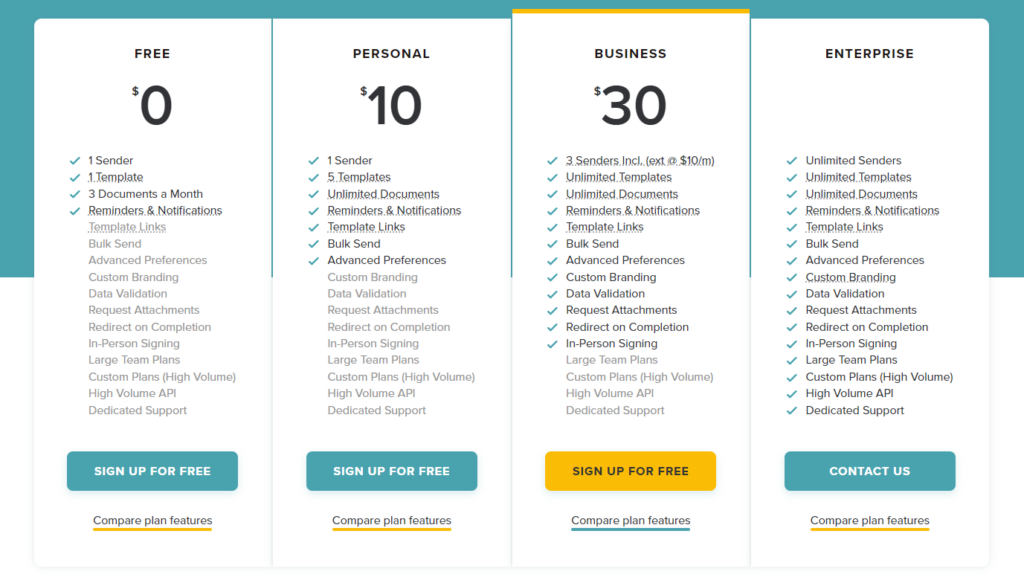 Three different paid plans are available—Personal, Business, and Enterprise. 
The Personal plan costs $10 monthly and includes one sender, up to five templates, and advanced preferences. The Business plan costs $30 per month and includes three senders (with the option to add more for an additional fee), custom branding, attachments, and other features. 
Finally, the Enterprise plan is a custom plan that can be tailored to meet specific needs.
API Pricing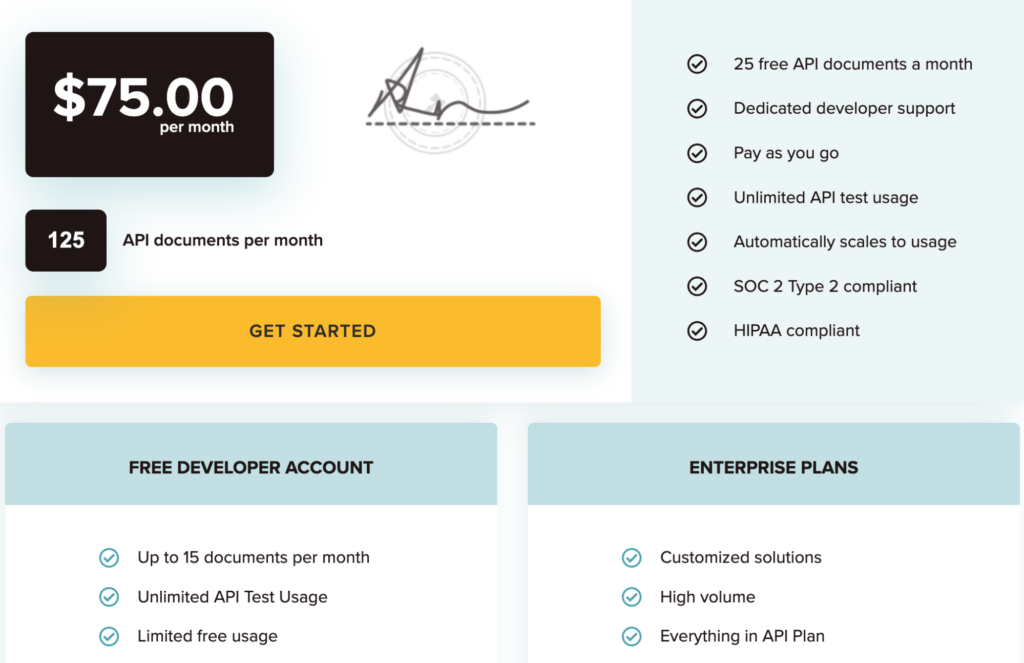 We offer flexible pricing for our e-signature API, and you get your first 25 API documents free each month.
Pros & Cons
Pros
Branded e-signing experience

Personalized and industry-leading customer support

Dedicated developer support is available on the API price plan

They provide e-signing that scales with your business

Affordable pricing
Cons
Limited features available on the free plan
PandaDoc vs. HelloSign vs. SignWell: Feature Comparison
| | | | |
| --- | --- | --- | --- |
| Features | PandaDoc | HelloSign | SignWell |
| Individual Price | $9.50/user/month | $15/month | free to $8/month |
| Team Price | $49/user/month | $24.99/user/month | $8/user/month |
| Legally Binding Signatures | ✅ | ✅ | ✅ |
| API | ✅ | ✅ | ✅ |
| Share & Track Documents | ✅ | ✅ | ✅ |
| Custom Branding | ✅ | ✅ | ✅ |
| Template Links or Power Forms | ✅ | ✅ | ✅ |
| Simple & Modern Experience | ✅ | ✅ | ✅ |
| Bulk Send | Optional | ✅ | ✅ |
| Approval Documents | ✅ | ✅ | ✅ |
| Unlimited Documents Monthly | ✅ | ✅ | ✅ |
| Free Plan | ❌ | ✅ | ✅ |
| Zoom Call Support | ❌ | ❌ | ✅ |
Reasons Why People Choose SignWell
To close this article out, we thought we'd leave you with a few of the main reasons why SignWell is attracting users from tools like HelloSign and PandaDoc:
Branded signing experiences

: SignWell simplifies the e-signing process, making it accessible to everyone. Our customer-centric solution is designed to match the natural way users sign documents online without requiring them to change their behavior. This intuitive approach ensures a seamless e-signing experience for users and quicker signature turnaround times for you.

Intuitive E-Signature API

: Our e-signature solution has an API that provides you with all the capabilities you need. You can use it to add e-signing functionality to websites and apps or to automate tedious processes like signing orders, approval, and more.

Security and Compliance

: Signed documents are secured in your archive and protected from further changes. Our U.S. and international laws compliance meets or exceeds requirements.

Integrations

: SignWell integrates with 5,000+ popular apps and tools, allowing you to continue working seamlessly with your preferred apps.

Reliability and Uptime

: Our dedicated operations team ensures that SignWell maintains an impressive uptime rate of 99.99%, equivalent to only about 5 minutes of downtime per year.

Responsive Customer Service

: You can always rely on SignWell for exceptional support. Our dedicated customer success team is readily available and committed to assisting SignWell users on any plan. Whether you prefer to connect via email, phone, or Zoom calls, we are here to ensure that you have support and guidance throughout your experience.
Choose SignWell for a Competitive Edge
PandaDoc and HelloSign are solid e-signing solutions with a lot going for them. Both offer reliable uptime, a wide range of features, and competitive pricing plans. However, several advantages make SignWell the better choice for your business.
At SignWell, we offer a customer-centric approach to e-signing that minimizes effort and maximizes results. Our solutions are designed to make the e-signing process as seamless and efficient as possible while ensuring your documents remain secure.
Sign up today and see why SignWell is the leading PandaDoc and HelloSign alternative.
Sign with a team that knows what you need.
Putting a signature on a document shouldn't be hard. The SignWell mission? Simplify how documents get signed for millions of people and businesses.
Get Started Today
61.000+
businesses served, so far...
4.000000+
total documents signed
98%
customer support satisfaction