HelloSign vs. DocuSign vs. SignWell: Choosing the Best E-Signature Solution for Your Business
HelloSign (now Dropbox Sign) and DocuSign are two major players in the e-signing space.
Choosing between these two tools (and any other e-signing tool) isn't just a matter of preference—it can have significant implications on efficiency, security, and overall customer experience.
At SignWell, we spent hours testing both of these tools while building and improving our solution. So, in this comprehensive guide, we'll share our insights into HelloSign, DocuSign, and SignWell in terms of features, pricing, user experience, and more. By the end, you'll have all the information you need to make an informed decision.
Let's get started.
HelloSign vs. DocuSign vs. SignWell: Key Differences
Pricing
All three tools offer different pricing options.
Dropbox Sign starts at $20 per month for the Essentials plan, which includes one user, three TB of storage, and features such as 180 days to restore deleted files, tracking file engagement, unlimited signature requests, and PDF editing.
DocuSign plans start at $15 per month for individuals and sole proprietors with basic e-signature needs and go up to $65 per month per user for businesses that require advanced features like signer attachments, formulas, and bulk send.
On the other hand, SignWell offers a free plan with limited features, allowing one user to send up to three documents per month. Paid plans start at $8 per month (paid annually), which includes features such as unlimited documents, templates, and the option to add unlimited senders. We also offer pay-as-you-go API pricing with 25 free API documents each month.
Scalability
Dropbox Sign is known for its location and device-agnostic features, which makes it an easily scalable business solution. Users can access their files from various devices and locations without worrying about compatibility issues. That means less friction when it's time to scale.
DocuSign's platform boasts great availability, with uptime exceeding 99.99% in the last two years. Its high availability architecture allows maintenance to be conducted without impacting customer transactions, and the platform can withstand complete site outages.
On the other hand, SignWell offers a scalable and secure e-signature solution. We offer PAYG API pricing so that you only need to pay for what you use. Plus, we offer unlimited documents on all paid plans—no more having your growth rewarded with forced upgrades.
What Is HelloSign?
HelloSign (now known as Dropbox Sign) allows users to digitally sign, fill out, send, retrieve, and save documents.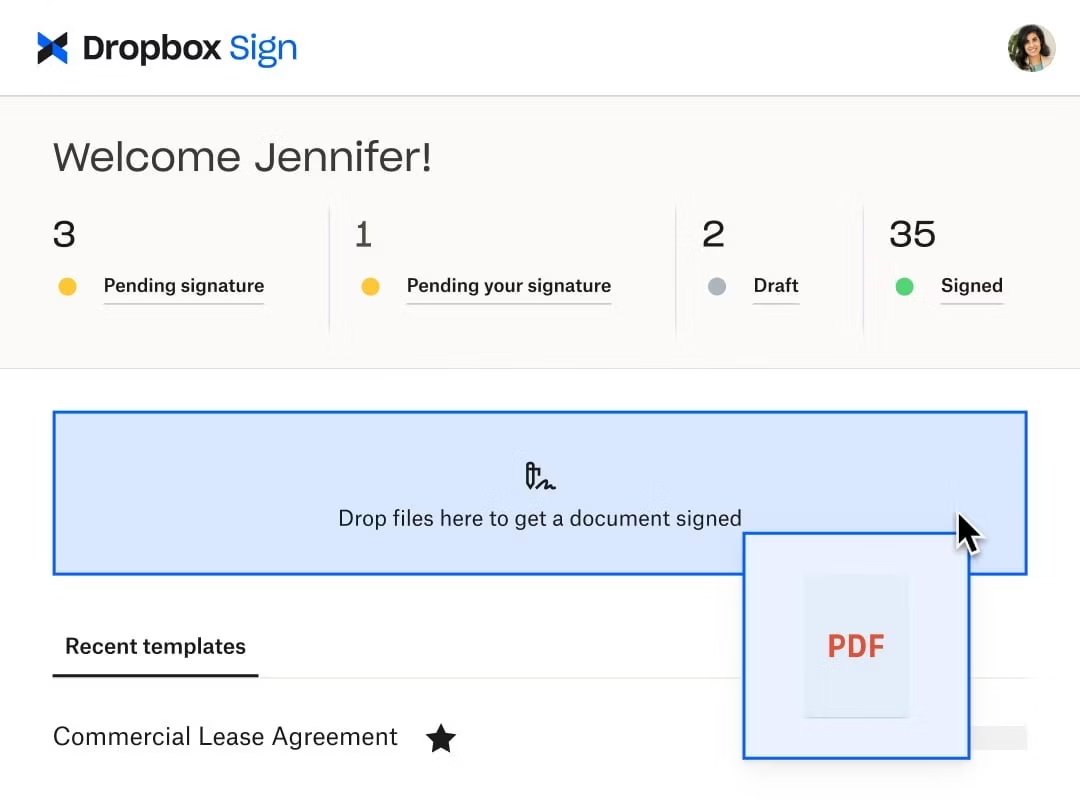 The tool provides legally binding signatures, and audit trails detailing document access, review, and signature. HelloSign also has a range of nice-to-have features, like customizable templates, secure document storage (powered by Dropbox), and convenient sharing options.
Dropbox Sign also allows you to embed e-signatures into your website or app, creating an on-brand and fully embedded signing experience for your signers.
Key Features
E-Signature:

Users can draw their signature using a mouse or touchpad.
Audit Trail:

Provides a detailed audit trail with every transaction. This includes information about who signed the document, their IP address, and the time of the signature.
Templates:

Offers pre-made templates that users can customize to fit their needs. This is especially useful for documents that are frequently used.
Integrations:

Integrates with many popular business apps like Google Drive, Dropbox, Slack, Salesforce, and more. Automatically linked to Dropbox.
Security:

Uses SSL encryption for data transfer and stores documents in an encrypted format.

Mobile Signing:

Quickly send, sign, and check the status of signature requests from anywhere with the intuitive mobile app.

Customizable Experiences

: You can incorporate features such as conditional logic, attachment collection, custom branding, automatic reminders, and advanced signer options.

Signer Fields:

Drag-and-drop signature blocks, text fields, checkboxes, dates, and more onto your documents.

Sign Requests:

Send signature requests to multiple signers with a few clicks.
Pricing
Dropbox Sign offers different pricing plans to cater to users.

Essentials and Dropbox + Sign Essentials are aimed at individuals, while Standard and Premium are aimed at teams (small and large, respectively). All plans offer a free trial, so you can try the product out before committing.
Pros and Cons
Pros
Great luck with their templates

Easy to use

Ability to e-sign documents
Cons
Issues with long documents

Lack of Microsoft Word add-in for direct uploading and signing
What Is DocuSign?
DocuSign allows users to sign, send, and manage documents digitally. It provides a secure and convenient way to complete agreements remotely, eliminating the need for physical signatures and paperwork.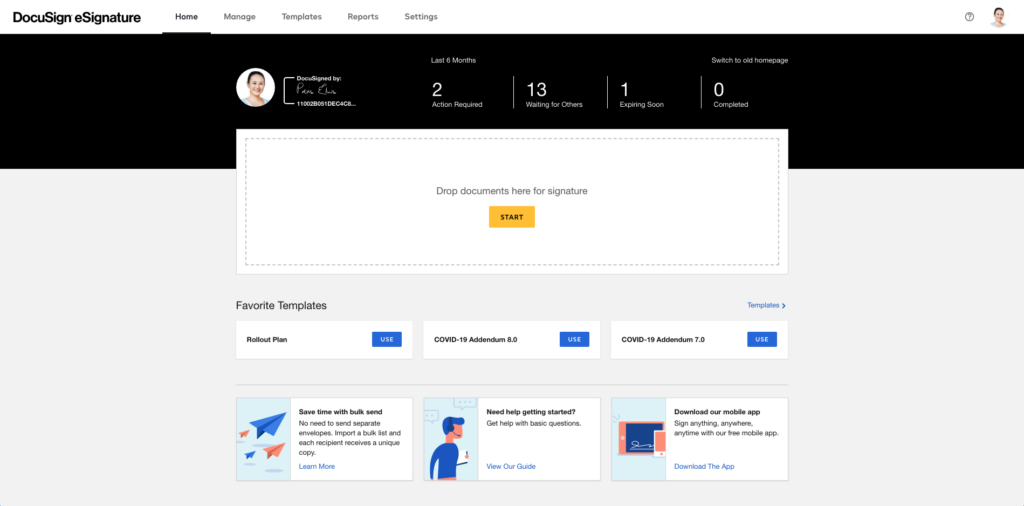 With DocuSign, you can enjoy user-friendly signing experiences on almost any device. It provides a top-notch level of security, featuring advanced signer identification and powerful threat detection capabilities. Additionally, it offers seamless integration with applications like Salesforce, Microsoft, Google, Zoom, and many others. This means it's easy to collect and store signatures without changing your current tech stack.
Key Features
Branding:

Customize emails and web pages to reflect your brand, adding your logo, changing colors, and tailoring email content and links.

Templates:

Create reusable templates to streamline document preparation, saving tag placement, workflow routing, and other settings.

PowerForms:

Easily generate self-service documents for signature with minimal coding.

PDF Form Conversion:

Automatically recognize and convert PDF fields into signer fields when uploading PDFs.

20+ Tags and Fields:

Guide signers efficiently with various tag and field options.

Drawing Field:

Allow both signers and senders to upload images and enable signers to leave free-form markups on them.

Cloud Storage Integration:

Access documents through popular cloud storage services like Google Drive or Dropbox.

Two-Factor Authentication:

Enhance security with two-factor authentication for added protection.

Recipient Authentication Options

: Add additional authentication mechanisms to ensure the legitimacy of documents and signers.
Pricing
DocuSign offers different eSignature plans with varying features and pricing options.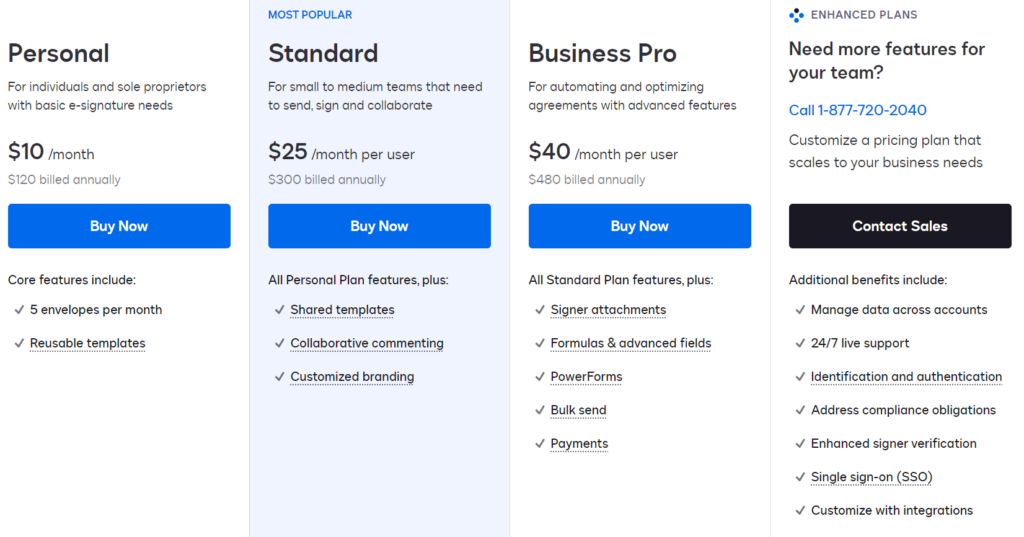 Personal includes five envelopes per month and reusable templates. Standard includes all features of Personal, plus shared templates, collaborative commenting, and customized branding. 
Business Pro includes all features of Standard, plus signer attachments, formulas & advanced fields, PowerForms, bulk send, and payments.
Pros and Cons
Pros
Easy and accessible software

Quick completion of tasks

Positive experience for both parties involved

Convenient for signing legal documents

Secure website for document signing and sending
Cons
Per envelope charges

Poor customer service experience

Issues with API and SDK integration
Best HelloSign and DocuSign Alternative: SignWell
SignWell is a user-friendly e-signature solution that streamlines the document signing process and facilitates the collection of legally binding signatures.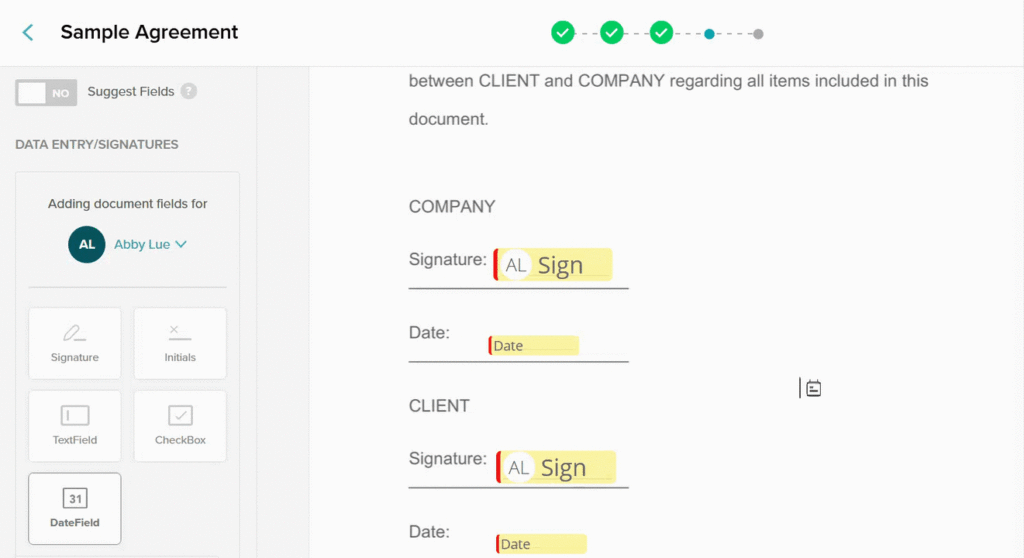 We provide a range of time-saving features designed to support how you instinctively use e-signing tools. It's easy to create document workflows with set signing orders, automate notifications and reminders, save common documents as templates, and check the status of your outstanding documents from the dashboard.
We also offer features designed with security and compliance in mind. Audit trails give you comprehensive records of who signed when, and our e-signatures fully comply with US and international e-signing laws.
Key Features
Electronic Signature API:

Leverage the power of SignWell's API to build secure and legally compliant digital signature experiences for your customers. Add e-signing to websites and apps or automate your workflow.

Document Signing

: SignWell simplifies the document signing process, ensuring legally binding signatures.

Document Workflows

: Prioritize and track unsigned documents, control signers' orders, and automate notifications to keep the process efficient and organized.

Custom Templates

: Transform any document into a reusable template for easy sharing, even on your phone. Recipients will enjoy a guided experience that's accessible to everyone.

Personalization & Branding:

SignWell offers advanced features for customizing signature workflows. These include conditional logic, attachment collection, custom branding, automatic reminders, and advanced signer options.

Audit Reports

: Track document history with detailed audit reports, timestamps, and activity visibility. Meets the US and international e-signature law requirements for added security.

Easy Integration

: Integrate SignWell seamlessly with 5,000+ apps like Gmail, Dropbox, and Slack to simplify signature collection, document management, and more.

Security and Compliance

: SignWell follows e-signature laws in the US and internationally. Signed documents are protected and archived for high security. We're SOC 2 Type 2, HIPAA, and GDPR compliant for network and system security and reliability.
Pricing
SignWell offers a free plan for one sender that supports three documents per month.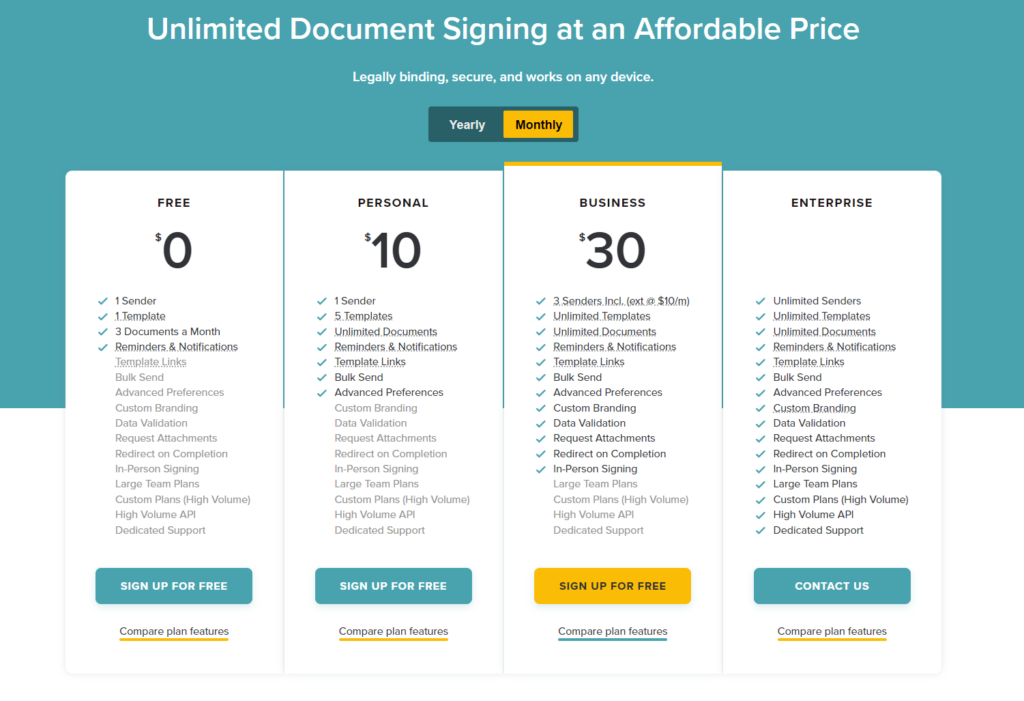 There are also three paid plans—Personal, Business, and Enterprise. The Personal plan includes one sender, five templates, and unlimited documents, while the Business plan includes three senders, unlimited templates, and unlimited documents. 
The Enterprise plan offers unlimited senders, templates, and documents.
API Pricing
SignWell offers a scalable and affordable e-signature API that allows you to integrate e-signatures into your app or platform seamlessly.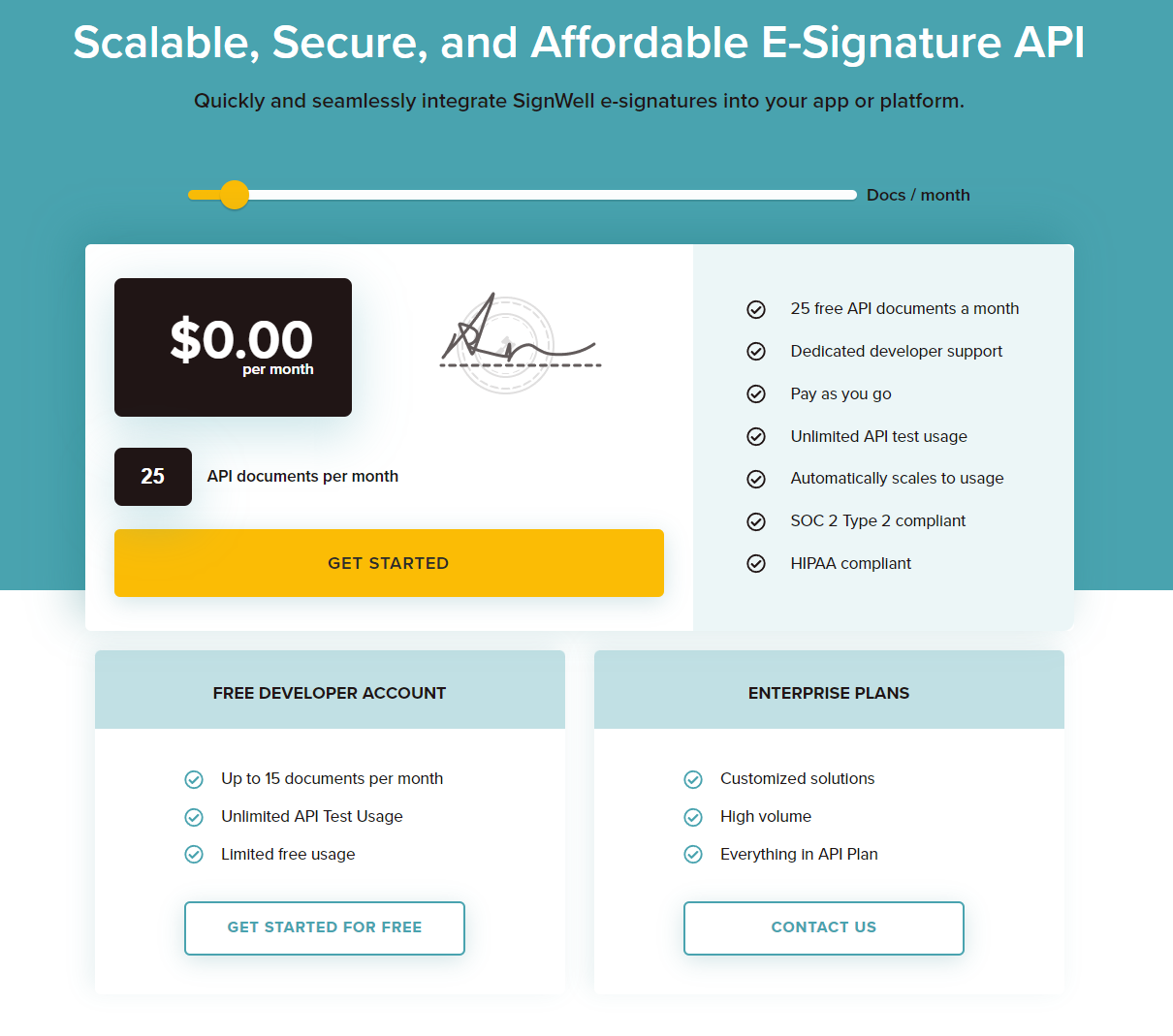 API pricing is pay-as-you-go, and you only pay for what you use, with billing happening after 30 days based on your volume. Your first 25 API documents are free each month!
Pros and Cons
Pros
Ease of use and API configuration

Affordable pricing

Effective and efficient

Quick signing process

Seamless capability of features

User-friendly interface

Excellent customer support

Streamlined workflow and improved efficiency
Cons
Limited documents per month of the free plan
HelloSign vs. DocuSign vs. SignWell: Feature Comparison
| | | | |
| --- | --- | --- | --- |
| Features | HelloSign | DocuSign | SignWell |
| Price | $20/month to $30+/month | $10/month to $40+/month | Free to $24+/month |
| Team Plans | $30+/user/month | $25-40+/user/ month | $8/user/month |
| Templates | ✅ | 🟠 | ✅ |
| Electronic Signatures | ✅ | ✅ | ✅ |
| Share & Track Documents | ✅ | ✅ | ✅ |
| Approval Documents | ❌ | ✅ | ✅ |
| Integrations | ✅ | ✅ | ✅ |
| Pay-as-You-Go API | ✅ | ❌ | ✅ |
| Free Plan | ❌ | ❌ | ✅ |
| Unlimited Documents | ✅ | 🟠 | ✅ |
Reasons Users Choose SignWell
Easy-to-Use:

SignWell has a user-friendly interface, making it easy for all users. We work with customers to understand how they use e-signatures and build features and functionality that make it simpler and faster.

E-Signature Integrations:

Our intuitive e-signature API can be easily integrated into your software, platforms, and apps. This allows businesses to streamline their document signing process, making it more efficient and user-friendly. We also offer tons of integrations through Zapier so that you can link all the tools in your stack.

Secure & Compliant E-Signatures:

Provides secure and compliant electronic signatures. All signatures are legally binding and adhere to industry standards, ensuring the security and integrity of your documents.

Flexible Configurability:

Businesses can configure the platform based on their specific needs. Whether it's setting up complex workflows or simple one-off signatures, SignWell can accommodate it all.

Clear Developer Documentation:

SignWell provides clear and comprehensive developer documentation for its e-signature API and dedicated integration support. This makes it easy for developers to understand how to integrate and use the API effectively.
Conclusion
After comparing HelloSign, DocuSign, and Signwell, each platform clearly provides distinct features and advantages. HelloSign offers a simple and easy-to-use interface and easy integration with Google Drive. On the other hand, DocuSign provides advanced customization options and a broad range of integrations to choose from.
At SignWell, we offer an affordable, fully-featured alternative to tools like HelloSign and DocuSign. Create document workflows, track progress, and securely sign documents quickly with Signwell's e-signature API and native tools.Sign up for free today.
Sign with a team that knows what you need.
Putting a signature on a document shouldn't be hard. The SignWell mission? Simplify how documents get signed for millions of people and businesses.
Get Started Today
61.000+
businesses served, so far...
4.000000+
total documents signed
98%
customer support satisfaction