Our List of the 7 Best Contract Management Software for Small Businesses
Contract management tools are becoming a must for small businesses.
You don't need to take our word for it—research shows that 70% of businesses have implemented a formal contracting technology strategy. It's an impressive number, and it shows that businesses are recognizing the importance of managing contracts more effectively.
If you're ready to simplify contract management, you're in the right place. This SignWell guide will introduce you to seven of the best contract management software for small businesses.
Let's dive in.
What Is Contract Management Software?
Contract management software is a tool that helps businesses create, store, and manage contracts throughout their lifecycle. 
This can involve a range of features, including:
Document creation

Collaboration

E-signing

Document storage

Tracking and reporting

Analytics

Integrations with other systems
The end result is that contract management software simplifies the way organizations create, store, and manage contracts. For example, consider SignWell.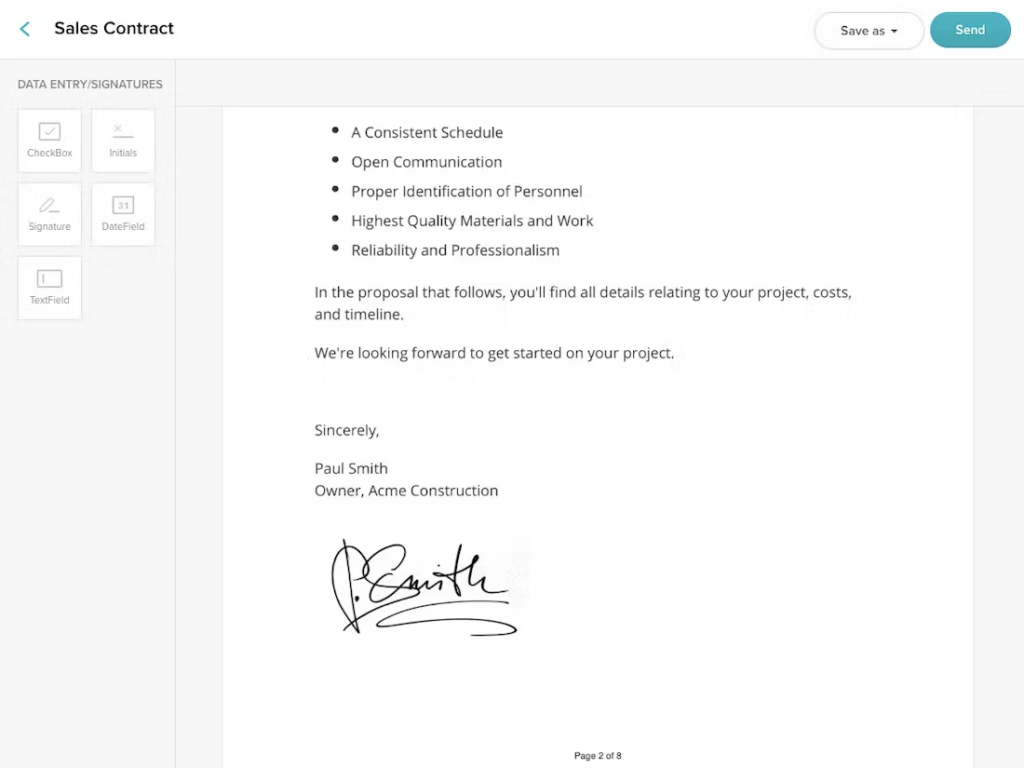 SignWell is an e-signing tool that packs in document management features like statuses and tracking, notifications and reminders, automated workflows, and more. We also offer comprehensive audit trails, access permissions, and secure storage—all essential for proper contract management.
Benefits of Using Contract Management Software for Small Business
Risk Reduction
Contract management software minimizes the risk of costly mistakes, disputes, and litigation by ensuring accurate and consistent contracts.
Improved Efficiency
Templates, clauses, and workflows provided by the software help standardize the contract creation process and reduce human errors.
Deadline Management
Contract management software alerts users about upcoming deadlines, renewals, and obligations, enabling timely action to avoid penalties or missed opportunities.
Enhanced Collaboration
The software facilitates collaboration among team members by providing a centralized platform for sharing and editing contracts.
Reporting and Analytics
Contract management software generates reports and provides analytics to help businesses gain insights into contract performance and make informed decisions.
Factors to Consider When Choosing Contract Management Software for Small Business
Product Pricing
The cost of contract management software can vary depending on the features, number of users, storage space, and level of customization. You should look for software that fits your budget and offers a transparent pricing model.
Security Features
You should ensure the software has robust security features, like encryption, authentication, authorization, backup, and audit trails. You should also check the software's compliance with relevant standards and regulations, like GDPR, HIPAA, SOC 2 Type 2, the ESIGN Act, and eIDAS.
Ease of Use
Look for software that has a user-friendly interface, intuitive features, and clear instructions. Before purchasing, you should also test the software's performance, speed, and reliability.
Integrations
Contract management software should integrate seamlessly with your existing tools and systems, like CRM, ERP, accounting, email, and e-signature. You should look for software that supports common integrations or offers an API for custom integrations.
Reporting
Contract management software should provide insightful reports and analytics on your contract performance, status, risks, and opportunities. You should also be able to export or share your reports with your stakeholders.
7 Best Contract Management Software for Small Businesses
Before we dive in, here's an overview of our list:
SignWell

Agiloft

PandaDoc

ContractZen

DottedSign

ContractSafe

Updraft
Now, let's get into the details.
1. SignWell
SignWell is a cloud-based e-signature tool with a robust set of contract management features.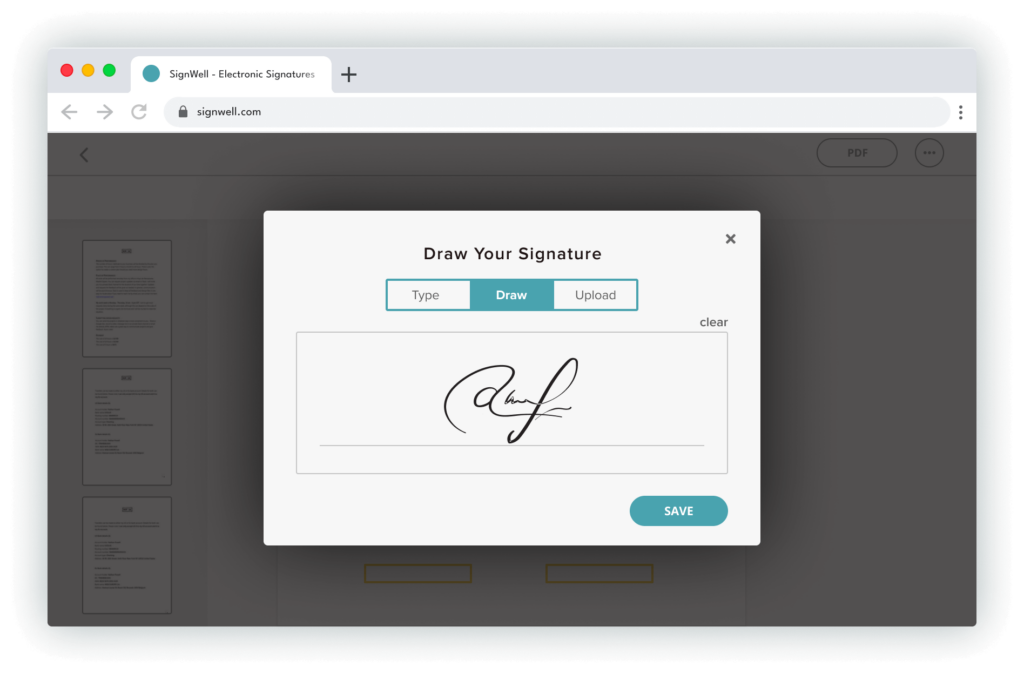 With SignWell, you can create or upload professional contracts, turn them into templates for easy access, add custom fields, and send them to recipients in bulk. The statuses of your contracts are shown on your dashboard, so you can easily keep tabs on what needs to be done.
Workflow automation features, like reminders and signing orders, make the contract management process much more efficient.
Relevant Features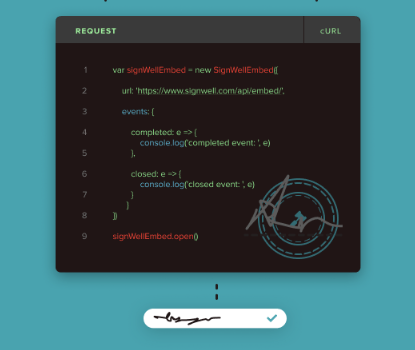 E-Signature API

: SignWell's e-signature API lets you embed compliant e-signing features directly into your website or app. You can also automate your workflow by linking multiple tools in your contract management stack.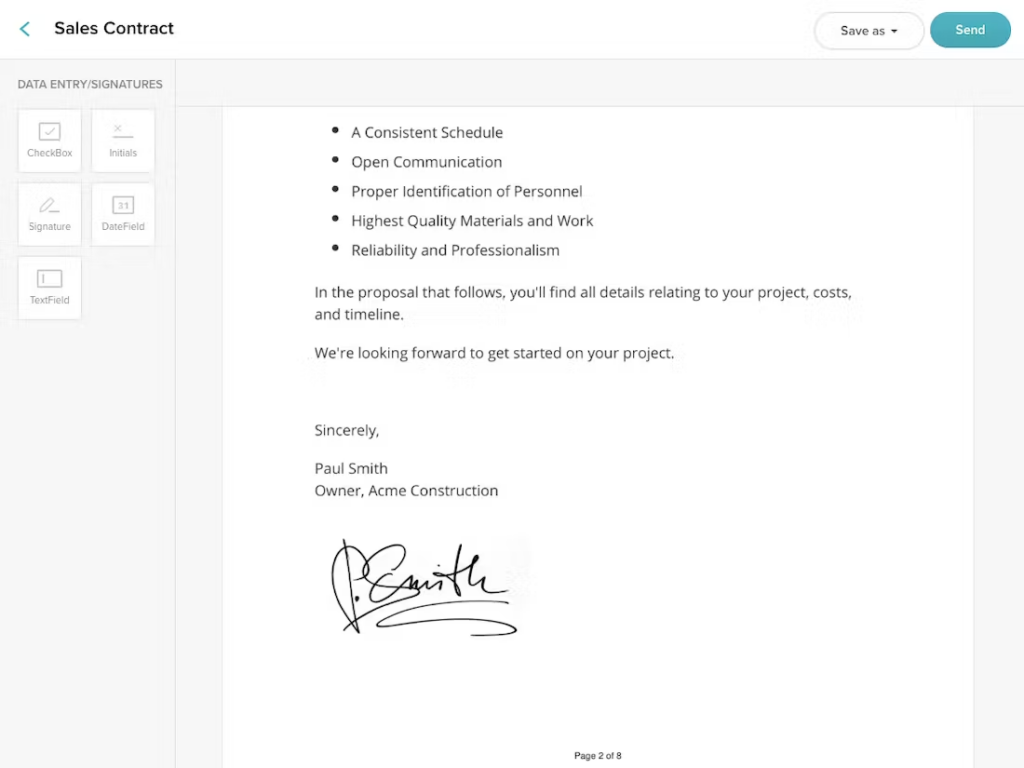 Document Signing:

Send and receive documents in bulk. Securely collect legally binding signatures.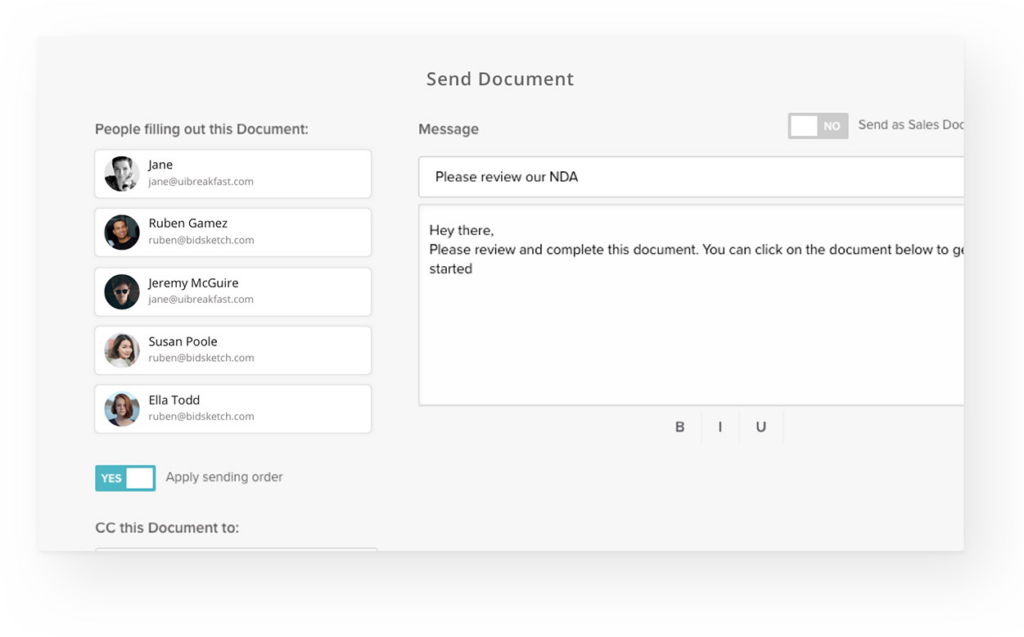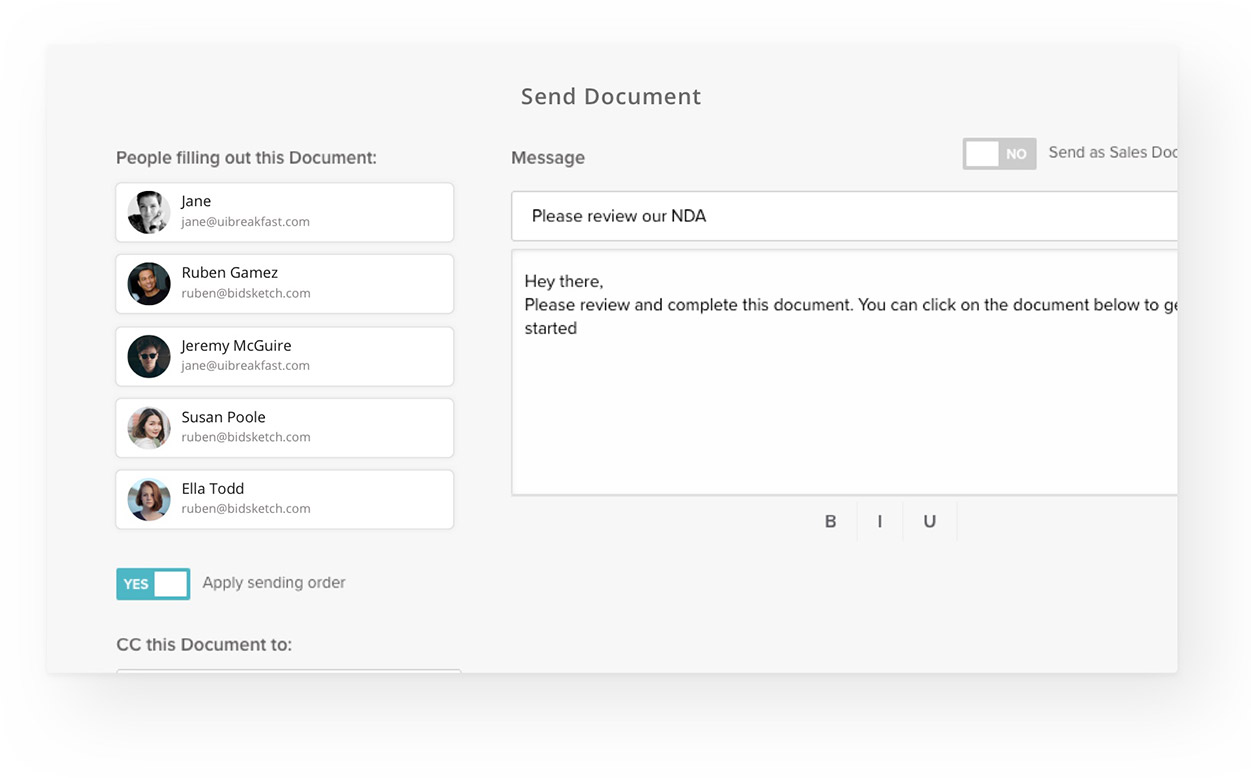 Document Workflows

: Easily monitor the status of your documents, whether they're signed or pending, and specify the signing order and recipients. Send automatic reminders to keep the workflow moving and avoid delays.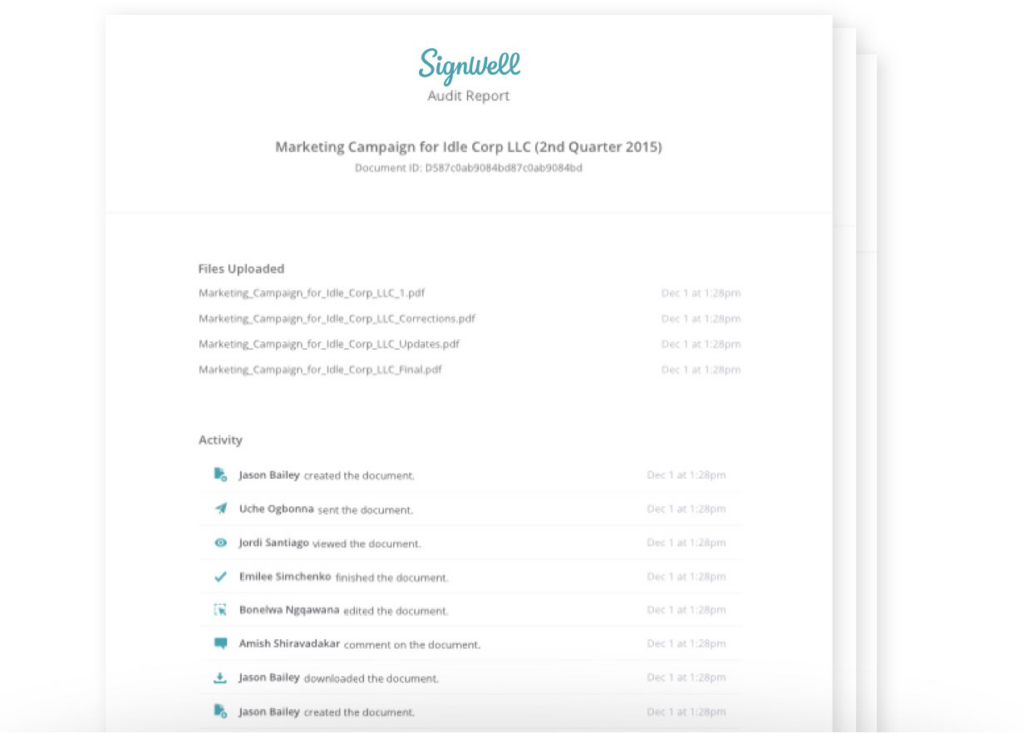 Audit Reports:

Maintain a comprehensive audit trail that documents all the agreement details, so you can easily prove its reliability.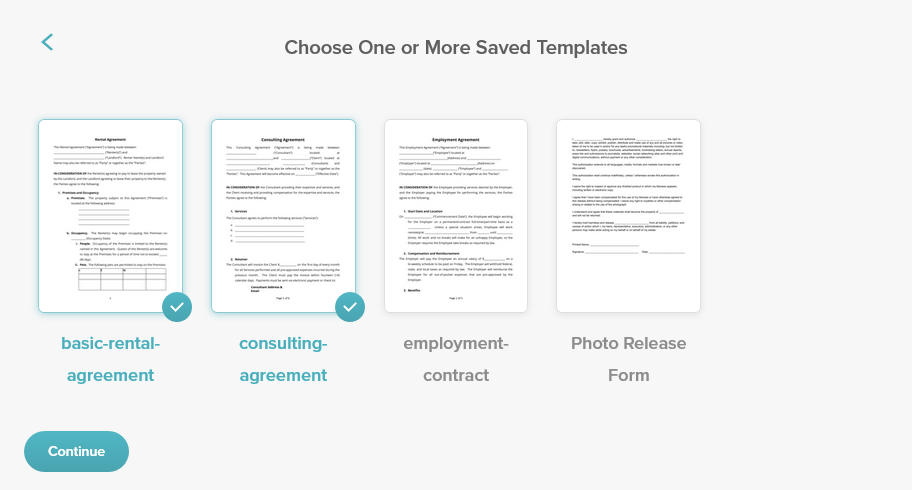 Custom Templates:

Create and use templates for your documents. You can upload a template, add placeholders, specify which placeholder needs to fill out each field, and more.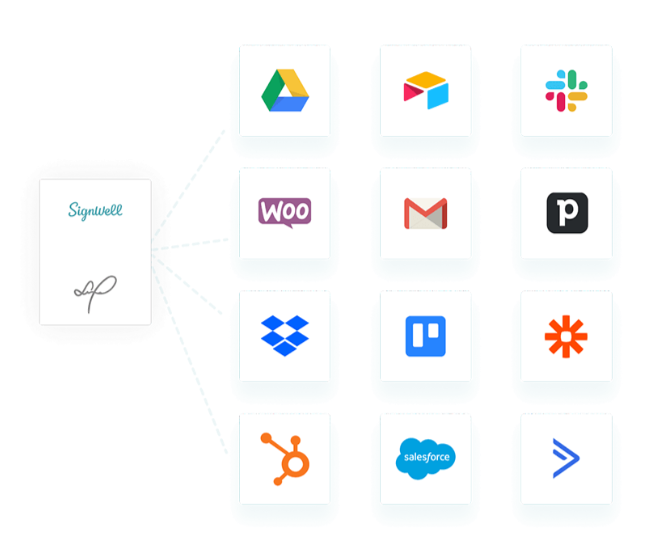 Easy Integration:

Integrate with over 5,000 popular applications, like Gmail, Dropbox, and Slack.
Pricing
SignWell Pricing
SignWell offers three different pricing plans—Personal, Business, and Enterprise.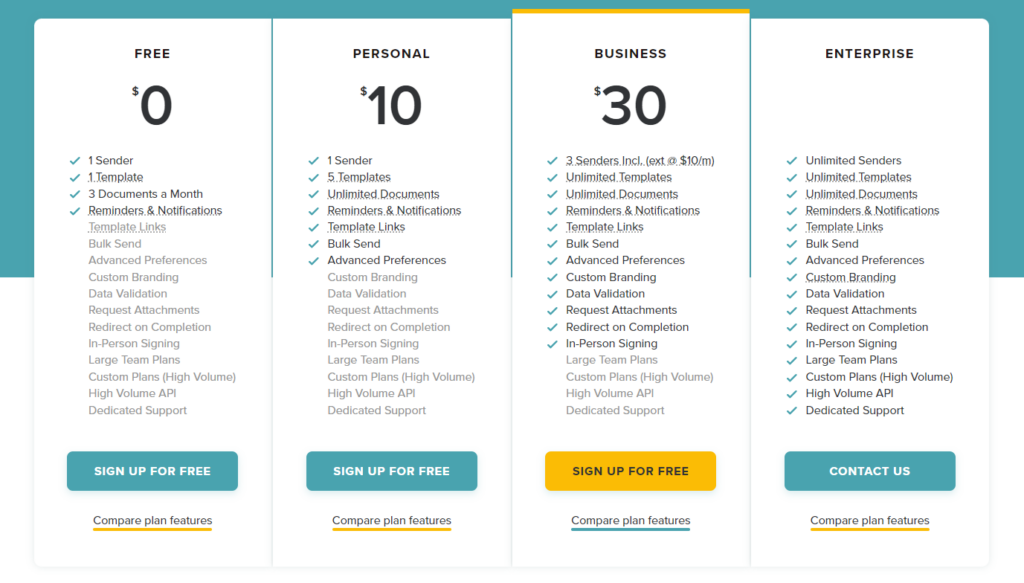 The Personal plan includes 1 sender, 5 templates, and unlimited documents, while the Business plan offers 3 senders (additional senders for $8 each) and unlimited templates and documents. 
The Enterprise plan provides unlimited senders, templates, and documents. It also offers a free plan that includes 1 sender, 1 template, and up to 3 documents per month.
API Pricing
SignWell API offers a flexible payment structure where you only pay for the documents used.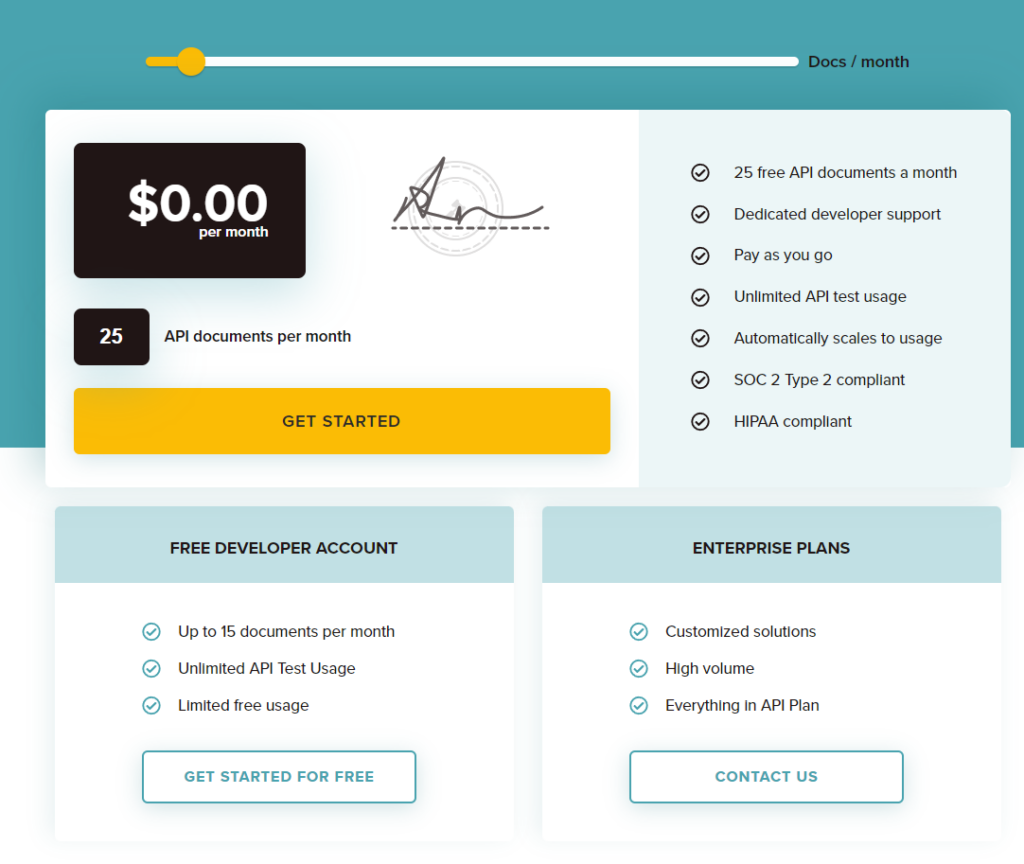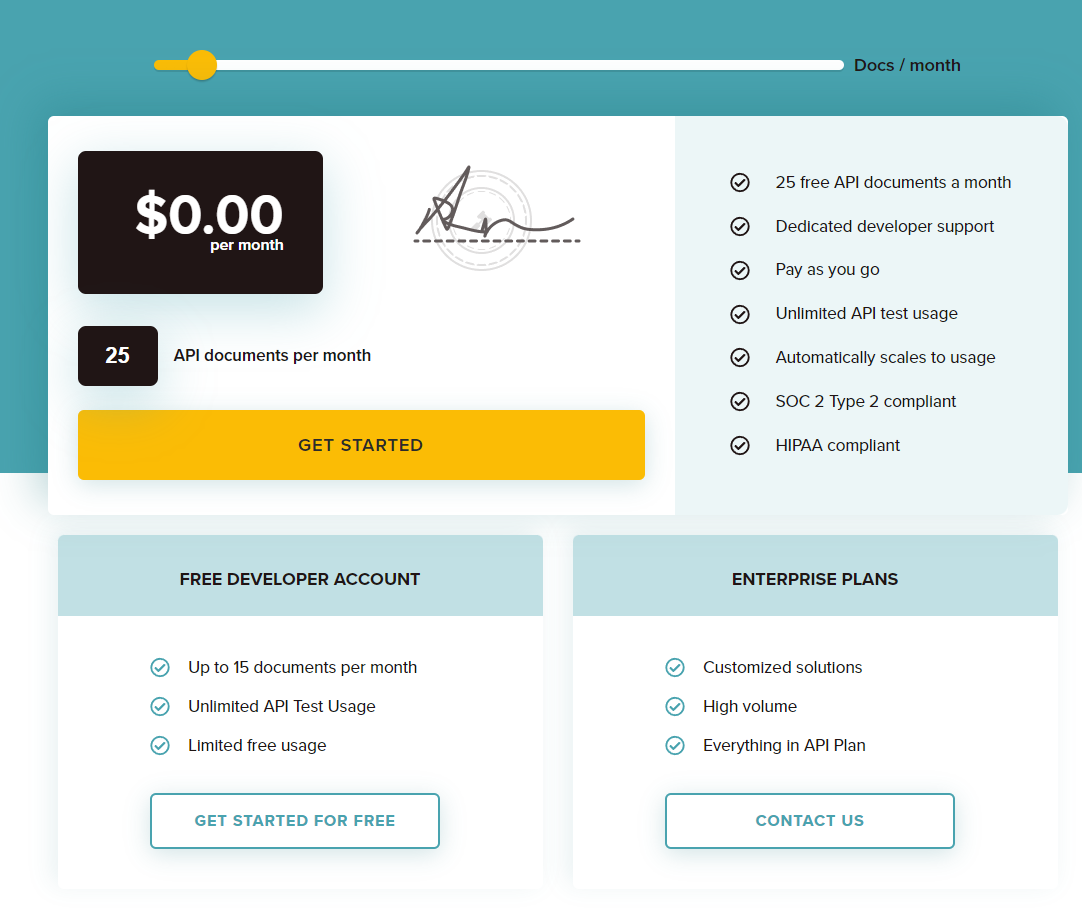 The pricing ranges from $0.20 to $0.75 per document, with the first 25 documents being free. This allows for cost-effective usage and eliminates the need to pay for unused documents.
Pros and Cons
Pros:
Ease of use and configuration of the API

Ability to query the status of documents

Affordable pricing compared to other Doc Signing software

Automates all the signing of documents, preventing back-and-forth emailing with customers
Cons:
Limited documents on the free plan
2. Agiloft
Agiloft is a robust contract management software that automates the entire contract lifecycle, streamlines approval processes, and integrates contract information into related business processes.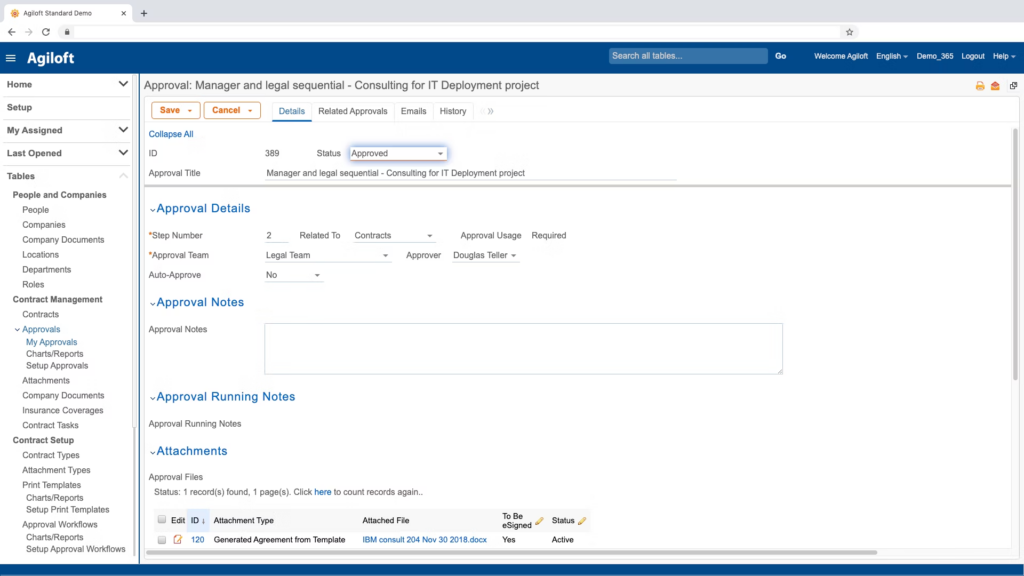 Relevant Features
One-click Contract Creation

: Create contracts with one click and reduce your exposure to legal risks. It helps you comply with the Sarbanes–Oxley Act and eliminates the hassle of manual document collection.

Flexible Approval Workflows

: Automate even the most complex approval routing process.

Automatic Redlining

: Capture all document changes and view redlined edits to compare versions and streamline contract review.
Pricing
Agiloft offers flexible pricing options based on the edition and features you choose. It can be deployed either as a cloud service or in-house at the same subscription price.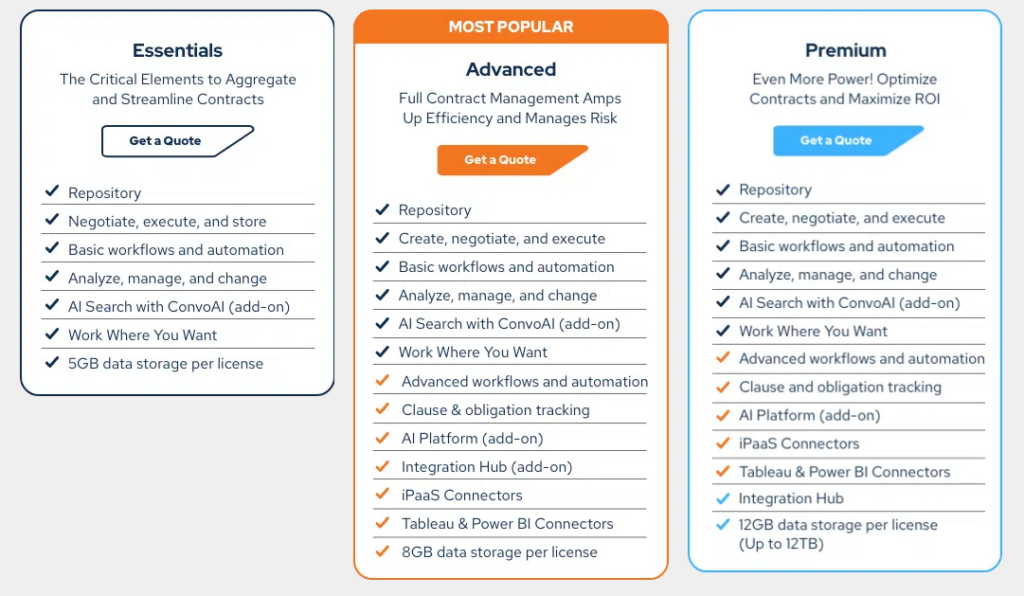 You can contact Agiloft directly for a detailed price quote tailored to your needs.
Pros and Cons
Pros:
Ability to white-label 

Great functionality and customizable process and table flows.

Does not require knowledge and background in coding

Streamlines the process of checking and updating the data from external sources
Cons:
Some users find it confusing if they don't understand the business flow

Errors may occur when merging several operations together

It is a little challenging to maneuver from section to section

The user interface can feel outdated and unintuitive
3. PandaDoc
PandaDoc is a cloud-based tool that accelerates sales and document processes by enabling the merging of contact, opportunity, and pricing details from your CRM directly into your contracts.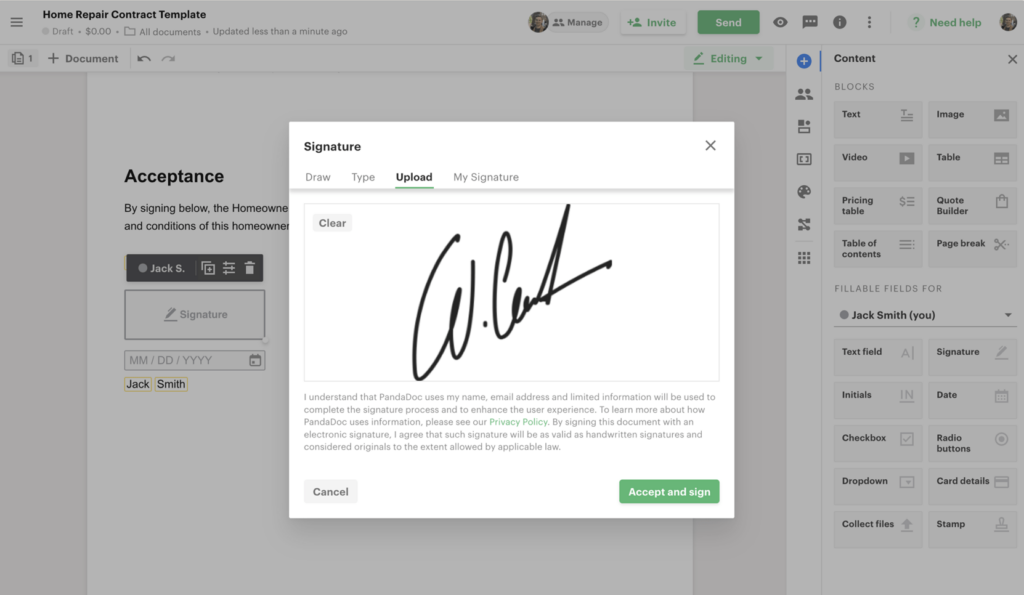 Relevant Features
Document Repository

: Store and organize your documents for easy access and repurposing.

Contract Drafting

: Automatically populate contract fields from your CRM and automatically send emails to signers.

Contract Renewals

: Stay on top of your contract expiration dates and initiate the renewal process in time. 
Pricing
PandaDoc offers three pricing plans—Essentials, Business, and Enterprise. 

The Essentials plan ($19/seat/month) includes unlimited document uploads and e-signatures. The Business plan ($49/seat/month) includes additional features such as CRM and Zapier integrations. 
The Enterprise plan is customizable and tailored for large companies with complex document workflows.
Pros and Cons
Pros:
Ease of use

Great customer support

Provides comprehensive solutions for all document workflow 

Provides fantastic training resources 
Cons:
Limited phone support

Limited free plan features

Additional fees for integrations

Connectivity Issues
4. ContractZen
ContractZen is a metadata-driven, AI-powered contract management system that offers a comprehensive suite of features for efficient contract management.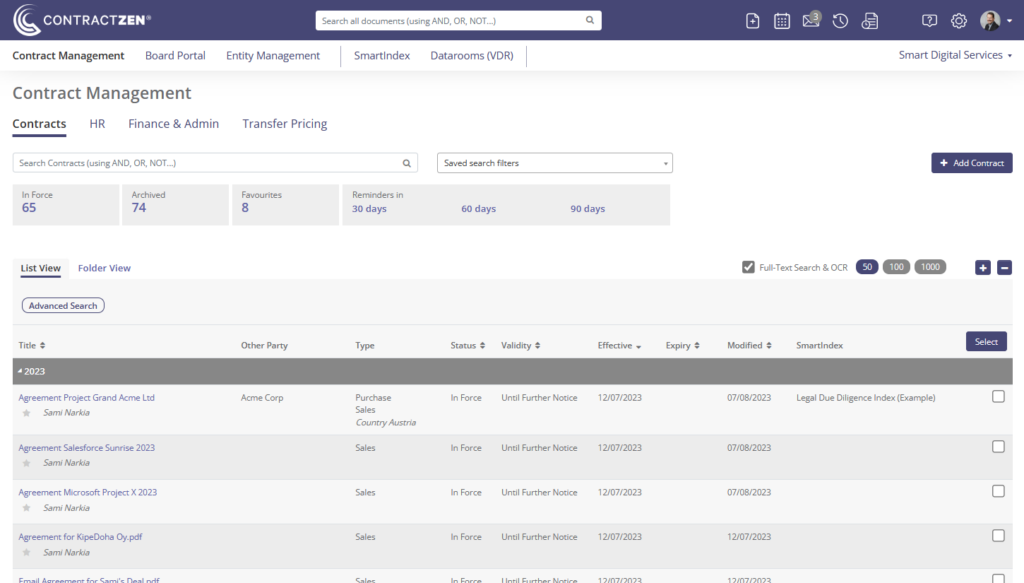 It provides a centralized location for signing and storing contracts digitally, enabling easy access, versatile search capabilities, and tracking of critical dates and milestones with the help of automated email reminders.
Relevant Features
Smart Contract Import

: Add existing contracts in bulk and auto-generate metadata for accurate searchability.

AI-Powered OCR

: AI-powered OCR, metadata-driven dynamic libraries, and powerful search functions let you find contracts quickly and easily.

Built-In Data Rooms (VDR)

: Share documents quickly and securely with people outside your company with built-in VDR and ensure rapid response in due diligence or audit situations.
Pricing
ContractZen offers three pricing plans: Standard, Advanced, and Custom. 

The Standard plan ($9.50/user/month) includes contract management, a board portal, and smart indexing features. The Advanced plan ($27/user/month) offers additional features like legal entity management and access groups. The Custom plan is tailored for large organizations, and pricing is available upon contacting ContractZen.
Pros and Cons
Pros:
User-friendly and easy to navigate

Fast and helpful support

Data rooms are a standout feature

Easy and rapid installation
Cons:
Limited customization

Limited integration options

Limited reporting capabilities
5. DottedSign
DottedSign is an eSignature solution that allows you to sign, assign, and manage documents online to grow your business.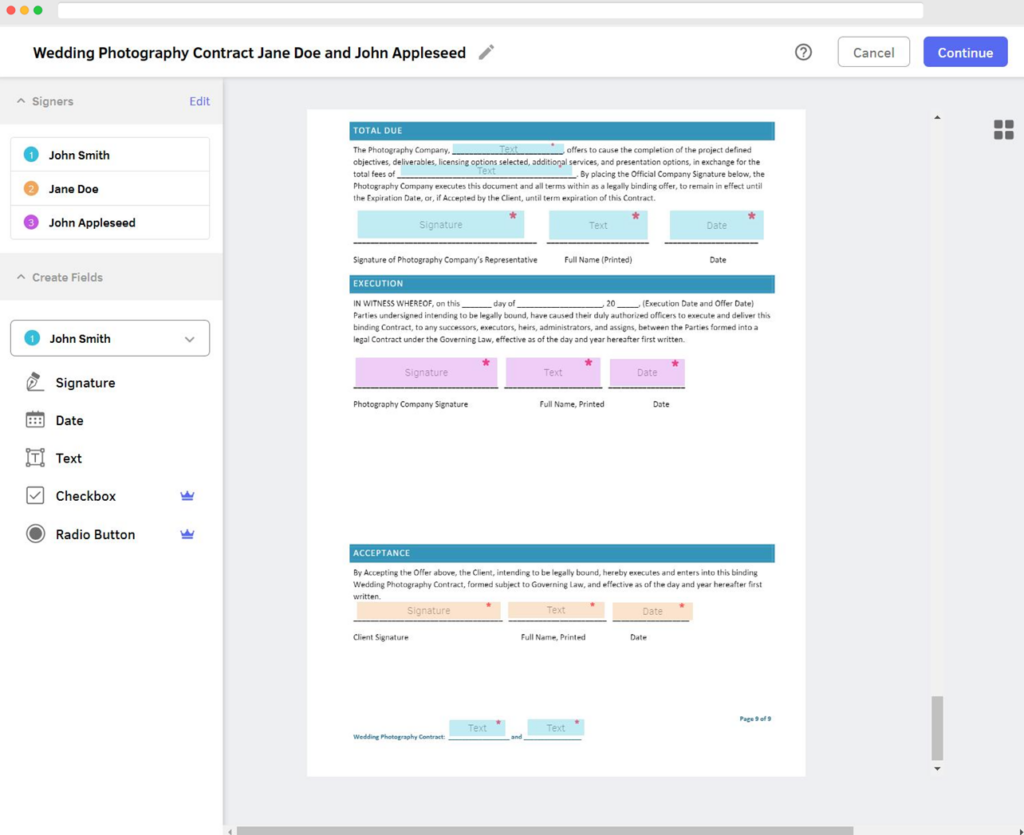 It helps you streamline your signing workflows. You can see all the documents that need your attention or others' in one place. Whether they are signed, pending, or waiting for you, you can access them easily and quickly.
Relevant Features
Remote Signing

: Set a signing order to automate the process and sign documents remotely using any type of device.

Visual Progress Bar

: Monitor the progress of each document at a glance with an interactive visual progress bar.

Timeline of Personal Activities

: Display a timeline of activities that includes all document-related actions and information about who signed what.
Pricing
DottedSign offers multiple pricing plans to meet different needs. 

The Free plan allows for unlimited self-signing and 3 free signature requests. The Pro, Business, and Enterprise plans offer additional features such as unlimited signing, templates, team management, and API integration, with prices starting at $8 per month/user.
Pros and Cons
Pros:
User-friendly interface.

Gathers all signing tasks in one place

Allows easy setup of templates for everyday functions like NDAs, employment contracts

The execution tracking process is thorough and flexible
Cons:
Expensive

Document editing issues

Free version limitations

Product limitations
6. ContractSafe
ContractSafe offers a comprehensive suite of features to streamline contract management. It provides secure, centralized document storage, automated key date reminders, and user access permission management.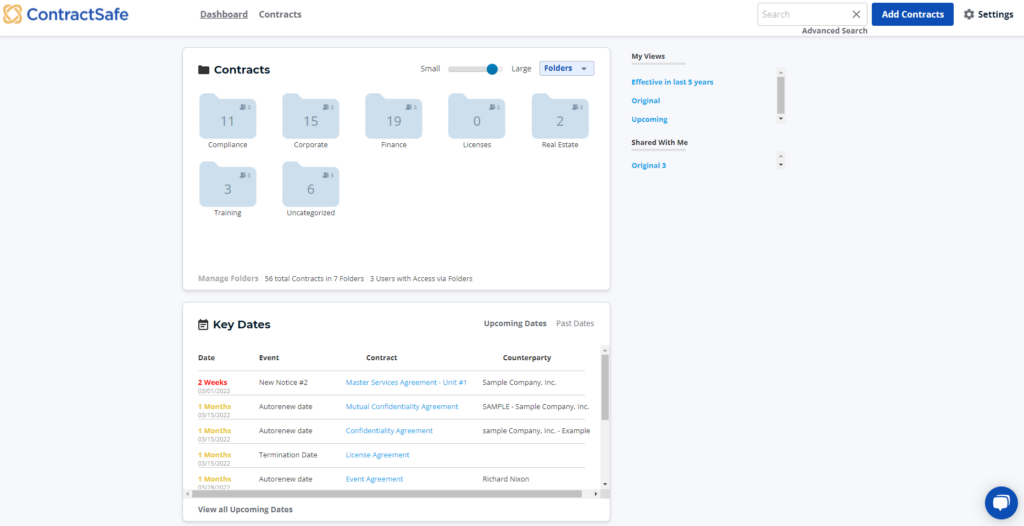 Relevant Features
Intuitive Search & Reporting

: Find and analyze contracts quickly with powerful search and reporting tools.

Intelligent Alerts

: Get timely alerts for upcoming key dates and deadlines.

Secure and Scannable Repository

: Store, organize, and scan contracts securely with ContractSafe's unified repository.
Pricing
ContractSafe offers different pricing plans for contract management based on the needs of different businesses.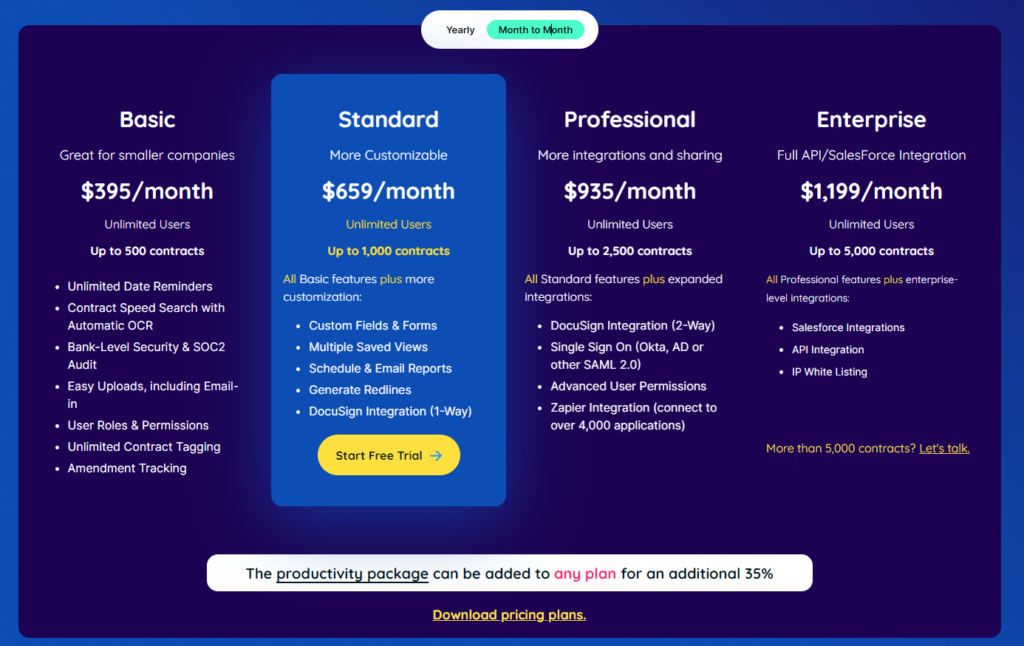 The plans range from Basic to Enterprise, with varying features and contract limits. ContractSafe also offers a productivity package that includes helpful workflow features such as unlimited e-signatures and customizable intake forms.
Pros and Cons
Pros:
User-friendly

Responsive customer service

Easy to implement
Cons:
Documents can take a while to load,

AI limitations.

A little difficult to use initially
7. Updraft
Updraft uses systemized algorithms and dynamic legal databases to automate the drafting processes typically followed by lawyers, making it easy for non-lawyers to use.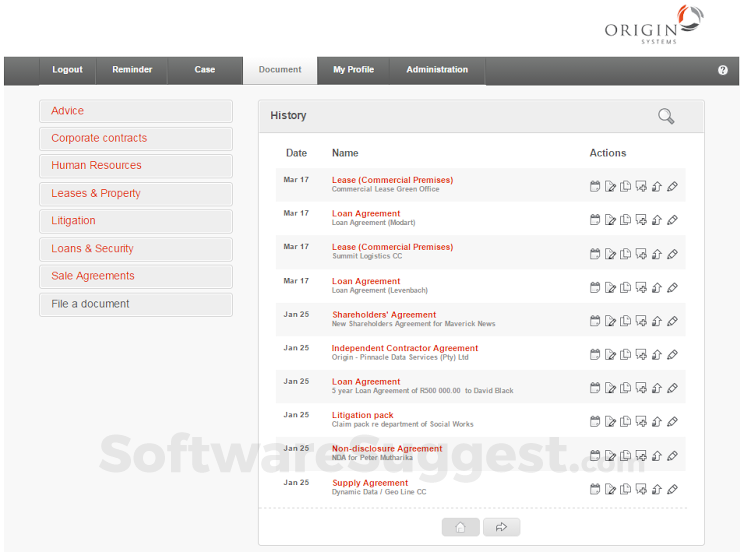 It has a unique contract drafting engine that uses an intuitive questionnaire-based contract authoring process.
Relevant Features
Controlled Drafting Process

: Prevent the inclusion of incorrect or inappropriate terms with pre-approved clauses and a defined approval process.

Central Repository

: All contracts and documents are stored in a secure, centralized repository. Clauses can easily be repurposed in future contracts.

Version Control

: View and track changes to contracts over time.
Pricing
Contact Updraft directly to request a quote.
Pros and Cons
Pros:
Unique contract creation process

Native electronic signature

Solid reporting and analytics
Cons:
Requires more involved initial setup and implementation 

Clunky user interface

Costly
Simplify E-Signing With SignWell
By investing in the right contract management tool, small businesses can save time, money, and countless headaches. The options on this list offer a range of features, making it easier to find the right solution for your business.
Looking for a simple, secure, and affordable e-signing tool? Give SignWell a try.
SignWell is the ultimate contract management software for small businesses. With a user-friendly interface, customizable templates, automated reminders, and electronic signature capabilities, SignWell streamlines workflows and simplifies contract handling.
Get started with a free account and see what SignWell can do. 
Sign with a team that knows what you need.
Putting a signature on a document shouldn't be hard. The SignWell mission? Simplify how documents get signed for millions of people and businesses.
Get Started Today
61.000+
businesses served, so far...
4.000000+
total documents signed
98%
customer support satisfaction