Why HIPAA-Compliant e-Signature Software is Mandatory in Healthcare (+ 5 Top-Tier Tools)
HIPAA compliance is a legal requirement for e-signing software operating in the healthcare sector. It guarantees the safe handling, protection, and preservation of patient data and medical information. Organizations found processing protected health information (PHI) using a non-compliant e-signing tool could be liable to pay expensive fines.
If you operate in the healthcare space, SignWell is an excellent e-signing tool with HIPAA compliance and adherence to tight security for reliable data protection. Today, we'll discuss what to consider when choosing a suitable HIPAA-compliant e-signature tool and give you our top five picks.
Let's dive in!
What Is HIPAA?
HIPAA stands for "Health Insurance Portability and Accountability Act". 
Regulated by HHS (Department of Health and Human Services), it is a set of federal regulatory standards outlining the legal use and disclosure of secured health information in the U.S. 
Organizations that store and process private patient data, and medical information must adhere to the strict security measures defined in this act to avoid financial and legal penalties.
What Is HIPAA-Compliant E-Signature Software?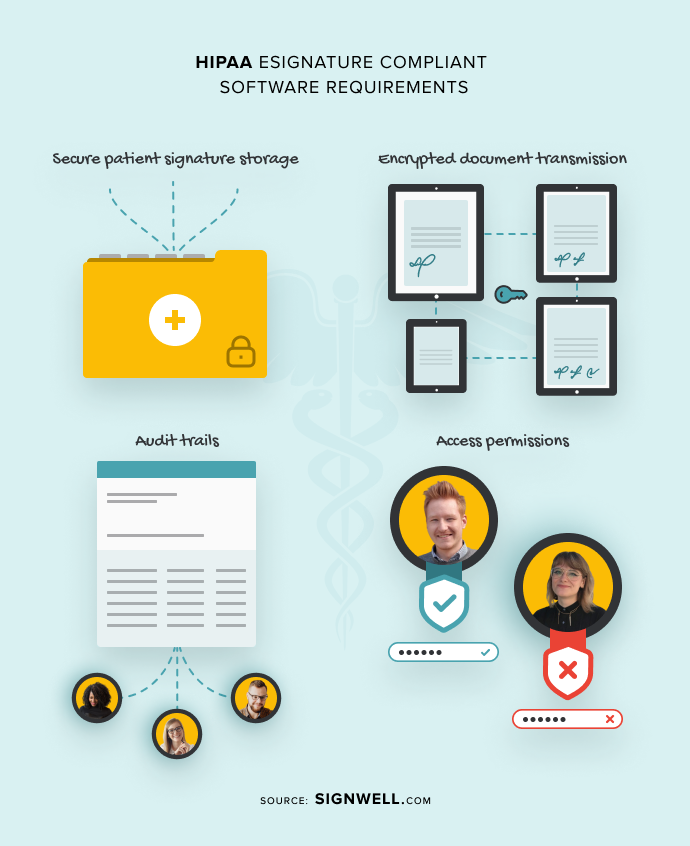 HIPAA-compliant e-signature software guarantees compliance by meeting certain security measures and data privacy requirements like:
Encrypted document transmission

Secure patient signature storage

Audit trails

Access permissions
E-signature software can be confirmed as HIPAA-compliant to ensure it meets these guidelines and demonstrates this with a third-party audit.
What Are the Benefits of HIPAA-Compliant E-Signature Software?
The use of e-signature software is especially beneficial to healthcare organizations since it enables them to securely share sensitive medical information with the involved parties in a timely manner.
 Some other benefits include:
Greater healthcare efficiency

: Healthcare professionals cut out document scanning and gain an easier way to maintain and update documents and forms. 

It enhances the patient's experience

: Patients can avoid time wasted completing forms when arriving for appointments by completing them prior.

Better document security

: Documents are processed and stored securely, only accessible to authorized parties.
SignWell is an excellent example of an all-inclusive, HIPAA-compliant e-signature tool. Our platform delivers secure e-signing services to support healthcare organizations, like collecting legally binding signatures and streamlined healthcare documentation management with automated workflows and reminders.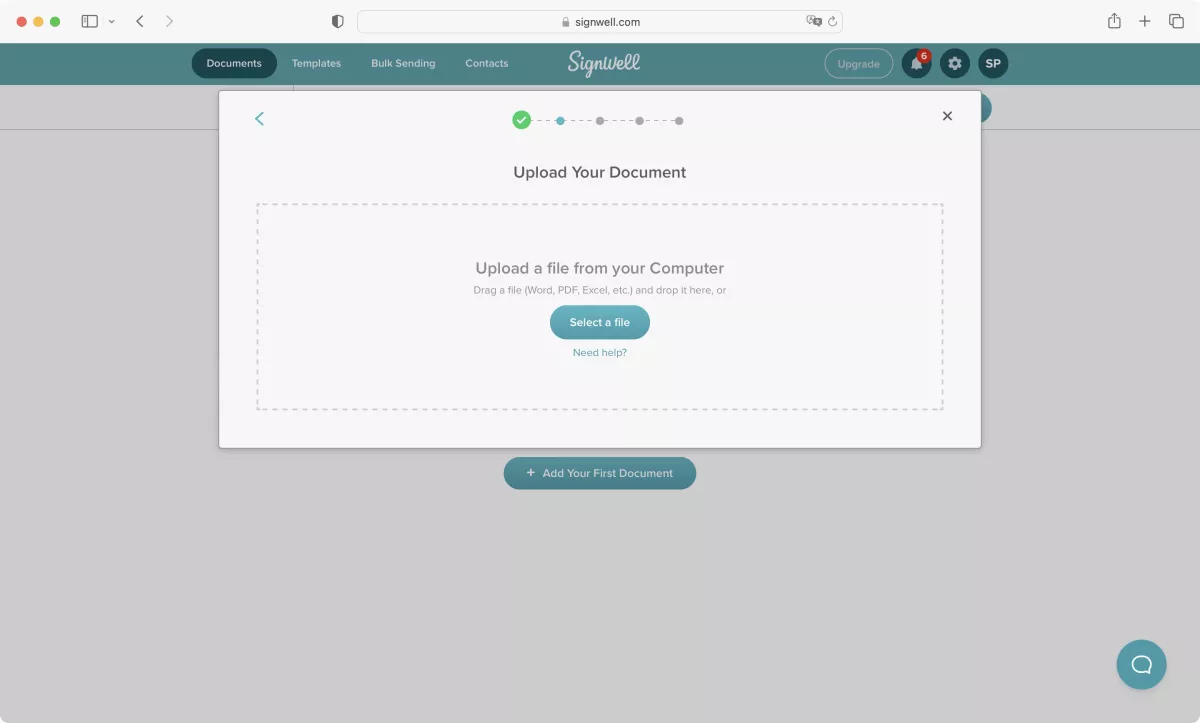 We've successfully integrated safeguard law requirements, surpassing compliance standards. Our safety control and procedures have undergone thorough audits by third-party experts to confirm their effectiveness.
How Are E-Signatures Used in the Healthcare Industry?
E-signature tools have many use cases in healthcare. Here are some of them:
To facilitate the signing of all FDA-regulated clinical trial forms.

For e-Prescribing (subject to 21 CFR Part 1306 and 21 CFR Part 1311), defined in the Code of Federal Regulations.

To approve patient discharges and healthcare provider billing.

In telehealth and telemedicine settings, they're used to send signed prescriptions remotely.

To accelerate HIPAA consent forms.

To support complete online staff onboarding processes, including the offer letter and training documentation.

For consent and consent cancellation by authorized patients or third parties. 

For healthcare plan authorizations.
Criteria to Consider When Choosing  HIPAA-Compliant E-Signature Software
Complete audit trails

: The e-signature tool should offer chronological event logs to prove the integrity of transactions and help prevent fraud.

Integrations

: The e-signature tool should be flexible enough to seamlessly integrate hospital and clinic admin tools and Electronic Health Records (EHRs).

Encryption

: The e-signature tool must offer the capability of protecting patient-sensitive information using advanced encryption (256-bit encryption is the minimum), single sign-on (SSO) authentication, and HTTPS access.

Easy to use

: The e-signature tool should be self-explanatory without requiring training to e-sign or navigate it. 
5 Best HIPAA-Compliant E-Signature Software
Before we dive into the details, here's a quick overview of the tools we'll be covering:
Signwell

: For accessible HIPAA-compliant e-signing.

Fill

: For healthcare forms.

DocuSign

: For connection to EHRs.

jSign

: For blockchain technology.

SignNow

: For collaboration and teamwork.
1. Signwell
Best for Accessible HIPAA-Compliant E-Signing 
SignWell is a HIPAA-compliant e-signature tool that makes life easier for healthcare providers and patients.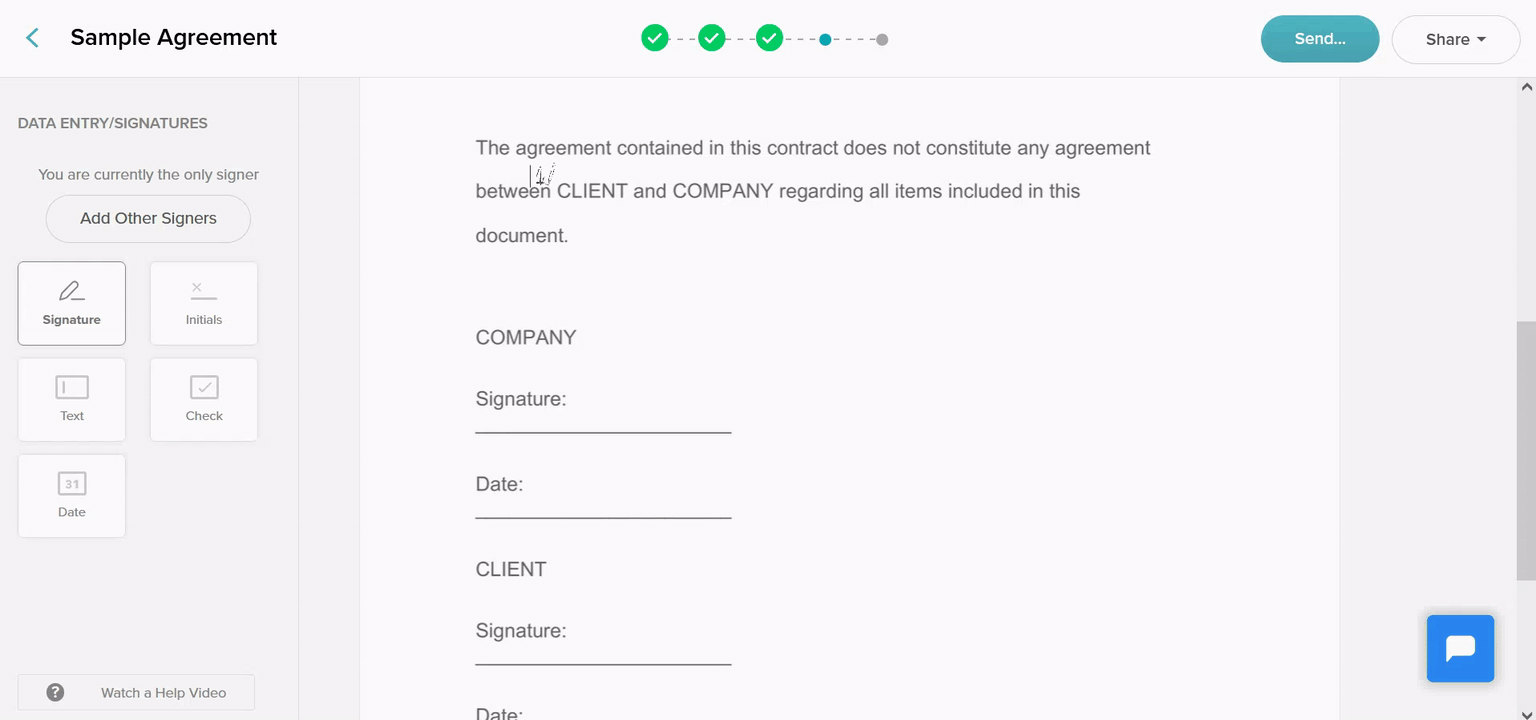 SignWell offers an intuitive UI and set of features that simplify the process of sending, digitally signing, and archiving healthcare documents. It's easy to add signatories, create document signing workflows, track statuses and documents, and generate audit reports.
Plus, custom templates allow you to save your most-used documents and quickly send them for signing.
Key Features
E-Signature API

: Use our e-signing API to automate signature requests and allow people to complete and sign forms safely and securely directly from your system. Integrate our robust API seamlessly into your healthcare systems without coding from scratch.

Audit Reports

: We provide audit reports for comprehensive document history. Get complete visibility of healthcare document history that exceeds U.S. and international e-signature law requirements.

Document Workflows

: Create document workflows to automate the process of getting documents from A to B. 

Reminders & Notifications

: Automate reminders and notifications to keep your signing process running smoothly.
Pricing
SignWell offers a free-forever plan that supports one sender and three documents monthly.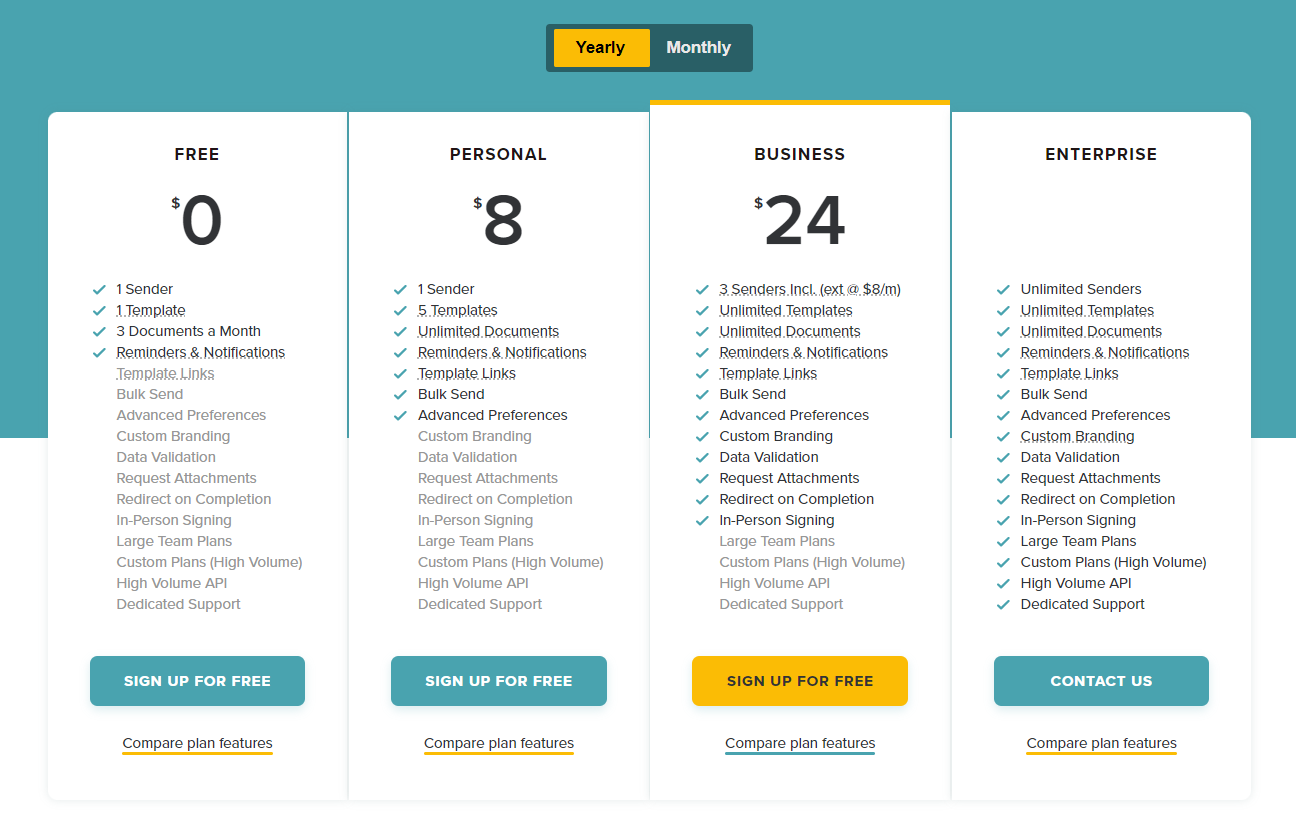 Paid plans include Personal ($8/month), Business ($8/user/month with a three-user minimum), and Enterprise (custom). Business features include data validation, in-person signing, and request attachments should ID be required to support signatures.
Our API pricing is pay-as-you-go and features full HIPAA compliance. Your first 25 sent API documents are free each month.
Pros
Works on almost any device

Responsive customer support with 98% customer satisfaction

Reusable and customizable templates 

Economical
Cons
Limited feature options on the free plan
2. Fill
Best for Healthcare Forms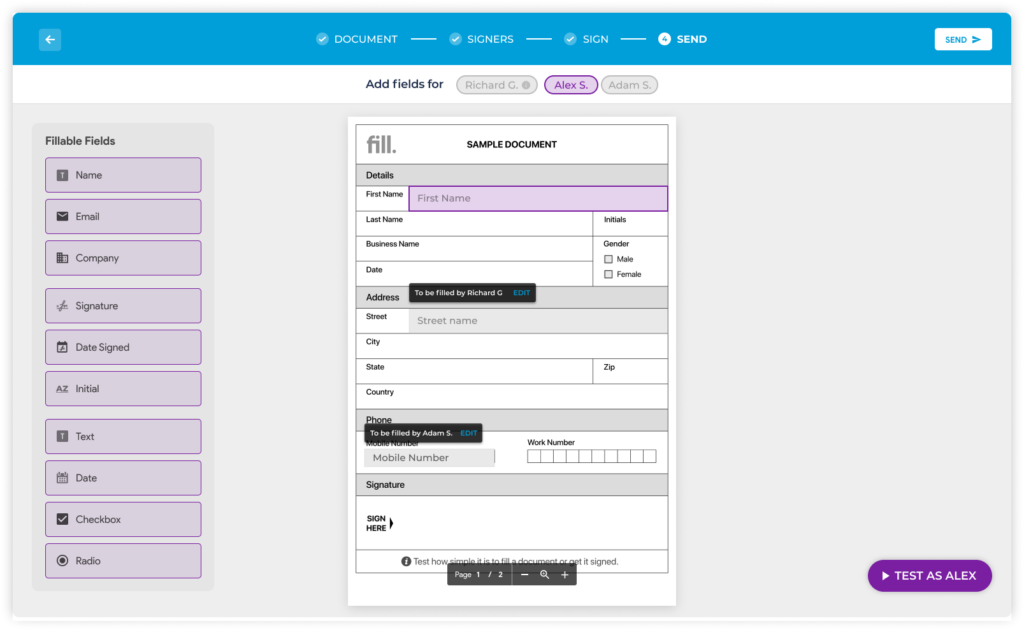 Fill is designed to work like Google Docs for frictionless e-signing. Their forms library provides various healthcare-specific forms, including patient intake and informed consent. Their features include unlimited envelopes and team collaboration.
Key Features
Online form creator:

Create and share HIPAA-compliant forms and surveys using their drag-and-drop form builder.

Document scanner

:  This feature turns your Android or iOS phone into a document scanner to quickly scan, sign, and share PDFs.

Custom branding

: Include hospital and clinic branding for your e-signatures, forms, and template credibility.
Pricing
Flow offers a free plan with access to basic features.

There are three paid plans, but you'll need to skip straight to Pro ($24.99/user/month) if you're after HIPAA compliance.
Pros
Reliable live support

Money-back guarantee

Freemium and free trial available
Cons
HIPAA compliance is available on the Pro plan only
3. DocuSign
Best for Connection to EHRs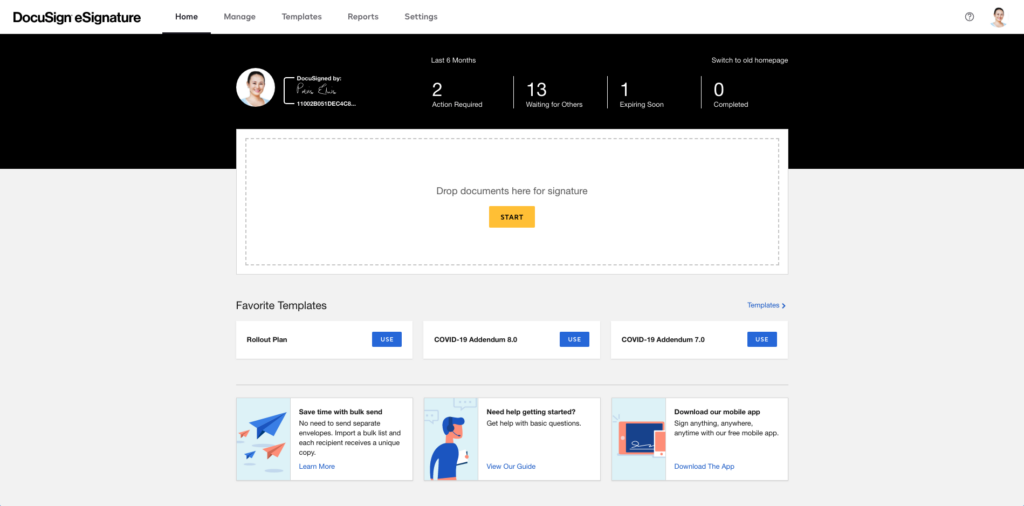 DocuSign is an established and renowned tool for e-signature.  The DocuSign for Healthcare product offers HIPAA-compliant e-signature features and functionality designed to assist in expanding healthcare capabilities with standout operations such as uploading collected e-signatures into electronic health records.
Key Features
DocuSign CLM+:

Increase the effectiveness of contracting staff using automated contract workflows. This feature highlights possible compliance risks and provides compliance problems analysis.

Verify signer identity

: This provides e-signature verification, authentication, and identity proofing as a coherent part of the e-signing process.

Pre-filled patient forms

: Patients no longer need to complete the same information repeatedly with their pre-filled patient forms. This feature streamlines template creation by auto-completing demographic, allergies, and medication information.
Pricing
DocuSign's e-signature product has four plans—Personal ($10/month), Standard ($25/user/month), Business Pro ($40/user/month), and a customizable enterprise plan.

There are plenty of variations between these plans, but HIPAA compliance is only available on custom plans. That means you'll need to contact sales for a quote.
Pros
Integrations with healthcare business apps, including HL7 and FHIR-enabled EHR systems

Multi-recipient signatures

Real-time notifications

30-day free trial period
Cons
HIPAA compliance available on the Enhanced plan
4. jSign
Best for Blockchain Technology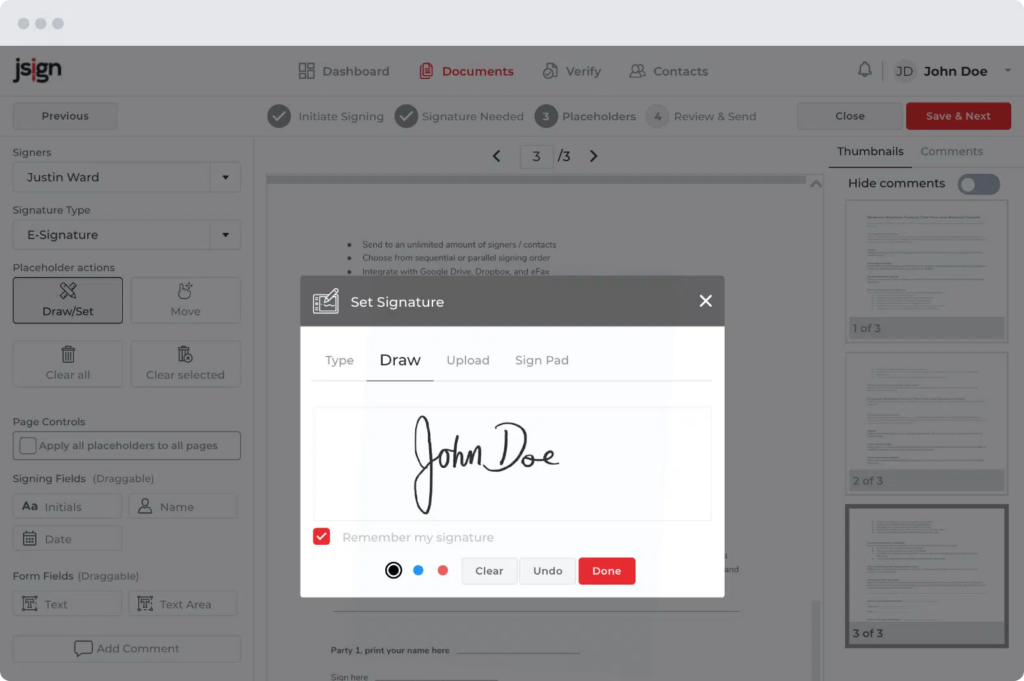 jSign's e-signing solution allows patients and healthcare professionals the option of drawing, typing, uploading, or using an external signature pad for e-signing. It uses blockchain tech to track all stages of the e-signing process and safeguards the legality, authenticity, and tampering of documents.
Key Features
Certificate of completion

: Gather the most essential information regarding e-signing as proof of signed documents, including the timestamp, IP address, device ID, and browser used.

Cloud storage integrations

: Users can connect their accounts to storage platforms in use to save signed documents.

Signing order:

Set the order of your signature requests to make the process easier when handling multiple signers.
Pricing
There are four plans on offer—jSign ($9.99/month), jSign Plus ($14.99/month), jSign Pro ($19.99/month), and jSign Corporate (custom).

All plans are HIPAA-compliant, so you can make your decision solely based on the number of documents you need to send monthly.
Pros
Drag-and-drop design

Option to restrict signing to location 

Unlimited signers

24/7 support
Cons
Limited number of users per package
5. SignNow
Best for Collaboration and Teamwork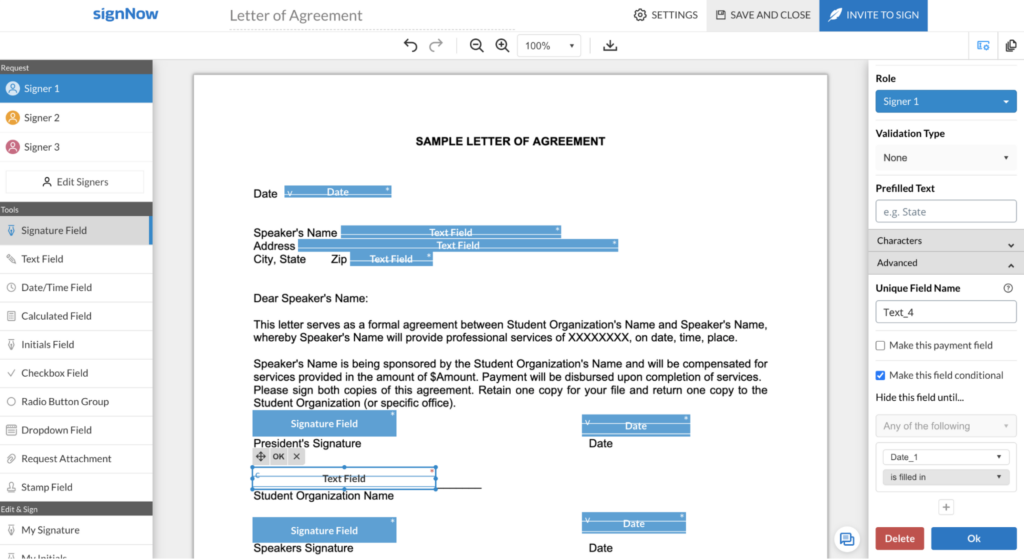 SignNow's e-signature product lets you create teams with other SignNow users for e-signature requests. It supports easy teamwork among healthcare professionals through faster document sharing and smoother collaboration. SignNow ensures document security and compliance with multiple security certificates and meets strict regulations.
Key Features
Create organizations

: This advanced feature allows you to manage users and their workflows under organizations to save time on activities like sharing documents and adding custom branding.

First-try signature collection

: This defines the signing order, and you can set reminders and documentation expiry dates and receive updates once docs are signed.

Two-factor signer authentication

: See who and when changes were made in documents with a legally admissible Audit Trail.
Pricing
SignNow offers four paid plans—Business ($8/user/month), Business Premium ($15/user/month), Enterprise ($30/user/month), and Business Cloud ($50/user/month).

Unfortunately, HIPAA compliance is only available with Business Cloud.
Pros
Live chat support assistance anytime

Unlimited templates

Required and conditional document fields

Online payment collection options
Cons
HIPAA compliance and SSO are only available on their Business Cloud plan.
Use SignWell for Affordable HIPAA Compliance
When handling documentation and e-signatures in the healthcare sector, a HIPAA-compliant tool is required legally. And there are several great tools around. However, many of them only offer HIPAA compliance on their most expensive plans.
With SignWell, you'll get the best of both worlds. Not only is our tool HIPAA-compliant but it's designed to ensure patients and healthcare professionals can achieve their goals intuitively.
Get started for free and simplify your e-signature workflow.
Sign with a team that knows what you need.
Putting a signature on a document shouldn't be hard. The SignWell mission? Simplify how documents get signed for millions of people and businesses.
Get Started Today
61.000+
businesses served, so far...
4.000000+
total documents signed
98%
customer support satisfaction