Here Are Our Top 10 Enterprise Contract Management Software Recommendations
Efficient contract management is essential for streamlined operations and legal compliance maintenance. And that's exactly why enterprise contract management (ECM) software is so important.
ECM software simplifies end-to-end contract management and can save businesses up to 9% in annual profits. Business owners are keen to learn the benefits of investing in an ECM tool and which platforms are worth considering. So, in this SignWell guide, we'll be sharing our experiences with these tools and giving you our top ten recommendations.
Let's dive in.
What Is Enterprise Contract Management Software?
Enterprise contract management (ECM) software is a type of software designed to simplify the process of contract or document creation, management, and optimization. ECM platforms streamline the process by automating manual tasks like:
Document searching

Tracking deadlines

Collecting signatures

Creating document workflows

Sending notifications

Storing documents
This technology also enables users to manage contracts from multiple locations using one unified dashboard.
Why Is Enterprise Contract Management Software Important?
Simplifies Contract Creation and Approvals
ECM software can standardize and automate internal and external contracts. Contract creation and approval times are sped up through pre-built templates, pre-filled clause libraries, and the ability to automate document workflow activities. Mistakes are reduced, and accuracy is sustained across all contracts.
Easier Contract Access and More Information Transparency
It acts as a secure repository by storing all contract information centrally. Using real-time insights, authorized stakeholders can quickly retrieve contracts for review, track contract performance, and drive business decisions.
Minimizes Financial and Legal Risks
ECM software helps mitigate risks and financial loss by supporting businesses in adhering to  legal and regulatory laws with features like:
contract templates with pre-established terms

automated reminders of important dates, including expirations and milestones. 
The workflow management functionality also contributes to mitigating risk with audit trails of all contract activities, like signed dates and document changes to prove compliance.
Enhances Contract Performance Renewals
It helps businesses keep up with the contract process and monitor payment dates and deliverables. Some ECM software provides advanced analytics and reporting to spot and address bottlenecks quickly. 
Helps Increase Revenue Through More Productivity
ECM software saves time by automating repetitive tasks like document creation, version control, and signature collection. 
Some include features to help with contract language by highlighting important clauses or having a clause library to store reusable clauses centrally. This support helps businesses save money by avoiding expensive fines or legal fees due to inaccurate or incomplete contract terms and conditions.
Criteria to Consider when Choosing the Right Enterprise Contract Management Software
Ease of use:

Finding a system that can be used without hand-holding is a priority. Consider the different types of people accessing it and whether your internal and external stakeholders can use it intuitively to move through the process.

Collaborative features:

Good collaborative features that make it easy to work together on contracts will help keep everyone in accordance.

Cross compatibility

: Ensure the tool supports popular file types and different platforms and devices so users don't experience rendering issues or problems accessing files. 

API:

Most good ECM software has an API solution so businesses can access its functionality from their application, most notably for e-signing and workflow automation. API integration is handy for gathering your e-signatures, for instance, from where you need to.

Security and compliance:

Consider ECM platforms with best practices security like AES-256 encryption to prevent security breaches and risks. Also consider compliance requirements like SOC 2 Type 2, HIPAA, GDPR, etc. Compliance is important to meet industry requirements and avoid costly fines.

Scalability

: Don't just think about your needs

now—

look for an ECM system that can keep up with increasing storage and user demands.
10 Best Enterprise Contract Management Software
SignWell

: Best for secure, compliant e-signatures with an intuitive API.

Ironclad

: Best for AI contract management.

Concord

: Best for internal and external collaboration.

PandaDoc

: Best for proposal and quote creation.

DealHub

: Best for a streamlined quote-to-revenue process.

Conga

: Best for delivering predictable revenue.

ContractSafe

: Best for intuitive contract search.

DocuSign CLM

: Best for ID verification.

Trackado

: Best for tracking contract financial health.

LinkSquares

: Best for legal document analytics.
1. SignWell
Best for secure, compliant e-signatures with an intuitive API.
SignWell is an enterprise-ready e-signature platform with time-saving features designed to make document management and contracting easier.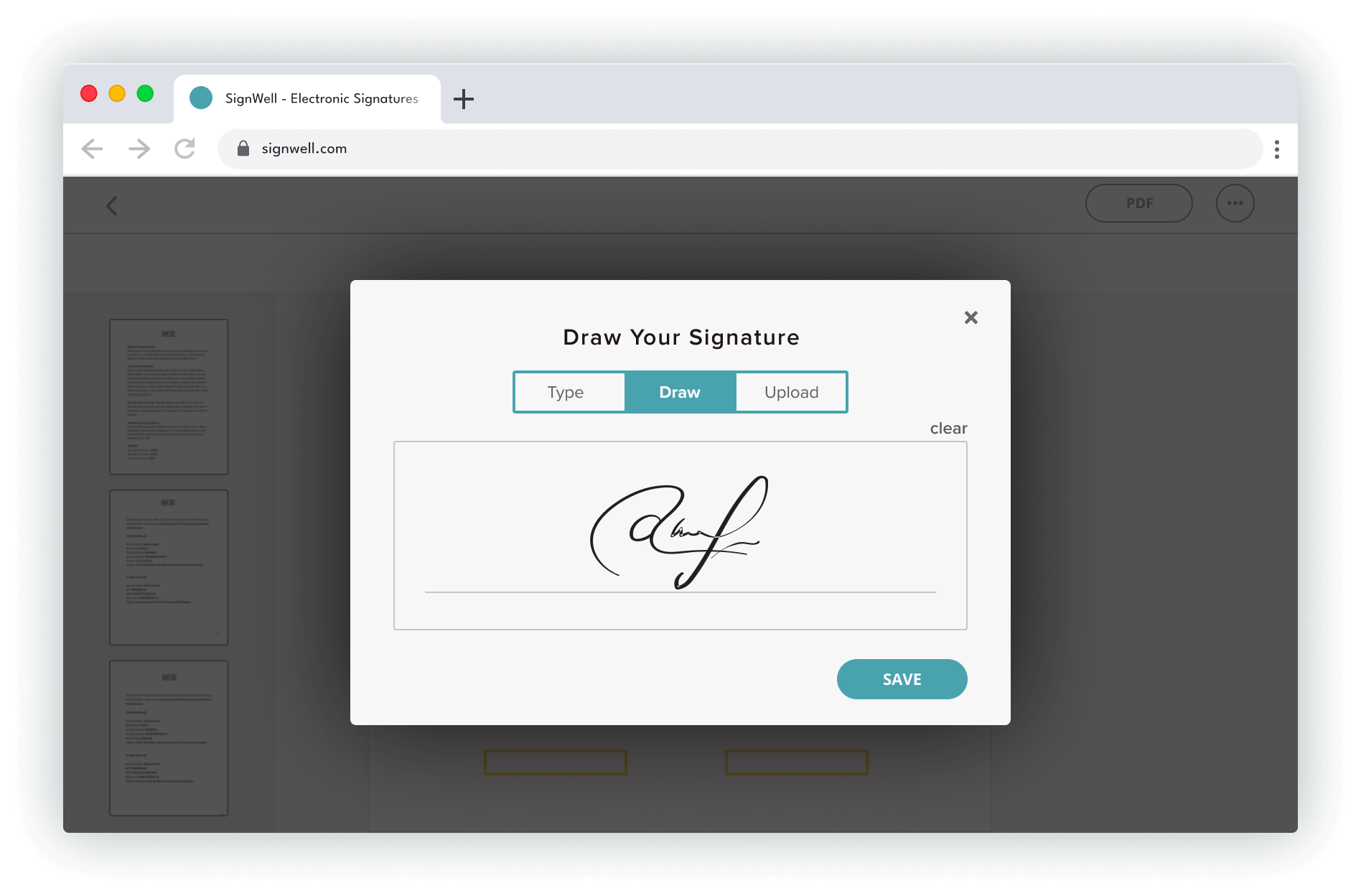 SignWell's intuitive API makes it easy to integrate with existing systems and processes, ensuring a streamlined e-signing experience every time. Plus, features like document workflows and notifications make sure documents are always properly routed, tracked, and archived for future reference.
Relevant Features
E-signature API

: SignWell's API can be added to your product or service to automate e-signing and contract lifecycle workflows.
Document Signing:

Collect all your U.S. and internationally admissible e-signatures in just a few clicks. We'll securely archive your documents, making them only accessible via unique encrypted links created by us.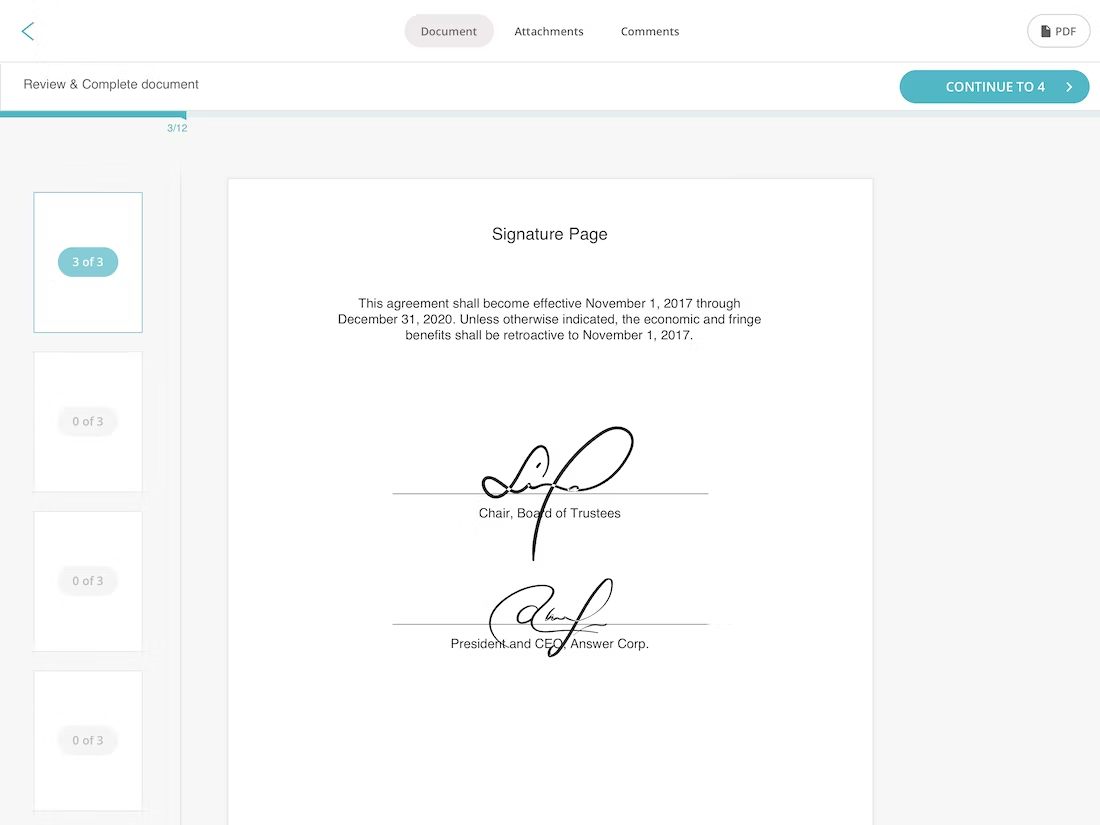 Document Workflows:

Monitor and push forward outstanding unsigned documents and define signing orders to quickly move finalized contracts through the pipeline.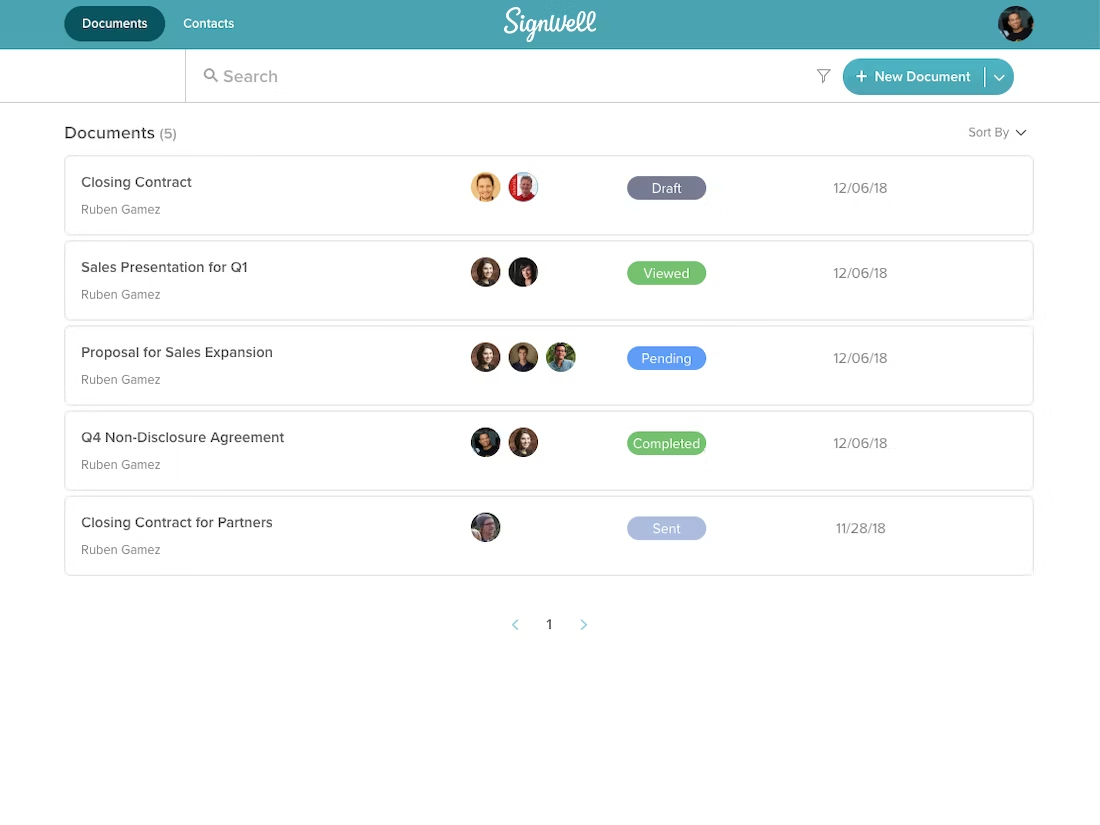 Audit Reports:

Track all document activity and access the complete contract lifecycle history with our audit reports. Find out when documents were viewed, by whom, and time stamps and other information that surpassed U.S. e-signature international law requirements.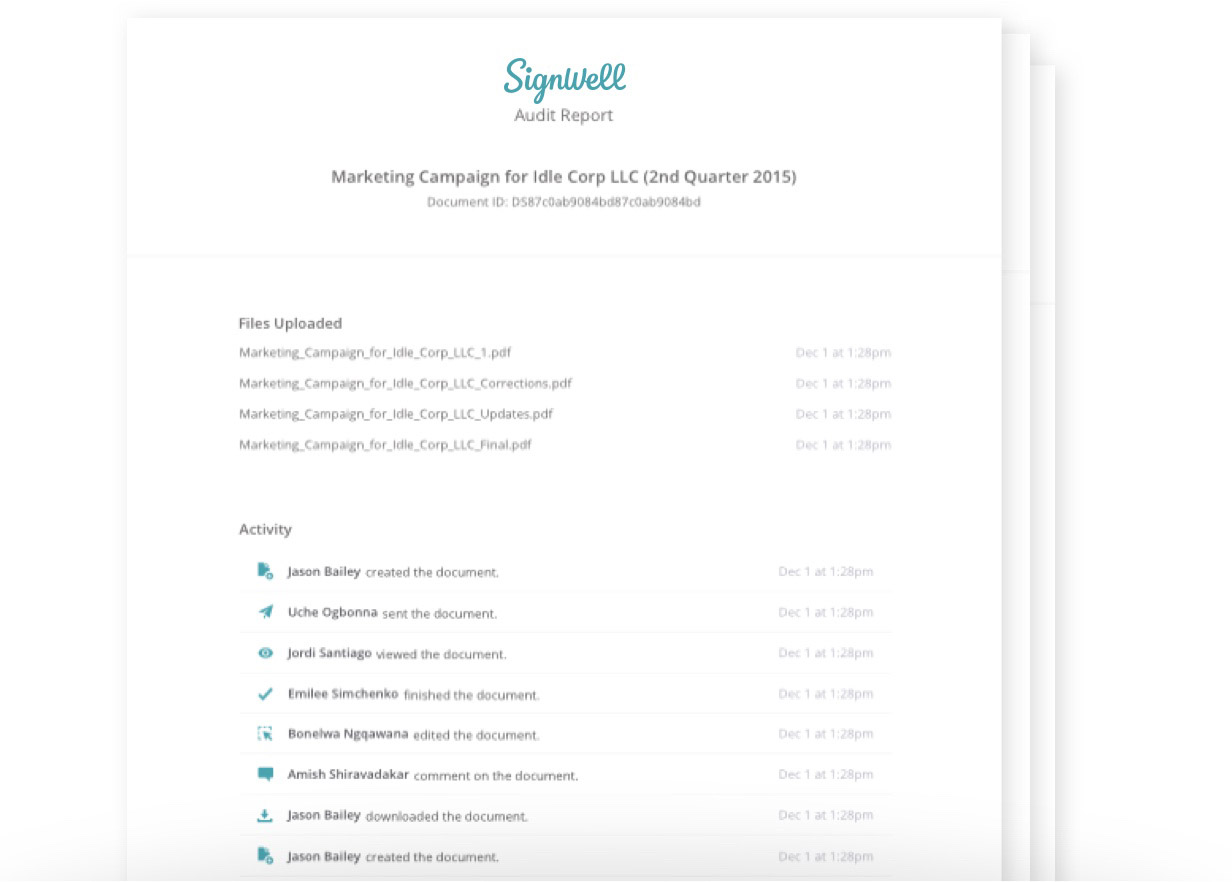 Custom Templates:

Compile contract templates from any document from your desktop or phone for more CLM efficiency. Recipients receive a guided experience to walk them through the process.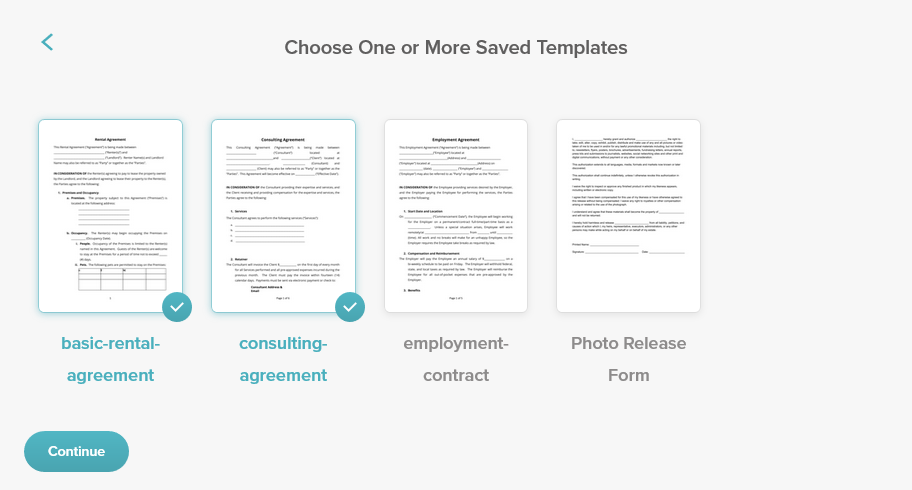 Easy Integration:

For SignWell functionality for embedded signature requests. In addition, we integrate flawlessly with over 5,000 popular apps, including Gmail, Dropbox, and Slack.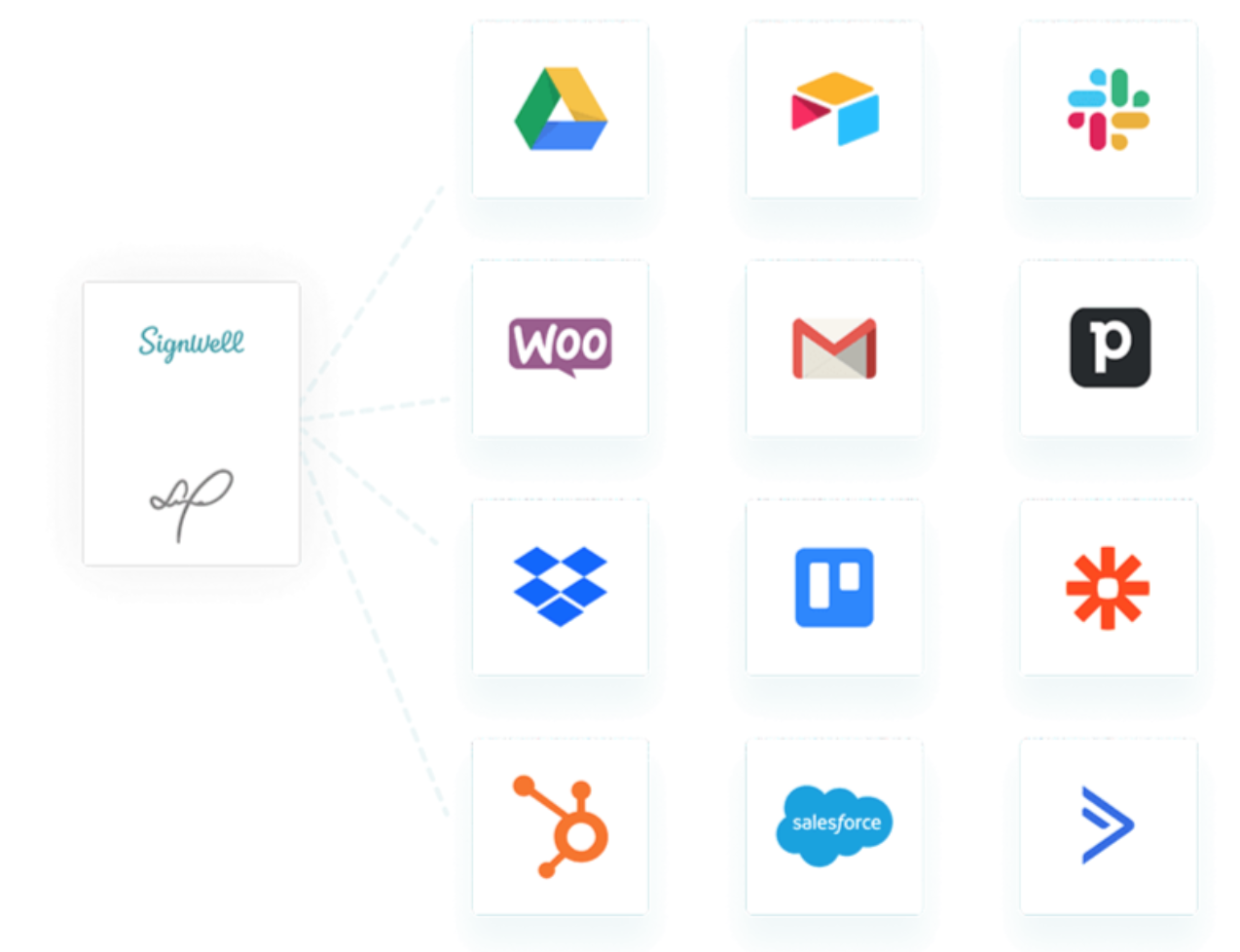 Pricing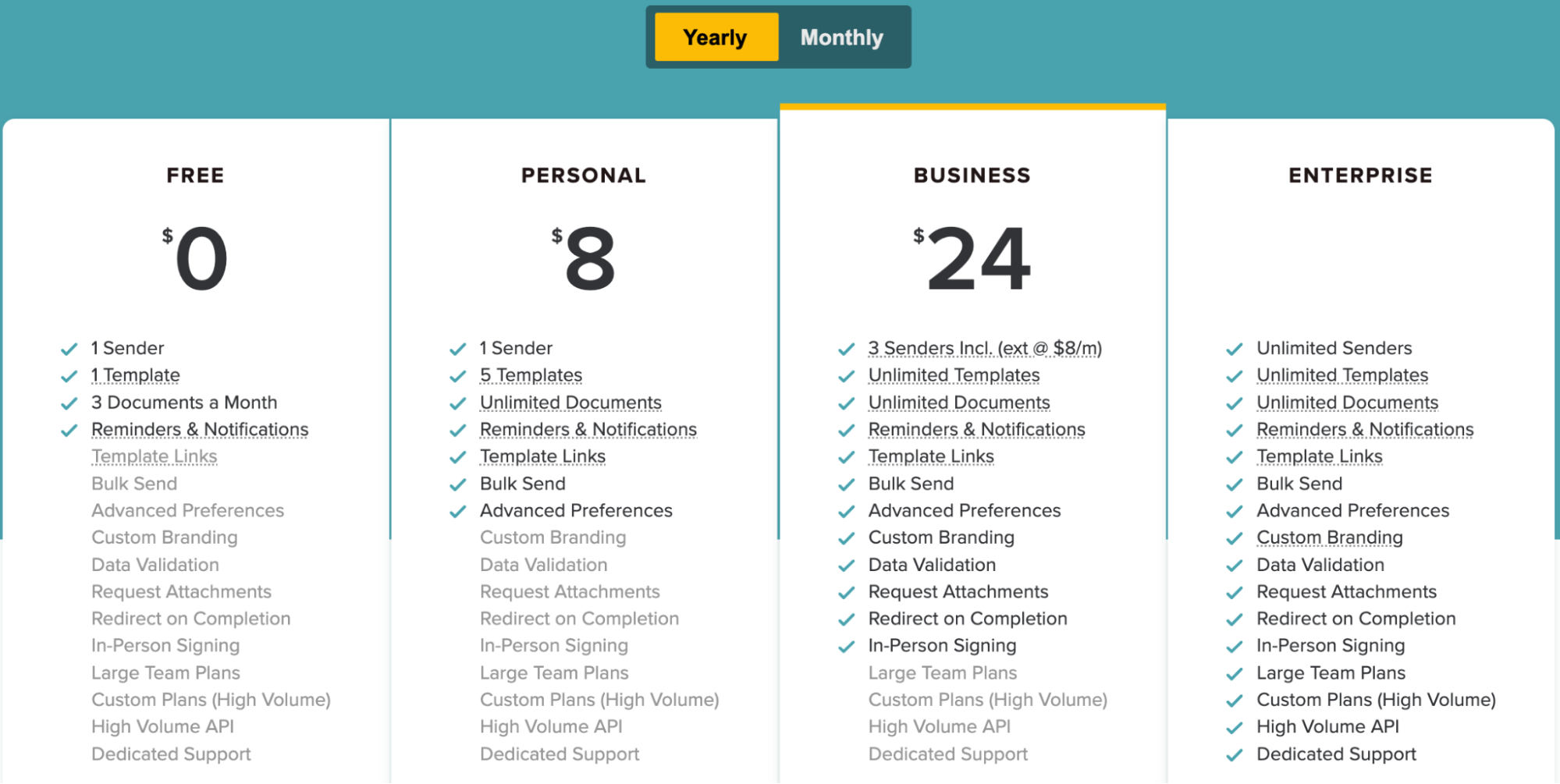 At SignWell, we offer three basic plans (Free, Personal for $8/month, and Business for $24/month) as well as a customizable Enterprise plan that includes important features like high-volume API access, unlimited senders and documents, in-person signing support, and priority customer service.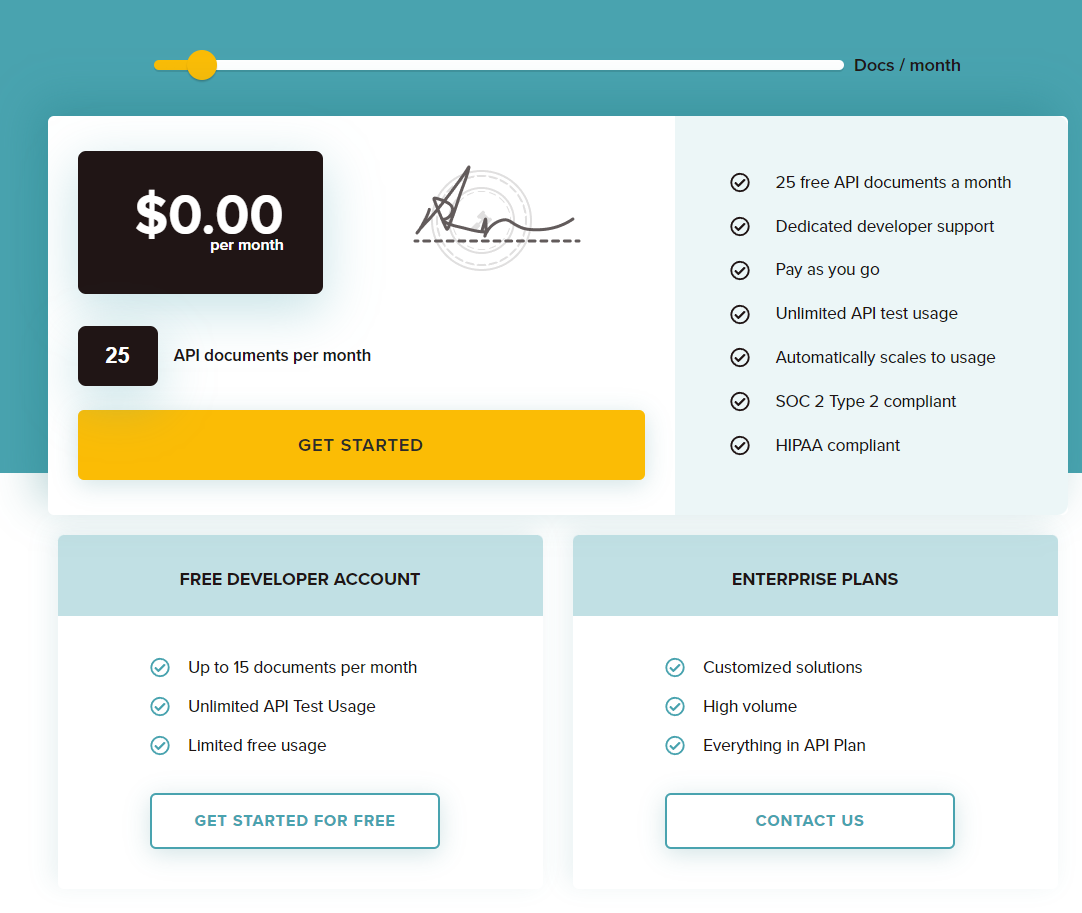 Our API plan includes a free developer account for unlimited test usage.
Pros
Branded signing experience adapted to how people use it

High-volume API access available

Bulk actions

Dedicated customer support

SOC 2 Type 2 compliance

Fully-featured API
Cons
Restricted free usage with a free developer account
2. Ironclad
Best for AI Contract Management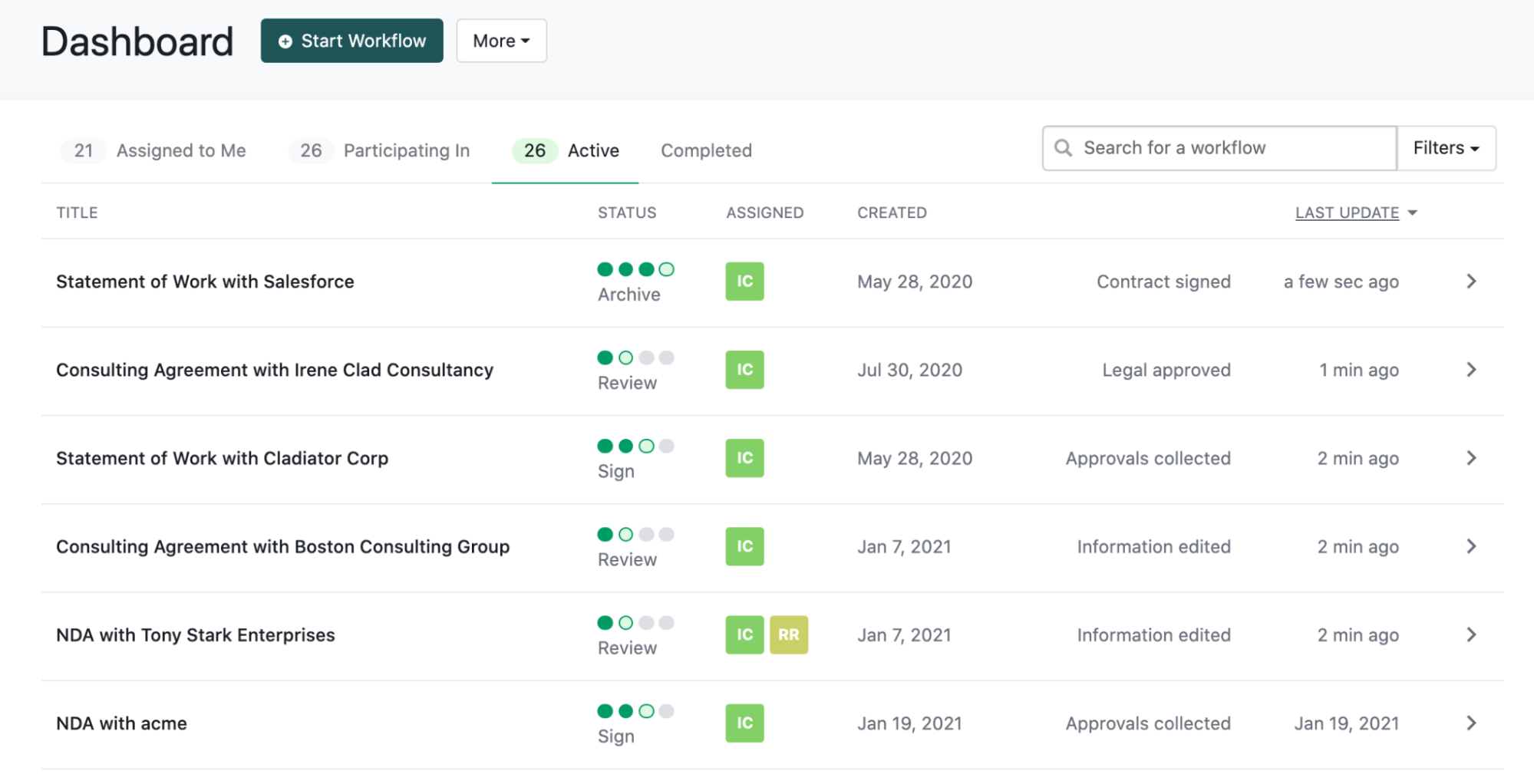 Ironclad is an AI-powered contract management solution. Built by legal professionals, it's designed to provide sequential contract management for all business departments.
Relevant Features
Contract Creation

: Design contracts and centralize contract processes such as intake and review. Use Playbooks to set and enforce contract guidelines.

Collaboration & Negotiation

: This feature enhances collaboration and negotiation using Word or PDF to draft, edit, and redline documents.

Analytics & Reporting

: Track contracts by stage, type, negotiation rate, and more through customized dashboards.
Pricing
Contact sales for accurate pricing info.
Pros
Integrations, including Salesforce, Slack, and Dropbox Sign

Excellent customer service
Cons
No pricing information is available on their website

Limited customization options
3. Concord
Best for Internal and External Collaboration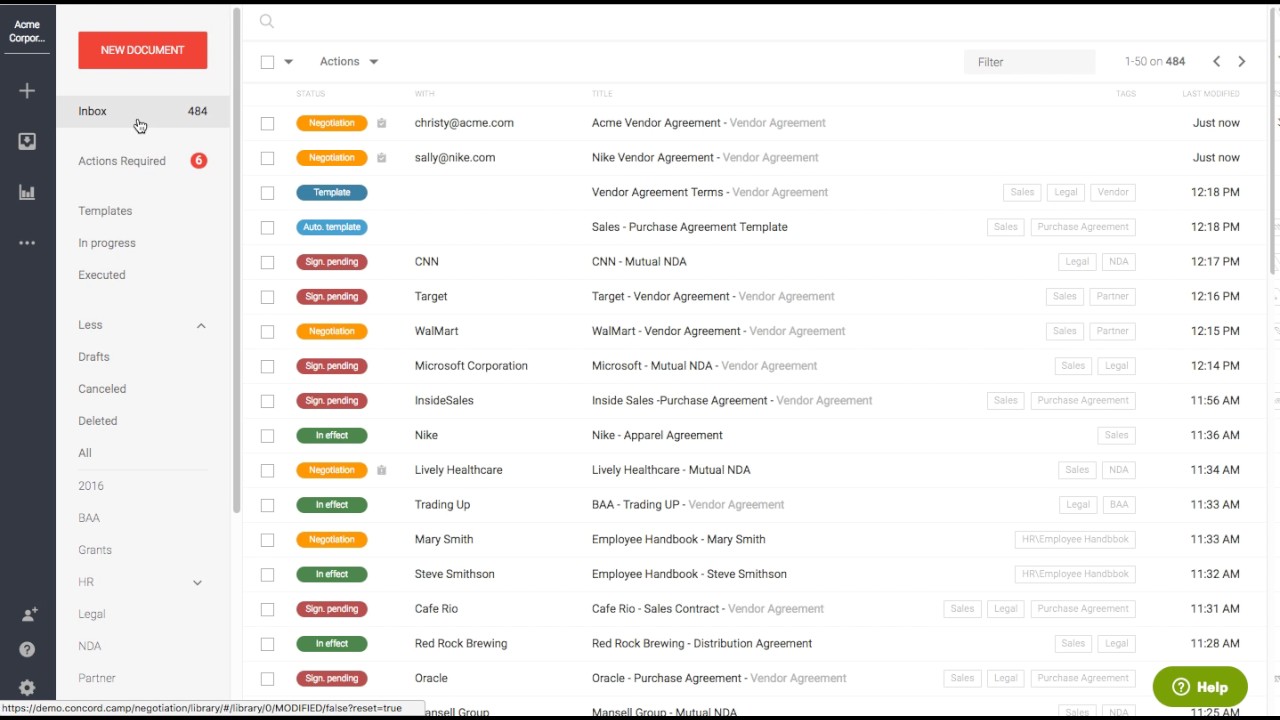 Concord focuses on supporting easy collaboration among internal and external stakeholders.  Some of its standout features include a clause library for pre-approved clauses and conditional approval workflows for every contract to be accessible by authorized people only.
Relevant Features
Collaboration

: Edit, redline, comment, and speak directly to all parties, from team members to vendors.

Automatic approvals

: Route documents to the right people and improve compliance with automated contract approval workflows.

Deadlines

: Receive automated alerts and reporting to oversee contractual deadlines like upcoming terminations and renewals proactively.
Pricing

Concord offers three paid plans. Enterprise ($89/user/month) includes a clause library, custom branding, and Single Sign-On (SSO).
Pros
Fast onboarding

Document linking for amendment management

Clause library
Cons
The quick contract sign-off feature is not as intuitive using a mobile device as it is using a desktop

Formatting can be challenging
4. PandaDoc
Best for Proposal and Quote Creation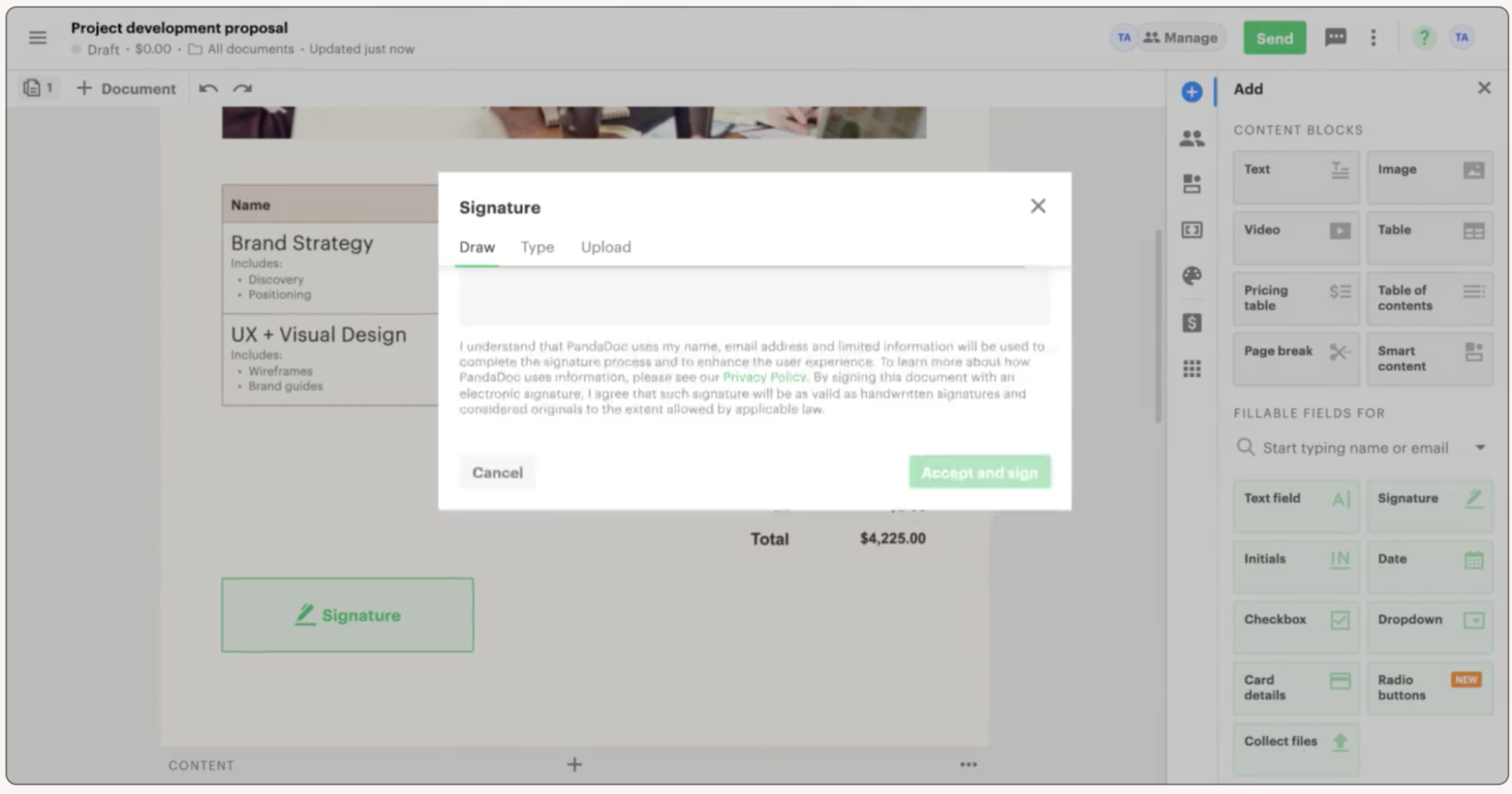 PandaDoc supports over 50,000 customers with a centralized workflow platform to minimize errors and boost productivity. They achieve this through their proposal and quote software for faster proposal creation and product catalog integration for quotes.
Relevant Feature
Proposal Software:

Increase closure rates with

professional client-facing proposals.

Template library

: PandaDoc's template library offers 1000+ template designs to help get contracts, proposals, and invoices sent quicker for e-signing.

Payment Solution

: Use your contract to collect credit card, PayPal, and ACH payments to reduce average payment time.  
Pricing

PandaDoc has two basic paid plans and a custom Enterprise plan. Some of the standout features included in the Enterprise plan include advanced quotes, unlimited team workspaces, and user performance and content reporting.
Pros 
24/7 chat support

Drag-and-drop editor

Advanced quotes available on the Enterprise plan
Cons
Limited ability to save repetitive texts and phrases for reuse.
5. DealHub
Best for a Streamlined Quote-to-Revenue Process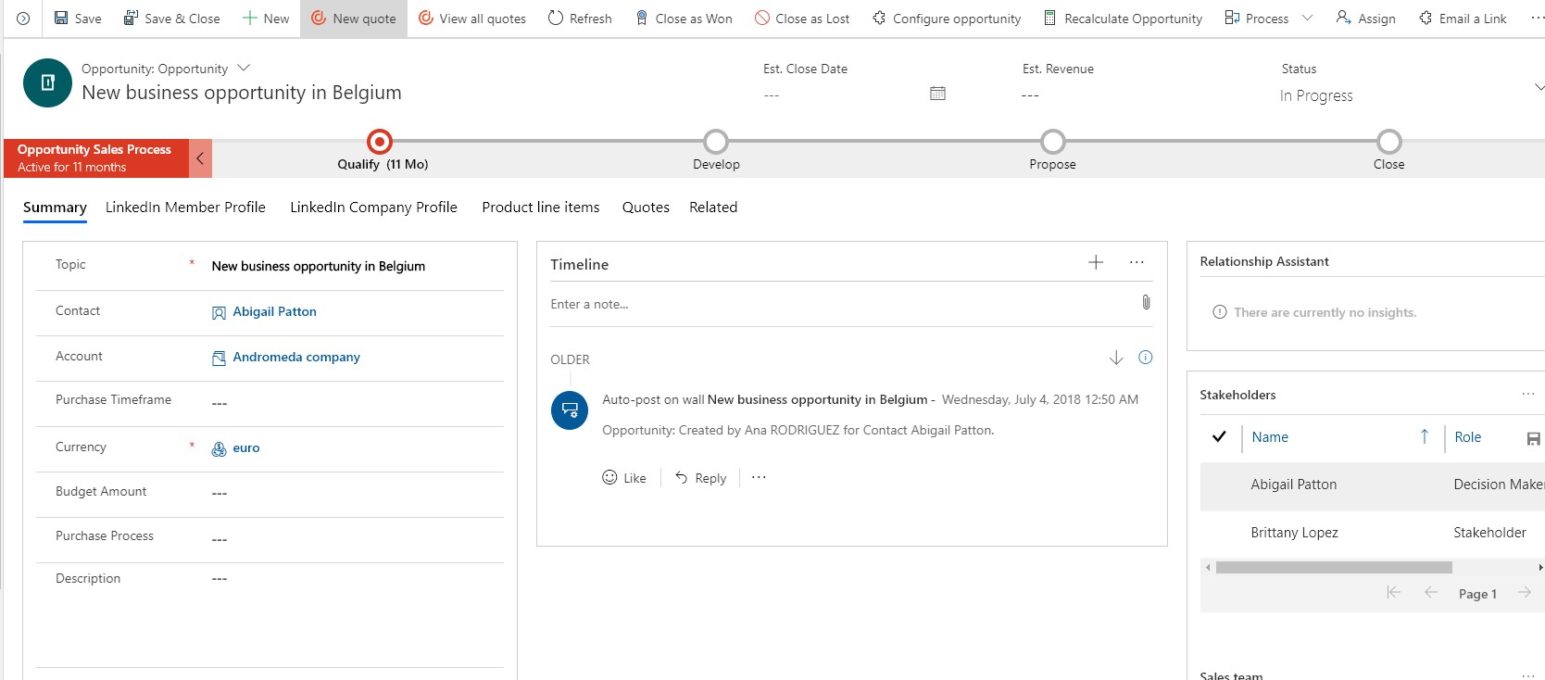 DealHub is a leading CPQ platform for automated quotations. Their offerings are designed to help businesses close deals faster using one automated workflow. 
Relevant Features
Streamline contract creation:

DealHub simplifies the generation of agreements, quotes, and other documents in different formats.  Change terms easily and use pre-approved templates to help reduce errors.

Streamline revisions

: With redlining, customers can revise issues, provide feedback, and directly access contract records from your CRM.

Contract insights

: Monitor contract views and edits and learn about customer engagement with real-time edits.
Pricing
Contact sales for accurate pricing info.
Pros
Multi-team collaboration

Popular CRM integration options

Easy setup
Cons
Users may experience a slight learning curve
6. Conga
Best for Delivering Predictable Revenue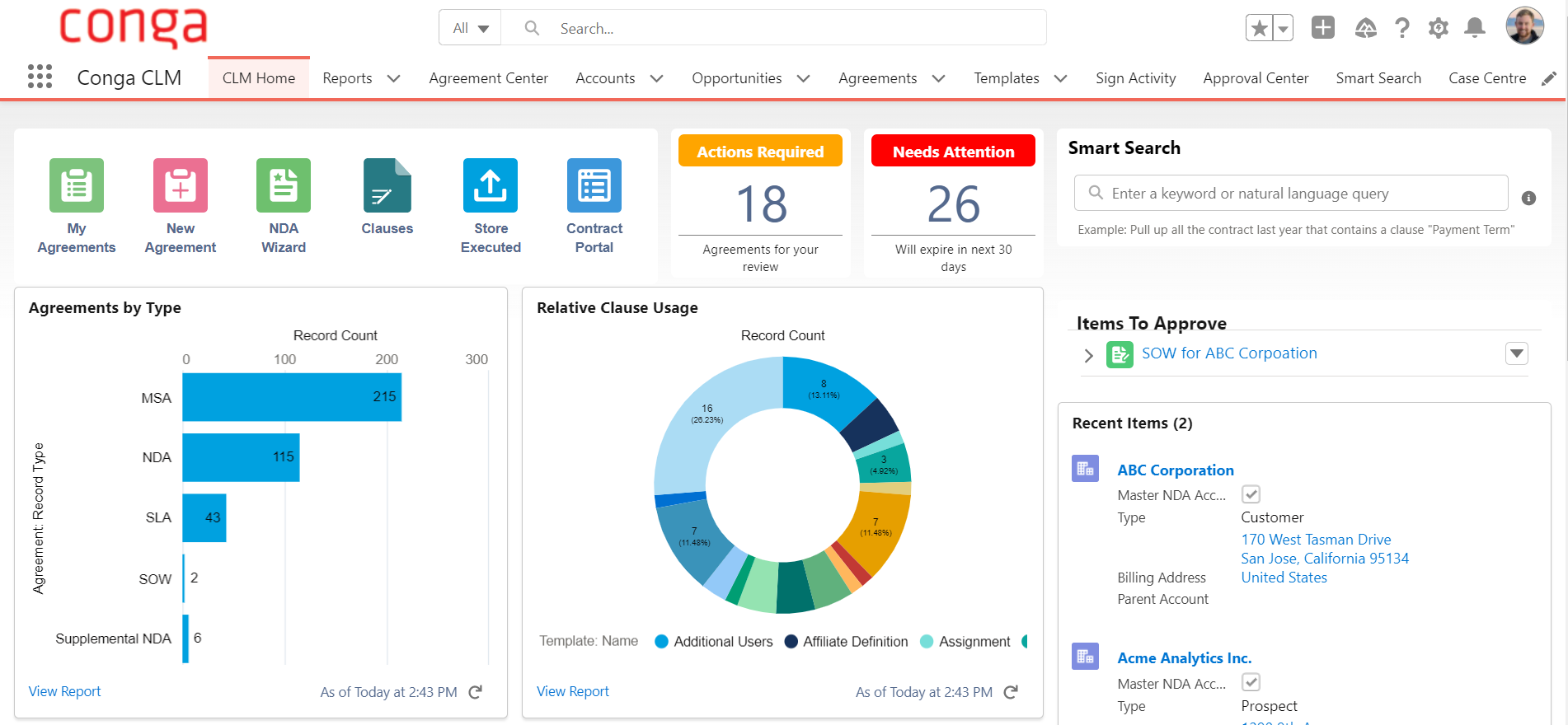 Conga is focused on processes, teams, and technology alignment for predictable revenue. Their CLM products are designed to increase the contract value through efficiency and strategic insights.
Relevant Features
Conga CLM:

Their product supports complicated enterprise-wide CLM and helps mitigate risk and reduce cross-team friction.
Conga Contracts:

These contracts work with any CRM for legal and procurement departments. For an automated and standardized CLM with lower risk and more compliance.
Conga Contract Intelligence:

Get complete contract visibility to track and manage commitments and opportunities.
Pricing
Contact sales for accurate pricing info.
Pros
Clause library and saved fields

Contract milestone reminders and alerts

Interdepartmental workflows
Cons
Some customers complain of issues not being resolved promptly
7. ContractSafe
Best for Intuitive Contract Search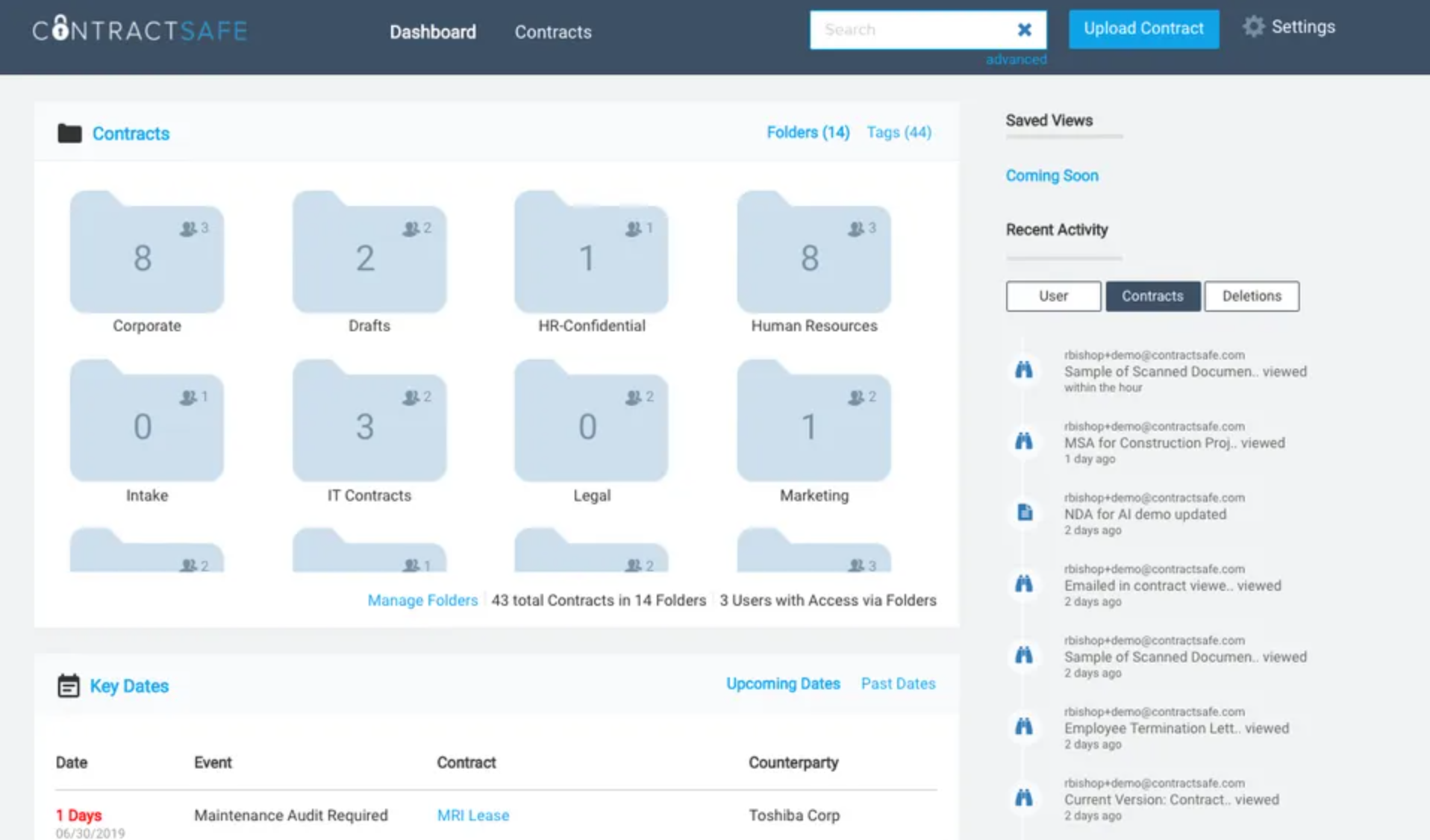 ContractSafe is for easy-to-use, manage, and affordable contract management. They offer features to address businesses' most significant CLM pain points. Difficulty finding contracts is a common issue. So their intuitive search and reporting feature will address this with a Google-like keyword search feature.
Relevant Features
Contract Alerts:

Configure deadline reminders to be notified via email 30 days before expiry or on a specific date. And automate reminders to different recipients.
Sharing & Roles:

Maximize security by granting specific access.
Contract Security:

ContractSafe is built on Amazon Web Services (AWS) and offers encryption malware and virus detection.
Pricing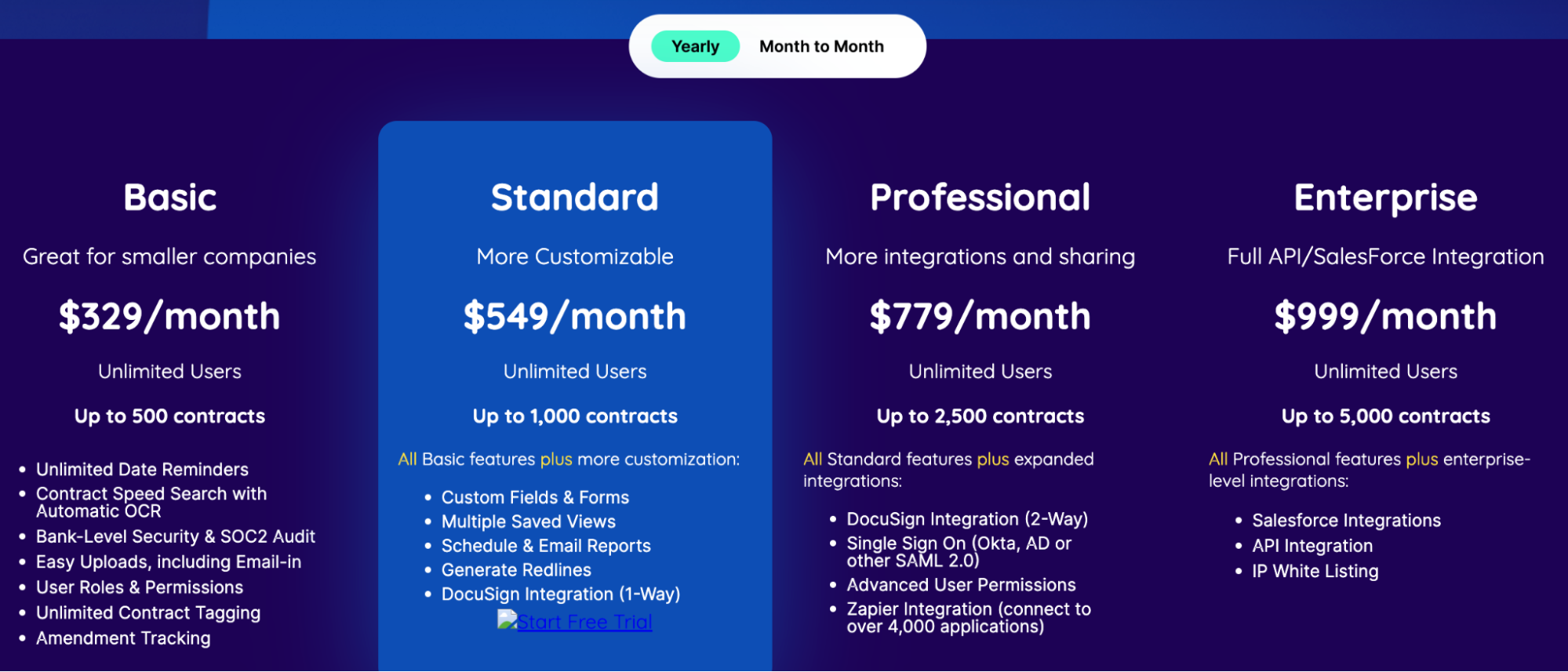 ContractSafe has three basic paid plans—Basic ($329/month), Standard ($549/month), and Professional ($779/month). Enterprise ($999/month) includes important features like unlimited users, support for 5,000 contracts, and API access.
Pros
Transparent pricing

AI tool to reduce manual data entry

Dedicated customer success manager (available on all platforms)
Cons
Helpful CLM workflow features are charged separately.
8. DocuSign CLM
Best for ID Verification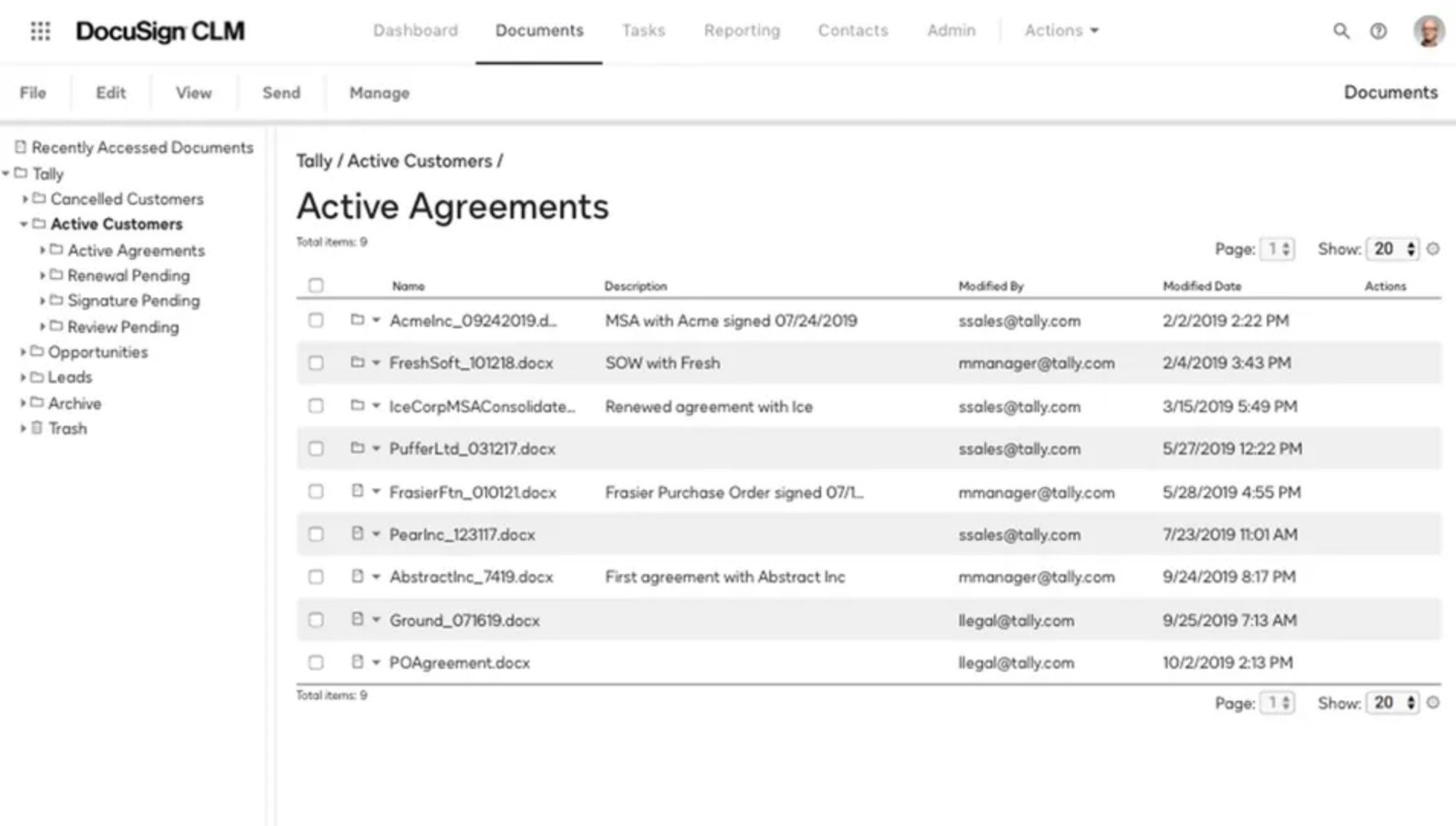 DocuSign is the industry's largest identity verification network. Their e-signature product offers advanced ID verification capabilities for most documents, including AI-enabled biometric liveness detection and knowledge-based authentication.
Relevant Features
Document ID and eID Verification:

This type verifies identity based on government-issued photo ID liveness checks or electronic IDs.

Contract workflow automation

: Use a drag-and-drop editor to design your contract processes. And access over 100 pre-configured workflow steps to review, approve, send a signature request, and more.

Identify opportunities, risks, and trends

: DocuSign offers AI and analytics to make it quicker to find contracts. Report on key contract data points and surface insights to help reduce procurement costs and close deals faster.
Pricing

DocuSign's scable Enhanced Plans are for a customized plan to fit your business requirements. Some feature benefits you can get on the Enhanced Plan include Single sign-on (SSO), enhanced signer verification, and regulatory compliance.
Pros
Multiple language signing

Locked templates

400+ app integration options
Cons
Unsatisfactory customer service
9. Trackado
Best for Tracking Contract Financial Health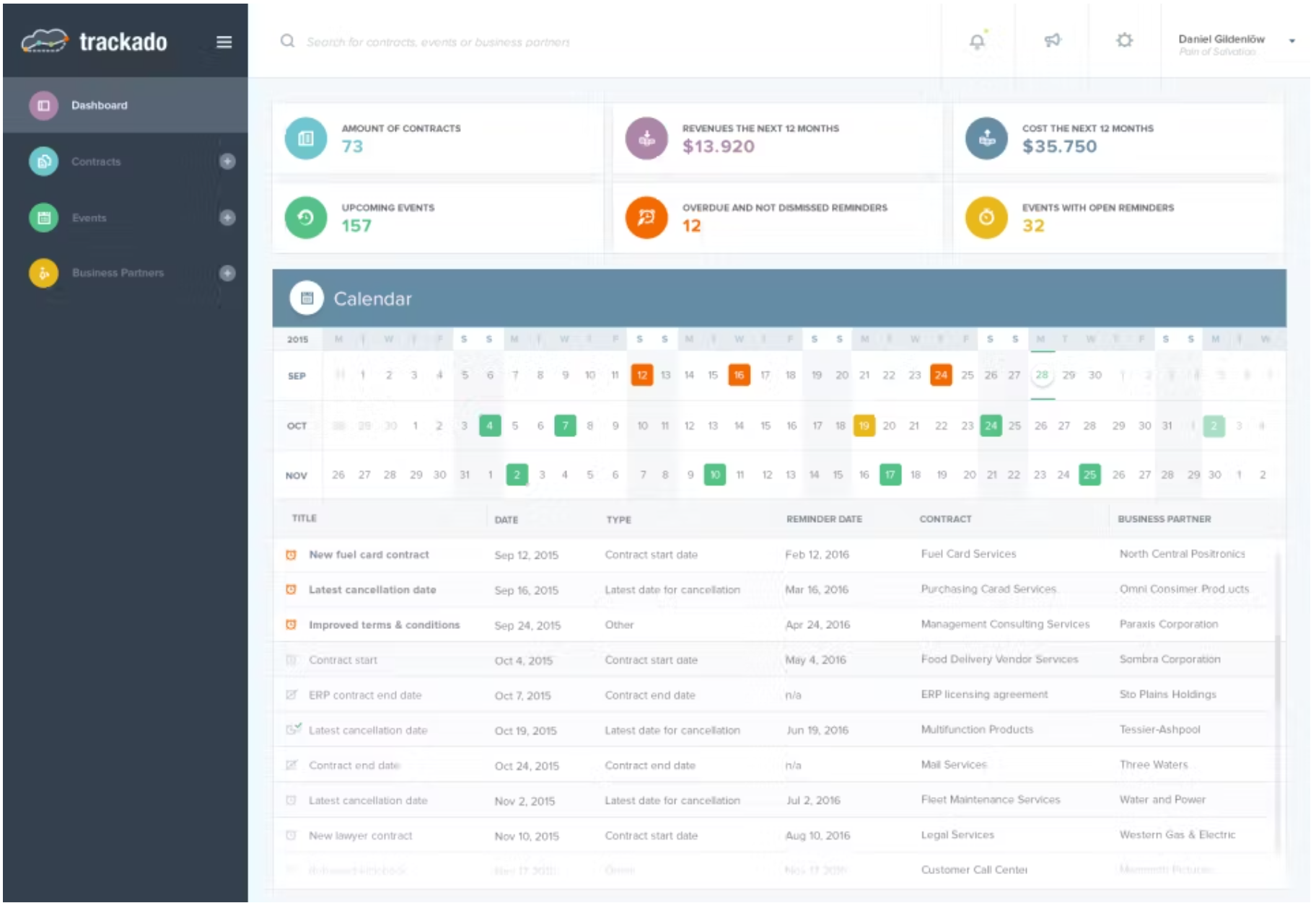 Trackado supports business in CLM efficiency with a contract repository that lets you view and maintain financial terms and understand the revenue potential for every contract. Their dashboard and reports offer the latest contract additions and comprehensive insights into costs and revenue over a period.
Relevant Features
Contract repository:

The repository offers a complete overview of contracts organization-wide for easy CLM. Contracts can be retrieved quickly and searched by department, business partner, or your custom properties.
Workflows:

Move contracts quicker through the cycle by starting a  workflow from scratch or using a predefined template.
Reporting and Dashboards:

See all relevant contract data at a glance, including impending activities and notifications and contract portfolio insights.
Pricing

Tracdado's Enterprise plan ($299/month) supports 25 users, unlimited contracts, custom fields, and workflow templates. For additional users, you'll pay $10 per month.
All plans include unlimited reminders, secured and backed-up data, and support, they can be canceled anytime, and you can take advantage of their 30-day free trial.
Pros
Affordable price plans

Unlimited business partners

Easy to use
Cons
The repository search experience could use a little work
10. LinkSquares
Best for Legal Document Analytics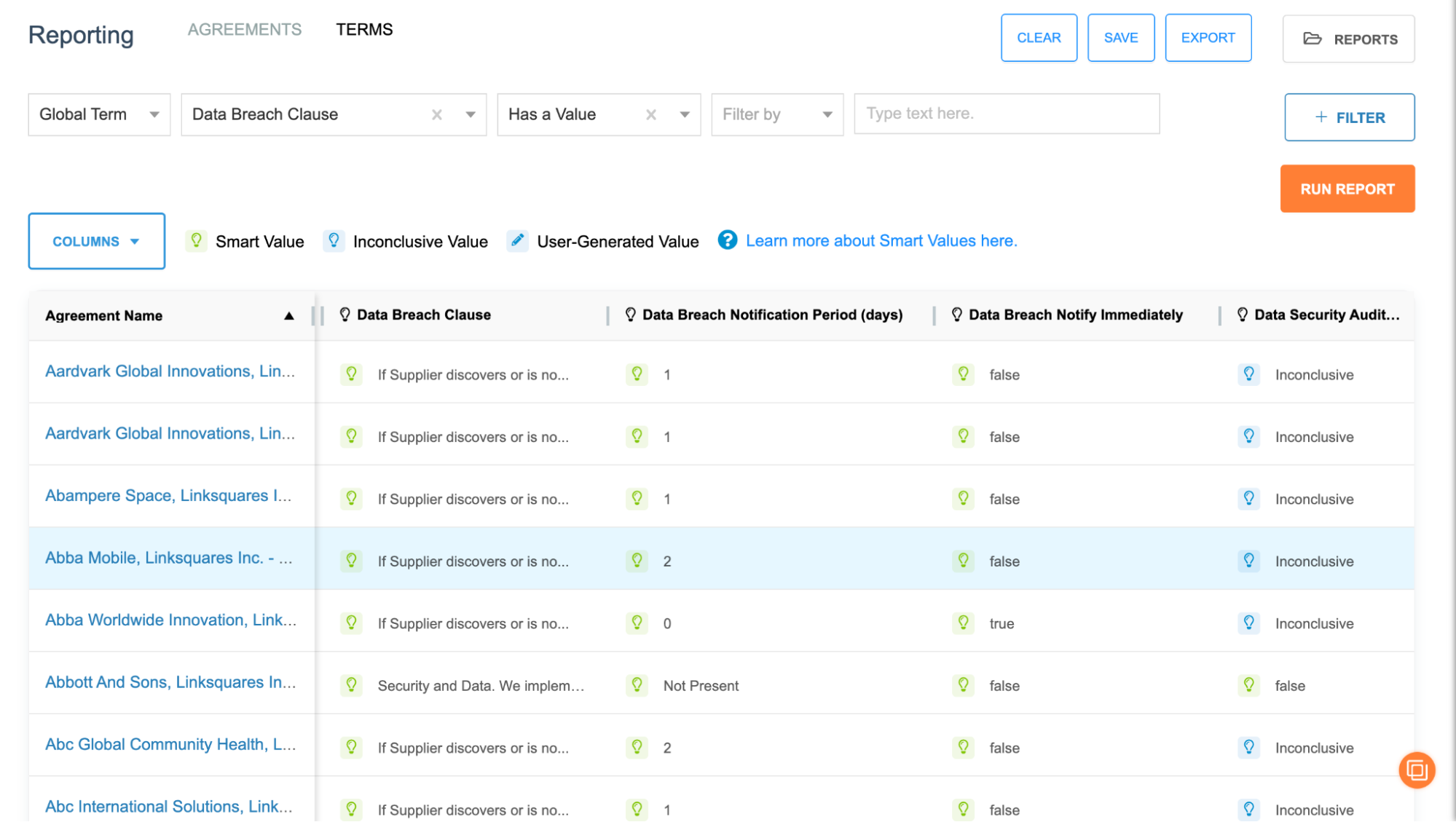 LinkSquares is at the forefront of AI-powered contracts and legal document analytics. Their end-to-end CLM platform is built for today's Legal terms using AI. Some of their stand-out features include full contract text search, version control, and automatic extraction of critical clauses, terms, and contract dates.
Relevant Features
Finalize:

LinkSquares integrates well with your current stack to expedite your contract creation process. Their AI-powered contract review feature gets agreements processed quicker, with third-party reviewing to highlight important clauses.
Sign:

All signed agreements and signature certificates are moved automatically to your repository for central secured storage with granular permissions.
Analyze:

The product gives you visibility into active terms. You can make business decisions quicker and be confident knowing you have the latest language. Save and re-use preferred clauses from your executed contracts to the Clause Library.
Pricing
Contact sales for accurate pricing info.
Pros
Al-powered assistance with reviewing the finer details of contracts

Great customer and client support teams

Powerful integrations
Cons
No pricing information is available online
Best Enterprise Contract Management Software: SignWell
Efficient contract management is vital for a successful enterprise and many businesses turn to ECM software to help them get it right. Good ECM software will expedite your CLM through help with contract creation accuracy, streamlining and standardizing workflows, and it generally speeds up the expansion of your operation.
At SignWell, we simplify e-signing by allowing enterprises to create customized contracts and templates, securely manage them in the cloud, and quickly circulate them for signature. Our intuitive dashboard allows you to easily track each document's progress throughout its lifecycle.
See why over 61,000 customers choose SignWell—get started today for free.
Sign with a team that knows what you need.
Putting a signature on a document shouldn't be hard. The SignWell mission? Simplify how documents get signed for millions of people and businesses.
Get Started Today
61.000+
businesses served, so far...
4.000000+
total documents signed
98%
customer support satisfaction